16 of the Best Guesthouses in Amsterdam
Amsterdam, seduces tourists with its stunning setting around a 17th century 'Golden Age' ring of canals (the Grachtengordel), some of the world's finest art (in the Rijksmuseum and Van Gogh Museum) and its tolerant culture. It is a city of charm and easy-going appeal. However, the best places to stay in Amsterdam have always presented something of a problem, since the vast majority of buildings in the city's historic centre are tall and narrow, giving little space for things like restaurants, lounges and spas... so if you want to stay in the centre of town it's worth perusing our Guru's list of the best guesthouses in Amsterdam.
Many of our Guru's best Amsterdam guesthouses occupy the tall, narrow canal houses built for merchants and now restored, though a recent trend has seen the conversion of handsome public buildings into glossy new addresses such as The College Hotel. But our Gurus have divided our recommendations for the best places to stay in Amsterdam into Amsterdam's 20 Best Hotels and the 15 Best Guesthouses in Amsterdam to make it easier for you to find the best places to stay in Amsterdam for you!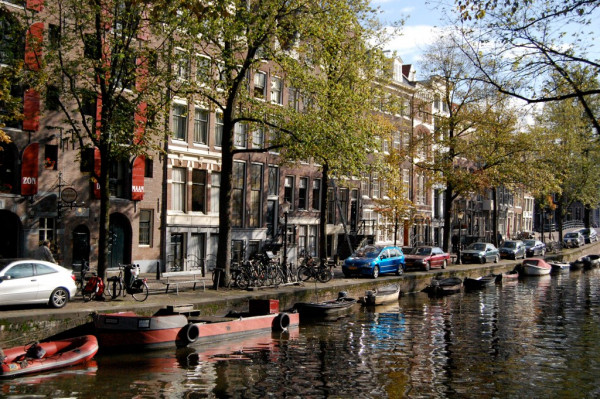 Tony Fantis
The 16 Best Guesthouses in Amsterdam
The Most Romantic Guesthouses in Amsterdam
The Seven One Seven Hotel is a wonderfully grand, 17th century sugar-trader's residence oozing with old-world charm. There are just nine rooms, and the address is canal-side. If you want to stay somewhere intimate, beautiful and perfectly located then it's hard to find better.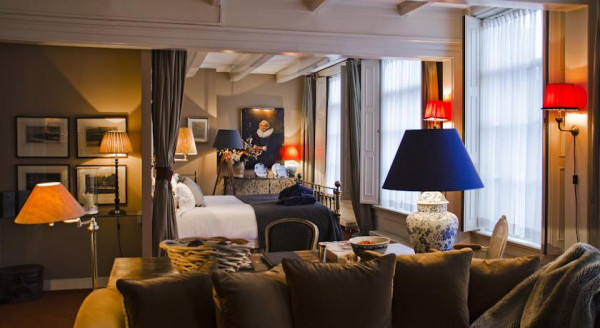 Another great guesthouse for couples is Misc, a six room, renovated 17th century canal house in the heart of Amsterdam. Personally-styled boutique-feeling rooms have bright, modern decor and canal or garden views, and there's a small cocktail bar. You're right by the cultural and fashion districts, and you can hire a bike from the hotel.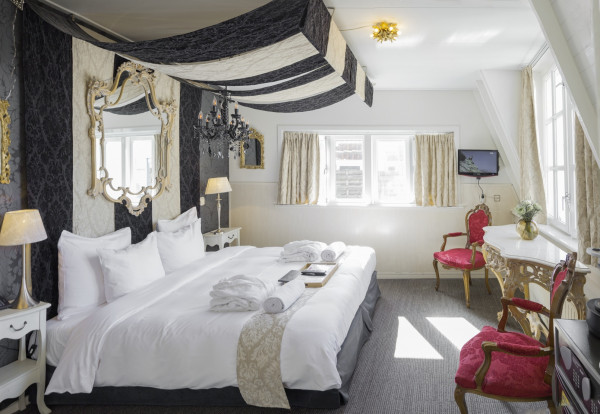 Fulco Smit Roeters
Elegant, romantic and in the heart of Amsterdam, Breitner House offers just two rooms of champagne breakfasts and architectural treasures. Impressionists such as George Breitner and Isaac Israel worked in these splendid rooms.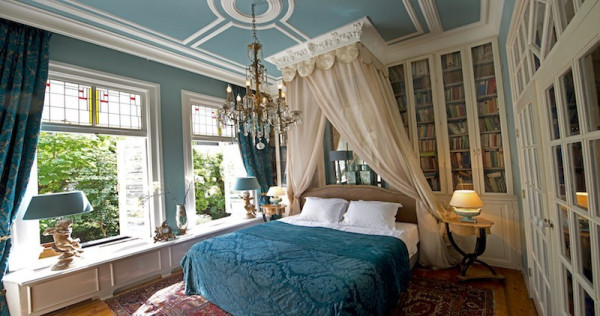 The Best Boutique Guesthouses in Amsterdam
The simply named Canal House is a converted 17th century mercant's townhouse in the heart of Amsterdam's cultural centre. The 23 rooms have a contemporary feel, with old-world touches - dark woods and ornate ceilings, chic and open-plan. Guests can also enjoy the lovely garden with a romantic gazebo, tucked away from the city bustle.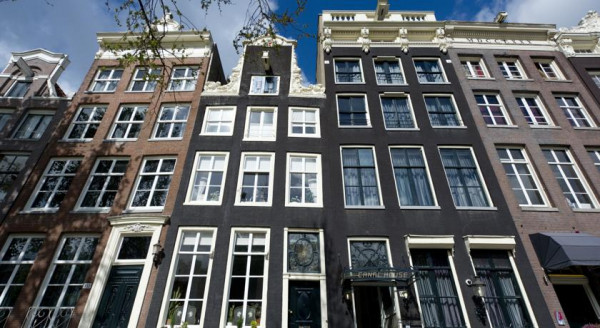 Or you might consider the Hotel Toren, a lavishly designed boutique hotel with 38 rooms, some with canal views, and the option to order Michelin starred room service. Dam Square, the Royal Palace and several museums are within walking distance of the hotel.
The Best Guesthouses in Amsterdam for a City Break
The Hotel Roemer Amsterdam is an intimate, Art Deco hotel in downtown Amsterdam, with 37 individually decorated rooms and suites, a wonderful private garden and a roaring fire in the cosy lounge. This is a fun and stylish hotel, intimate enough to be called a guesthouse.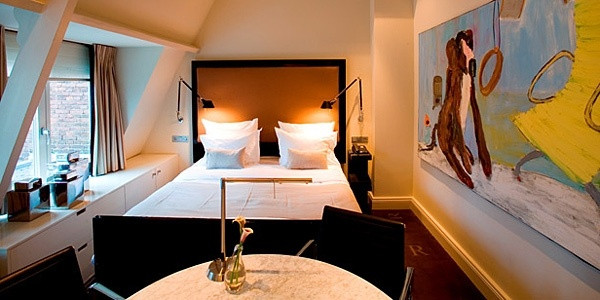 The Sandton Hotel Filosoof is a stylishly designed, 38 room guesthouse, converted from two 19th Century townhouses in the old city centre, close the museums.
The Ambassade Hotel is a modern, mid-sized hotel charmingly converted from ten 17th Century canal hosues. The rooms are large and individually decorated in the Louis XVI in style, filled with traditional antiques and complemented with modern art. There's fine dining at Brasserie Ambassade & drinks in the library.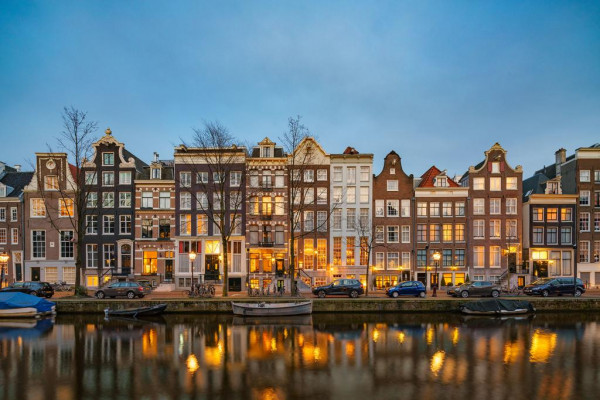 For something hip, but also beautifully located, try the Max Brown Hotel, which has 34 stylish rooms overlooking one of Amsterdam's prettiest canals, close to the major sights and nightlife.
The Hotel V Frederiksplein is a modern, 48 room B&B in a fantastic central location. They offer great advice and free bike hire, and the 48 rooms are generally small, with compact bathrooms. The beds, however, by Auping feature organic, eco duvets which ups the comfort rating. And after a good day's exploring you're welcome to relax by the fire in the open plan bar-lounge with its soulful and funky background music.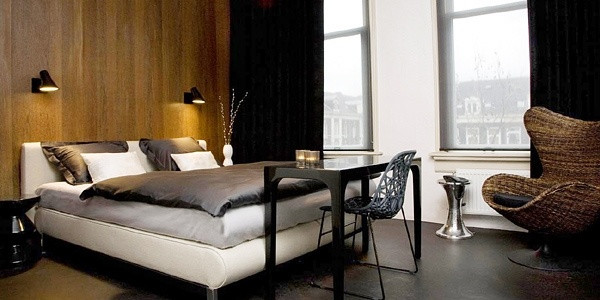 The Best Guesthouses in Amsterdam for Families
The Blue Sheep B&B is an adorable, eight room, family-run B&B in central Amsterdam with lovely exposed brickwork and wooden beams.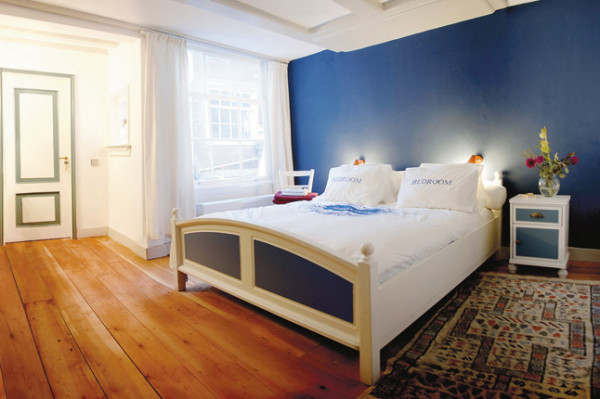 Best Amsterdam Guesthouses for Canal Views
The Hotel Estheréa is perfectly located, right by Amsterdam's oldest canal, a wonderful, 17th Century boutique hotel with extravagant decoration and great views. Large suites are all unique with luxurious fabrics and vibrant wallpapers. Breakfast is worth waking up for; drinks at the bar worth staying up for.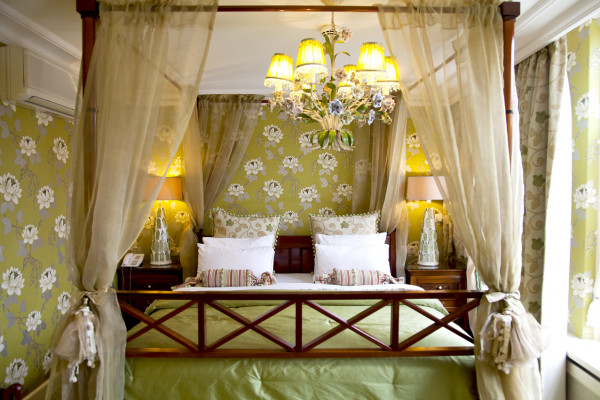 The Hotel Wiechmann is a simple, family-run hotel in three converted canal house on the Prinsengracht canal in the centre of town. It has comfortable rooms with modern bathrooms and a complimentary delicious breakfast, and makes for a well located, and reasonable break.
The Best Value Guesthouses in Amsterdam
For around £50 a night you can stay at the V Hotel, a hip and happening spot with smallish rooms, eco-decorations and a central location.
The AMS Suites are a collection of just four modern, minimalist suites in a beautiful historic building. The simple details make the most of the original features, you're close to many of the main sights, and rooms start from around £115 per night.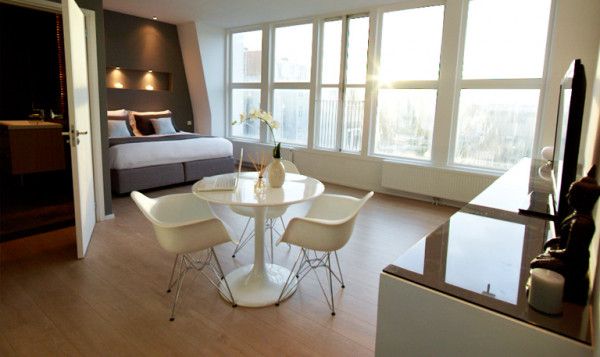 If you haven't found your idea of the perfect Amsterdam guesthouse on our Guru's list of the best Amsterdam guesthouses, you could:
The 16 Best Guesthouses in Amsterdam
Great walks - Amsterdam has 165 canals over 100km in length. Great for exploring on foot or by boat.

Full of character

Spa

Restaurant - Recommended.

Recommended by - Fodors, Frommers, Good Hotel Guide, Michelin Travel

17th Century waterfront hotel in the heart of Amsterdam's central canal district. A clever conversion of 10 canal houses, rooms are Louis XVI in style, filled with traditional antiques and complemented with modern art. There's fine dining at Brasserie Ambassade and drinks in the library. A city gem. See More

Check Availability

Designer - Interiors by former owner, the fashion designer Kees van der Valk.

Outstanding location - Overlooking Amsterdam's most beautiful canal, Prinsengracht.

Full of character

House party feel - Be prepared to meet people.

Recommended by - Mr & Mrs Smith, Tablet, Kiwi Collection, Michelin Travel

Grand, 17th century sugar-trader's residence oozing with old-world charm on the UNESCO canal network. Marble floors, oak panelling and beautiful paintings adorn the rooms. Enjoy breakfast in the dining room, relax with a book in the antique-filled sitting room or explore the city at ease. See More

Check Availability

Hotel Estheréa

Amsterdam

71 rooms from £221

Sights nearby - The Anne Frank House is close by.

Views - Great views from hotel

Lively - Hip and happening.

Full of character

Recommended by - Frommers, Michelin Travel

17th century townhouses make up this boutique hotel on Amsterdam's oldest canal. Chandeliers, mahogany paneling and extravagant decor adorn the rooms. Large suites are all unique with luxurious fabrics and vibrant wallpapers. Breakfast is worth waking up for; drinks at the bar worth staying up for. See More

Check Availability

Townhouse - The house is decorated with period antiques, original fireplaces and Italian chandeliers, brocades and finest linens

Suites - Two sumptuous suites to choose from the george Breitner Suite and Isaac Israel's Suite

Historic - The house has always been associated with art and literature

Bicycles available

Champagne breakfast and architectural treasures in an elegant and romantic boutique hôtel in the heart of Amsterdam. Just two exquisite suites in this fascinating and beautiful house where impressionists such as George Breitner and Isaac Israel worked in these splendid rooms. An unforgettable treat. See More

Check Availability

Hotel Toren

Amsterdam

40 rooms from £198

Local exploring - Situated in the heart of historic Amsterdam. Perfect for exploring on foot.

Sights nearby - Dam Square, the Royal Palace and several museums are within walking distance of the hotel.

Full of character

Boutique

Recommended by - Frommers, Michelin Travel

Lavish boutique encompassing two 17th Century canal side townhouses in central Amsterdam. Plush rooms with sensual interiors and modern bathrooms. Enjoy a cocktail at the bar (where breakfast is served) or small bites in the lounge. A great find in the city. See More

Check Availability

Great walks - This charming hotel is set on the Prinsengracht canal, an ideal spot for an evening stroll.

Sights nearby - Main museum area is 15 minute walk

Views - Some rooms with canal view

Full of character

Recommended by - Frommers

Hotel Wiechmann consists of three canal houses turned into a simple family-run B&B offering the essentials. Comfortable, breezy rooms with modern bathrooms and a complimentary delicious breakfast. Proximity to the main attractions and shopping districts is a big selling point. See More

Check Availability

Sights nearby - Very close to art galleries and Van Gogh Museum.

Great walks - Vondelpark is just round the corner.

Boutique

Recommended by - I Escape, Tablet, Michelin Travel

Small art-deco hotel in downtown Amsterdam. Individually decorated rooms, a roaring fireplace in the lounge, and a hidden privately owned garden. A city break with oodles of character and an intimate atmosphere. See More

Check Availability

Canal House

Amsterdam

23 rooms from £256

Sights nearby - Well located for major sights.

Recommended by - Tablet, Kiwi Collection, Small Luxury Hotels, Michelin Travel

17th century townhouse in the heart of Amsterdam's cultural centre. Contemporary designs, with old-world touches - dark woods and ornate ceilings. Bedrooms are chic and open-plan. A stylish place to stay. Guests can enjoy the lovely garden with a romantic gazebo, tucked away from the city bustle. See More

Check Availability

Value chic

City Style

B+B

Less £

Recommended by - I Escape

This modern B&B in the heart of Amsterdam is great value for money. Its richly toned and spacious interiors ensure a comfortable stay in an unbeatable location. Relax by the cosy fireplace after a day of cultural activities. See More

Check Availability

Sights nearby - Well located for major sights.

Recommended by - Michelin Travel

A vibrant, stylish eco-hotel with state of the art modern design. Bright, spacious rooms and delicious organic breakfasts. Fully sustainable and ideally situated, right next to the leafy Vondelpark in the centre of the city. See More

Check Availability

Misc

Amsterdam

6 rooms from £126

Views - Of the canal and hotel garden

Boutique

Local markets - Good for local colour.

Four poster beds - For romantics.

Recommended by - I Escape

A renovated 17th century canal house in the heart of Amsterdam. Personally-styled rooms - bright, modern decor and canal or garden views. On the doorstep of the city's cultural and fashion districts - hire a bicycle from reception and explore the city at ease. See More

Check Availability

Value chic

Sights nearby - The Red-light District, Jordaan, Anne Frank's House and the Nine Little Streets.

Local markets - Good for local colour.

Traditional

Recommended by - CN Traveller

An adorable family-run B&B in central Amsterdam. Just three large airy rooms with parquet floors, exposed brickwork and wooden beams. Family friendly suites sleep up to 4 and are situated close by, plus there are self catering apartments too. An understated spot with great access to all the sights. See More

Check Availability

AMS Suites

RW Amsterdam

4 rooms from £129

Local exploring - In easy reach of the main attractions including the Anne Frank's House, Vondel Park and the museum district

Sights nearby - The Anne Frank House is a must; the front is a museum but the back annex has been preserved to give an idea of life back then

Local markets - Visit the Bloemenmarkt, the world's only floating flower market, the Albert Cuypmarket and the Waterlooplein flea market

Restrictions on children - Children cannot be accommodated at the hotel

Recommended by - Great Small Hotels

Smart accommodation in a handsome historic Amsterdam building. Suites are furnished with sink-into king size beds and contemporary designer furniture. The feel is chic, modern and minimalist, ideal for sophisticated travellers looking for a handy central base. See More

Check Availability
posted Monday, 17th February 2020