15 of the Best Guesthouses in Amsterdam
Amsterdam seduces tourists with its stunning setting around a 17th-century 'Golden Age' ring of canals (the Grachtengordel) and some of the world's finest art (in the Rijksmuseum and Van Gogh Museum). It is a city of charm and easy-going appeal. The city has a vast collection of hotels ranging from intimate and charming to all-out grandeur. However, our hotel experts generally lean towards something intimate and authentic. With this in mind, our Gurus have compiled a collection of the best guesthouses in Amsterdam, and by guesthouse we generally mean somewhere you can stay and have breakfast, but where there is no restaurant for lunch or dinner. Whether you want a stylish boutique, a romantic hideaway, or something suitable for a family break — there is a property to suit most tastes and budgets. So why not browse through our collection to start planning your next city break?
For couples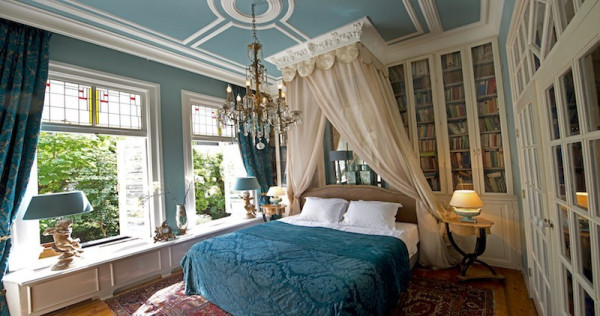 The Seven One Seven Hotel is a wonderfully grand, 17th-century sugar trader's residence oozing with old-world charm. There are just nine rooms, and the address is canal-side. If you want to stay somewhere intimate, beautiful and perfectly located then it's hard to find better.
Another great guesthouse for couples is Misc, a six room, renovated 17th-century canal house in the heart of Amsterdam. Boutique-style rooms have bright, modern decor and canal or garden views, and there's a small cocktail bar. You're right by the cultural and fashion districts, and you can hire a bike from the hotel.
Elegant, romantic and in the heart of Amsterdam, Breitner House offers just two rooms with champagne breakfasts and architectural treasures. Impressionists such as George Breitner and Isaac Israel worked in these splendid rooms.
For a boutique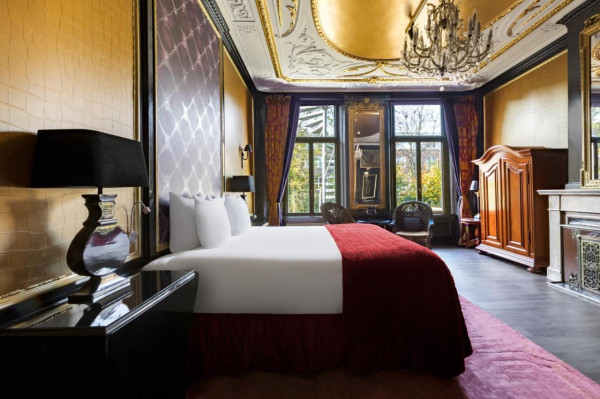 The simply named Canal House is a converted 17th-century merchant's townhouse in the heart of Amsterdam's cultural centre. The 23 rooms have a contemporary feel, with old-world touches — dark woods and ornate ceilings, chic and open-plan. Guests can also enjoy the lovely garden with a romantic gazebo, tucked away from the city bustle.
Alternatively, consider the Hotel Toren, a lavishly designed boutique hotel with 38 rooms, some with canal views, and the option to order Michelin starred room service. Dam Square, the Royal Palace and several museums are within walking distance of the hotel.
For a B&B
Mokum Suites is a unique B&B located in a heritage property in the heart of the canal district. Suites are contemporary, featuring chic design pieces and homely soft furnishings. The best have canal views. Pick this for a charming city bolt-hole.
La Remise is a luxury B&B set in Noorderstraat. Three chic rooms are dressed in a pastel palette and feature innovative design pieces, cosy soft furnishings and contemporary artworks. An intimate and stylish choice.
For city style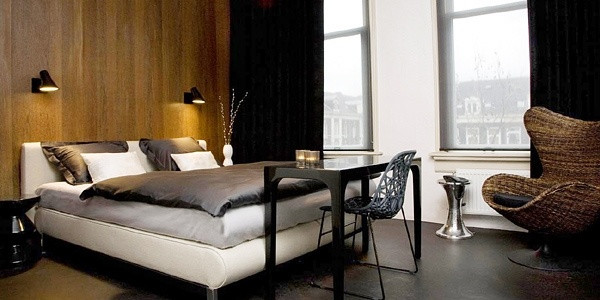 For something just outside the city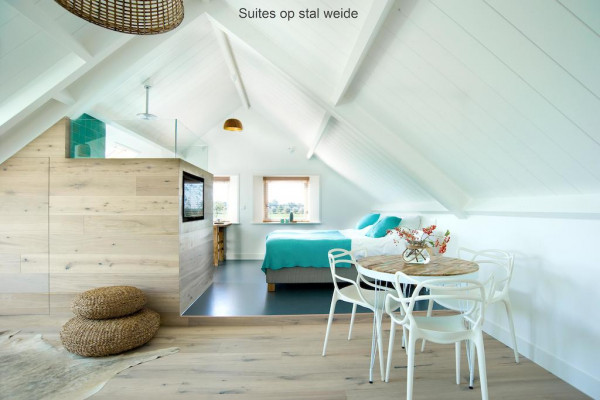 Villa Oldenhoff is a charming countryside B&B just 10km outside Amsterdam. Originally built in the 16th-century, the decor is contemporary but keeps the building's charm. Surrounded by sweeping green pastures and winding rivers, you can hire the hotel's boat to tour the area. A relaxing stay.
For canal views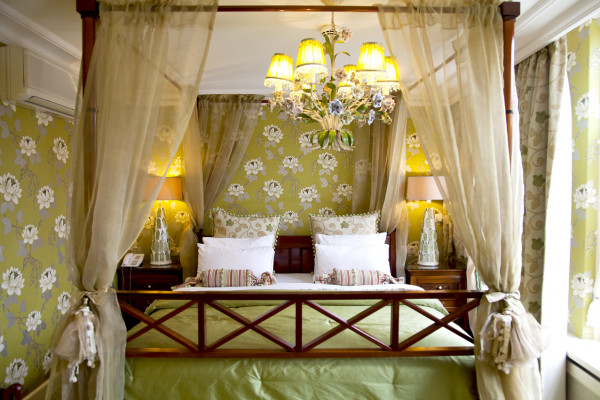 The Hotel Estheréa is perfectly located right by Amsterdam's oldest canal. This wonderful 17th-century boutique hotel has extravagant decoration and great views. Large suites are all unique with luxurious fabrics and vibrant wallpapers. A stylish stay.
The Hotel Wiechmann is a simple family-run hotel in three converted canal houses on the Prinsengracht canal in the centre of town. It has comfortable rooms with modern bathrooms and a complimentary delicious breakfast. A well located and reasonably priced break.
Still not sure where to book?
Consult our Guru's list of Amsterdam's 20 best hotels.
Expand your search to include all the best places to stay in Amsterdam.
Alternatively, contact one of our friendly Gurus for personalised advice.

Local exploring - Location lends itself nicely to exploring the city whether you want to explore the nearby museums, restaurants or designer shops

Total relaxation - Relax and recharge in this homely hotel, afternoon tea in the library, and an evening glass or two of wine

Designer - Interiors by former owner, the fashion designer Kees van der Valk — this is a very stylish stay

Outstanding location - Overlooking Amsterdam's most beautiful canal, Prinsengracht

Recommended by - Mr & Mrs Smith, Tablet, Kiwi Collection, Michelin Travel

A grand 17th-century sugar trader's residence oozing with old-world charm on the UNESCO canal network. Marble floors, oak panelling and beautiful paintings adorn the rooms. Enjoy breakfast in the dining room, relax with a book in the antique-filled sitting room or explore the city with ease. See More

Check Availability

Hotel Estheréa

Amsterdam

91 rooms from £195

Full of character - The feel is much like you've stepped into a period drama with patterned wallpaper, detailed fabrics, & not a hint of uniformity

Local exploring - Set on the oldest canal on the city in the heart of the historic centre and surrounded by hip shops, cafes and restaurants

Intimate - The hotel may be large, but it is a family-run affair and that really shows in the genuinely friendly service

Historic - Set in a beautiful seventeenth-century building on Amsterdam's oldest canal, the Singel

Recommended by - Frommers, Michelin Travel

17th century townhouses make up this boutique hotel on Amsterdam's oldest canal. Chandeliers, mahogany panelling and extravagant decor adorn the rooms. Large suites are all unique with luxurious fabrics and vibrant wallpapers. Breakfast is worth waking up for; drinks at the bar worth staying up for. See More

Check Availability

City Style - A private home with beatifully ornate interiors and the owner present to give you personalised city tips

Townhouse - The house is decorated with period antiques, original fireplaces and Italian chandeliers, and brocades

Historic - Once home of a celebrated 19th-century Dutch artist, the building still keeps its lavish design

Luxury - Touches such as the exceptional champagne breakfast make this a very luxurious stay

Expect champagne breakfasts and architectural treasures in this elegant and romantic boutique hôtel. Just two exquisite suites in this fascinating and beautiful house where impressionists such as George Breitner and Isaac Israel worked in these splendid rooms. An unforgettable treat. See More

Check Availability

Romantic Break - Rooms are equal parts boudoir as they are bedroom and bathrooms feature hot tub baths - very romantic

City Style - Enjoy cocktails at the lively bar before an evening exploring the vibrant restaurants and bars

Close to nightlife - Set in the Jordaan area there is a wide range of restaurants and typical Amsterdam cafés

Sights nearby - Dam Square, the Royal Palace and several museums are within walking distance of the hotel

Recommended by - Frommers, Michelin Travel, Tablet

Lavish boutique encompassing two 17th-century canal-side townhouses in central Amsterdam. Romantic rooms and suites are decorated in moody hues with rich fabrics and theatrical details. Enjoy a cocktail at the bar (where breakfast is served) or small bites in the lounge. A great city crashpad. See More

Check Availability

Local exploring - A quaint and charming hotel overlooking the canal, peaceful and romantic, but within walking distance of the main attractions

Close to nightlife - This quiet hotel is just ten minutes from the busy Leidseplein Square, full of bars, restaurants and cafes

Less £ - With rooms ranging from singles to family suites, there is something to suit all budgets

Groups - Quadruple Rooms are a great option for small groups wanting an economic stay

Recommended by - Frommers

Hotel Wiechmann consists of three canal houses turned into a simple family-run B&B offering the essentials. Comfortable, breezy rooms with modern bathrooms and a complimentary delicious breakfast. Proximity to the main attractions and shopping districts is a big selling point. See More

Check Availability

Local exploring - Just one street from Vondelpark & Leidseplein, you are right in the city centre with museums, nightlife, and restaurants nearby

Charming - Designed to feel like a home-away-from-home. There's an honesty bar, and bikes available - great for independent travellers

Families - Spacious (for Amsterdam) Family Rooms with a double bed and bunk beds plus there is the park nearby for kids to run around

Historic - Set in an iconic 18th century Amsterdam townhouse

Recommended by - I Escape, Tablet, Michelin Travel

Set in an 18th-century townhouse near Vondelpark, this is a simply styled boutique stay with a homely feel. Rooms range from compact doubles to well-designed family rooms - all decorated in a neutral palette. There's an honesty bar, a courtyard garden, and bikes available - an easy city base. See More

Check Availability

Canal House

Amsterdam

23 rooms from £183

Romantic Break - Pick one of the rooms with original wooden floors, fireplaces, in-room baths, and moody hues for a romantic stay

Local exploring - In the canal district, bordering on the romantic Jordaan quarter, you're right in the heart of the city

Full of character - Comprising three 17th-century canal houses, the hotel is a fun warren of corridors and staircases

Museums - A three minute walk to the Anne Frank House and the main Museum Square is also easily accessible

Recommended by - Tablet, Kiwi Collection, Small Luxury Hotels, Michelin Travel

Three 17th-century townhouses in the heart of the canal district. Contemporary designs, with old-world touches - dark woods and ornate ceilings. Bedrooms are chic and open-plan. A stylish place to stay. Guests can enjoy the lovely garden with a romantic gazebo, tucked away from the city bustle. See More

Check Availability

City Style - A chic mix of vintage designer furniture and contemporary design pieces set against steely hues makes this a stylish stay

Local exploring - Set between the old city centre and the hip quarter of De Pijp, it is convenient both for sightseeing and restaurants

Self catering - The self-catering loft apartments (that sleep three) are a great option for those in search of a home-away-from-home

Artworks - Find photos by the renowned 19th-century Dutch photographer Jacob Olie adorning the walls

Recommended by - I Escape

This modern B&B in the heart of Amsterdam with stylish rooms and a handful of self-catering apartments. Interiors mix retro furniture with chic modern design pieces. Apartments, complete with kitchenettes, are perfect for small groups & families. A convenient and well-priced base in the city centre. See More

Check Availability

Local exploring - Well positioned right around the corner from Vondelpark, close to nighlife, shops, restaurants, and museums

Eco break - As the name suggests, almost everything in the hotel is sustainable from the furniture to the green rooftop

Close to nightlife - A walk or cycle across the park takes you to Leidseplein, the city's most popular area for nightlife

Roof terrace - The green rooftop created for the bees and the butterflies is a nice touch

Recommended by - Michelin Travel

A stylish eco-hotel with state-of-the-art modern design. Rooms are simply designed with feature walls and minimalist furniture. There's a green roof terrace and a 100% organic cafe. Fully sustainable and ideally situated, right next to the leafy Vondelpark in the centre of the city. See More

Check Availability

Misc

Amsterdam

6 rooms from £194

Local exploring - Located right in the city centre, this is perfect for access the city's best restaurants, cafes, museums, design, & shopping

Lively - Located in the buzzy Red Light District, there are plenty of bars and nightclubs to choose from

Short break - Centraal Station is just over ten minutes' walk away, perfect for those on a quick trip

Boutique - Friendly owners, eclectic design, and limited rooms make this an idyllic boutique stay

Recommended by - I Escape

A renovated 17th-century canal house in the heart of Amsterdam. Personally-styled rooms - bright, modern decor and canal or garden views. On the doorstep of the city's cultural and fashion districts - hire a bicycle from reception and explore the city at ease. See More

Check Availability

La Remise

Amsterdam City Centre

3 rooms from £170

Local exploring - This hotel is in a great location, close enough to visit all the main attractions while still being able to sleep peacefully

Romantic Break - Couples love this cosy B&B; book the Sud Room for a king-size bed with plush linens

City Style - With chic, contemporary interiors, this modern B&B has lots of city style

Sights nearby - Stroll along to Dam Square, one of Amsterdam's central squares and within walking distance of the B&B

Recommended by - Tablet

This unique, luxury bed & breakfast is located in Noorderstraat, Amsterdam. Rooms are dressed in a pastel palette and feature innovative design pieces, cosy soft furnishings and contemporary artworks; book the Sud Room for extra living space. Enjoy the complimentary breakfast; an intimate city stay. See More

Check Availability

Villa Oldenhoff

Abcoude (1391 HJ)

6 rooms from £134

Chic - The design is well executed Scandi-chic with plenty of pale wood, minimalist furniture, lots of light and yet still a cosy feel

Hideaway - Located just 10km from Amsterdam but benefitting from a quiet rural location, perfect for a quiet hideaway

Country Escape - By lakes, rivers and rolling green pastures that stretch on endlessly into the horizon

Short break - Well positioned for those looking for a break from the city for the weekend

A charming countryside B&B just 10km outside of Amsterdam. Originally built in the 16th century the decor is contemporary but keeps the buildings charm. Surrounded by sweeping green pastures and winding rivers, you can hire the hotel's boat to tour the area. A relaxing stay. See More

Check Availability

Mokum Suites

Amsterdam City Centre

2 rooms from £195

Local exploring - Located close to the city centre and the main attractions, this B&B makes a great base for local exploring

City Style - Situated in a heritage property in the charming canal district, this hotel has lots of local style

Romantic Break - The hotel's contemporary, stylish suites are great for a romantic couples' getaway

Sights nearby - Stroll through town to Dam Square, Amsterdam's lively central plaza and home to the Royal Palace, a neoclassical gem

Recommended by - Great Small Hotels

This unique B&B is located a heritage property in the heart of Amsterdam's canal district. Suites are contemporary, featuring chic design pieces and homely soft furnishings; book the airy Star Suite for high ceilings, original architectural details and pretty canal views. A charming city bolt-hole. See More

Check Availability
posted Tuesday, 12th July 2022