The Best Hotels in Edinburgh's West End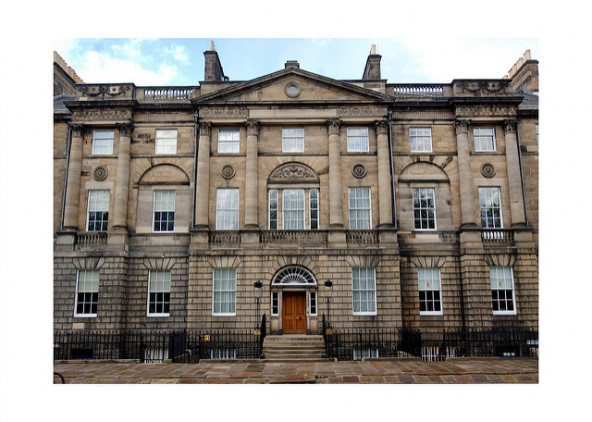 Scottish Government via Flickr
Just west of the New Town, Edinburgh's West End is known for its well-loved pubs and bars, independent boutiques and village-y feel - right in the heart of town, just behind Shandwick Place. And it's a popular place for local folk as well as visitors. So the best hotels in Edinburgh's West End tend to have buzzy bars and restaurants as well as a great, central location. If you've planned anything arts related for your stay, the West End might be most convenient for you; many of Edinburgh's music, arts and theatre venues can be found on its cobbled streets and rather grander Georgian terraces. The West End also hosts a number of arts festivals and crafts fairs.
Most of the West End looks and feels a bit bohemian, but some of its main landmarks are anything but. The red sandstone of The Caledonian railway hotel is perfectly elegant, and on grand Charlotte Square you can visit The Georgian House, which has been restored to its late 18th Century glory. Next door is Bute House, another grand Georgian facade, and the official residence of Scotland's First Minister. If you travel further west, out of the city proper you'll pass the Murrayfield Stadium - much loved by fans of Scottish rugby, and Edinburgh Zoo.
For a city break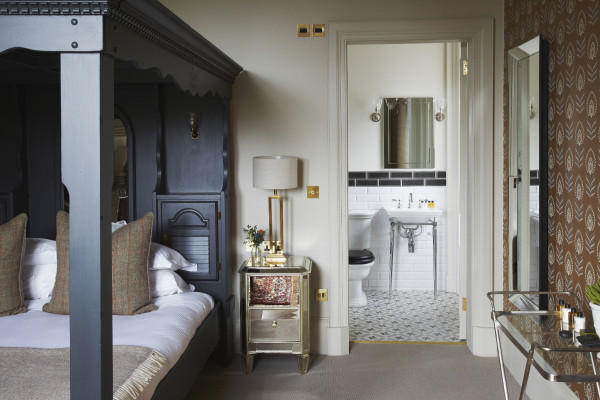 The Dunstane Houses is a chic property in a peaceful corner of Edinburgh's West End (slightly further out of the centre of town). Recently renovated it boasts chic rooms and suites (some with in room copper tubs) and an excellent restaurant and whisky bar.
For great value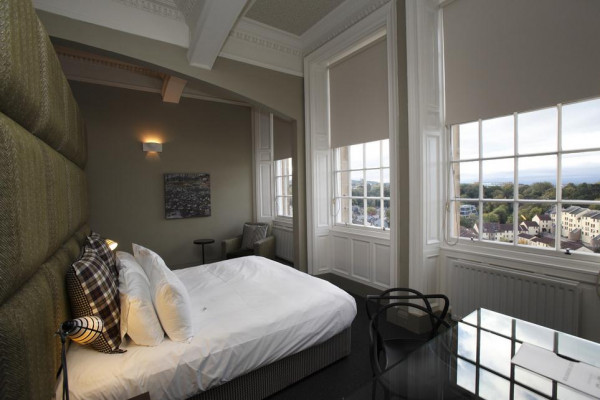 B+B Edinburgh is a roomy B&B in the West End which feels more like a private club or boutique hotel than a B&B. Awash with Victorian character this is an exclusive feeling place without the price tag. Its 27 rooms start from as little as £75 per night including breakfast.
For a similar room rate you could stay at the Bonham, a large townhouse with contemporary decor and 48 individually styled rooms. There's also an acclaimed restaurant.
If you haven't found your idea of the 6 best hotels in Edinburgh's West End on our Guru's list you could:
Browse through our list of all the best places to stay in Edinburgh?
Or consider our Guru's collection of the Best Hotels in Edinburgh's New Town or the Best Edinburgh Hotels with Pools?
Or you could contact one of our friendly Gurus for personalised advice.

Exclusive offer - 10% off City Break

Sights nearby - Easy access to all of Edinburgh's top attractions including the Royal Mile, Old Town and Prince's Street

Restaurant - Ba'Bar and Lounge, fine Scottish dining with a touch of Orkney!

Great walks - Climb Arthur's seat for a great view over the city and beyond.

Designer - Uniquely designed interiors

Recommended by - Good Hotel Guide, Fodors, Mr & Mrs Smith

In a peaceful corner of Edinburgh's West End, a short walk from Haymarket and 15 minutes' drive from Edinburgh airport, The Dunstane Houses is an independent, 5 star VisitScotland 35-bedroom boutique hotel spread over two stately Victorian townhouses on opposite sides of the road. See More

Check Availability

B+B Edinburgh

Edinburgh

27 rooms from £75

Local exploring - With its excellent central location and attractive price tag, B+B Edinburgh makes a great choice for a budget city break

Less £ - With double rooms starting from well under £100 per night, B+B Edinburgh is a very affordable option

Sights nearby - The property is a short walk (or bus/tram ride) from Edinburgh highlights including the castle and Royal Mile

Views - Many of the rooms boasts fabulous views over the city

Roomy B&B in Edinburgh's West End. More like a private club or a boutique hotel, awash with Victorian character. Come for the exclusive feel without the exclusive prices and the brilliant central location. See More

Check Availability

The Bonham

Edinburgh

48 rooms from £100

Local exploring - Situated in Edinburgh's vibrant West End so ideally located for exploring the whole city

Sights nearby - All of Edinburgh's highlights are easily accessible whether on foot or public transport

Restaurant - Recommended.

Full of character

Recommended by - Frommers, Good Hotel Guide

Large townhouse hotel in a prime West End location. Spacious rooms and suites offer a contemporary ambience, whilst not forgetting the period features including high ceilings and huge windows. Acclaimed restaurant No. 35 serves European cuisine with a Scottish twist. See More

Check Availability
posted Tuesday, 21st June 2022