✓ Book Online Now
✓ FREE cancellation on most rooms
Lasithi's beautiful coastline and plateau are some of the most beautiful, but least touristy parts of Crete. In amongst the glamourous resorts of Elounda and Agios Nikolaos, where you can find many of the best hotels in Lasithi, are small fishing and farming villages offering no visitor accommodation, but a chance to eat in a local taverna and see what life's like for modern Cretans before you go off and investigate some of the area's ancient treasures.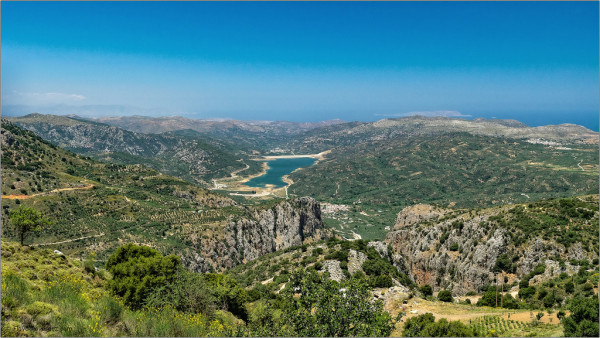 Flickr user Over Doz
Outlined below are some of the main towns in Lasithi and some of the best hotels from which to enjoy them.
Agios Nikolaos
Capital of Lasithi, Agios Nikolaos is set around a charming harbour, on the northernmost point of beautiful Mirabello Bay. Behind the harbour is a narrow channel opening onto a wide lake, which gives Agios Nikolaos reams of additional waterfrontage - lined by cafes, bars and tavernas. The actual seafront also has a long stretch of sandy beach, so this is one of the few places on Crete where you'll find a beach right in the centre of town. And then there's the marina.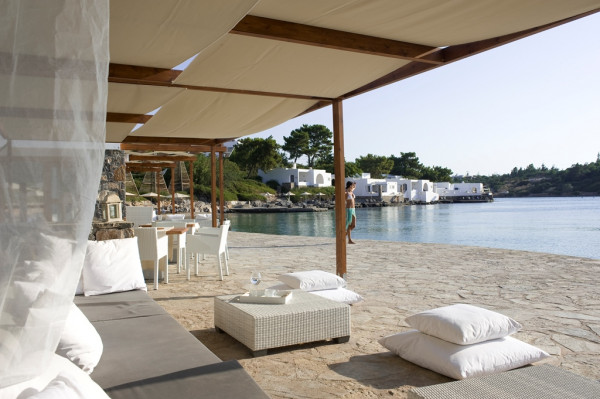 The varied ocean-view experiences are probably why sleepy Agios Nikolaos first began attracting visitors in the 60s, and quickly developed into a tourist town. But these days things are calmer and this town has the perfect combination of cosmopolitan liveliness and seaside peace.
Minos Beach Art Hotel has enough on offer that you could have a perfectly lovely holiday without leaving its pretty, green sanctuary dotted with contemporary artworks. There are semi-private beaches and coves and four restaurants, and the accommodation ranges from rooms and suites to entire whitewashed cottages, making it one of the best places to stay in Lasithi for families.
If you want nothing more than the perfect Cretan beach resort then check in to the St Nicolas Bay Resort Hotel and Villas. It's a low-rise garden resort looking out over the peninsula with views of the town and its beautiful bay. The small beach is surrounded by landscaped gardens, and there's a spectacular infinity pool. This was one of the first real luxury resorts on Crete, and it's got a charming retro feel about it.
Daios Cove is a luxury resort just minutes from the town. Sumptuous suites and villas boast cool contemporary interiors and for families it's ideal with kids club and huge range of activities available.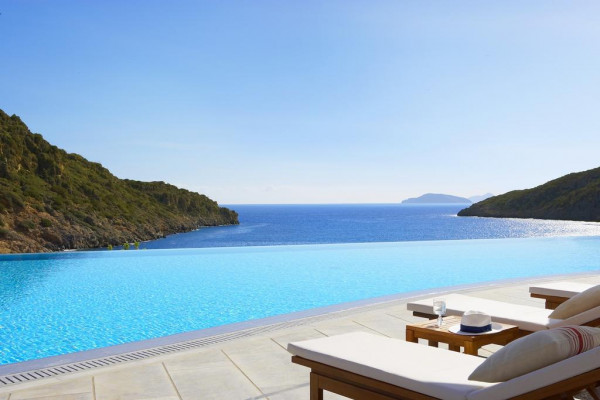 There are magnificent views along the road linking Agios Nikolaos and Elounda, with rising mountains on one side of you and charming coves and wonderful sea views on the other. So even if you don't need to pass this way it makes for a scenic drive...
Elounda
Some of Crete's first luxury resorts were built around Elounda in the 60s, so this fishing village became a glamourous A-List destination, and it's still one of the best places to stay in Lasithi if you're looking for one of Greece's most exclusive resorts. However there are plenty of affordable options in town, and town is a cute, cosmopolitan place within walking distance of several sandy beaches.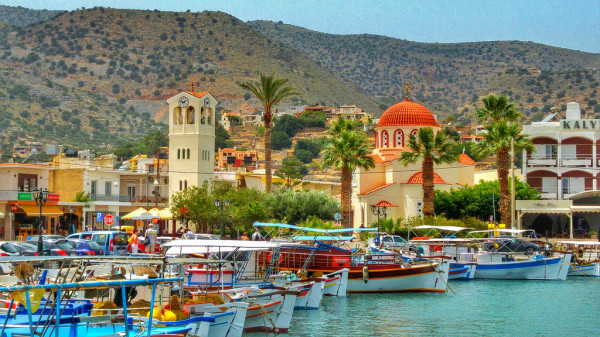 Flickr user Over Doz
On the edge of Elounda is the sunken city of Olous, which isn't really a city, more of a sunken village, but it's still an interesting sight to see walls and windmills underwater.
Spinalonga Island makes for an excellent day trip from Elounda. It's unoccupied now, but its ancient Venetian fortifications and pebbly beaches were once home to a leper colony - which only closed down in the 60s.
The luxury family resort Domes of Elounda is certainly one of the best hotels in Lasithi. It enjoys spectacular views over Mirabello Bay, has its own private beach, three excellent pools and a large spa. Your kids may appreciate the drawing classes, tennis lessons and the chance to try all kinds of watersports.
If you're after something smaller, book the Elounda Gulf Villas and Suites. It has the gorgeous views over Mirabello Bay too, and the luxurious decor and services, but it's only got ten suites and 18 self catering villas, so it's much more personal.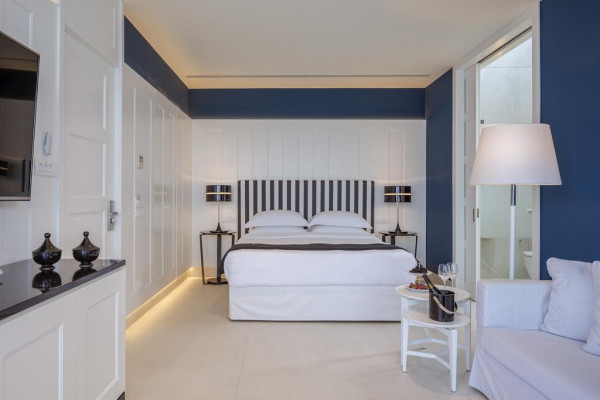 For serious luxury, book the Elounda Beach Hotel & Villas. An indulgent celebrity style hideaway this resort has private decks, private beaches, private screening rooms and several restaurants ranging from causal dining to gourmet.
Elounda Bay Palace is a large luxury resort that works for both couples and families, with sumptuous accommodation, kids club and oodles of activities on tap.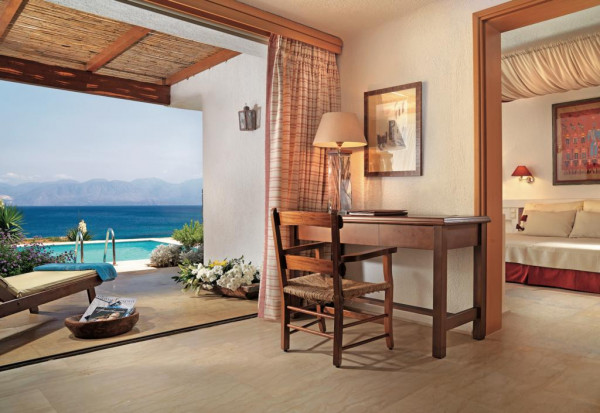 Elounda Mare is another property that attracts the celebrity crowd. It boasts a private beach, yachts to charter, a golf course and enormous spa.
The Blue Palace follows the same theme with fabulous accommodation - over half the villas have private infinity pools, plus there's a private beach, fine dining restaurants and award winning spa.
Finally we recommend the Elounda Peninsula. Here the fifty suites offer contemporary decor, each with its own private pool and hot tub! The perfect romantic hideaway.
Sitia
On Crete's quieter eastern side, Sitia is one of the closest towns to Palekastro, which has some impressive Minoan excavations, and it has an archaeological museum which houses many findings from this dig. It also has a lovely waterfront, a large public beach, numerous old cafes and tavernas - and its own 13th century fortress.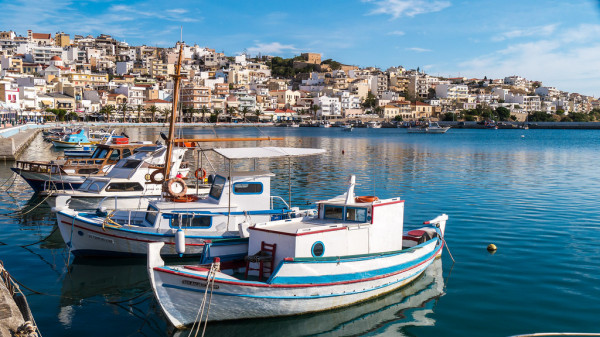 Flickr user fotogake
It has been relatively untouched by tourism, so it's a good option if you want to experience a more authentic version of Crete. The harbour is unlike Chania's or Rethymno, because it's yet to become over commercialised and is still full of the colourful little fishing boats which serve the colourful little restaurants around it.
Sitia is also ideally located for visiting Richtis Gorge and waterfall, and the palace and gorge at Kato Zakros.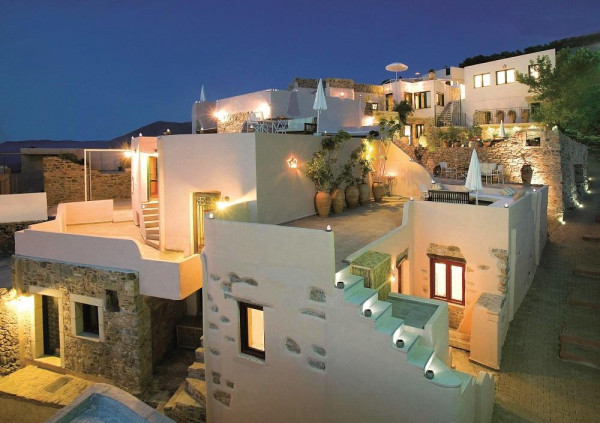 Cressa Ghitonia is ideally located between Sitia and Agios Nikolaos. It offers a stylish cluster of traditional village houses in a stunning location that offers access to unspoilt beaches and the wild Cretan countryside.
Kato Zakros
Kato Zakros is a small town of mostly olive oil farmers and fisherman, which sits on a simply spectacular spot at the very edge of Lasithi Plateau. No one would know this was one of the most beautiful of Crete's villages if they weren't coming here already to visit the nearby ruins of a large Minoan Palace and a beautiful gorge, lined with caves in which Minoan tombs have been discovered. This isn't a tourist town - there are no shops, but there are a few tavernas, most of which grow a lot of their own food, and nearby are some of the best hotels in Lasithi if you're looking for somewhere remote.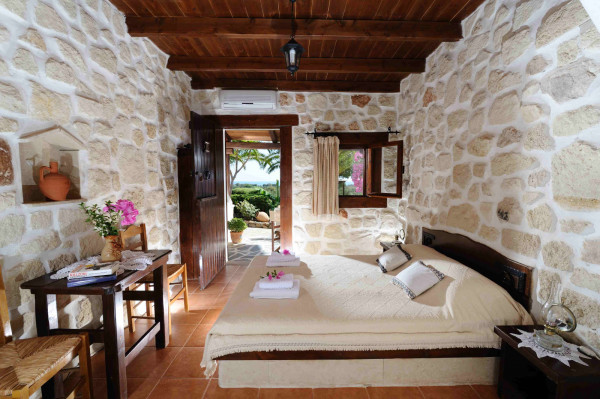 Yiannis Retreat is a charming collection of self-catering stone villas set amid pretty tropical gardens, just a short walk from the beach. There's no restaurant on site, but a BBQ is provided if you don't want to walk to the local taverna.
Aspros Potamos
Aspros Potamos is a tiny settlement on Lasithi's Southern side. Reputed to be one of the oldest inhabited locations in the area, it is known for its natural beauty, stunning beaches and unspoilt traditional villages. It's a place to visit if you want to find a slice of authentic Crete, and do more than simply lie on a busy beach. Not that you can't just lie on a beach, but then you'd lmiss out on all the glorious walking trails and visits to the Kaspa Monastery, Dei Mezzo Villa (the only Venetian Villa in this part of the island) and much, much more!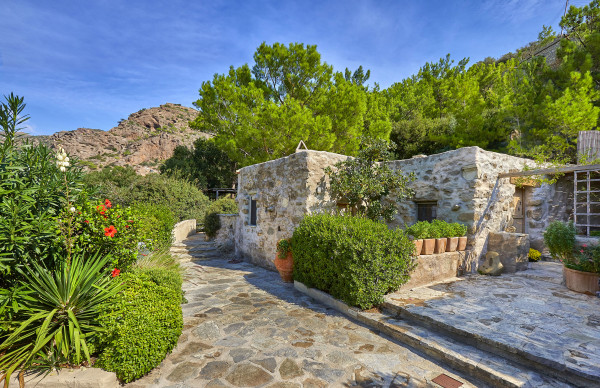 Aspros Potamos is a small collection of stone cottages offering a true home-from-home in this beautiful spot. It's simple, but it's the perfect place to escape from the pressures of 21st century living!
White River Cottages is a similar proposition - a charming hamlet of thirteen restored shepherd's huts set amid olive groves and citrus trees. The accommodation is cool and comfortable and there's the added bonus of a pool, if you can't face the walk to the beach!
For an apartment or villa
If you're travelling with family or a group of friends it may be a better option to book a villa or apartment. For a wide range of properties for all tastes and budgets we recommend you visit our online partner, Booking.com.
Travel information
From Athens, Crete can be reached by a 9-10 hour ferry or year round flights. From April to October numerous airlines fly direct to Heraklion and Chania.
The climate is ideal for most of the year. The traditional tourist period is April to mid-October but the best times to visit are in late spring/early summer and in autumn when the weather is not too hot.
If you plan to hire a car, which we strongly advise if you want to get out and explore, we recommend you visit our online partner, Holiday Autos.
Still not sure which to book?
comments powered by

Disqus
Search the best hotels in Crete