Best places to stay in the Kerala Backwaters
Much of the allure of Kerala's Backwaters is simply that there is little to do here other than sit back and relax. India can be overwhelming, so the backwaters provide respite for the travel weary. Our pick of the best places to stay in Kerala's Backwaters are designed to make the most of this region's peace and tranquility.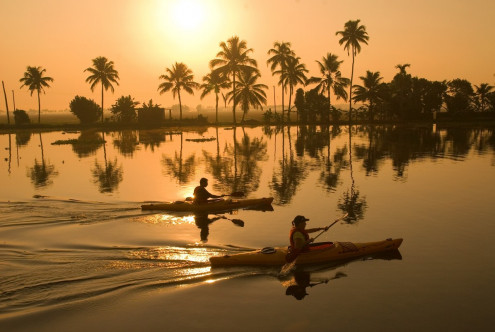 From Alleppey beaches' golden sunsets to the labyrinth of canals encased by thick jungle, decorated with exotic birdlife, the Backwaters are a South Indian idyll.
December to February is the best time to visit, however the lush greenery is even more viridescent during the monsoon. March to May can be hot and humid.
The bountiful waterways attract all manner of birdlife. From Indian darters to egrets, herons and the famous kingfisher, it is a paradise for birds and birders alike.
Natural Ayurvedic treatments are widely practiced in Kerala so why not indulge in an all body massage?
Our pick of the best places to stay in the Backwaters all provide a quintessentially Keralan and luxurious experience.
Best places to stay in the Keralan Backwaters
For houseboats
There is no more immersive way to experience Kerala's backwaters than by boat.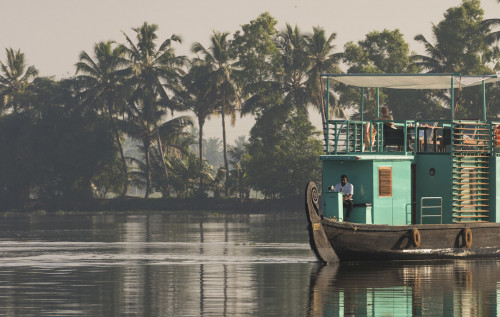 For local luxury
Raheem Residency's heritage style offers plenty of ways to experience traditional Kerala in the lap of luxury.
Still not sure which to book? From houseboat to heritage browse though our list of the best places to stay in Kerala to start to plan your trip. Or contact one of our friendly gurus for advice.
Vembanad Lake, Kerala

Your own private Keralan 'kettuvallom' style boat for exploring the verdant backwaters. With chic, pop colour interiors and an electric motor making for a quieter, more eco friendly stay. There is a large terrace for sunning, reading a good book and where meals are served. Tradition with a twist.

Sights nearby - Visit the Vishnu temples where you can witness impressive martial dance displays.

Back to Nature - Cruising along the tranquil Keralan backwaters you are at one with nature.

Swimming Pool - Guests can use the pool at sister hotel 'Privacy' whilst moored there.

Birdwatching - The Keralan backwaters are a haven for local and migratory birdlife.

Recommended by - I Escape

Check prices

Kochi (Willingdon Island)

An unusual offering from the Oberoi chain in the form of a luxurious houseboat. The same five star service one would expect and rooms are smartly decorated and feature views across the lake. There is an Indian and Continental restaurant, bar and sun terrace. Experience Kerala's backwaters in style.

Fishing - Visit the iconic Chinese fishing nets for a mandatory Keralan photo opportunity.

Sights nearby - The historic Mattancherry Palace houses an excellent Indian art collection.

Cooking classes - Either embark on a food tour or take part in a cooking class.

Restrictions on children - Chlidren above the age of 12 are welcome.

Check prices

Alappuzha (Kerala)

A homely southern India stay providing guests with an authentic slice of boutique beach life. Each of the ten rooms are of an excellent size, filled with antiques and feature ornate four posters, rich fabrics and original art. There are daily yoga classes and a traditional spa. A welcome break.

Sailing - The hotel can help organise a trip on a classic snake boat or spend a night on a houseboat.

Great walks - The iconic rice paddy fields are best explored on foot.

Sights nearby - Visit the nearby Jain and Serpent temples.

Cooking classes - Check for timings.

Recommended by - I Escape

Check prices
comments powered by

Disqus
Search the best hotels in Kerala