✓ Check Availability
✓ FREE cancellation on most rooms
Best Palace Hotels in Rajasthan
Rajasthan, "The Land of Kings", once the home of feuding maharajas today it boasts an eclectic mix of crumbling forts and decadent palaces. Rich in culture and colour, many of these fantastical abodes have been turned into unique heritage hotels. Visitors are spoilt for choice when opting for a regal stay. From the five star Taj managed palaces, to the boutique, handed down the generations, owner managed properties we have hand picked our recommendations for the best palace hotels in Rajasthan.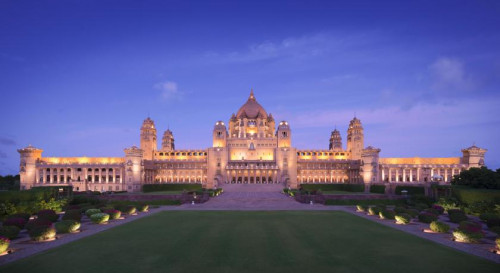 A palace stay does not have to mean an astronomical price tag. From the stately to the sublime some of the best palace hotels in Rajasthan come at a surprisingly affordable price.
For ultimate luxury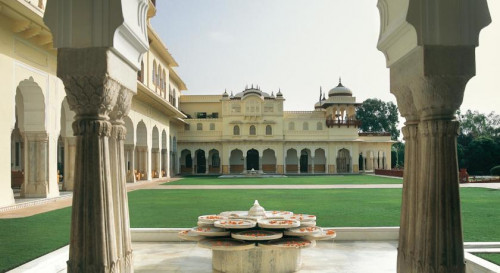 Most people imagine a luxurious stay when choosing the best palace hotels in Rajasthan. Here's our pick of the bunch:
Completed in 1943 and designed by British architect Henry Lancaster, Umaid Bhawan Palace is the ultimate in art deco opulence. Still the abode of the reigning Mahrajah of Jodhpur, Naomi Campbell famously took over the entire palace throwing a no expenses spared 50th birthday party. Unabashed five star luxury.
Known as "The Jewel of Jaipur" Rambagh Palace is yet another luxurious Taj offering - a beacon in shining marble from a bygone era. The former residence of the Maharajah of Jaipur it is a quintessential palace stay. Peacocks traverse lawns manicured to the millimetre, whilst guests can remain recumbent by the pool or the spa. Divine.
For total relaxation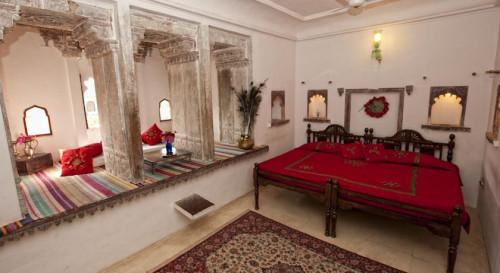 Ideally located for a relaxing stop over along India's famous 'Golden Triangle' route Sariska Palace lies amidst 120 acres of verdant grounds. With an enormous pool, clay tennis courts plus a spa and fitness centre there are plenty of ways to entertain yourselves. A great break for travelling families.
A sixteenth century castle with plenty of original features: wooden Mughal arches, frescoes, and carved stone alcoves, Castle Bijaipur is an utterly relaxing and romantic stay. Yoga, massage and cookery classes can be enjoyed on site.
For Romance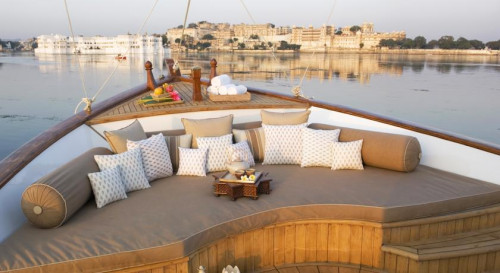 Quite simply one of the world's most romantic hotels, in one of India's most romantic locations, and easily one of the best palace hotels in Rajasthan. Another five star offering, the Taj Lake Palace is testament to the hotel chain's unbridled hospitality. Accessed by boat, lavish suites look out onto Lake Picola, as does the rooftop dining.
With rooms located on top of the fort, overlooking the Narmada River, the 18th century Ahilya Fort enjoys a dramatic setting. The current owner and descendent has published several cookbooks, so the food is excellent. Enjoy candlelit dinners at surprise locations around the property or a boat ride for two on the river.
An hour's drive from Jaipur, Samode Palace has remained in the family for generations. Boasting some of the finest frescoes and mirror-work in Rajasthan it is a prime example of Mughal architecture. Sumptuous rooms and its secluded location, make it perfect for couples.
For a stylish stay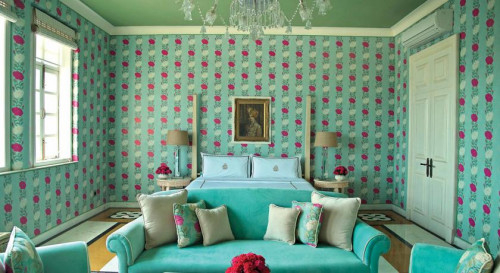 A rose tinted palace in The Pink City, SUJAN Rajmahal Palace features stylish interiors courtesy of the acclaimed Adil Ahmed. Palettes of turquoises and pinks, blues with white are effortlessly photogenic. A design lover's dream.
Brought to you by the same owners of Jodhpur's most fashionable hotel, RAAS Devigarh is a stylish palace retreat just 30 minutes drive from Udaipur. Modern minimalism is framed by Mughal arches and decorative latticework: a chic stay.
For a boutique stay

Another of the Maharaja of Jodhpur's top-drawer hospitality ventures, Ranvas is located within the 500-year-old fort walls. The fruits of a loving restoration this chic desert retreat is well worth the journey. Ideal for couples. Visit during the February for the annual World Sufi Spirit Festival.
Overlooking Lake Gaibsagar, Udai Bilas Palace is a one of a kind. Bucolic surrounds, a stunning pool and idiosyncratic interiors ranging from traditional Rajasthani to art deco make this a charmingly quirky property.
For great value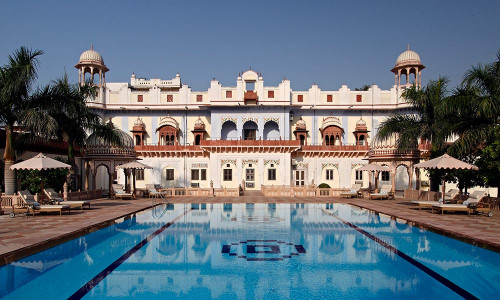 A rare opportunity for a palace stay at an extremely affordable price. Laxmi Vilas Palace boasts a cavernous dining hall and landscaped gardens. Located within easy reach of Agra it is a great option for visiting the Taj Mahal and Fatehpur Sikri.
If you can't find your idea of the best place to stay in Rajasthan on our list of the best palace hotels in Rajasthan, you could:
expand your search to include all the best places to stay in Rajasthan
contact one of our friendly Gurus for advice.

Bharatpur,, Rajasthan

A great place to stay when visiting the Taj Mahal and Fatehpur Sikri, without having to stay in chaotic Agra. Boasting an impressive dining hall, manicured grounds and rooms decorated with traditional furnishings. Largely North Indian dishes are served, plus a continental breakfast. Well priced.

Value chic - A stay in a palace for under £50 is a serious bargain.

Sights nearby - The former Mughal capital of India Fatehpur Sikri, and the Taj Mahal are a short drive.

Four poster beds - For romantics.

Spa

Check prices

Jaipur (Rajasthan)

Delightful haveli hotel in large beautiful grounds. Simple, traditional and elegant rooms with cooling verandahs. A haven of tranquility in a quiet part of town. Rooms feature four poster beds and local artworks. Lots of quirky charm. In January it hosts the Jaipur Literary Festival.

Sights nearby - The Water Palace, Amber Fort, City Palace are all must sees.

Swimming Pool - Lovely Outdoor Pool

Full of character

Romantic - Good for couples.

Check prices

Chittorgarh, Bijaipur,, Rajasthan

A 16th century castle maintaining plenty of original features. Crumbling in places it only adds to the charm of this ancient abode. Rooms feature bright silks and Mughal arches. Yoga, massage plus a tranquil pool and cooking classes complete the stay.

Total relaxation - Secluded location with yoga and massages, plus a tranquil pool

Cooking classes - Pick up some local Indian flavours in the family kitchen

Swimming Pool - Outdoor pool

Views - Great views from hotel

Check prices

Jodhpur (District Pali)

Built by Maharaja Umaid Singh in 1933 this former hunting lodge is still a favourite retreat of the royal family. Located on the edge of a picturesque lake, large, art deco style rooms make the most of the views. There is an Oriental Garden plus an outdoor pool and tennis courts. A charming stay.

Country Escape - In the bucolic surround of the scrubby Thar desert, this former royal hunting lodge is a true escape into rural Rajasthan.

Great walks - The extensive grounds stretching along the lake make for great scenic walking.

Birdwatching - The lake attracts a huge variety of birdlife, bring your binoculars!

Sailing - A boat ride on the lake is a lovely afternoon activity.

Check prices

Rajasthan

One of a kind. Handed down the generations each of the reigning maharajas has added their own twist - giving each room and wing a unique feel. There is a picture perfect outdoor pool, with lake views, plus two dramatic dining halls. Decor ranges from traditional Rajasthani to art deco chic.

Romantic Break - The Maharawal Suite in particular is made for romance.

Sights nearby - A visit to the family's former palace, the 13th century 'Juna Mahal' is just 15 minutes drive.

Views - Great views from hotel

Romantic - Good for couples.

Recommended by - I Escape

Check prices

Jodhpur

An utterly romantic summer palace overlooking a 12th century lake in 300 acres of landscaped grounds. The bedrooms are large, airy and elegant, and the dining room has the most sublime view across the lake. Sandstone waterways and pergolas, Mawari horses to ride in the hills. A regal experience.

Romantic Break - Feel like royalty at this unique hotel, with elegant suites, candlelite dining and a stunning pool, in rural Pali.

Birdwatching - Pali is a prime spot for birdwatching, don't forget your binoculars.

Views - Lovely views of the lake from the restaurant.

Sights nearby - Visit the famed Mehrangarh Fort of Jodhpur.

Check prices

Neemrana, Rajasthan

15th Century Palace sprawled over a hill with terraces and courtyards looking over the Rajasthan landscape. Large, antique filled rooms are charming and comfortable. With three dining options, two pools, a spa and a zip line - this is the true definition of an oasis. A once in a lifetime stay!

Birdwatching - For the desert location, there are a surprising amount of birds. Notably the green parakeet stands out against the desert.

Sights nearby - Visit the forts 18th Century Water Well that is nine stories deep and formely for the visiting, weary travelers.

Secluded setting - For escaping.

Swimming Pool - Indoor/outdoor

Check prices

Ranvas 34 rooms from £177

Jodhpur (Nagaur)

Following a twenty year renovation by the Maharajah of Jodhpur this collection of havelis is a chic oasis in the heart of the Thar desert. Film set worthy rooms and impossibly romantic candlelit dinners make it ideal for couples. One of the best places to embark on a horse or camel safari.

Honeymoons - A regal and romantic escape with candlelit dinners in the fragrant gardens and indulgent interiors worthy of the Maharaja.

Total relaxation - Unwind in style in the frescoed halls, temples, and Mughal pleasure gardens, not to mention the spa.

Sights nearby - The desert towns of Bikaner, with its incredible fort and Mandawa konwn for its painted havelis are a drive away.

Great walks - Hike the perimeter of the 12th-century fort's magnificent ramparts.

Recommended by - I Escape

Check prices

Jaipur (Nr Jal Mahal)

This luxurious Maharaja's Palace has beed exquisitely restored with the finest Italian marbles, Egyptian cottons, mahoganies, and Swarovski chandeliers. The 38 suites are divine, as are the equally majestic verandahs, gardens, and food in the wonderful restaurant.

Sights nearby - The Amber Fort is Jaipur's main attraction. Go at sunset for the best views.

Local markets - Bapu Bazaar is Jaipur's busiest and most popular market.

Swimming Pool - Outdoor Pool

Spa

Recommended by - Small Luxury Hotels

Check prices

Jaipur (Village Samode)

A traditional Rajput palace just outside Jaipur. Wonderfully romantic rooms and suites, all individually decorated, but each as magical as the next. Terraces, pools, tennis courts, camel safaris, fantastic Rajasthani and European food. Regal and luxurious.

Total relaxation - Located outside of town, in rural Jaipur with a luxurious spa. There are plenty of ways to unwind.

Romantic Break - Candlelit dinners, sumptuous rooms and a divine spa.

Romantic - Good for couples.

Local markets - Jaipur's famous textile market is great for fabrics and rugs.

Recommended by - I Escape, Mr & Mrs Smith

Check prices

Udaipur (Rajasthan)

As iconic as Udaipur. A shimmering white and gold vision located on Lake Pichola it is accessible only by hotel boat. Rooms are quite literally fit for a maharajah: stained glass windows, plush velvets, gilt work, and intricate murals. Plus a pool, famous rooftop restaurant and novel 'spa boat'.

Sights nearby - Located in the heart of Udaipur, most of its sights are within walking distance.

Local markets - Bada Bazaar is a favourite amongst tourists and locals alike.

Private Hot Tub

Views - Great views from hotel

Recommended by - Fodors, Kiwi Collection

Check prices

Jaipur (Rambagh)

Royal treatment in the home of the former Maharaja of Jaipur. The interior decoration and surrounding grounds echo the magic of a bygone era - marble floors, beautiful colonnades, and acres of luscious gardens. A fabulous place to stay.

Swimming Pool - Indoor and Outdoor Pools

Sights nearby - The Amber Fort, Hawa Mahal and Jantar Mantar are all must sees.

Local markets - Bapu Bazaar is awash with sparkling sarees and jewellery.

Lively - Hip and happening.

Recommended by - Tablet, Kiwi Collection

Check prices

Jaipur (Rajasthan)

A rose tinted palace in The Pink City. Eight desirable rooms have stylish interiors courtesy of the acclaimed Adil Ahmed. Rooms are decorated in chic palettes of contrasting colours: turquoises with pinks, blue with white (so photogenic). Dining is an equal parts aesthetic and tasty affair.

Sights nearby - Enjoy a private tou or the City Palace.

Romantic - Good for couples.

Designer - Uniquely designed interiors.

Swimming Pool - Indoor/outdoor

Check prices

Udaipur (Rajasthan)

Leelas are known for their exuberant style and their Udaipur offering does not fail to impress. Simply gorgeous at every turn rooms feature four poster beds, finest silks, ornate artwork and subtle lighting plus palatial bathrooms. Fine dining and an extensive wine collection completes the set.

Sights nearby - The City Palace and much more are within easy walking distance.

Sailing - Take a boat out on Lake Pichola - an iconic Udaipur experience.

Local markets - Bada Bazaar is a favourite for picking up gifts and souvenirs.

Cooking classes - Check for timings.

Check prices

Jodhpur

The only way to experience the real magic of Jodhpur. This exquisite Maharaja's palace is the ultimate in grandeur and luxury. Elegant rooms with Art Deco trappings, swimming pools, spa, billiards, yoga - the list goes on. A truly romantic and old-world setting.

Spa breaks - The Taj's signature JIVA spa is the ultimate in indulgent spa breaks.

Palace - Astounding art deco Maharaja's palace

Romantic Break - Opulent suites are made for romance.

Sights nearby - Mehrangarh Fort is a must visit.

Recommended by - Kiwi Collection

Check prices
comments powered by

Disqus
Search the best hotels in India