✓ Check Availability
✓ FREE cancellation on most rooms
For some people, the true home of Italian wines is the Piedmont region. It has more DOCGs (the highest classification of Italian wines) than any other region within Italy. Piedmont is often likened to Burgundy because of its numerous small-scale, family wineries, and their demandingly high standards. As you'll see from our guide, some of the best wine hotels of the Piedmont are around the hills of Le Langhe.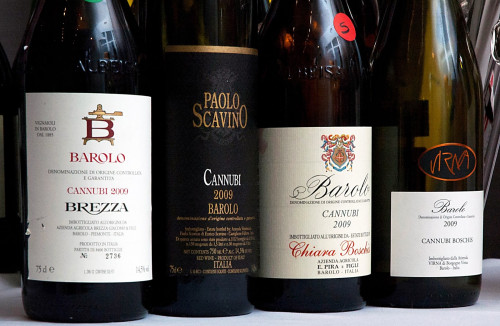 .This is where the majestic red tannic wines Barolo, Barbaresco and Barbera d'Asti are produced and where the Nebbiolo grape is revered. Amongst the white wines, sparkling Moscato d'Asti and Asti Spumante are the most famous.
Wine hotels in Piedmont for food-lovers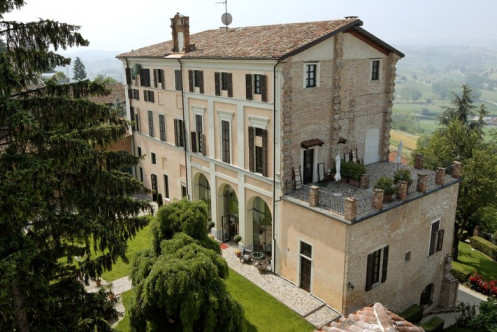 Wine hotels in Piedmont for romance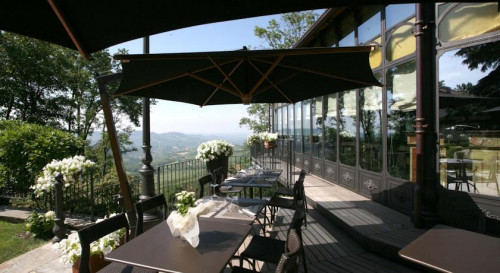 Wine hotels in Piedmont - agriturismi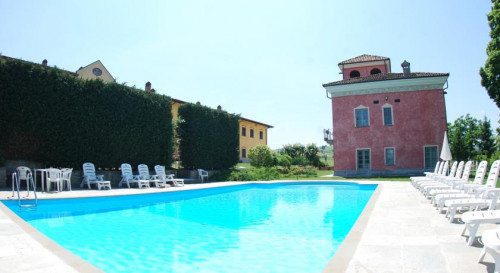 Wine hotels in Piedmont - castles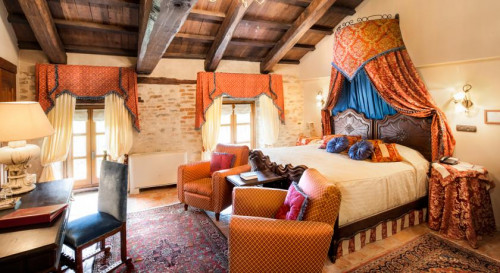 Wine hotels in Piedmont for townies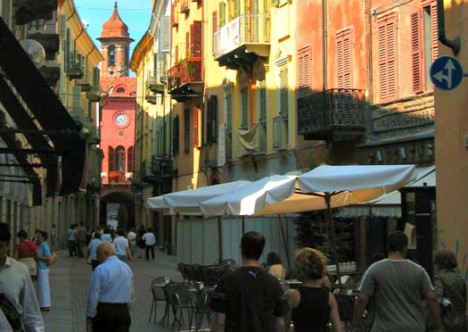 The Piedmont region, particularly around Alba, is also famed for its heady - and expensive - white truffles. Choose to visit one of these wine hotels in Piedmont during the autumn harvest season and you will be in for a true gourmet feast.
Nothing here for you? Check out all our properties in the Piedmont region or take a look at our ultimate guide to wine hotels in Italy.
Piedmont

Set in spectacular Piedmont country this delightful hotel is the epitome of good taste. A perfect combination of comfort, good food, modern essentials, child and dog friendly, pool, bikes, riding, plus the largest concentration of top chefs and gourmet restaurants in Italy - ticks most of the boxes.

Local markets - The region is well-known for its markets, seasonal local produce: truffles, cheese, hams, Amaretti biscuits, wine

Good wine list - Over two hundred wines, Piedmont is one of the classic wines of Italy, and the Vatican's favourite

Restaurant - Recommended.

Cooking classes - Learn how to cook pasta properly!

Recommended by - Mr & Mrs Smith

Check prices

Piedmont

A delightful castle hotel set amongst vineyards. Modern rustic style with wooden beams, antique furniture and stone floors. Lovely gardens with herb plants, jasmine and bubbling fountains. Sweeping views, excellent Umbrian cuisine. A great choice for couples and gastronomy fans.

Foodies - Extensive vineyard and wine tasting tours, cheese tasting, chocolate tasting, truffle hunting and various annual food festivals

Romantic Break - Stunning Baroque chuch and belltower sitting atop a medieval village and sweeping views of forest and vineyards

Sights nearby - Sinio, Serralunga, Alba, La Morra and Monforte D'Alba

Local markets - Food markets in Alba, Dogliani, Asti

Check prices

La Morra

A beautiful and authentic hotel in a former castle. Large rooms are filled with antiques and elegant furnishings. Traditional restaurant with sweeping views over stunning grounds. Lots of wine tasting in the region. A great choice for families or couples, especially those interested in wine.

Views - Fab views over the Langhe district, the Tanaro valley, the Roero district and the Alps

Historic - A beautiful 15th century castle with whitewashed walls and green shutters.

Wine tasting - Vineyards of Verduno and Barbaresco and tours of hotel wine cellars

Foodies - Many vineyards nearby including Verduno Pelaverga

Check prices

Canelli Asti, Piedmont

A gorgeous Italian farmhouse still retained as a private residence with its own vineyards. Traditional rooms have stone walls, iron bedsteads, and antique furniture. Lovely gardens, buffets in the summer, and a pool to cool off in. The perfect spot to unwind in the tranquil countryside.

Views - Wonderful views over the hotel's vines.

Swimming Pool - Indoor/outdoor

Traditional

Great walks - Good for walkers.

Check prices

Grinzane Cavour, Piedmont

Pretty hotel in 19th century house. Elegant rooms feature four poster beds, wooden floors and views of Langhe Hills. Large gardens and sun terrace where breakfast is served. Great value, superb location with plenty to do.

Local exploring - Dozens of cycling trails, wine tasting, historic castles and traditional eateries near this charming hotel

Sights nearby - Grinzane Cavour and its castle

Romantic - Good for couples.

Great walks - Good for walkers.

Check prices

Asti, Piedmont

Chic hotel amongst vineyards. Rooms inside the barn building are contemporary- high ceilings, Japanese-style four-poster bed, chandeliers and French windows. Outdoor pool, terrace and gardens. Elegant bar and sumptuous hotel lounge. Bohemian, authentic and relaxed.

Country Escape - Chic interiors in idllyic surroundings; day trips abound or simply enjoy the vineyards and outdoor pool

Sights nearby - Fontanile, a small village crowned by a magnificent church dome

Local markets - Wednesday morning produce market at Asti

Great walks - Good for walkers.

Recommended by - I Escape, Sawdays

Check prices

Piedmont

Lovely hotel in the hills with glorious views. Elegant rooms have either wooden beamed or frescoed ceilings, antique furniture and cream furnishings. Outdoor pool, gardens and sun terrace. Breakfast is served in glass dining room. Romantic and ideal for wine lovers.

Foodies - Hotel is in the Langhe vineyard region, and guests can also go on white truffle hunts

Great walks - Seven routes originating in the village that lead to delightful farmsteads, chapels, woods and vineyards

Sights nearby - Scarampi palace and the Piazza dell'Antica Chiesa

Romantic - Good for couples.

Check prices

Nizza Monferrato, Piedmont

Built by an 18th century Count, enjoy the rural life at this former farmhouse. Truffles are the local speciality and you will see them, as well as other regional delicacies & wines on the menu. Rooms are traditional in style with terracotta tiles, exposed beams, large windows and four poster beds.

Great walks - There are scenic walks a plenty through the Rocchetta Tanaro Natural Park.

Cooking classes - Learn the arts of the 'Cuisine of Piedmont'.

Swimming Pool - Outdoor pool

Full of character

Check prices

Canale Cuneo, Piedmont

A glorious country house surrounded by its own vineyards and boasting an extensive wine cellar. Beautiful romantic bedrooms and suites have four poster beds and soft pastel furnishings. Lovely gardens, views, and a pool, as well as a fine dining restaurant. Perfect for a romantic break.

Foodies - Extensive wine list and gourmet Italian cuisine.

Luxury

Romantic Break

Four poster beds - For romantics.

Check prices

Asti (Frazione Villa)

Stunning castle hotel overlooking vineyards. The large rooms have four poster beds, murals, beamed ceilings and big bathrooms. Outdoor pool, manicured gardens, terrace and library. Outstanding menu of locally sourced produce, excellent wine list. Ideal for a stop on a foodie trip of the region.

Foodies - Over 50 Michelin starred restaurants to choose from in Piedmont, as well s day trips to the vineyards of Barolo

Sights nearby - Cathedral of Santa Maria Assunta and San Gottardo di Asti

Local markets - In nearby Alba

Romantic - Good for couples.

Check prices

Alba

A lovely little B&B set on a quiet backstreet moments from the centre of Alba. Charming rooms and suite have lots of space, elegant furnishings, and all the mod cons. The hotel hosts contemporary art exhibitions. Breakfast in the basement and walking distance to all the attractions.

Outstanding location - Located on a quiet backstreet but moments from the city centre.

Sights nearby - Piazza del Duomo, the town main square.

Traditional

Local markets - Good for local colour.

Recommended by - Fodors

Check prices
comments powered by

Disqus
Search the best hotels in Piedmont