17 Great Rural Hotels in Sicily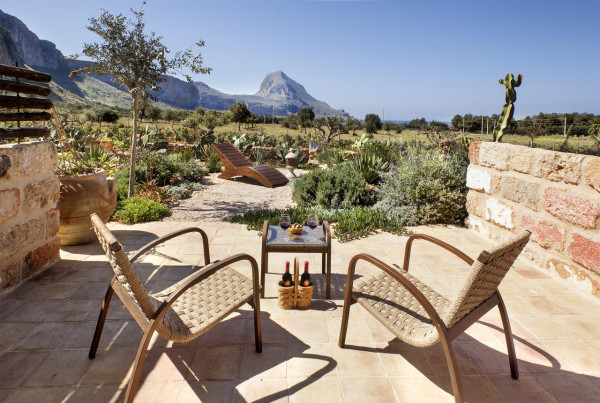 Sun drenched and beautiful, Sicily's rural landscape is dramatically diverse, with views that range from neat, lush green grapevine rows, to sprawling meadows, to rough, scrubby mountains, to smoke-coloured volcanoes. And of course the food is perennially good, grown in the rich, volcanic soil, under the warmth-giving sun. And the wines equally so. All best experienced on a terrace with a view of whence they came. Which is why we think our recommendations for great rural hotels in Sicily probably have a direct cross-over with our recommendations for the best places to stay in Sicily. If you're here to eat and drink, or to walk, or explore, or discover, or to learn, or if you're looking for an escape, or for a romantic bolt-hole, then our list of the best country hotels in Sicily is for you.
Hotels with a fabulous view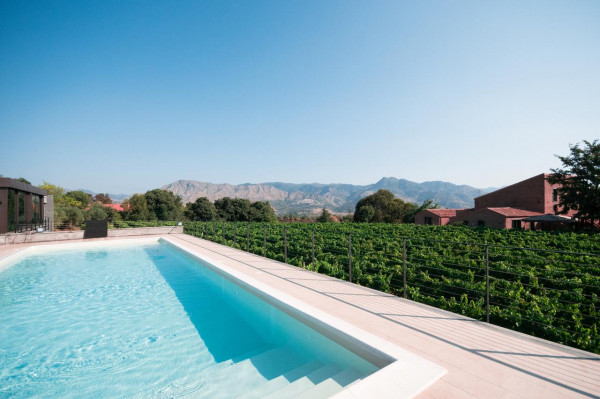 In the foreground are rows of vines, then comes the pinky walls of the vineyard buildings and wine press, and beyond that the mountains, all the way up to Etna. That's the view from the pool of the Cavanera Etnea Resort. This ten room hotel is part county wine estate, part luxury resort. As well as touring the grounds and winery you can also do plenty of tastings, and the staff know all the best places to eat and drink in the vicinity. The rooms are simple but luxurious, with fantastic floor tiles made from local black lava!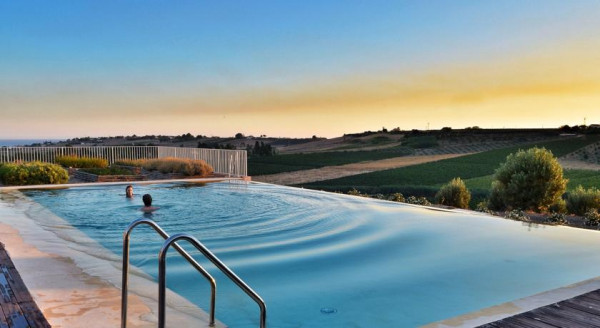 La Foresteria Planeta Estate is another luxurious wine estate with incredible views. In this instance beyond the bright rows of grapes you can see all the way to the ocean. And all of the 14 rooms have private terraces or balconies, so every room has a private view. Plus the view from the pool, and the pool terrace, and the restaurant with its beautiful outdoor dining area and from the sitting room's vast windows. Each of the rooms has been individually decorated with unfussy period pieces. The restaurant is excellent, and has a huge kitchen where they also offer authentic Sicilian cooking classes.
The Masseria Agnello has been converted from a wine estate just outside Realmonte, which is renowned for its beautiful vineyards and incredible views of hills that roll into mountains, and of the coast. The main building has been carefully restored and now houses the restaurant and public rooms, plus there are ten hotel rooms converted from the servants quarters and stables. Everywhere you look, there are original features. There's also a pool, a patio with a view, and a garden. And a traditional Italian restaurant where guests can also take cooking classes.
For a rural escape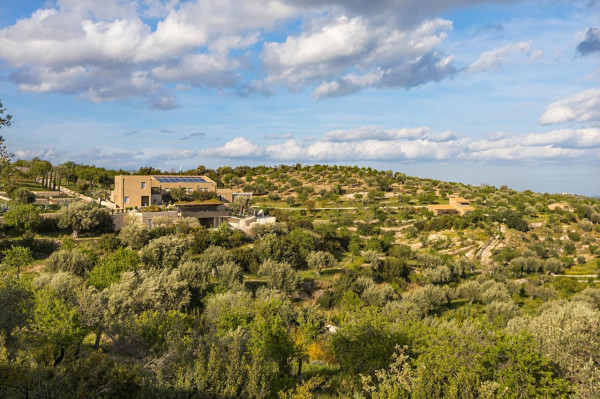 For privacy and stylish luxury in a serene setting consider the Country House Villadorata, an extremely elegant guesthouse set on a vineyard close to Noto. This is an ideal spot for a country escape, with just eight beautifully dressed rooms and suites, and a private villa with its own pool. There's plenty of space if you want to bring your family, but space enough so that you can just be on your own if you're looking for somewhere romantic. The organic restaurant is excellent, and the pool has a wonderful view.
Southeast Sicily's Wine Relais Feudi del Pisciotto is an elegantly converted country farm estate, which dates from around 1700, with just ten rooms and suites — some very large, and an impressive seafood restaurant, which also specialises in the local wines. This is a wonderful bolt-hole surrounded by vineyards, and on the edge of a nature reserve, so the views are really something. The building's original stone walls, heavy iron doors and wooden beams are shown off, but now there's also an indoor spa with a sauna.
Dimora Delle Balze is a beautifully converted masseria in a pristine part of rural Sicily — it's something like a gorgeous old stone farm complex with a semi-fortified wall and towers, plus ancient olive trees and orchards. It has just 12 rooms, all very chicly decorated with contemporary fabrics and a few choice artefacts and plants, to make the most of the wonderful stone walls and other original features. There's also the sort of pool you could expect to see in a tropical island resort. Remote, quiet and traditional, you're not far from Syracuse and the coast, and they have family suites and plenty of space for kids to enjoy themselves without bothering anyone.
Sicily's Best Rural Hotels for Foodies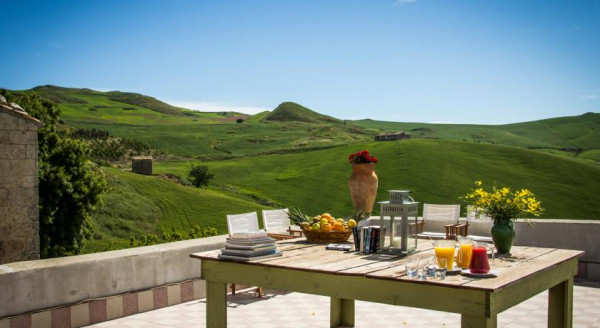 The Masseria Susafa is a converted 18th century farmhouse surrounded by olive groves, vineyards and views of green, rolling hills. As well as admiring the views, this is a wonderful place for food, with a well-known and respected Sicilian restaurant onsite, that has a famous five course menu which changes daily based on what's available on the farm. Inside, the 18 rooms are rustic and chic, with terracotta floors, exposed stone walls and antique furniture to suit. There's also a pool with a view, and farm animals. And it all comes together to give a sense of the slower, pleasurable pace of Sicilian life of bygone days. It's the perfect place to learn about Sicilian cuisine and culture too.
You know when a property has a name like: the Tale Restaurant & Suites that much emphasis will be put on the food. And it's a nice idea to have rooms when your restaurant is in such a beautiful, rural spot. These ten suites are in a very stylishly modernised country house in Piedimonte Etneo, which is a spectacular region close to Mount Etna. Family and pet friendly, expect minimalist style in the suites, an elegant breakfast bar and a gourmet restaurant. There's also a pool, and a feeling of relaxation prevailing. Along with intimacy and luxury.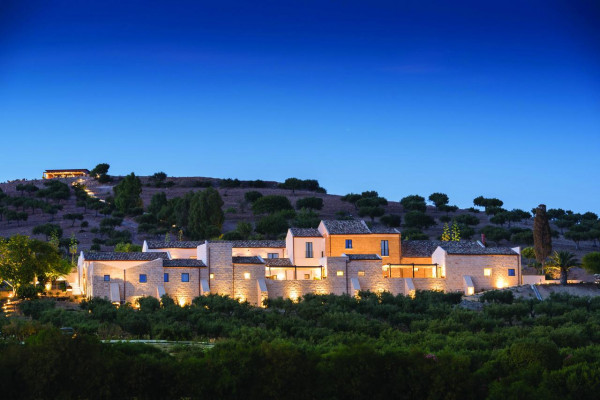 The Baglio Sorìa Resort is set on a wine estate, complete with vineyard, in Trapani. The resort is a contemporary build, but in a style that fits with the rest of the estate, and the 11 rooms and suites are also stylish and contemporary in decor. The best suites have living space and private balconies. And there's a great pool, with fantastic views. This is a relaxing place to stay, and of course, fantastic if you're interested in local wines — they offer tastings in their wine bar, and great pairings with their organic menu. The resort can also arrange cooking classes.
Another wine resort our Gurus recommend is the Wine Resort Villagrande, a wonderful country house on a wine estate, with just four rooms, all with balconies or terraces with vineyard views. This is a traditional feeling wine estate, with great Sicilian decor, and all of the rooms are quite charming, with high ceilings, traditional tiles on the floor and huge windows. There are numerous terraces, one where meals are served, and a sitting room with a fireplace. Families are welcome.
Best Rural Seaside Hotels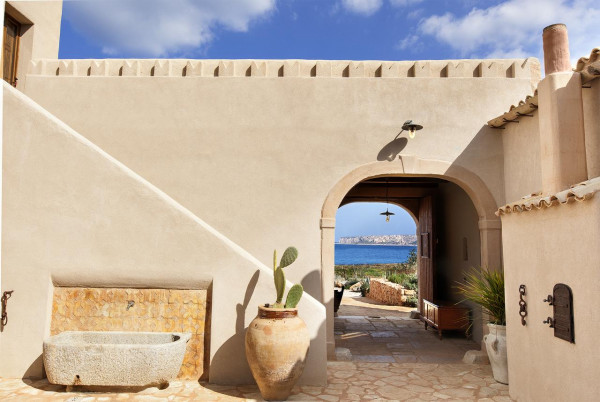 Baglio Giammaccaro is a charming rustic chic, five room B&B with mountain views from the front of the property and a sea view from the back. Within the borders of the Monte Cofano Nature Reserve, this is an exceptionally beautiful bolt-hole, and it's not just because of the views and pristine surrounds, inside there are hand painted tiles and carefully restored antiques, an extremely elegant sitting room, and an impressive traditional kitchen. There's also a glorious garden of local flora. Breakfast is served al fresco on the terrace. And there's a choice of pretty beaches very close by.
Just outside Agrigento, and only 800 metres away from the beach, the Baglio della Luna is a great little four star option, converted from a beautiful old Sicilian mansion house and outbuildings, complete with sprawling terraces and a lush, green garden. The 23 rooms are traditionally decorated, and quite charming, and the restaurant has a reputation all over the island for its fantastic Sicilian cuisine, and its wonderful views from its verandah over the Valley of Temples.
For a romantic stay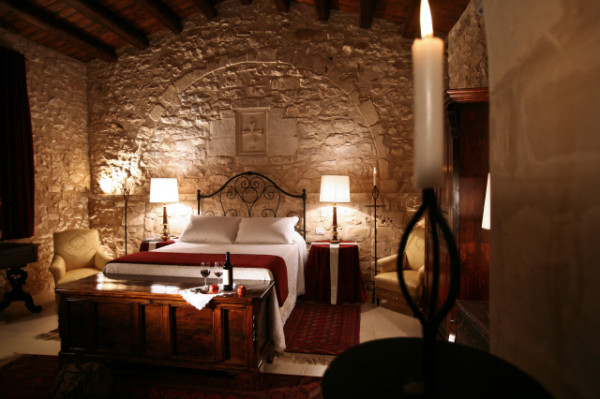 You might not find the idea of staying in converted monks' cells romantic, or the idea of staying somewhere with its own archaeological dig, but some of you will, and for those of you we highly recommend the Eremo della Giubiliana. This beautifully converted former monastery is now more like an aristocratic country house, with a really wonderful collection of treasures and relics, and an incredible dining room where excellent meals are served. If you don't fancy the cells, but you like the idea of the lush gardens, pool, courtyards, views and other elegant surroundings you could stay in one of the six suites or five cottages, which offer even more privacy and charm. The hotel also offers wine tastings and cooking classes.
Great Rural Hotels for Families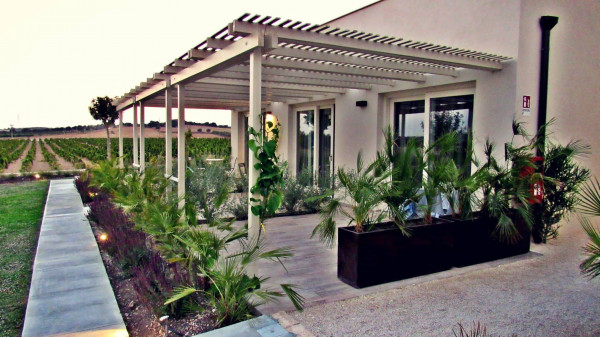 Close to the ocean, and on the edges of both the Vendicari National Park and the vineyards of Nero d'Avola, Scilla Maris has just six large, luxurious rooms, all with their own balcony or terrace to make sure you don't miss a moment of this view. It's an elegant property with carefully collected and up-cycled antiques, furniture and objets d'art, but it's not fussy, and it's very family friendly. It's an excellent base for exploring, and a lovely place to come back to, with a big pool and a small restaurant specialising in local cuisine, with a lot of their ingredients grown onsite.
Simple, charming and elegant, the Castello Camemi is an historic, as well as off-the-beaten-track choice, with just 13 rooms and suites, including several perfect for families. All the rooms are large, and all are elegant, with original stone floors and carefully chosen fabrics and fittings in muted shades. There's an outdoor pool and bar, set amid sprawling grounds, and a gourmet restaurant. The Castello will make a great base for exploring the local towns and the rest of Sicily's south east corner, but it's also a great place to just relax.
Converted from a farm in the beautiful Ragusan countryside, the Kinanto Bioresort has just seven rooms and suites. All of them are large and light, the biggest of which sleeps five people in its two bedrooms — plus kitchen and private balcony. But there are others which sleep four, and all have self-catering facilities, so there's plenty of choice for families. There's also a pool and a pretty garden, and the surrounds are peaceful, whilst still being a good base for exploring the island. And the whole owner-managed resort is cleverly ecologically friendly.
Best Value Rural Hotels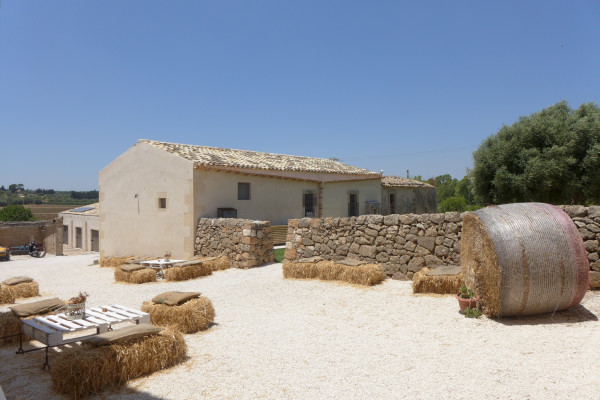 A fantastic escape, the Case Marianeddi is a remote and rustic hotel within the Vendicari National Park, with just six rooms spread between two properties. All of the rooms are simply dressed in an elegant, earthy palette, and the best have their own private terraces and exposed stone walls. There are plenty of nice spots to retreat to within the grounds, and a cosy restaurant and terrace.
Still not sure which to book?
posted Tuesday, 31st December 2019
Search the best hotels in Sicily