The 7 Best Hotels in Santa Cruz, Seville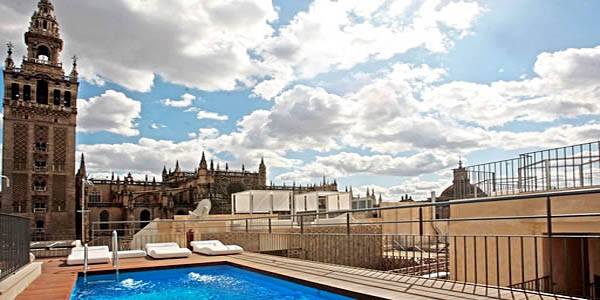 Santa Cruz is the true centre of Seville. Draw a ring around the incredible Gothic cathedral and you'll find it filled with winding, cobbled alleys, small squares with flowery balconies and traditional cafes, restaurants and tapas bars. If you choose to stay in one of the best hotels in Santa Cruz you'll be right in the heart of things, but also spoilt by roof terrace views and plenty of choice when it comes to cafes, bars and restaurants.
Santa Cruz is bordered by the Real Alcázar, the Calle Mateos Gago, the Calle Santa María La Blanca, and the Jardines de Murillo - some of Seville's headline sights, as well as Santa Cruz's. The Giralda, which was once a minaret, also belongs on this 'must-do' list.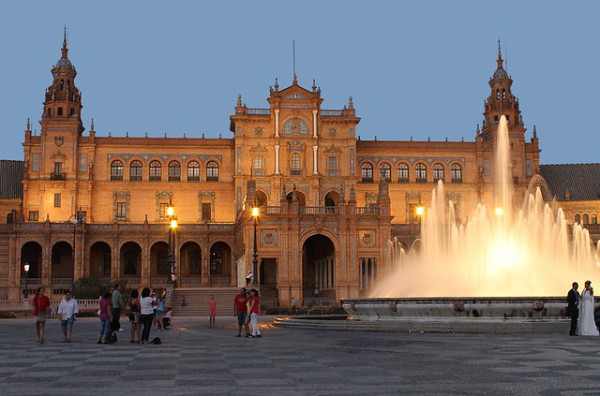 By Nicolas Vollmervia Flickr
Santa Cruz was the old Jewish quarter, and, rather conversely, has some of Seville's oldest churches - when the Jews were expelled from Spain all the synagogues were turned into churches. But the labyrinth of streets is the same as it was when it was the Jewish quarter - their narrowness and the bijou size of the squares were designed to protect the inhabitants from the sun of a Sevillian summer. If you're interested in this part of the area's history make sure to visit the covered passageways of the Juderia.
As well as being central, historic, extremely atmospheric, beautiful and smelling heavenly - there are a lot of orange trees here - Santa Cruz is also said to be the birthplace of literary bad boy, Don Juan Tenorio - you can see a statue of him in the Plaza de la Alianza.
The Most Luxurious Hotels in Santa Cruz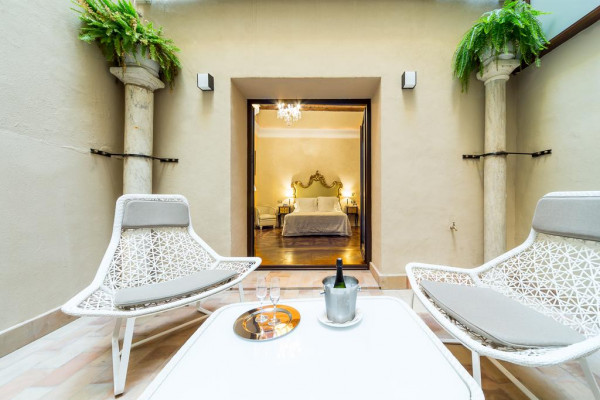 For Location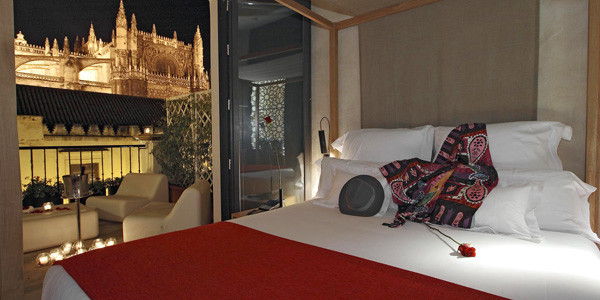 For great value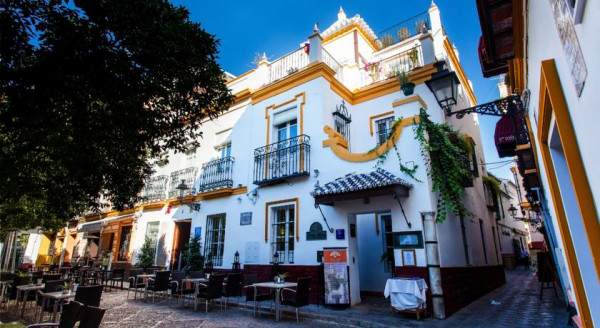 For a unique stay!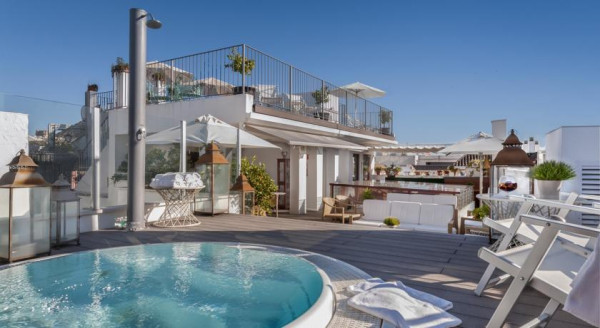 If you haven't found your idea of the best hotels in Santa Cruz on our Guru's list of the 7 Best Hotels in Santa Cruz, you could:
The 7 Best Hotels in Santa Cruz
Casa 1800, Seville

Seville (Sevilla)

33 rooms from £330

Local exploring - In the heart of the city close by to monuments, museums and cultural activities. Easy access to public transport as well

Total relaxation - A very laid back atmosphere with a rooftop terrace and pool offering splendid views of the city and its grand monuments

City Style - A grown up and suave hotel on the cobbled lanes of Santa Cruz- with gilt chandeliers, parquet floors and velvet drapes

Local markets - Located in Santa Cruz, a few steps from the shopping area

Recommended by - Great Small Hotels

Located in a lively district of Seville, a good choice if you want to explore the culturally vibrant city. Rooms around the inner courtyard are elegant with exposed stone walls, four poster beds and opulent chandeliers. This luxury hotel also offers a rooftop terrace with a swimming pool and views. See More

Check Availability

Local exploring - A superb central location right by the cathedral mean that you are ideally placed for sightseeinng

Roof terrace - A fabulous rooftop area with bar and pool which is buzzing with hotel guests and local residents

Views - Outstanding views of the cathedral from the roof top terrace and from the rooms.

City Style - Seriously chic interiors and a fun vibe make this a very stylish city stay

Recommended by - I Escape, Tablet, Kiwi Collection, Michelin Travel

This sumptuous hotel is one of the most stylish in Seville. Take in the fabulous views from the roof top, revitalise in the pool, feast in the choice of restaurants, or recline in the luxurious rooms. A lively destination, but one in which you can also relax. See More

Check Availability

Local exploring - A contemporary, reasonably priced, hotel in central Seville.

Sights nearby - Just 50 metres from the Cathedral and La Giralda.

Great value hotel in an excellent location across from the cathedral, on a quiet pedestrian street. Large minimalist well appointed bedrooms, some with balconies. An excellent base to explore the city. See More

Check Availability

Local exploring - Well located on a central plaza and within walking distance of many attractions, bars and restaurants.

Sights nearby - Walking distance from the world's third largest cathedral in Giralda district.

Sailing - For great city views take a cruise up the river.

Great walks - Wander through the quaint cobbled streets.

Recommended by - I Escape

A charming boutique hotel well-positioned in a pedestrianised area of Seville. Oh-so chic rooms with white-washed walls, crisp linens and rustic wooden headboards. Large windows open onto the tree lined street below. Regional cuisine served in the two restaurants. Comes highly recommended. See More

Check Availability

Sights nearby - A five minute walk from Alcázar of Seville, a stunning architectural masterpiece originally developed by Moorish Muslim kings.

Great walks - Maria Luisa Park running along the Guadalquivir River, is a charming green stretch for walking.

Swimming Pool - Rooftop pool with bar & views.

Views - Great views from hotel

Recommended by - Frommers

Well-located town house with rooftop pool and scenic views of the Cathedral. Traditionally decorated. Elegant sitting room with exotic internal garden. Large suites, good for families. See More

Check Availability

Value chic - A trendy property in the heart of Seville's ancient Barrio Santa Cruz, with incredibly reasonable rates.

Sights nearby - Located within walking distance of the Moorish Jardines de Murillo.

Full of character

Boutique

Recommended by - I Escape, Fodors, Frommers

Small family-owned hotel in the heart of Seville with a flare for music. Full of character, with panoramic views from the roof terrace. Lovingly decorated with white washed walls, wooden shutters and moorish furnishings. Regular evening music recitals. An elegant yet homely stay. See More

Check Availability
posted Tuesday, 16th August 2022