17 Of The Best Hotels with hot tubs in Scotland
Scotland may not be a huge country but it boasts jaw dropping scenery, vibrant cities, history and culture dating back thousands of years plus outdoor activities and adventures galore and fabulous food. With its growing popularity as a holiday destination, Scotland's hotels have had to up their game to attract discerning clients. And those hotels with hot tubs in Scotland are certainly on to a winner, because there is no better place to luxuriate in hot bubbles and gaze at a sky full of stars!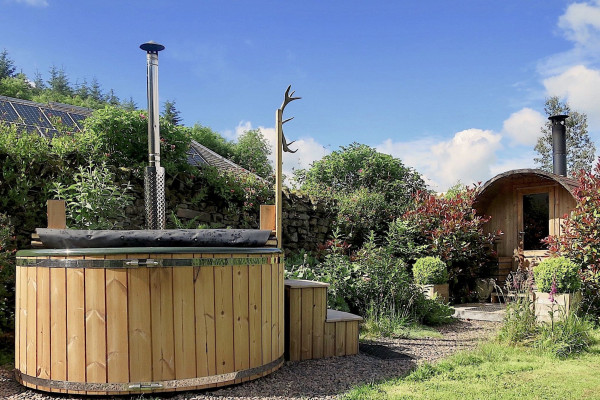 In the majority of our recommendations for the best hotels with hot tubs in Scotland, you'll find that the hot tub (or spa pool, or hydro pool or whatever the establishment has decided to call it) is attached to a great spa. However if it's privacy you're after, we have teh best private hot tub hotels in Scotland too. Our other recommendations come from luxury properties mainly in Glasgow or Edinburgh, but there's also one in Perthshire, one near Loch Lomond and another overlooking Loch Ness. So there should be something for everyone whether you're looking for a lively city break or a romantic rural escape.
Our pick of the best hotels with hot tubs in Scotland follows, but the order bears no reflection on our preference! To check a hotel's availability click the "check prices" button beside the property.
17 of the Best Hotels with Hot Tubs in Scotland
The Most Romantic Hot Tub Hotels in Scotland
On the beautiful South-eastern coastline of the Isle of Skye, Duisdale House is a 19th century hunting lodge turned romantic country house hotel. There are just 18 rooms, set in extensive gardens, so the views are divine and it's extremely peaceful. Indoors expect four-poster beds and statement wallpaper.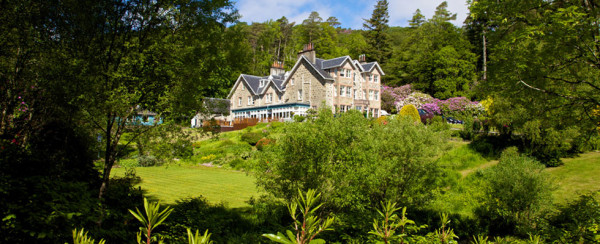 23 Mayfield is an elegant, five star B&B in a Victorian-era building, with seven romantic rooms decked out with four-poster beds and big bathtubs. Their intimate dining room hosts excellent breakfasts and the hot tub is outside in a beautiful garden. It's cozy, historic and within walking distance of the main sights of Edinburgh.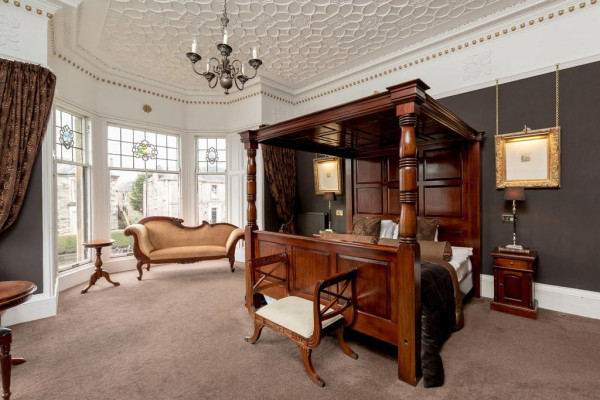 The Best Hotels with Private Hot Tubs in Scotland
Singdean, near Newcastleton, is a gloriously remote, one bedroom hideaway with a wonderful private, alpine-style sauna and hot tub. Expect plenty of wood, chintz fabrics and incredible forest views. And all for around £170 per night.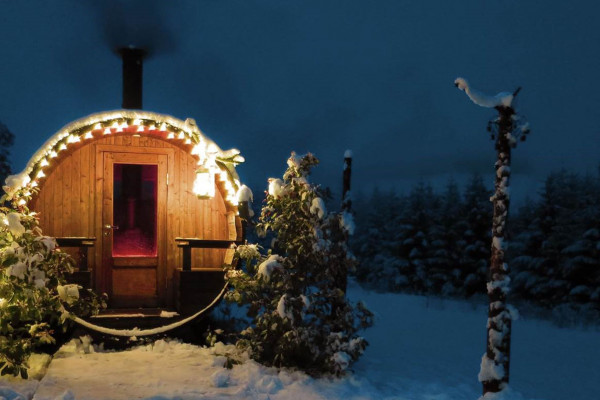 Rocpool Reserve is a chic, modern townhouse overlooking the river in Inverness with 11 slick rooms with all the mod. cons. and an award-winning restaurant.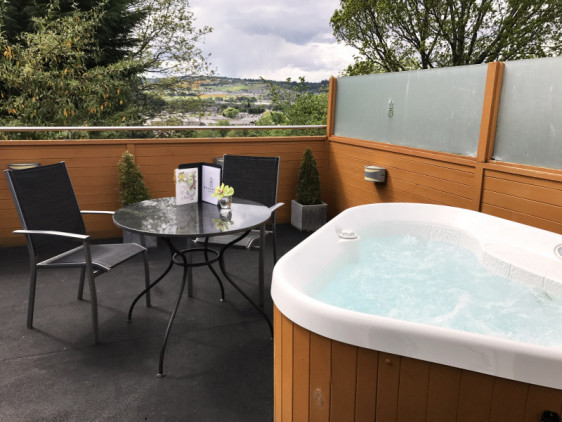 R&R Boutique + Breakfast is a luxurious, two room, farmhouse B&B with wonderful views of the Angus coastline. Both rooms have their own private hot tubs, and there's a cedar wood sauna too, and a fantastic up-cycled clamping pod too.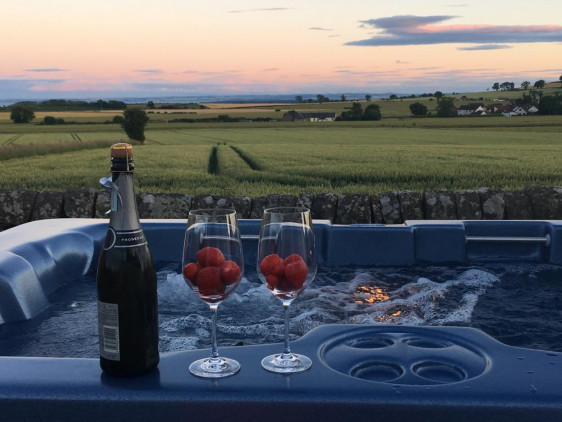 The Best Country House Hotels with Hot Tubs in Scotland
On the shores of Loch Lomond, Cameron House is a baronial county house hotel with 132 sumptuous guest rooms all decorated in a distinctly Scottish style. The facilities are excellent, and include golf, as well as one of Glasgow's most renowned spas. The views are incredible too.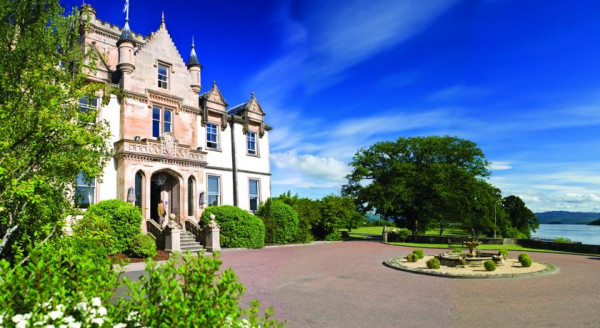 The Loch Ness Lodge offers views of Loch Ness, it's on the Inverness side, as well as seven beautiful, elegant rooms decorated with antiques. Their breakfasts are hearty, designed for a day outside - possibly of fishing, kayaking, deer stalking, archery, quad biking, shooting or husky sledding? Or striding out into the dramatic surrounds.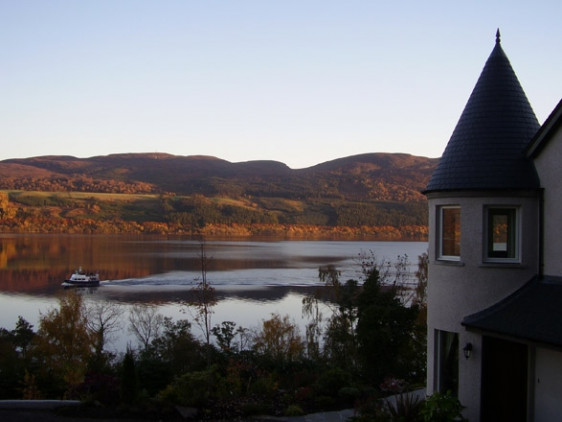 Letham House in East Lothian is a striking country house within an acre of beautiful, peaceful private garden. Loving restored by the owners, each of the five rooms is styled with antique furniture, including a fireplace, chandeliers and free-standing baths.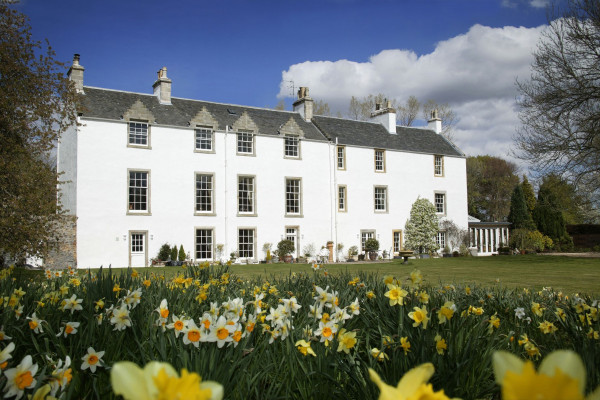 The Albannach Hotel is a charming country home in a remote part of the Scottish Highlands. There are just five guest rooms, simply, but stylishly removed, a fabulous, Michelin-starred restaurant and stunning, rugged surrounds.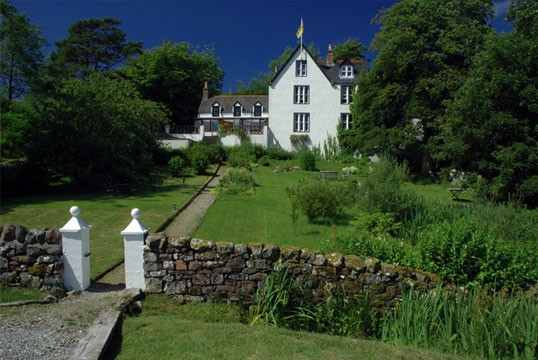 City Break Hot Tub Breaks
Once the HQ for The Scotsman newspaper, The Scotsman Hotel is an historic hotel overlooking Edinburgh Castle. The restaurant is Michelin starred, there's a world-class gym and spa and 59 rooms in a range of styles from traditional to city-chic.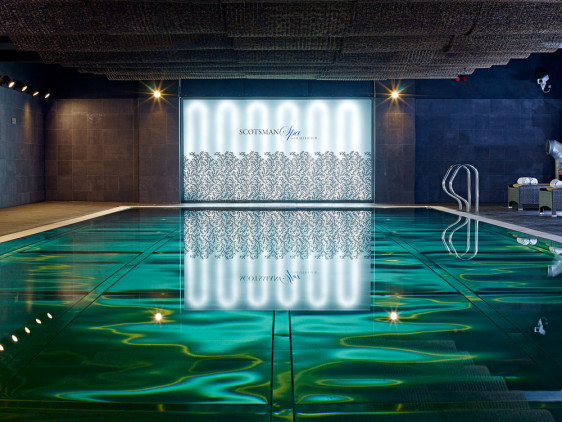 Glasgow's Village Hotel is a slick, contemporary hotel right on the river in central Glasgow. There are 120 smart rooms, a bistro style restaurant serving British classics and a well equipped gym, pool and spa.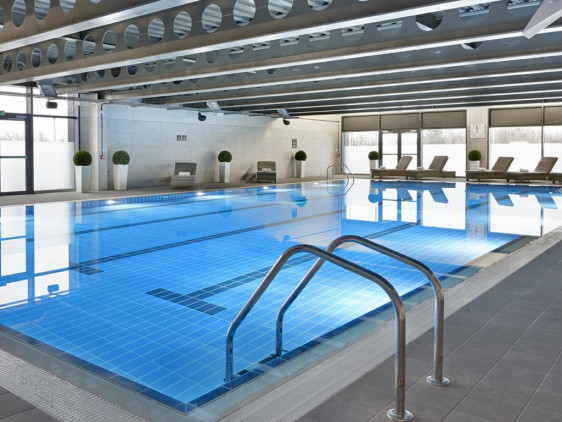 The Best Spa Hotels in Scotland
Blythswood Square is a five star spa hotel in Glasgow's West End. Its imposing facade hides 100 rooms, an exceptional wellness spa, contemporary shared spaces and red velvet alcoves and fringed lamp shades nodding to the square's shady past!. Penthouses have their own private lift, terrace, bar, rooftop views and dining room.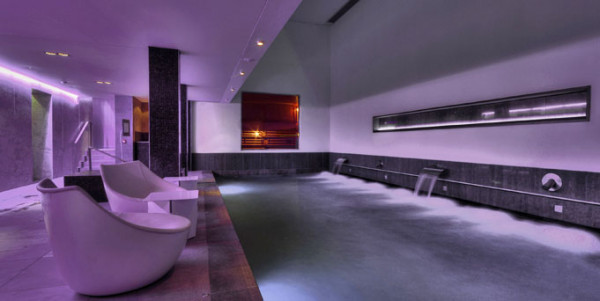 The Best Hot Tub Hotels for Golfers
The Gleneagles Hotel in Perthshire is a grand dame of resort hotels, close to three championship golf courses. There's a top notch spa, and more activities on offer than anyone would care to try. So it's perfect for families as well as couples.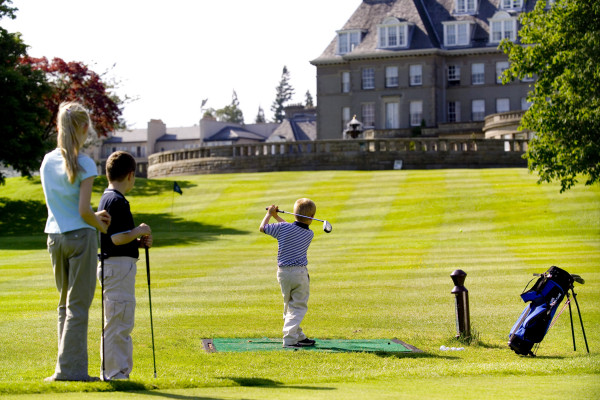 Or, for an equally classic option, consider The Old Course Hotel, overlooking St. Andrews West Sands Beach and the Old Course. There are 144 rooms, a world-class spa, casual and formal restaurants, a choice of bars and stunning views. Especially from the rooftop hot tub.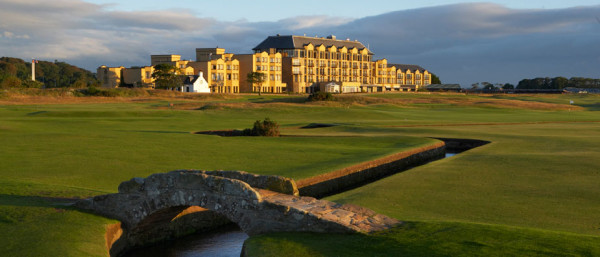 Kinnettles Hotel & Spa is a luxurious hotel close to central St. Andrews, very close to both the Old Course and the New Course. There are just nine suites, and to serve them a top-class spa, a fine-dining restaurant specialising in Scottish produce, and a bar. The rooms are individually designed.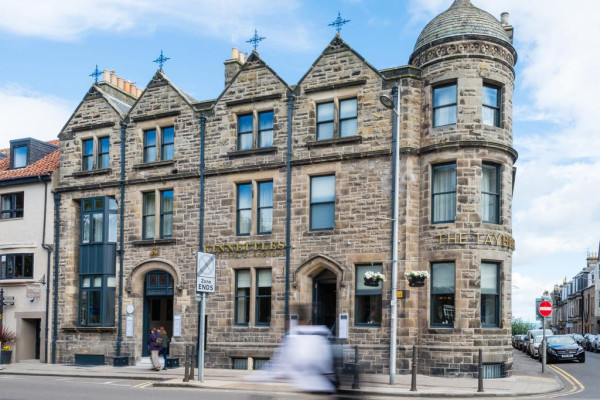 Great Value Hotels with Hotel Tubs in Scotland
Edinburgh's Dalhousie Castle is a superb hotel in Midlothian, with comfortable rooms, an excellent spa, delicious dining options in the restaurant and wonderful, not-too-close access to Edinburgh. And rooms start from around £100 per night.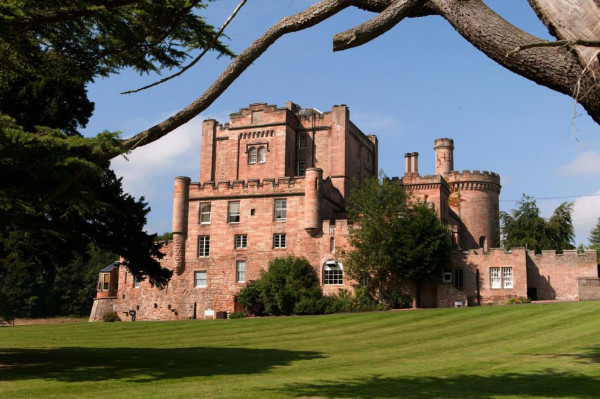 Also Edinburgh adjacent, the Norton House Hotel & Spa is a country house hotel right on the outskirts of town, with great facilities including a large heated pool, spas and hot tubs and a huge treatment menu. They also have a well reviewed restaurant. And it's only two miles from the airport. And rooms start from around £120 per night.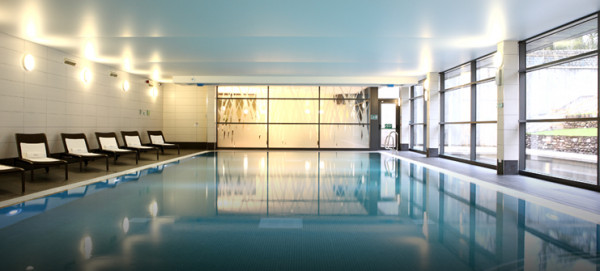 If you haven't found your idea of the best hotels with hot tubs in Scotland on our Guru's list you could:
17 of the Best Hotels with Hot Tubs in Scotland
Edinburgh

Elegant 5* B&B in Victorian building. Romantic rooms have four poster beds, panelled walls and big bathtubs. Intimate restaurant serving excellent breakfasts. Garden with seating and hot tub. Stained glass and fireplaces throughout. Cozy, historic and quiet.

City Style - Walkable or short bus to the city's highlights; return to sit by the fireplace and enjoy romantic ambience

Sights nearby - Edinburgh castle and King Arthur's seat

Romantic - Good for couples.

Traditional

Recommended by - Sawdays

Check prices

Edinburgh, Midlothian

Awash with history and heritage, Dalhousie Castle is a superb hotel in Midlothian. Comfortable rooms, an excellent spa, delicious dining options in the restaurant and much more come together to form a sublime hotel.

Sights nearby - Take a day trip into Edinburgh and explore the sights and scenes of Scotland's capital.

Great walks - Go for lovely walks through the surrounding countryside and along the River South Esk.

Views - Great views from hotel

Romantic - Good for couples.

Check prices

Inverness (Loch Ness-side)

An elegant and intimate hotel in the heart of the Scottish Highlands overlooking the beautiful Loch Ness. Wonderfully warm service. Elegant rooms with antique furniture. Hearty breakfasts designed for a day outdoors. The perfect rural abode.

Active Holiday - Active guests can try their hand at deer stalking, archery, quad biking, shooting, 4x4 off-road driving and husky sledding.

Country Escape - A spectacular part of rural Scotland with dramatic views over across the water to a string of craggy mountains beyond.

Kayaking - Book a two hour kayak trip to explore the lake from the hotel's private stretch of Loch Ness shoreline.

Fishing - Anglers can book a fishing trip through the lodge, to catch trout and salmon further along the shores.

Recommended by - I Escape, Good Hotel Guide

Check prices

Edinburgh

This historic hotel overlooking Edinburgh Castle, was formerly the HQ for the Scotsman newspaper. Come for Michelin star restaurant, close promiximty to Princes St and a world-class gym. Chic interiors in traditional rooms.

Swimming Pool - State of the art stainless steel indoor pool

Great walks - Calton Hill, is just a short stroll from the hotel, enjoy 360 views of the city at the city's UNESCO World Heritage Site.

Sights nearby - Overlooking Edinburgh Castle.

Views - Good city views.

Recommended by - Fodors, Frommers, Good Hotel Guide

Check prices

Dundee, Angus

Luxurious farmhouse B&B, with wonderful views of the Angus coastline. Just two boutique rooms both with pivate hot tubs plus a fantastic upcycled glamping pod. Guests will love the cedar-wood sauna and the gardens overlooking the stunning countryside and coastline. Afternoon tea is a must!

Private Hot Tub - Both guestrooms have their own private hot tub

Sights nearby - Dundee's Discovery point is only 7 miles away

Restrictions on children - This is an adults only property

Views - Great views from hotel

Check prices

St Andrews

A luxury hotel overlooking the West Sands Beach with elegant and contemporary decor. A 11 hole golf course, a world class spa, casual and formal restaurants and bars and a rooftop hot tub. A great location with stunning views.

Local exploring - A short stroll away from the historic university town of St. Andrews

Back to Nature - Has 135 kilometres of stunning coastline

Local markets - Several family run shops and businesses to choose from

Fishing - Fly fishing in the rivers of St. Andrews is a must

Check prices

Sleat, Skye

Escape to this rural nineteenth century hunting lodge on Skye's stunning south-east coastline. Explore the extensive gardens and local beauty, before retreating back to cosy four poster beds in surprisingly modern interiors. Look out for statement wallpaper. Great for a romantic weekend away!

Traditional - A nineteenth century hunting lodge that has been converted into a hotel

Great walks - Skye is renowned for its fantastic walking for all abilities.

Views - Great views from hotel

Seaside - Ideal for a seaside holiday.

Check prices

East Lothian

A striking country house set within acres of private grounds. Lovingly restored by the owners each room is individually styled with delicate antique furniture, chandeliers, roaring fireplaces and free-standing baths. With numerous rural activities in the area this makes the perfect country escape.

Country Escape - An elegant rural house in a picturesque corner of Scotland.

Restrictions on children - Children over 14 are welcome

Full of character

Secluded setting - For escaping.

Recommended by - Sawdays

Check prices

Singdean 1 rooms from £170

Near Newcastleton, Borders

A gloriously remote hideaway situated in a beautiful spot in the Scottish Borders. Offering just one Alpine style room along with private sauna and hot tub. Decor is utterly charming with plenty of wood, chintz fabrics and a sink-into bed. The perfect rural escape.

Hideaway - A secluded property, with just one room, deep in the forests and hills of the Scottish Borders.

Sights nearby - Visit the fascinating (if somewhat spooky) Hermitage Castle.

Restrictions on children - Adult only

Remote - Off the beaten track.

Recommended by - Sawdays

Check prices

Sutherland

A charming country property in a remote part of the Scottish Highlands. Five rooms have been simply yet stylishly renovated with soft hues and modern bathrooms. Plays host to a fabulous Michelin-Starred restaurant (Scotland's most northern). Stunning rugged countryside to be explored. Magical.

Foodies - Enjoy a 5 course dinner in the Michelin-Starred restaurant overlooking the surrounding mountains.

Great walks - Testing hill climbs or less strenuous exploring around the coastal paths.

Sailing - Boat trips to surrounding islands can be locally arranged.

Views - Over the sea loch to the mountains beyond.

Recommended by - Good Hotel Guide

Check prices

St Andrews

Luxury hotel with nine suites, top-class spa, restaurant, and bar. Individually designed, contemporary rooms all with ensuites. The à la carte restaurant offers fine dining, based on Scottish produce. Perfectly located for golfers on the doorstep to several courses while being central in St Andrews.

Golf - Situated in the home of golf and very close to the Old Course and New Course..

Spa - Sauna, steam room, a hot tub and nail bar facilities.

Check prices

Perthshire

Luxury grand dame resort hotel in the heart of stunning Perthshire countryside. With three championship golf courses, top notch spa and more activities than you can imagine, this is the perfect resort for all the family.

Child friendly - Great facilities for children of all ages with organised activities and childcare available.

Restaurant - Andrew Fairlie Restaurant is the only establishment in Scotland with two Michelin stars.

Other Activities - Shooting, fishing, falconry, gun dog training, off road driving to name a few!

Golf - Three championshire courses and PGA National Golf Academy on site.

Recommended by - Kiwi Collection

Check prices

Glasgow

A slick contemporary hotel on the river in central Glasgow. Smart rooms feature brightly coloured walls, modern bathrooms and crisp white linen. A bistro style restaurant serves a wide range of classic British fare. A Starbucks, well equipped gym and indoor pool make this a great city base.

City Style - An uber contemporary hotel in the heart of the city.

Great walks - Take a stroll along the riverside pathway.

Sights nearby - Visit the impressive Glasgow Cathedral.

Restrictions on children - Adult only

Check prices

Glasgow

A luxury 5 star spa hotel in Glasgow's West End. Its landmark heritage creates an imposing facade. The contemporary interiors and wellness spa have all the modern comforts. The glorious penthouses and many private rooms are ideal for corporate or social entertaining. A chic choice.

City Style - An elegant 5 star hotel in a great location, with red velvet alcoves and fringed lamp shades nodding to the square's shady past!

Spa breaks - Indulge yourself at in the award-winning basement spa with mud chamber, sauna and extensive treatments.

Suites - Also penthouses with private lift, terrace, bar, dining room, rooftop views

Swimming Pool - Indoor pool

Recommended by - Fodors, Good Hotel Guide

Check prices

Edinburgh (Ingliston)

Country house hotel on the outskirts of Edinburgh. Great facilities include spa with large heated pool and a plethora of treatments to choose from. Great food too with 3 AA Rosette fine dining in Ushers Restaurant. Perfect for business travellers - it's only 2 miles from the airport.

Business Hotel - Great for business travellers as it's only 2 miles from Edinburgh Airport

Sights nearby - A short bus ride from all of Edinburgh's major attractions

Swimming Pool - 18 metre heated pool

Spa

Check prices

Aleaxandria, Dunbartonshire

On the shores of Loch Lomond, this baronial country house is a secluded getaway not to be missed. The sumptuous guest bedrooms have been decorated in a contemporary style with a distinct Scottish feel. Fantastic facilities and beautiful scenic views.

Spa breaks - One of Glasgow's most renowned spas - utter indulgence

Total relaxation - Golf and spa - something for everyone

Sailing - Loch Lomond Sailing Club

Swimming Pool - Outdoor and Indoor pool

Recommended by - Kiwi Collection

Check prices

Inverness

Chic, modern townhouse hotel overlooking the river. Slick rooms with all mod-cons and an award-winning restaurant.

Private Hot Tub - Two rooms feature private outdoor hot tubs

Sights nearby - Well located for major sights.

Recommended by - Good Hotel Guide

Check prices
Search the best hotels in Scotland