15 of Cornwall's Most Romantic Hotels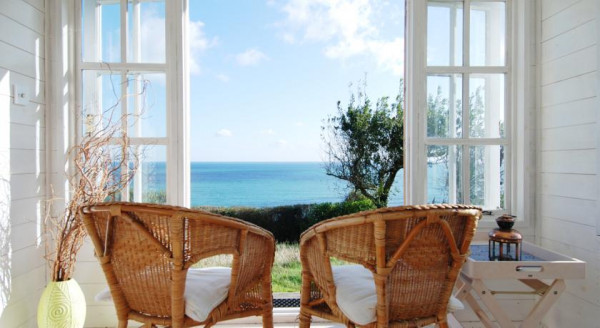 Peaceful, sunny and culturally and culinarily unique, Cornwall is just far enough away from from 'everything' to make it a romantically appealing escape. Take windswept walks along the spectacular coast path, enjoy great food with great views, relax on the beach or just spend time together not being in a rush. Our Guru's recommendations for Cornwall's Most Romantic Hotels are just the places you'll be wanting to stay. And our list of the top 15 of Cornwall's most romantic hotels is a great place to start your search because we've included great options for lovers of food and lovers of food, as well as Cornwall's most Romantic beach hotels.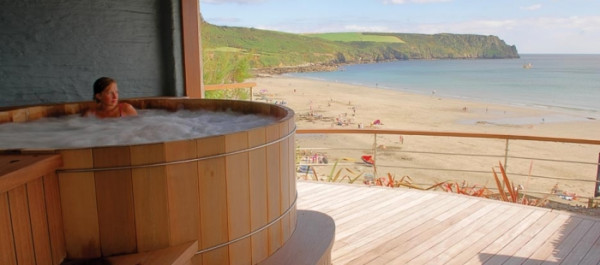 Our Gurus also have great suggestions for Cornwall's most romantic honeymoon hotels, for secluded escapes, they have top tips for delicious foodie hotels and some very affordable accommodation options which are still extremely romantic.
15 of Cornwall's Most Romantic Hotels
Cornwall's Most Romantic Honeymoon Hotels
The Boskerris Hotel in St Ives is a sophisticated seaside hotel with light, airy, Mediterranean feeling decor and a spectacular decked terrace overlooking the bay. There are amazing views from most rooms and they do a fabulous afternoon tea.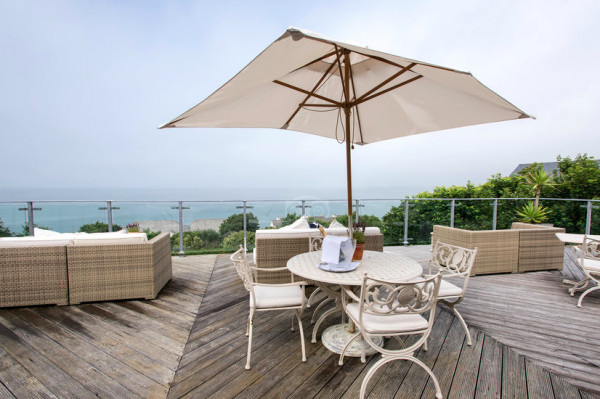 The Old Quay House Hotel in Fowey is a luxurious boutique hotel with just eleven rooms and a wonderful location right on the water overlooking the estuary. The decor is minimalist and there's an inventive seafood restaurant. Stylish and relaxing.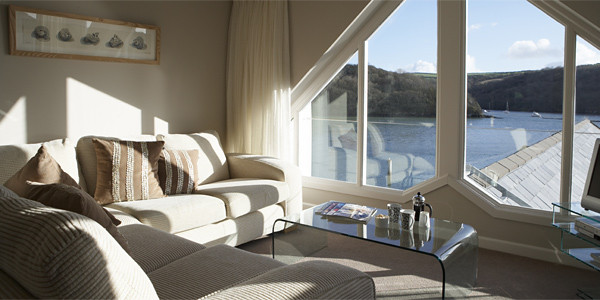 The Nare is a country-house style hotel right on the beach with 36 large, elegant, colonial style rooms with sea views. The Nare also offers a choice of two restaurants, and there's a tennis court, croquet pitch, a spa and both indoor and outdoor pools and a bar and lounge. It's secluded and magnificent.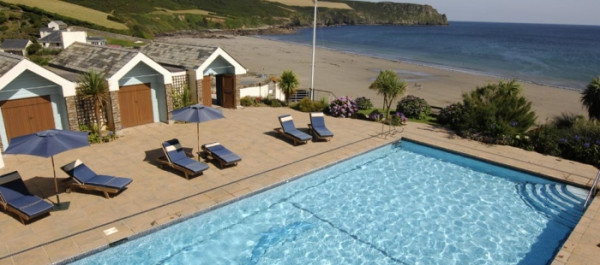 For nautique chic in St Mawes, the St Mawes Hotel delivers. Awash with charm and character these nine rooms and excellent seafood restaurant are just a few minutes from the beach.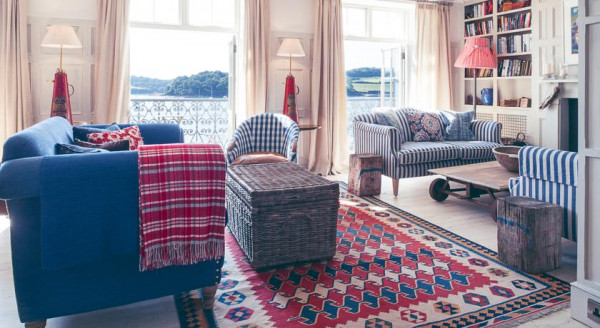 Seculded Cornwall's Most Romantic Hotels
Private and intimate, the Driftwood Hotel has stunning views overlooking Gerrans Bay near Portscatho. The restaurant has a Michelin star and a fine wine list and they'll do you a wonderful picnic if you feel you want even more privacy. Surrounded by extensive private gardens this is a great place to come for peace and quiet.


Another intimate choice is Blue Hayes, set on a cliff top overlooking buzzy St Ives. The five rooms are beautifully elegant and the views are to die for.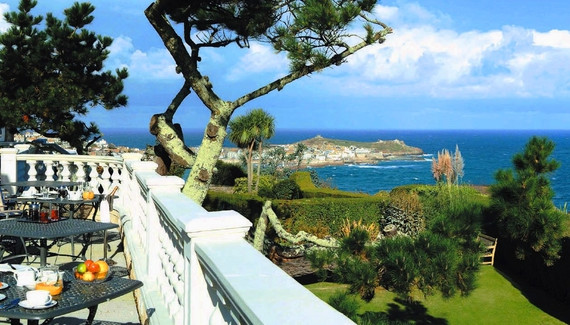 Gurnard's Head Hotel is a charming Cornish Inn surrounded by breathtaking countryside. Loved by walkers for its relaxed comfort and hearty gastro-pub, this inn is a wonderful place for windswept walks and foraging expeditions.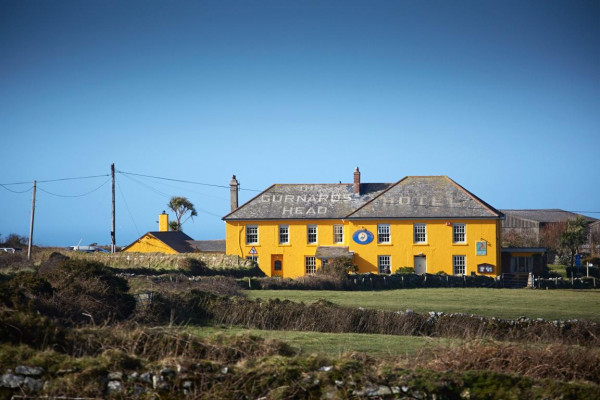 Cornwall's Most Romantic Hotel Views
Pebble House on the cliffs above Mevagissey, is a contemporary, luxurious, adults-only guesthouse with incredible views. There are just six rooms and the coast path is right outside the door.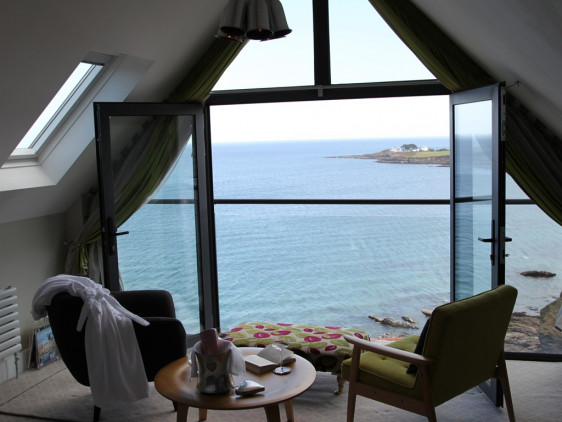 Mount Haven is a soothing, contemporary retreat overlooking St. Michael's Mount. There are 18 simple rooms with large glass doors leading out onto balconies and terraces. The restaurant is award-winning and you're well located for Penzance and the coast path.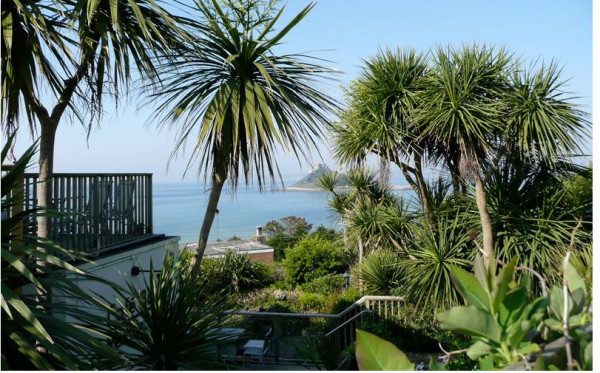 The Trevalsa Court Hotel is an elegant Arts and Crafts boutique hotel right on the cliffs near Mevagissey. There are 15 comfortable rooms with log fires and a beautiful wood-panelled restaurant with great, locally sourced menus.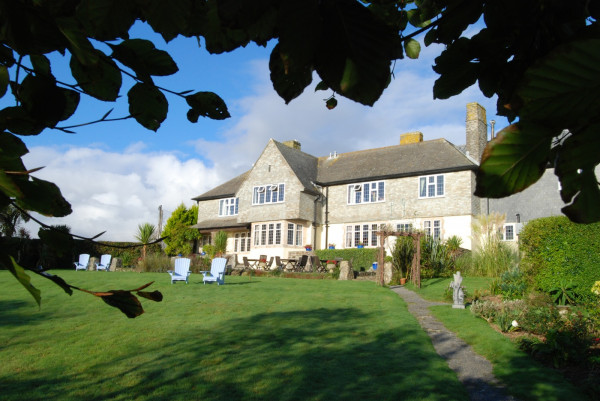 The Old Coastguard, Mousehole has a pleasing mix of open fires, a beautiful garden sloping down to the ocean, big windows and incredible views. In winter you can sit by the fire in the excellent bar and restaurant and enjoy the view across to St Michael's Mount while you eat and drink well, and in summer you can sit outside on the terrace in teh sunshine and do the same. The locally sourced menu will be different of course, but the view will be just as spectacular. There are just 14 rooms, simple, but cosily decorated.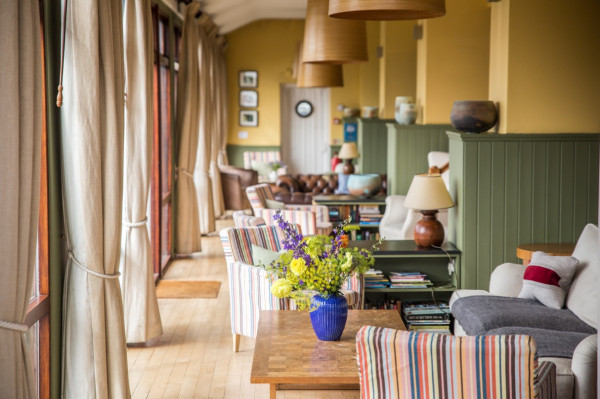 Luke Brown
Cornwall's Most Romantic Hotels with Hot Tubs
Overlooking Mawgan North beach, The Scarlet is a eco-design hotel with amazing sea views and a stylish cocktail lounge and restaurant. You can reserve a time slot in the log fired clifftop hot tub surrounded by stunning views (don't forget the bubbly!).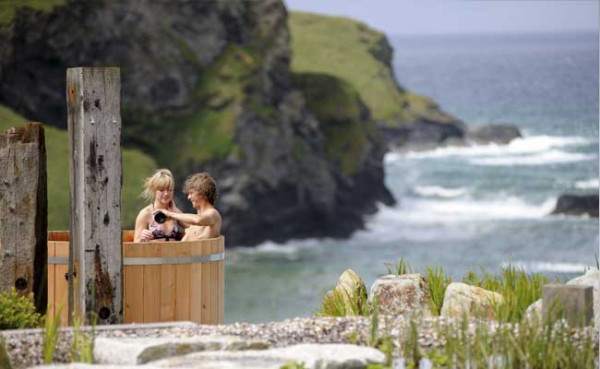 The Bedruthan Steps Hotel is in a fantastic spot overlooking the Atlantic Ocean, and has a wonderful Cornish restaurant and a hot tub as part of the Sensory Spa Garden experience. This is a family hotel, so there's plenty for the kids to do while you enjoy a bit of a pampering.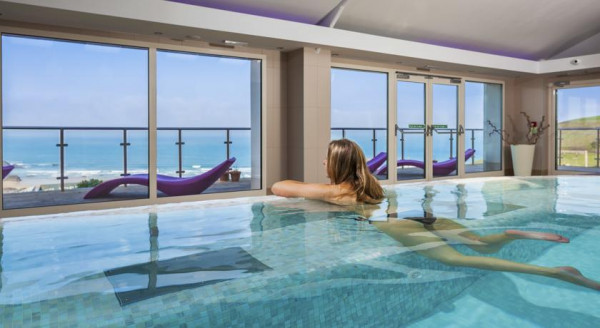 If those sound appealing why not check out our Guru's collection of the best hotels with hot tubs in Cornwall.
Cornwall's Best Value Romantic Hotels
History and literature can both be extremely romantic, so The Old Rectory, where Thomas Hardy met his wife, makes for a wonderfully romantic option. It's also in a secluded and tranquil spot, and has just four rooms and a lovely walled veggie garden which is where much of the beautifully cooked local food served here originates. Rooms start from around £85 per night.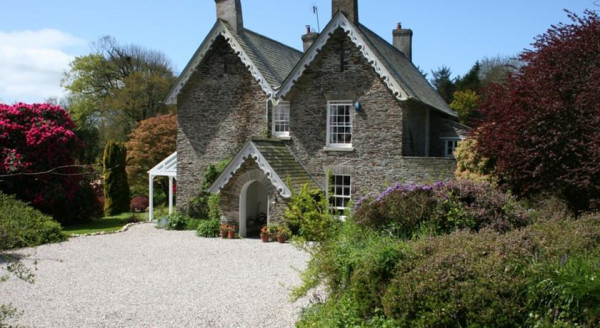 Botelet is another four room property with a secluded, yet stunning, location and a very reasonable room rate. Botelet is a converted family farm with extremely comfortable and stylish interiors, which haven't lost their old world charm. There are also cosy yurts if that sounds more romantic to you. You're about 45minutes from Polzeath Beach.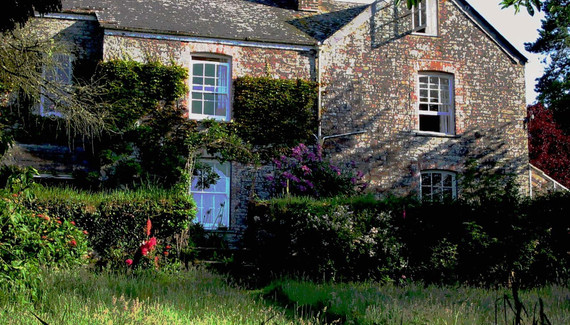 If you haven't found your idea of Cornwall's most romantic hotels on our Guru's list you could:
15 of Cornwall's Most Romantic Hotels
Boskerris Hotel

St Ives (West Cornwall)

15 rooms from £150

A sophisticated seaside hotel, the ideal place to relax and take in the sea air. Light, airy contemporary decor with a Mediterranean feel. Afternoon tea is served on the decked terrace, where you can enjoy spectacular views across St Ives Bay.

Views - Wide coastal views from most rooms

Sit-out Terrace - Coastal views are beautiful

Sights nearby - Tate St Ives within walking distance

Romantic - A tranquil retreat for couples

Recommended by - Mr & Mrs Smith, I Escape, Good Hotel Guide, Sawdays

Check Availability

Boutique luxury in the heart of Fowey with ample amounts of sea air, estuary views and contemporary charm. Crisp, minimalist rooms are breezy and comfortable. The restaurant serves an inventive menu of local seafood delights. An ideal spot for a romantic mini break away from city life.

Great walks - Wonderful walking all around this area, a particualr favourite is the picturesque Hall Walk, which ends in pretty Polruan.

Sights nearby - The ruins of St Catherine's Castle sit on the edge of the town and command spectacular views of the harbour.

Sailing - Yacht rental is available nearby, head off with a professional skipper or simply charter your own course.

Kayaking - Kayak rental is possible from the village of Golant, the perfect way to explore this stunning coast.

Recommended by - Good Hotel Guide, Kiwi Collection, Sawdays, Tablet, I Escape

Check Availability

The Nare

Cornwall

36 rooms from £290

A country-style hotel on the beach. Large, elegant rooms with colonial furniture and sea views. Outdoor and indoor pool, spa, a tennis court and a croquet pitch for your enjoyment. Choice of two restaurants and a bar and lounge. Secluded and magnificent.

Beach Life - Situated at the Carne Beach, guests may indulge in volleyball, cricket or a short stroll by the sea. Dogs are welcome too.

Local exploring - Cornwalls world famous gardens, art galleries, hidden churches are not to be missed

Sights nearby - The Lost gardens of Heligan and The Eden Project are worth a visit

Great walks - Roseland offers many secrets best explored on foot

Check Availability

St Mawes Hotel

St Mawes (South Cornwall)

9 rooms from £185

St Mawes Hotel is awash with charm and character, and captures the nautical essence of it's surroundings. The rooms are elegant and simple with crisp design features and tasteful furnishings. After a days sailing or surfing, return for some delicious seafood dishes in the restaurant. A coastal gem.

Beach Life - A lovely beach-chic coastal property only a few minutes from the beach with excellent seafood restaurant.

Local exploring - Perfectly placed for exploring the beautiful south coast of Cornwall either by foot or by boat.

Sights nearby - Visit Cornwall castles such as St Mawes Castle and Pendennis Castle, both within two miles.

Sailing - This makes a great stopping point for a sailing holiday in Cornwall.

Recommended by - Great Small Hotels , Sawdays

Check Availability

Driftwood Hotel

Near Portscatho, Cornwall

14 rooms from £220

Sitting in privates acres, this chic and intimate hotel overlooks stunning Gerrans Bay. Light, marine inspired rooms are the perfect example of comfort meets plush. A Michelin Star at the restaurant makes dining a spoiling yet casual affair, matched by a fine wine list. A dream Cornish location.

Great walks - Grab a hotel picnic and head out through the private estate right down to the coast and explore the beautiful beaches!

Fishing - Right on the coast, there are plenty of fishing boats to rent for the day with equippment and guides if necessary.

Hideaway - A hideaway location just off the beach and in extensive private gardens, why would you leave?

Surfing - No trip to Cornwall is complete without a surf session in the bracingly cold Atlantic.

Recommended by - Mr & Mrs Smith, Sawdays

Check Availability

Blue Hayes

St Ives (West Cornwall)

6 rooms from £160

Glamourous and discreet six room boutique hotel in buzzy St Ives. A tranquil spot with sweeping views. Large airy rooms and suites with neutral tones and splashes or pastel colours. Informal dining based on Cornish produce. Excellent and personal service. Perfectly achieved laid back luxury.

Exclusive offer

Hideaway - A real jem that is almost impossible to leave, with friendly and welcoming staff, cosy rooms, great views and spectacular food.

Sights nearby - Tate St Ives Modern art museum is a brisk 20 minute walk away.

Great walks - Walk from St Ives around the stunning rugged coast to Zennor.

Restrictions on children - No children under the age of 10

Recommended by - Frommers, Sawdays

Hotel Website

A charming Cornish Inn surrounded by breathtaking countryside. A magnet for walkers, the traditional rooms are designed to afford every comfort to these weary travelers. An informal coastal gastropub serves up the best local ingredients, cooked to perfection. Simple, characterful and homely.

Restaurant - Excellent locally sourced food - the pub is consistently recognised for its high standards by the Cornish Tourist Board.

Great walks - Take part in the interesting and informative foraging walks with Caroline Arkley.

Surfing - Sennen Cove is the best known beach in the area, and very popular with surfers.

Views - Sweeping coastal views

Recommended by - I Escape, Good Hotel Guide, Sawdays

Hotel Website

Pebble House

Mevagissey, Cornwall

4 rooms from £165

Contemporary adults only guesthouse with views to die for on the cliffs above Mevagissey. Spacious rooms and suites with contemporary interiors and luxury fittings as standard. A relaxed, grown up spot for a romantic seaside break with a home from home vibe accompanied by top notch service.

Views - Panoramic views over Mevagissey Bay

Sights nearby - Eden Project and the Lost Gardens of Heligon are both close by, plus country houses and much nore

Great walks - The coastal path is on your doorstep and there is a drying room for muddy boots and clothes!

Restrictions on children - Adults only property

Check Availability

Mount Haven

Nr Penzance, Cornwall

18 rooms from £130

Soothing contemporary haven overlooking St Michael's Mount. Modern and simple rooms with large glass doors leading onto balconies. The best have sea views. An excellent restaurant using the fresh local produce. A lovely spot for a romantic getaway.

Foodies - An award winning restaurant using excellent local produce.

Romantic Break - A boutique hotel in a stunning and tranquil location.

Great walks - Walk along the famously stunning South West Coast Path where many isolated beaches are to be discovered.

Sights nearby - A number of nearby ancient stone circles including Lanyon Quoit and the Merry Maidens.

Recommended by - Good Hotel Guide, Sawdays

Check Availability

Elegance and understated style make up this romantic Arts and Crafts coastal boutique - a home away from home. Standing on the cliffs, the sea breeze makes for a blowy Cornish escape. Comfortable rooms decked with paintings and log fires. Enjoy locally sourced food at the wood paneled restaurant.

Exclusive offer - Autumn Offer

Total relaxation - Chill out in your plush room overlooking the bay, take a morning stroll to the beach or sit and watch the fishermen at work.

Local exploring - Ideal spot for exporing the Cornish coast by sea or land, full of hidden treasures and secluded spots.

Sights nearby - Mevagissey Village is just ten minutes down the road and is an ancient fishing village with a Grade 2 listed double harbour.

Sailing - Plenty of boat rentals available, head out with a skilled skipper or charter your own course.

Recommended by - Good Hotel Guide, Sawdays, Michelin Travel

Check Availability

CURRENTLY closed due to fire damage, due to reopen in january 2020. Fun, laid back hotel with good food and spectacular views out to sea. Rough edges, simple rooms, very hospitable.

Views - To St Michael's Mount and the Lizard

Garden - Tropical garden down to the sea

Quirky - No TVs - and an eclectic mix of furniture

Outstanding location

Hotel Website

Relaxing, purpose-designed eco-friendly hotel overlooking Mawgan Porth beach. Contemporary furniture and modern local art adorns bedroom walls. Great sea views from the cocktail lounge and stylish hotel restaurant. Fantastic spa facility for ultimate relaxation and great outdoor activities nearby.

Romantic Break - You, your loved one (and even the pooch) can enjoy an indulgent coastal stay

Spa breaks - Excellent spa with a range of Ayurvedic treatments

Swimming Pool - Outdoor and Indoor Pool

Great walks - South West Coast Path.

Recommended by - Mr & Mrs Smith, Good Hotel Guide, Sawdays

Check Availability

Bedruthan Steps Hotel

Mawgan Porth, Cornwall

101 rooms from £159

Fantastic spot overlooking the Atlantic Ocean from a family-friendly hotel. Modern interiors throughout with the comfortable rooms capturing the beach views. Herring Restaurant is Cornish throughout using locally sourced ingredients. Relax by one of the two pools, or at the spa.

Eco break - A sustainable and environmentally minded hotel with an extensive responsible tourism pledge, see website for further details.

Groups - This hotel is ideal for an active creative group holiday with workshops, open air theatre and plenty of fun facilities.

Spa breaks - Pamper yourself at the top of the range luxury spa, using all natural products and treatments- heaven!

Families - With family orientated rooms, activities, nursery and kids club its ideal for all the family.

Recommended by - Good Hotel Guide

Check Availability

Where Thomas Hardy met his wife, now a welcoming B&B. Secluded, tranquil and romantic- the traditional rooms feature, large sash windows and delicately patterned curtains. Lovely walks and a charming walled veggie garden. Beautifully cooked cornish food. Ideal for a typically British country stay.

Eco break - Dedicated to sustainablity- where possible produce comes from the gardens and farm and power comes from their solar panels.

Country Escape - A stunning Cornish country house with chickens roaming the garden and fantastic walks from the property.

Great walks - Grab a packed lunch from the hotel and set out to explore the rugged coastal landscape just five minutes away.

Surfing - The nearest surf beach is Crackington Haven, a ten minute drive away.

Recommended by - Fodors, Good Hotel Guide

Check Availability

Botelet

Liskeard (South Cornwall)

4 rooms from £100

Charming off-the-beaten track farmhouse B+B. Self catering cottages and yurts in a stunning location. Beautifully renovated interiors keep all the old world charm whilst providing top notch comfort. Cosy yurts give a wild camping feel. Indulgent breakfasts are offered. A great escape.

Country Escape - A converted family farm in a beautiful corner of the UK- drink in the pure air, explore the farm and walk the wooded valley.

Total relaxation - You're sure to sleep well after long walks, therapeutic massages in the treatment room, and toasting evenings by the fire.

Surfing - Surf on Polzeath beach 45 mins from the hotel. Equipment and lessons are available on the beach

Great walks - Wander across the fields at Botelet and explore the woodlands in a beautiful circular walk.

Recommended by - Sawdays

Check Availability
posted Wednesday, 5th June 2019
Search the best hotels in Cornwall