Ten of the Best UK Island Hotels
Visiting one of the UK's islands is like going abroad but without the hassles: no passport control, no foreign language, no funny banknotes. Yet, simply by crossing a stretch of water and leaving the mainland behind, you feel as if you're in another country: the climate is different (usually they have their own micro-climate), the food is different, and often there are a host of traditions that have been lost on the mainland. Stay in one of the UK's island hotels and you really have a chance to soak up an island's particular charm and atmosphere.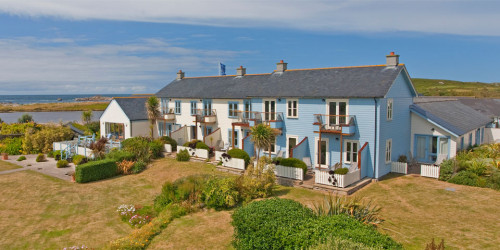 The UK is blessed with numerous islands - accessible by ferries and sometimes by air - all around its coastline, from the balmy Scilly Isles off the south-western tip of Cornwall to the wild beauty of the Outer Hebrides.
The Channel Islands are like in England in miniature - charming villages, neat hedges, rolling farmland, beautiful sandy beaches. And the island of Herm has a very particular charm as it is only one-and-a-half miles long by half-a-mile wide, and no cars are allowed. There are beaches, cliff walks, ancient history and wildlife-spotting. It truly is a place to get away from it all. Fly or take the ferry to neighbouring Guernsey, and then it's a short ferry-hop across.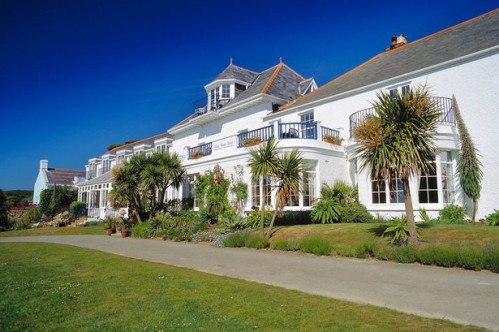 The outside world, literally, is miles away at The White House; there are no televisions, no telephones and no clocks. There is absolutely no reason not to completely relax and unwind; helped by the elegantly unfussy bedrooms - some with balconies or patios - the palm-tree-lined pool and choice of two restaurants. It's gentle, unpretentious and graciously comfortable.
Lying off the coast of Cornwall, and the most westerly part of England as well as the most southerly point of the UK, the Scilly Isles offer warmth, beauty and peace. Just 2,200 people live on the five main islands of St Mary's, Tresco, St Martin's, Bryher and St Agnes. There are the famed gardens of Tresco Abbey, the chance to spot seals and birdlife, unspoilt beaches and plenty of peaceful walks. You can fly direct from several airports in Cornwall, or take the boat from Penzance. Our pick of UK island hotels in the Scillies are situated on St Mary's and Bryher.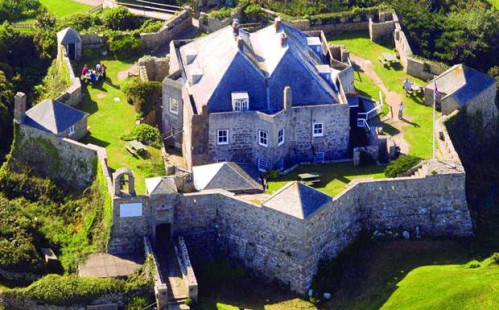 You are whisked to another world - an Elizabethan world - at Star Castle, St Mary's, which is set inside a 16th-century castle with star-shaped ramparts. Rooms are spread through the main building and the ramparts and are comfortably filled with antiques and creaky floorboards. There's a heated indoor pool, terrific views and beaches nearby. Family-run, it has a true personal touch, and guests benefit from the owners' twin passions of lobsters and wine.
Reaching England's westernmost hotel - the wonderfully named Hell Bay, on Bryher - is an adventure in itself. But well worth the journey. All rooms are suites, furnished with a light, eastern-seaboard feel, and all have terrific views to the Atlantic. The surroundings are remote, yet the interior is filled with modern art, and the restaurant is sophisticated yet relaxed.
The Isle of Wight, off the UK's south coast, is the largest island in England. As well as the famed attractions of Osborne House (Queen Victoria's holiday home), Carisbrooke Castle, music festivals, sailing and watersports, there are thatched-cottage villages, beautiful beaches and countryside - over half the island is an Area of Outstanding Natural Beauty. It also claims to have more sunshine hours than anywhere else in Britain! The most popular way to arrive is by ferry from Southampton, Portsmouth or Lymington.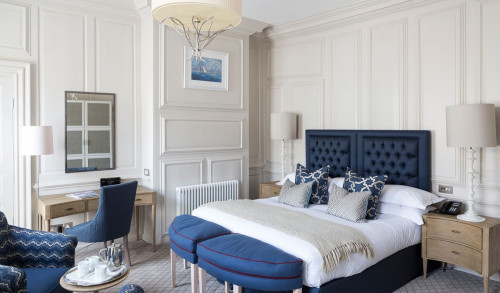 In a peerless position between Yarmouth's castle and pier, and overlooking the Solent, The George combines traditional Georgian features, such as wood-panelling and uneven floors, with more contemporary touches. There are blazing fires in winter and al fresco dining in the sun-trap garden in the summer. Some rooms have terraces and there's a choice of restaurants.
A Georgian villa with a thatched roof and a Scandi-design theme sounds impossible. But it's true, and it works. Hillside, which overlooks Ventnor, has 12 creamy-white rooms furnished in clean-lined Scandinavian style and bathed in lashings of light from the large windows. The overall effect is immensely calming and serene. There's a terrace, meals cooked with home-produce and wooded gardens leading down to the sea
Just off the north-west coast of Wales, the Isle of Anglesey is easily reached across the Menai suspension bridge. But it feels like you're in a different country. It's very much a place for getting out and about - coastal walks, cycling routes, beaches and rock-pooling, birdwatching, Beaumaris Castle, wildlife walks … And there's plenty of fresh seafood.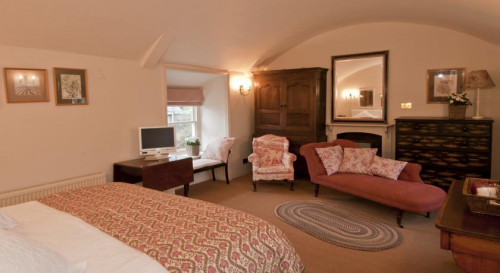 Just six country-chic rooms in soft, creamy colours; 30 acres of woodland and garden; plus creative Welsh cooking make Cleifog a great choice for both romantics and foodies. The 16th-century, whitewashed longhouse has a terrace and rose-covered veranda, and private access to the beach.
The west coast of Scotland's islands are, for many people, some of the UK's best-kept secrets. Skye, Harris, Lewis, Benbecula, North Uist, Colonsay … the words themselves are magical. Here you will find Caribbean-soft sandy beaches, strange treeless landscapes, jagged mountain ranges, rich wildlife, beautiful walks, mysterious ancient monuments, friendly pubs, rip-roaring folk music, and some of the freshest seafood. With regular ferry services, or flights, none of the islands is difficult to reach.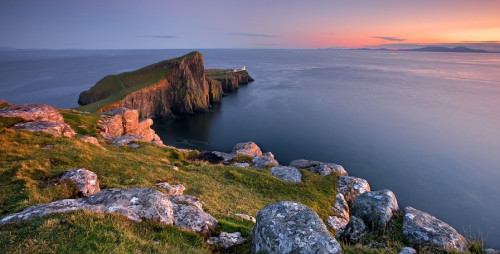 On its own island, the Isle of Eriska Hotel in Argyll could not be more private - yet it's only two hours north of Glasgow. The fine, Scottish-Baronial house offers 23 rooms in contemporary country-house style as well as a spa and nine-hole golf course. There's a fine-dining restaurant, terrific walks and views, and understated traditional luxuries.
Also offering complete privacy - on its own 10-acre peninsula - Greshornish House on the northern shores of Skye is remote and peaceful. Rooms are gracious and traditional - some with four-poster beds - the views stunning and the seriously tasty evening meals a welcome reward after blustery walks.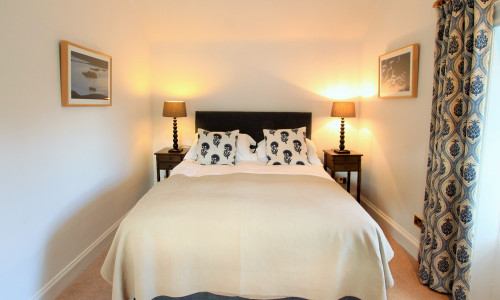 Walk out of the front door of Scarista House, through the garden and you're on the gloriously empty beach of one of the remotest parts of Harris, in the Outer Hebrides. Yet your hotel is cosy and comfortingly traditional with the six rooms in this Georgian manse furnished with antiques and a real "house party" feel. Come for a relaxed escape with stunning views.
Equally traditional but with contemporary shots of colour and fabrics in its nine bedrooms, The Colonsay on the Inner Hebridean island of the same name is a place where you come to slow down, take bracing walks or just gaze over the sea to neighbouring Jura. The bar is the hub of island life and doesn't disappoint with friendliness and good conversation.
Use our guide to the best UK island hotels to find somewhere for a stay that feels abroad yet is comfortingly familiar. For a further selection of island properties, take a look at our pages for The Channel Islands, the Scilly Isles, the Isle of Wight, the Highlands and Islands and Argyll. Or for more information or help with booking, contact one of our friendly gurus for advice.
posted Monday, 10th January 2022