14 Best Hotels for the Kentucky Bourbon Trail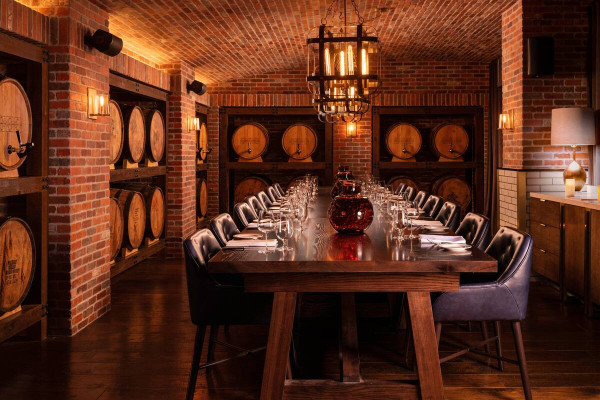 Just as a wine's flavour is influenced by where it's grown, bourbon takes on a different character and flavour based on where it's produced and distilled. And the Kentucky Bourbon Trail is designed to show off the best of Kentucky's bourbon whiskey. The number of distilleries included on the trail route is in flux, and there's now an offshoot trail called the 'Craft Tour', where small, artisanal distilleries are included - but let's just say you need to imbibe quite a bit of bourbon to get through the trail. The distilleries of the Kentucky Bourbon Trail are spread widely, but places like Louisville, Lawrenceburg, Lexington, Shelbyville and Bardstown, have multiple distilleries, so obvious destinations to include in any trail planning. We've scoured the region and selected the best hotels for the Kentucky Bourbon Trail, based not only only on their location, but also their style, service and amenities. This means that you can choose from chic city pads, to grand luxury hotels and rustic country B&Bs — there's a property for all tastes and budgets!
For the Album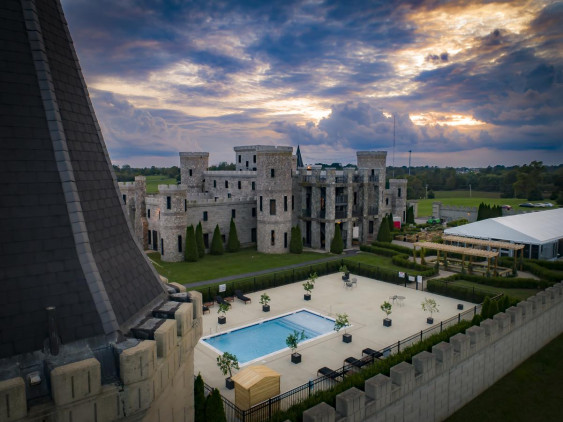 The Kentucky Castle is a new-build castle hotel set on 55 acres of farmland, just outside Lexington. It's suitably impressive, and more castle-like than many much more authentic castles, with turrets, towers and battlements, but all the plumbing built in, and great wifi. The 14 rooms and suites are enormous, and decorated with contemporary style in lots of white, and nicely chosen antiques. There spa has its own cottage, complete with cryotherapy chamber. The restaurant uses produce farmed onsite, including their own truffles and grapes and mushrooms.
For Romantics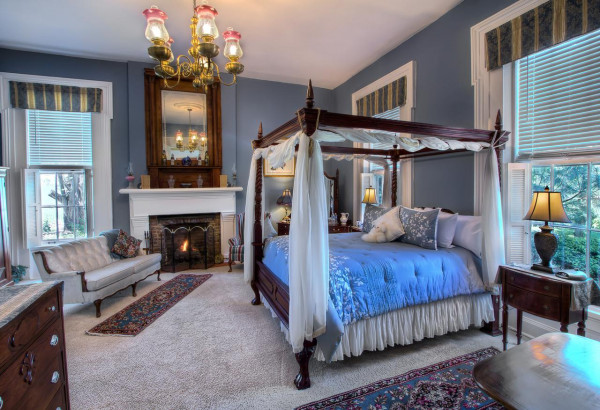 Maple Hill Manor is a Greek Revival antebellum mansion turned seven room inn. It's grand, and elegant, with huge windows, fancy antique beds and fireplaces in all seven rooms. There's a wide porch and mature gardens, complete with swings and hammocks. Plus an alpaca and llama farm, and a farm shop. There's no restaurant, but they offer a gourmet breakfast, homemade deserts and 24hour drinks list. Historic and romantic. It's located in Springfield right on the Bourbon Trail.
With just four rooms, the Charred Oaks Inn is one of the smallest properties on our list of the best hotels for the Kentucky Bourbon Trail. It's also very charming, and well positioned in delightful Versailles, Lexington — which is close to the Woodford Reserve Distillery, Wild Turkey and Four Roses. The guestrooms and public spaces are decorated with antiques, and cheerful fabrics, and they serve a delicious, hearty breakfast.
For Luxury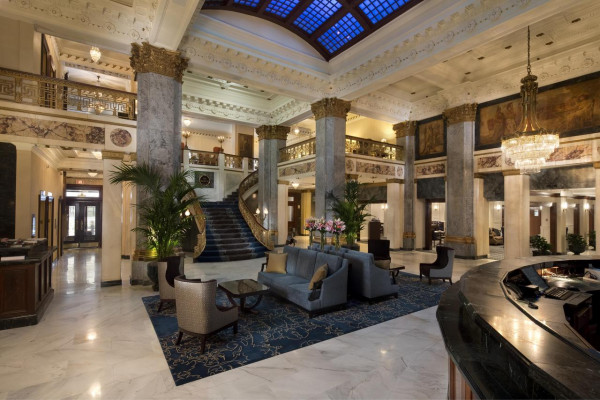 The Seelbach is one of Louisville's historic landmark hotels, a grand and glorious building in the centre of town, with more than three hundred rooms and suites. These historic hotels are known for their grand lobbies and public spaces, and The Seelbach has a wonderful collection which includes a fine dining restaurant and a breakfast room, and a traditional Kentucky bar with a fantastic list of cocktails — and lots of bourbon. Bring your pets and children.
A Storybook Inn is a small, luxury inn in the historic Versailles region of Lexington. With its white facade and lush gardens, it looks every bit a storybook from the outside, and the inside is the same, with its seven rooms and suites littered with charming art and antiques. There's a pool in the garden, and a farm-to-table breakfast is served in a light conservatory. Homely, but elegant.
For Nightlife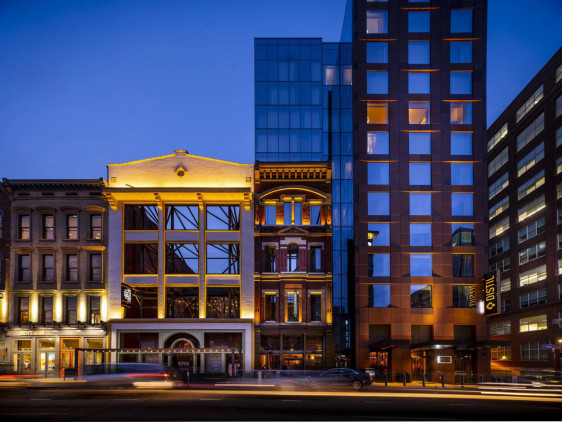 The Hotel Distil is on Whiskey Row, Louisville, overlooking the Ohio River and right next door to a distillery. Its 205 rooms and suites are cool and contemporary, with an industrial edge that really suits the fantastic city and river views. The fabulous roof terrace bar and restaurant is one of few in the area, and it's a trendy place to visit, and sip bourbon. Even if you don't stay in this hotel, this is an historic spot, and all of Whiskey Row comes alive of an evening.
Housed in the historic Fayette National Bank Building, 21c Museum Hotel, Lexington is a contemporary art museum and hotel — with plenty of original art in both. The 88 rooms and suites are simply decorated in contemporary, white style, with splashes of bright colour, and art. The restaurant specialises in local ingredients, and offers in-room dining until midnight, and there's a super chic bourbon bar.
For Historic Charm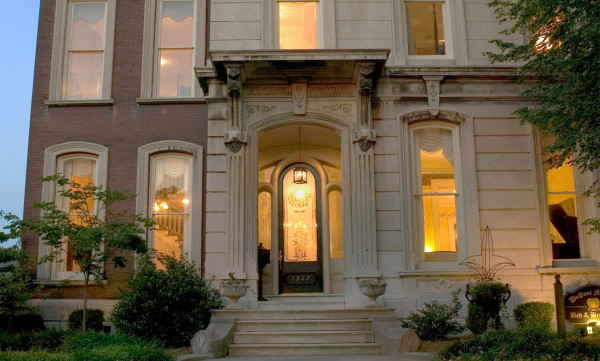 Dupont Mansion is an elegant, historic mansion in "Old Louisville", which has been carefully converted into a seven room B&B, run by considerate owners. The rooms are all large and individually decorated with antiques, plus they feature fireplaces and huge whirlpool tubs. The public areas are charming and welcoming, and include a lounge, library, dining room, and large garden. Surrounding the Dupont Mansion are the many, many properties making up the second largest Historic Preservation District n the U.S..
The Louisville Bourbon Inn is a grand Victorian mansion, also in "Old Louisville", converted by the owners into an elegant B&B. Period decor adds to the historic charm, and there are plenty of open fireplaces around which to arrange beautiful antiques. Some of the eight rooms also have private balconies and whirlpool tubs. A bourbon-inspired breakfast is served in the smart dining room.
The Montgomery Inn B&B is an historic, 11 room inn in Lexington. Welcoming owners are a font of knowledge about the local area, and its bourbon, and the comfortable public spaces, including a library, parlour, porch, and railway-themed breakfast room, provide a warm, relaxed atmosphere. A gourmet Southern breakfast is included, and they offer refreshments all day.
For Great Value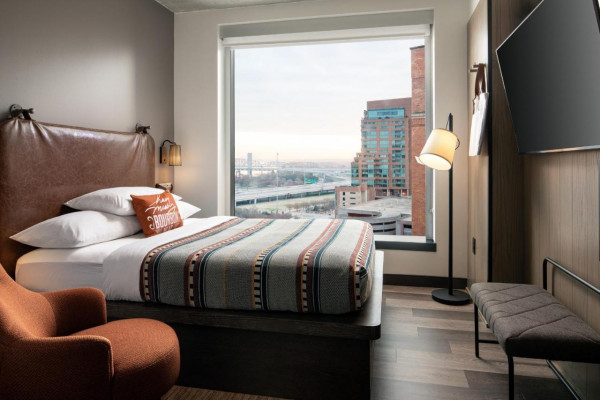 Moxy Louisville Downtown is a fun, affordable hotel on Whiskey Row, downtown Louisville, close enough to the river so that some rooms have river views. In addition to 110 rooms and suites, the Louisville Moxy has a hip bar with a cool glassed-in fire and plenty of bourbon, plus a chilled lounge, a gym, workspace, and a 24 hour restaurant called Zombie Taco.
Lexington's Origin Hotel is big, trendy and well located. Its 120 rooms and suites are well proportioned, with big beds and spacious bathrooms. Downstairs there's a fantastic bourbon bar and Southern comfort food restaurant. As well as the Bourbon Trail, Origin is great for the racehorse scene, and bluegrass lovers. And it's a good pick for parents and pet owners too.
Best B&Bs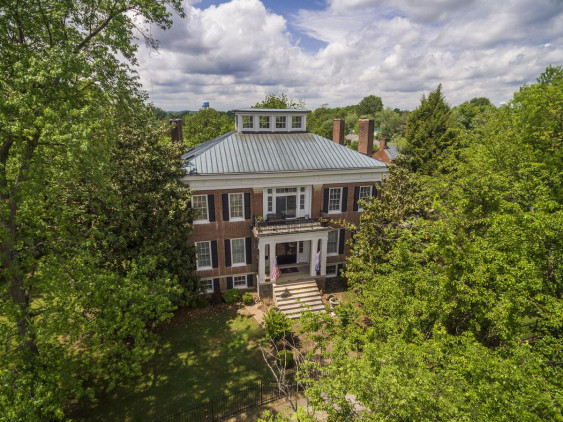 Bourbon Manor B&B is a grand and historic inn in pretty Bardstown, known for its bourbon and hundreds of historic buildings. The huge windows of the manor's ten guest rooms — all named after drinks — look out onto leafy, mature gardens, and inside there are period antiques and original features in spades. There's also a day spa, and a list of bourbon related tasting tours, outings and recommendations. And while there isn't a restaurant onsite they do offer breakfast.
The Chateau Bourbon is a four bedroom B&B in a vibrant part of Louisville. The decor is romantic, there are huge, decorative beds, whirlpool baths and open fireplaces, plus pillars on the outside of the building, and an elegantly comfortable sitting room. Breakfast is a three course, Southern-style affair, including homemade bourbon granola. And they offer bourbon tastings onsite.
Still not sure where to book?
posted Wednesday, 1st June 2022