Hotels Near the Capitol, Washington DC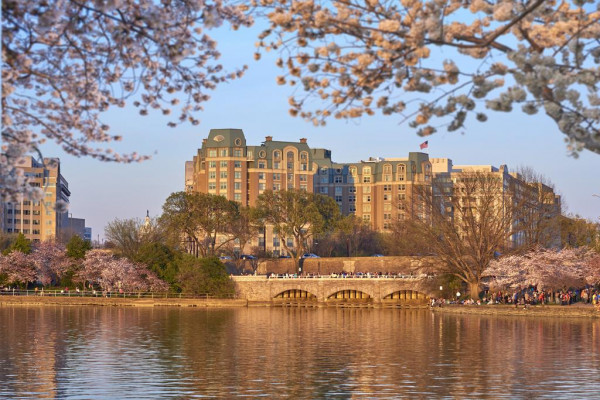 Capitol Hill symbolises for many the beating heart of the Free World: home of the Senate and Judiciary, and the House of Representatives, with its iconic, neoclassical domed Capitol building. There's so much to see, but the question then arises: where to stay? Well, we've done the hard work: the best places to stay near the Capitol come in all shapes and sizes, from hip, New Wave hotels to grand 5-star luxury stays. Use our guide and start planning your city break.
For Urban cool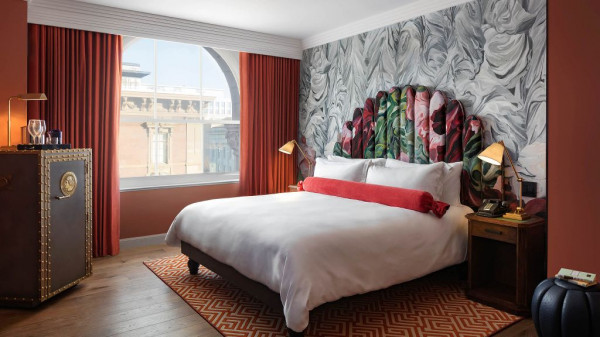 Riggs is easily one of the hippest places to stay in town. It's cool-meets-contemporary, effortlessly out-there: marble columns alongside Art-Deco furnishings, four-posters in the chic and spacious rooms. The grandeur of the French bistro, the notoriously creative cocktail bar, make it one of the most unique and beautiful hotels in Washington DC.
The George is a place for the young and bold. The loud, New Wave inspired decor, splashed against older, more traditional surfaces, gives it an antique-chic splendour: photos of George Washington rebelliously recycled in an Andy Warhol-esque style is their signature artistic dish, and the letters of the founding father are displayed, enlarged, along the walls. The plush, chic rooms are coloured in deep-sea-blues, creamwhites and charcoals, with free standing baths, while plump, blue velveteen chairs sit in the lounge. A short walk through Lower Senate Park will bring you to the Capitol. A stylish, central stay.
Grand luxury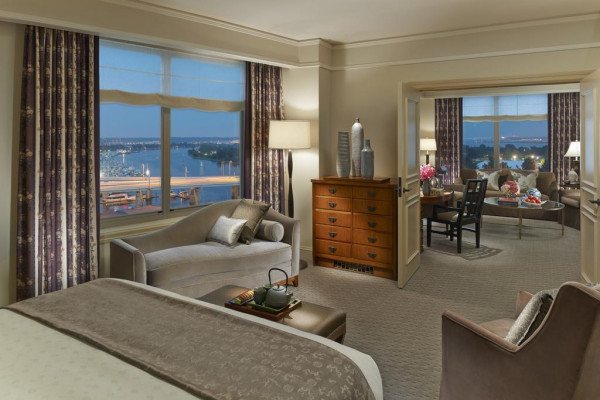 For grand, 5-star luxury, nowhere beats Salamander Washington DC. In its quiet riverside setting, a 25 minute walk from Capitol Hill, its decadence deliciously combined with a smart, contemporary style. It has everything you need (and more!): a pampering spa, bar, spacious suites with floor-to-ceiling windows. A good family option.
Still not sure?
Try this collection of famous hotels in Washington DC, this list of family hotels in Washington DC or hotels in Washington DC near the Smithsonian;
Look at best Washington DC hotels near Union Station, our list of the most pet friendly hotels in Washington DC or expand your search to include all hotels in Washington DC,
Alternatively, you contact one of our Gurus for advice.

Sights nearby - Absorb some of DC's rich history at the museums and monuments of National Mall.

Restrictions on children - No children

Lively - Hip and happening.

Designer - Uniquely designed interiors.

Cutting edge downtown hotel with every modern convenience. Rooms are spacious, chic and extremely comfortable. Minutes from DC's hottest attractions and metro lines. Explore like a local! See More

Check Availability

Riggs

Washington DC (Washington)

181 rooms from £232

City Style - The hoteliers have done a stellar job here, blending the grandeur of the old bank building with some cool contemporary style

Bar - Arguably one of the most inventive cocktail lists offered in the city in this elegant bar

Sights nearby - Visit the iconic Washington Monument and the Memorial Mall or the U.S. Capitol

Designer - Uniquely designed interiors.

This is a special place. An old bank building, with all the associated grandeur and large proportions, completely overhauled with gallery-worthy contemporary style. Rooms are all individually designed; there is a superb french bistro and a bar that's sure to keep you coming back! See More

Check Availability

City Style - A luxury stay with all the expected trimmings included stylish design, a fabulous spa, and top-notch dining

Swimming Pool - 50 foot indoor heated pool

Opulent

5* Luxury - Very high service standards.

A five-star luxury stay set in a quiet cul-de-sac near the Tidal Basin. Expect all the luxury trimmings here: spacious suites that perfectly mix a homely feel with a touch of indulgence, a spoiling spa, lounge bar and restaurant. As suitable for families as for business people. See More

Check Availability
posted Wednesday, 8th February 2023