Top Tips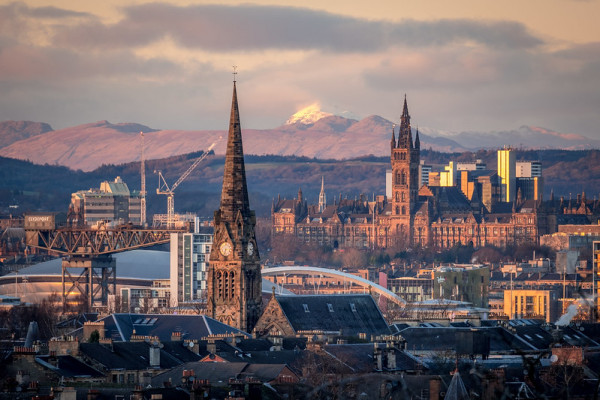 By Flickr user Ian Dick
Glasgow is a powerhouse of a city, with an incredible history, an impressive collection of art and architecture, and arguably the UK's best shopping and nightlife outside of London. And it offers easy access to Scotland's highlands and islands. But while it's obviously an excellent place to visit, Glasgow's neighbourhoods are really varied, so use the Hotel Guru's Glasgow guide to help you find the ideal Glasgow neighbourhood to stay in.
Neighbourhood Guide to Glasgow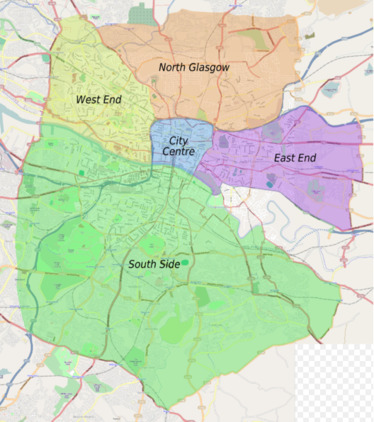 Peter Fitzgerald, OSM [1] / CC
Many people still think of Glasgow as an industrial powerhouse, but contemporary Glasgow is a cultural powerhouse too. Within its incredible mix of Georgian, Victorian, Edwardian and contemporary architecture are impressive museums and art galleries — many of them free — containing collections any major city would be proud of. Glasgow has a surprising number of parks and green spaces as well. But it also has a reputation for a buzzing nightlife, and parts of the city don't come alive until after five, when city's wonderfully friendly pubs, clubs, and live music venues begin to come into their own. Glasgow can also boast some of the best shopping in the UK, both mainstream, upmarket and independent. Explorers come here too as a jumping off point for the Scottish highlands or the islands; it's only 40 minutes from Loch Lomond and Ben Lomond in the Lomond and Trossachs National Park, and a short ferry ride to the Isle of Arran.
Glasgow is big and sprawling, so much so that it's sprawled into several nearby towns, and while the inhabitants of those areas might see it differently, for the purposes of this guide they're all Glasgow now! It's got an international airport, and two major main line train stations, a large central bus depot and a ferry port, plus one of the UK's largest public transport systems outside London. It's also got a cycle hire scheme, and several central pedestrianised zones.
Central Glasgow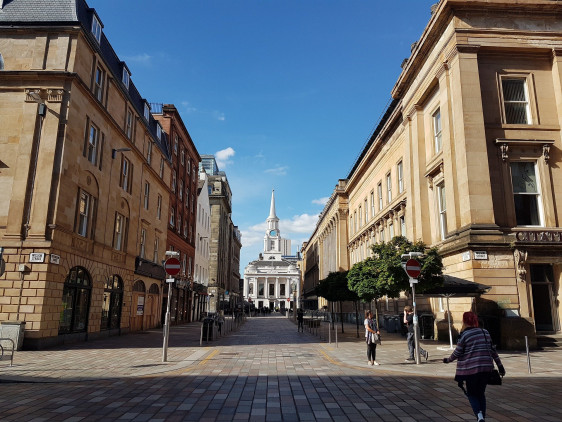 Image by Steve Crowther from P
'Town' is the bit of Glasgow with the neat grid of beautiful Victorian and Edwardian buildings, and the gracious squares, located between High Street, the river and the motorway. Within the centre of Glasgow is the pre-industrial and sometimes even medieval bit, also called Merchant City, and centred around Glasgow Cross. The centre also has the commercial and business district, which radiates out from Blythswood Square, and is where you'll find the majority of Glasgow's new buildings: ones with the glass, stone and steel in places you might not be expecting. But in between are some of Glasgow's classic landmarks, like the Glasgow School of Art, the Willow tearoom (a reconstruction of Charles Rennie Mackintosh's original), and the City Chambers building. It's called 'central' for a reason, and this is a great place to base yourself, both for the public transport and for the choice of places to eat, drink and shop.
Pros and Cons
Pros: central, impressive architecture, close to main sights
Cons: busy, can be touristy
Ideal For: city breakers, shoppers, couples
Discover our recommend hotels in Central Glasgow.
Merchant City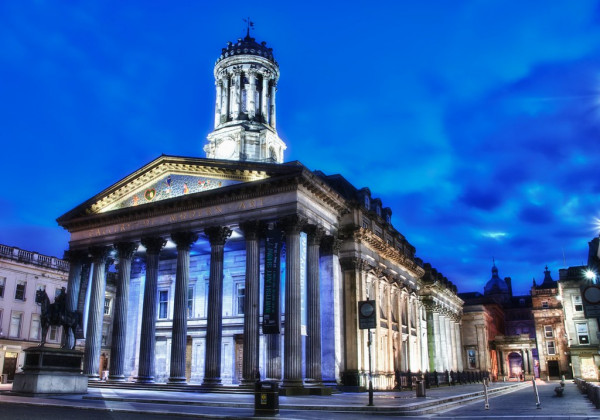 Flickr user Jim Nix
Super central, Merchant City deserves its own section because if you fancy staying in one of Glasgow's beautiful old mansions or townhouses built by wealthy merchants in the 18th and 19th centuries, then this is the place to do it: a number of them have been converted into elegant hotels. This is also a great place for shopping — especially Ingram Street — and it makes a convenient base for seeing the rest of Glasgow. Plus it's where you'll find the Glasgow Gallery of Modern Art. If you don't want to explore on foot, Merchant City is close to the subway and numerous bus stops.
Pros and Cons
Pros: historic, elegant, central, well connected by public transport, luxurious, good choice of shopping and dining
Cons: busy during summer when the Merchant City Festival takes place
Ideal For: couples, history-buffs, shoppers, treating yourself
Discover our recommend hotels in Glasgow's Merchant City.
The West End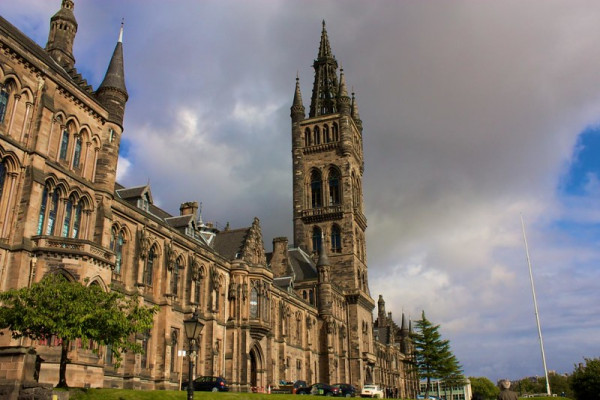 By Flickr user Matito
The West End doesn't have a clear boundary like Central Glasgow, but it's to the west of tha area, past Kelvingrove Park and centring around the wonderfully neo-gothic University of Glasgow and the bohemian district that surrounds it. With some cobbled streets, and plenty of bars, cafes, restaurants and cool, or vintage, boutiques, this is a fun, and leafy, part of Glasgow to stay in. You can wander the grounds of the university, you're close to the Kelvingrove Art Gallery and Museum, and the Hunterian Museum and Gallery, which is attached to Mackintosh House. The West End is also well connected by public transport, and within walking distance of many more museums and galleries.
Pros and Cons
Pros: cool and atmospheric, great cafes, bars and restaurants, independent shopping, within walking distance of major sights, lively nightlife
Cons: busy during university term time
Ideal For: cool-cats, cafe-aficionados, couples, people who want to get around on foot, night-owls
Discover our recommend hotels in Glasgow's West End.
Finnieston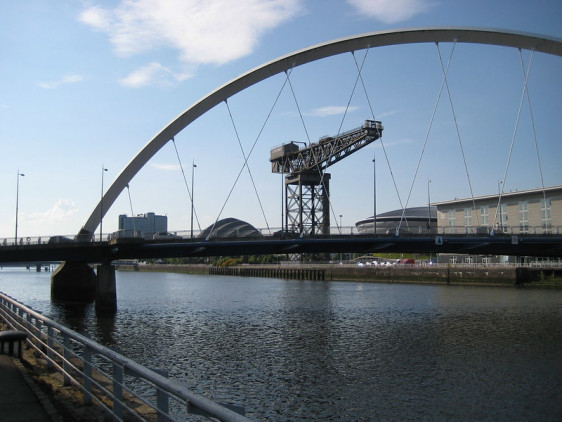 By Flickr user Paul Trafford
Finnieston is the part of the West End that runs along the river, home to the very memorable 'armadillo building' and some of Glasgow's best up-and-coming restaurants and bars. It's appreciated for being a seriously cool place to live, and it's a cool place to stay too, especially if you're a serious foodie, or looking for a lively evening out — Finnieston is home to both the SSE Hydro arena, and SWG3, a super cool venue. The Riverside Museum, designed by Zaha Hadid, is in pride of place, and it's got a 120 year old tall ship parked right out the front. Finnieston also has a hip independent shopping and art scene, in its 'Hidden Lane' area. You're still close to the centre or town, so this is a good base for explorers.
Pros and Cons
Pros: great nightlife, great cuisine, riverside, central, great independent shops and galleries, lively
Cons: too cool/edgy for some tastes
Ideal For: night owls, party-people, foodies
Discover our recommend hotels in Glasgow's Finnieston.
The East End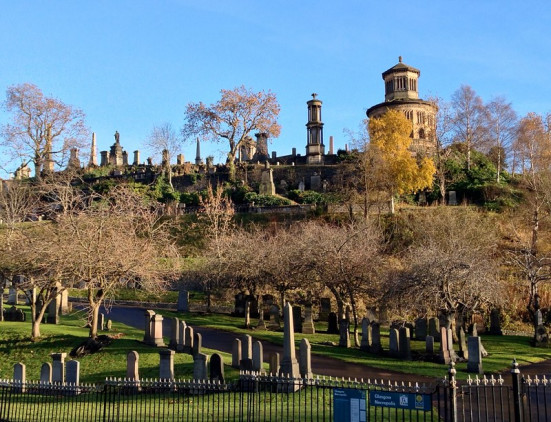 By Flickr user John Mason
Like the West End, Glasgow's East End doesn't have clear boundaries, but it's to the east of Merchant City, around medieval Glasgow Cathedral and the necropolis, and including Glasgow's oldest suburb, Dennistoun, its largest park, Glasgow Green, and the Barras Market, the city's largest weekend market. The Barras has been going since the 1920s, and it's a cultural, as well as commercial visit, with the sort of fast-talking, quick-witted stall holders people expect from Glasgow, and an opportunity to shop for pretty much anything and everything. The St. Mungo Museum of Religious Life and Art is here too, and while the name sounds a bit dry, it's not at all, and the People's Palace Museum is another charting the life and history of Glasgow and its residents. The East End is also home to a number of local breweries and some great restaurants. It's not the most touristy part of town so a good place to start looking for great value hotels.
Pros and Cons
Pros: central, historic, great local sights, Glasgow's largest market, great value
Cons: residential
Ideal For: great value accommodation, couples, shoppers, foodies
Discover our recommend hotels in Glasgow's East End.
Southside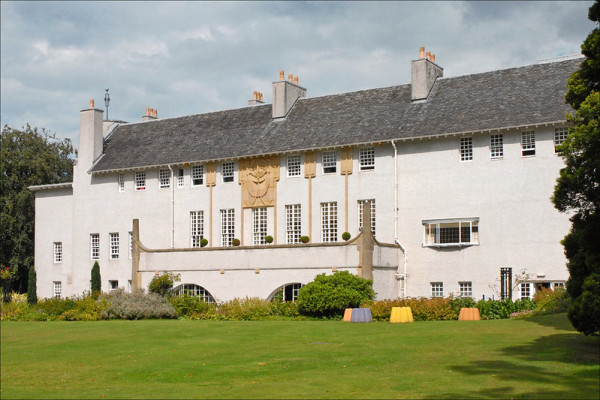 By Flickr user Jean-Pierre Dal
The Southside is the area to the south side of the Clyde, just across the bridge from central Glasgow. It's convenient, and green with plenty of museums and galleries of its own, including the excellent and interactive Science Centre, and the Scotland Street School Museum. This is an especially good spot for visiting families. Back from the river this bank is packed with 19th century tenement buildings, and large parks and gardens, and there are modern family-friendly attractions too, like a ten pin bowling alley and an ice rink. There's also the very beautiful House for an Art Lover, a wonderful Charles Rennie Mackintosh building that will make it easy for your kids to see why he was so important. In contrast to its heritage architecture, the Southside is fast becoming known for its innovative foodie scene, with great bars, cafes and restaurants close to the river, but also in the more residential areas. There's also excellent access to the subway and bus routes.
Pros and Cons
Pros: family friendly, great restaurants, bars and cafes, friendly atmosphere, green spaces, central, great local attractions
Cons: residential
Ideal For: families, a relaxing break, visitors who want to explore on foot, foodies
Discover our recommend hotels in Glasgow's Southside.
North Glasgow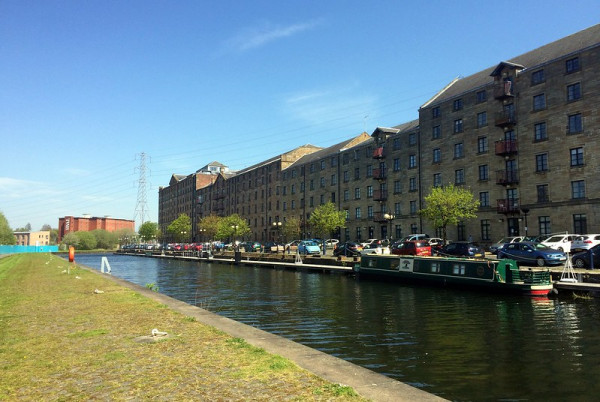 By Flickr user John Lord
North Glasgow is where all the old wharfs, mills, refineries and warehouses are, along the Forth and Clyde canal. Obviously the industry has left, and what it's left behind are some fantastic old buildings, many of them Georgian, which have been carefully converted to new uses both residential and commercial. Speirs Wharf is one of the first places you'll get to walking north from central Glasgow, and it's a great place to start a walk along the canal, or a cycle, or even get out on the water. Speirs Wharf is also a great place to eat and drink, with plenty of great choices. On the opposite side of the canal there are several reserves and green spaces.
Pros and Cons
Pros: green, peaceful, great places to eat and drink, historic, great value
Cons: residential
Ideal For: walkers, cyclists, outdoor enthusiasts, history-buffs, families
Discover our recommend hotels in North Glasgow.
Search the best hotels in Glasgow