The 14 Best Luxury Hotels on Mallorca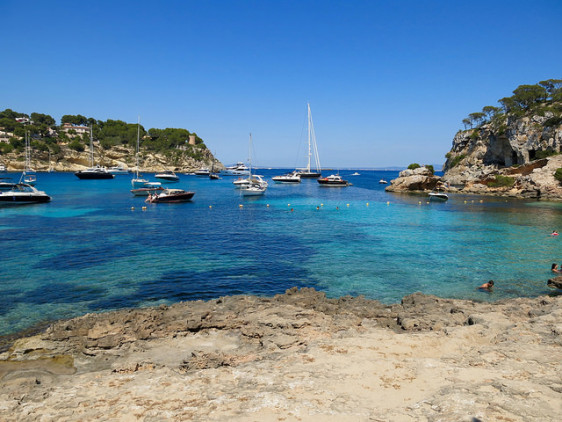 Kyle Taylor via Flickr
Mallorca is a popular destination for summering in Europe for a number of reasons, but the island's beautiful coastline is definitely one. As are the pleasures of Palma de Mallorca with its cultural treasures. And the beautiful rural views and pretty hamlets and villages. There's hiking and biking, a great foodie scene and numerous fascinating galleries and boutiques. There's plenty of luxury to be found on Mallorca, and if you're here to treat yourself then our Guru's list of the best luxury hotels on Mallorca is the best place to start looking for your accommodation.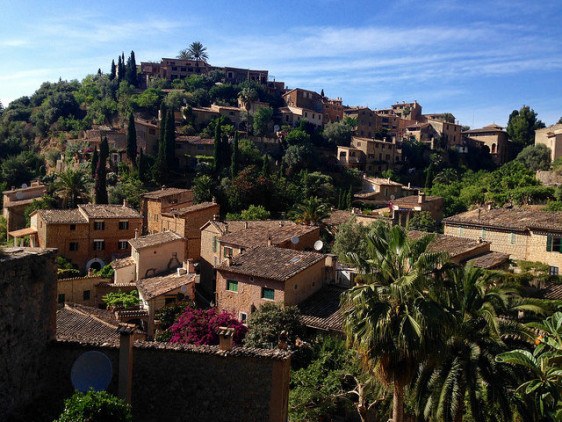 Kyle Taylor via Flickr
Their recommendations for the 14 best luxury hotels on Mallorca are very varied, there's a luxurious finca, several converted palaces, castles and mansions, honeymoon havens, some beachside beauties with spectacular sea views, some hip hotels with restaurants to see and be seen in, and even some great recommendations for the best luxury hotels on Mallorca for your whole family.
The 15 Best Luxury Hotels on Mallorca
To Escape to!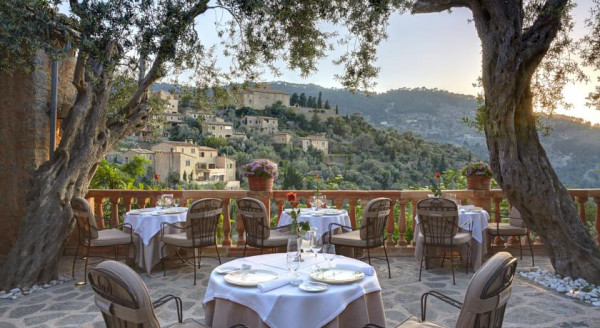 La Residencia in Deià is a remarkable hotel offering sheer luxury in its 67 rooms. Overlooking beautiful gardens, these rooms are decorated with antiques and four poster beds. There's a pool, an excellent spa and an award-winning restaurant.
The idyllic Son Brull Hotel and Spa in Pollença is a deluxe resort with a very popular restaurant and a spoiling spa. Set amid its own vineyard there are beautiful views and great walks.
The Castell Son Claret is a beautifully converted 14th Century castle which has lost none of its luxury or glamour in the conversion, There are 38 rooms, a wonderful spa with options to do yoga classes as well as have massages or treatments, plus there's a Michelin starred restaurant.
The Most Romantic Luxury Hotels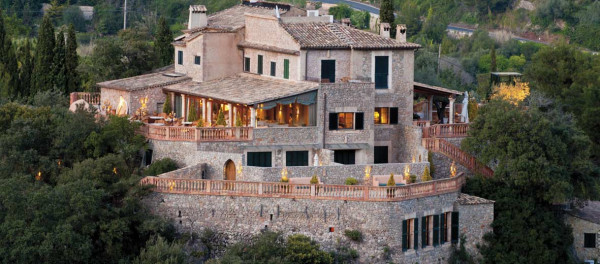 Valldemossa in Valldemossa is a 12 room hotel offering timeless sophistication and first class service against a stunning backdrop. There's a gourmet restaurant, spa and pool on site.
The Hospes Maricel is a wonderfully romantic hotel right on the Mediterranean in Carretera Andratx. There are 44 peaceful rooms, a wonderful restaurant on a beautiful sun terrace and an infinity pool which tumbles directly into the Med.
The Best Luxury Beach Hotels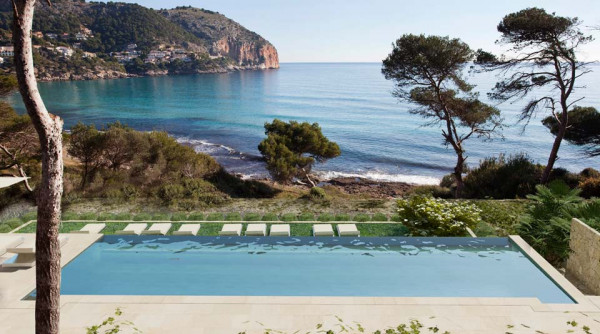 Can Simoneta in Canyamel is a peaceful clifftop hotel with a romantic terrace restaurant and direct access to the ocean via a flight of steep steps cut directly into the cliffs. There are just 13 rooms, but lots of facilities.
The Best Luxury City Break Hotels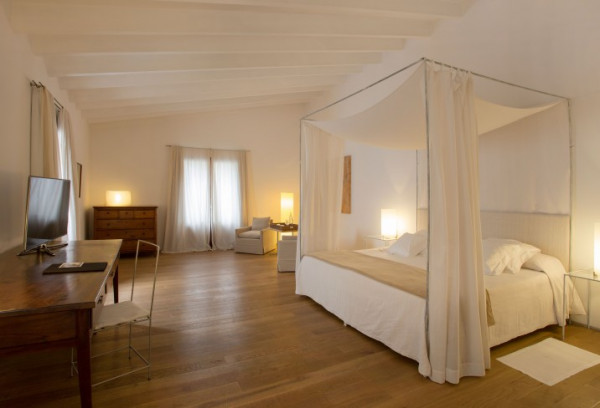 The Hotel Convent de la Missió is a sublimely converted 17th Century convent in the heart of Palma de Mallorca's old town. There are now 27 beautiful, white-on-white minimalist rooms and a Michelin starred restaurant - one of the hottest on the island.
In the same area, right by Palma de Mallorca's cathedral, you'll also find the Palacio Ca Sa Galesa, a quirky, 12 room hotel full of character. Expect antiques, and even stained glass, plus a spa which sits within original Roman baths. The sun terrace has amazing views.
Also in Palma de Mallorca, Can Cera is an historic townhouse turned five star, 12 room hotel. The decor is elegant and traditional, with antique furniture and artworks. Some of the larger rooms and suites have private balconies, and there's a fantastic rooftop terrace restaurant with stunning views.
The Best Luxury Hotels For Families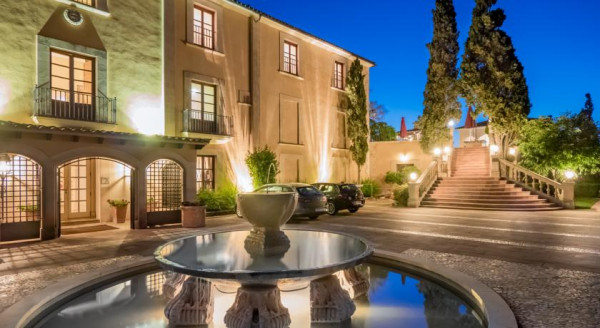 Son Julia is an historic mansion beautifully resorted into a 25 room hotel. There's a great Mediterranean restaurant, a choice of two swimming pools, a hot tub and a Turkish steam bath. There's also a gym.
The Finca Son Gener is a boutique finca with the beach in one direction and the mountains in the other. There are ten large suites decorated in cool, natural tones, with oak beams and private balconies. Plus there's an excellent spa, a traditional restaurant and beautiful orchards and olive groves all around.
The Best Value Luxury Hotels on Mallorca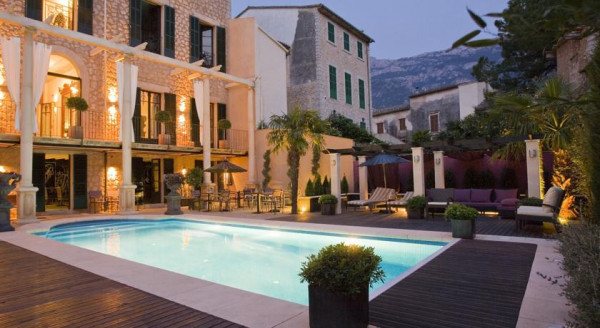 The Hotel L'Avenida in Sóller is a boutique hotel in a former mansion. The decor is chic, elegant and contemporary and you're within walking distance to cafes, restaurants and sights.
Or you could book La Moraleja, a boutique hotel close to the beaches and the mountains. There are 22 elegantly designed rooms, showcasing interesting art, large, private terraces plus a choice of formal or informal dining and a poolside bar, games room, library and a collection of vintage cars.
Palau sa Font is a boutique hotel converted from a wonderful 16th Century building in trendy La Lonja in Palma de Mallorca's old town. There are 19 bright, airy rooms with handmade furniture, original contemporary art and Mediterranean style floors. There's also a rooftop plunge pool and terrace with spectacular views.
The Hippest Luxury Hotels on Mallorca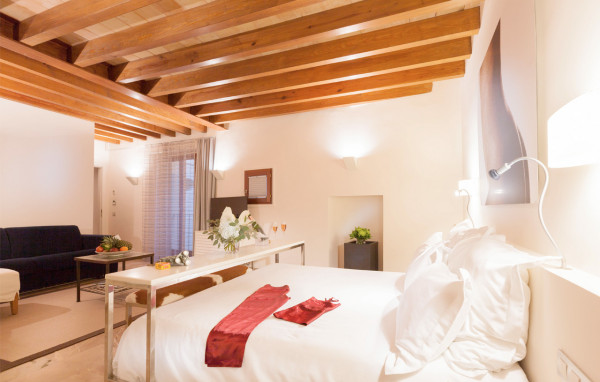 Hotel Tres is a super hip, minimalist hotel converted from a 16th Century building in Palma de Mallorca's old town. There are 41 large rooms and suites - some with cathedral views, plus a spectacular rooftop terrace with a pool, sauna and panoramic views. There's also lively courtyard bar.
Still not sure which of our Guru's recommendations for the 15 best luxury hotels on Mallorca might be perfect for you?
The 15 Best Luxury Hotels on Mallorca
Romantic Break - Beautiful views, stunning accommdation and top notch service — the perfect place to unwind with a loved one

Artworks - The property is filled with artworks — don't miss Cafe Miro, where you'll find over forty Miro originals!

Foodies - Boasting an award-winning fine-dining restaurant

Wellbeing - Excellent spa and sauna

Recommended by - Tablet, Fodors, Kiwi Collection

Sheer luxury at this remarkable hotel that sprawls over a hillside in Deià. Beautiful gardens, top notch dining, antiques and four posters. Romantic setting, ideal for honeymooning or just pure relaxation — every comfort is catered for. Outdoor pools and a fine spa, with local country pursuits. See More

Check Availability

Romantic Break - Ideal couples getaway, cocktails by the pool, wine and gourmet cuisine in the restaurant and effortless style in the rooms.

Spa breaks - A modern spa with sauna, Turkish steamroom and massages- treatments making the most of Mallorca's natural produce.

Great walks - A great starting point for walking at the foothills of the Tramuntana mountains.

Tennis - Make the most of the on site courts and coach and practice your serve.

Recommended by - Mr & Mrs Smith, I Escape, Kiwi Collection, Relais & Chateaux

A super deluxe and undeniably trendy hotel with restaurant, bar & spa outside Pollença. Produce for the fantastic restaurant comes straight from the farm, or neighbours. Standing above its own vineyard, it's ideal for couples wanting to escape and unwind in a blissfully spoiling environment. See More

Check Availability

Restaurant - Michelin starred cuisine in the Zaranda restaurant

Foodies

Romantic Break

Great walks - Hiking trails close by and plenty of pathways for walks around the estate.

Luxurious reincarnation of a 14th century castle in the South Western corner of the island. Serious pampering here with spa, yoga, massage and super attentive staff on hand plus Michelin starred dining. The perfect spot for a romantic retreat. See More

Check Availability

Valldemossa

Valldemossa, Mallorca

12 rooms from €250

Garden - Attractive outside space.

Luxury

Romantic Break

Swimming Pool - Indoor and outdoor pools

Recommended by - Relais & Chateaux, Mr & Mrs Smith

A first class privately-owned Relais & Chateaux hotel offering timeless sophistication and impeccable service in a stunningly picturesque and romantic setting with a gourmet restaurant, spa, pool and spacious, comfortable suites. Ideal for special occasions and couples who want to unwind in privacy See More

Check Availability

Hospes Maricel

Carretera Andratx, Mallorca

51 rooms from €220

Restaurant - The Senzone Restaurant hosts the best Chefs of Japanese gastronomy in Spain.

Sit-out Terrace - A spectacular terrace that juts out into the sea.

Sea Views - A romantic backdrop to any occasion.

Spa - Set in the caves by the waves.

Recommended by - Mr & Mrs Smith, Tablet, Kiwi Collection

A sizeably grand 5 star hotel with bright, contemporary rooms situated on the seafront outside Palma. Great old school service and wonderful views - for couples and families with older children. Awarded 'the best breakfast in the world' at the II Summit of Madrid Fusión See More

Check Availability

Ca's Xorc

Carretera de Deia, Mallorca

15 rooms from €210

Weddings - A beautifully backdrop and a Moroccan-styled tent for events, this hotel is a popular venue for weddings

Country Escape - A chic Mallorquin finca hotel, hidden high in the Tramuntana mountains

Restaurant - Mallorcan/Mediterranean cuisine featuring local specialities

Swimming Pool - Infinity pool with breathtaking views over the Soller valley

Recommended by - I Escape, Mr & Mrs Smith

A truly special boutique hotel in a stunning location between Soller and Deia with far reaching panoramic views from sprawling terraces. Lovely airy rooms, fabulous food, charming staff and a gorgeous infinity pool make it hard to beat. Gourmet, romantic, and perfect for a wedding. See More

Check Availability

Can Simoneta

Canyamel

26 rooms from €280

Beach nearby - Direct access to the sea over a winding stair directly to the water-basin and private access to the public beach of Canyamel.

Outstanding location - A rural setting but minutes from towns and with direct access to the beaches.

Views - The hotel restaurant has views over the bay of Canyamel.

Watersports - Water skiing, fishing, diving, motorboats, paddle boats.

Recommended by - Mr & Mrs Smith

Can Simoneta offers unique tranquility from its cliff top perch. Carved steps down to the sea, magnificent views of the coastline, dinner on the restaurant terrace under the stars. A romantic destination. See More

Check Availability

Foodies - Boasts one of Malloca's hottest restaurants, the innovative and always spectacular Marc Fosh, advance booking is a must.

Writing a novel - A 17th century convent, turned uber trendy minimalist hotel, with plenty of natural light and an on site gallery.

Great walks - Wander the winding lanes of the picturesque and busy old town.

Spa - with sauna and indoor pool. Treatments available.

Recommended by - I Escape, Mr & Mrs Smith

Sublime monastic serenity in a central location, this converted convent offers elegance and understated luxury in an historic building. White on white minimalistic rooms give an air of calm. It's also home to the renowned Michelin star Marc Fosh restaurant. A spoiling stay. See More

Check Availability

Total relaxation - Unwind in style with the heated indoor pool, sauna, Roman baths, hot tub and extensive list of treatments and massages.

City Style - A chic hotel in a 16th century building with fantastic rooftop terrace boasting epic views of the Cathedral.

Great walks - Lovely hikes through the island start from just outside the city.

Sights nearby - Just steps from the city Cathedral, a must see.

Recommended by - I Escape

Quirky hotel in a prime Old Town location with some very fine artworks. Full of character, with old fashioned rooms filled with antique furniture and pretty stained glass. A sun terrace with a wonderful city view. The spa sits in genuine Roman baths. Well positioned, intimate, informal and romantic. See More

Check Availability

Can Cera

Palma de Mallorca

12 rooms from €165

Romantic Break - With Egyptian cotton sheets, elegant interiors large modern bathrooms and no kids, this is a great choice for a romantic break

Spa breaks - The superb spa is complete with a hammam and Finnish sauna

Sights nearby - Situated in the heart of Palma's Old Quarter, only 300m from Palma Cathedral and 5 mins from the harbour

Restaurant - Mediterranean/Mallorcan cuisine

Recommended by - Mr & Mrs Smith, I Escape, Tablet

A historic townhouse renovated to Five Star luxury. Traditional elegant interiors boast antique furnishings, art works, and sophisticated style. Large romantic rooms and suites have private balconies. Fantastic restaurant and stunning views from the roof top terrace. Stylish, grown-up, luxurious. See More

Check Availability

Son Julia

Llucmajor

25 rooms from €250

Spa breaks - A heated pool, hot tub and a Turkish steam bath along with several other beauty treatments available

Foodies - A great onsite restaurant serves a unique mix of Mediterranean and Asian cuisine

Active Holiday - Sports and activities, a gym and carbon racing bikes

Private Hot Tub - Available in The Deluxe, Grand Suite and Suite Room Category

Historic mansion beautifully restored offering large, elegant rooms and bathrooms. Surrounded by 300-year-old gardens, its own vineyard and views from terraces and patios. A gourmet restaurant serves delicious food and wine. Choice of two swimming pools. Ideal for family holidays or a break for two. See More

Check Availability

Finca Son Gener

Artà (Son Servera)

10 rooms from €325

Country Escape - Set in beautiful gardens near orchards and olive groves, with distant views of the sea.

Restaurant - Lunch and dinner by arrangement; simple but classic local recipes.

Kayaking - Explore the secluded seacaves- The Coves d'Arta

Sights nearby - Arta is a charming town set in rolling hills

Recommended by - I Escape, Great Small Hotels

A chic boutique finca with beach and mountain in its surrounds. Large suites decorated in cool natural tones with oak beams, private balconies, and all the mod cons. Excellent spa, beautiful orchards, and a traditional restaurant. Perfect for an active beach holiday. Family friendly too. See More

Check Availability

Local exploring - A perfect spot from which to access Soller's quaint streets by foot and just a short ride to the port and beach.

Groups - This ultra chic mansion is available as an exclusive rental, ideal for a glamourous group break.

Sights nearby - Visit Palma's art galleries, cathedral and boutiques.

Restrictions on children - No children under 14.

Recommended by - Mr & Mrs Smith, I Escape, Kiwi Collection

Chic boutique in a former mansion house, with elegant contemporary styling and a relaxed atmosphere. Ideal location in Soller, within walking distance of many of the charming cafes. Sun yourself by the courtyard pool or on one of the beaches. The perfect choice for groups. See More

Check Availability

La Moraleja

Cala Sant Vincenç (Cala Sant Vicenç)

22 rooms from €130

Total relaxation - A luxurious wellness area to enjoy a sauna, a dip in the hoth tub, a massage or natural skin treatments

Active Holiday - The hotel is a great base to indulge in various sports activities that the island has on offer

Great walks - Walking excursions can be organised and are a great way to explore the surrouding areas

Restaurant - Choice of two restaurants offering Mediterranean cuisines

A chic boutique hotel located close to the beaches and mountains of Mallorca. Elegantly designed rooms showcasing interesting artworks offer great views from the large terraces. Formal and informal dining options and a poolside bar. A games room, library and a collection of vintage cars on-site. See More

Check Availability

Palau sa Font

Palma de Mallorca

19 rooms from €145

Total relaxation - Peaceful and elegant rooms, a roof terrace offering sweeping views of the city and a refreshing plunge pool.

City Style - A beautiful and chic design hotel in the heart of the trendy La Lonja area.

Sights nearby - The hotel is within walking distance of Palma's impressive Cathedral.

Views - City views from the rooftop

Recommended by - I Escape, Fodors

16th century designer boutique hotel in Old Town, close to some of Palma's best nightlife. Bright airy rooms, handmade furniture, Mediterranean floors and original contemporary art. Rooftop terrace with spectacular views and plunge pool. An ideal base for exploring the city. See More

Check Availability

Hotel Tres

Palma de Mallorca

41 rooms from €170

City Style - Very chic contemporary interiors located in one of Palma's hippest areas

Sights nearby - A short walk to the impressive city Cathedral

Views - Great views from hotel

Lively - Hip and happening.

Recommended by - Mr & Mrs Smith, Tablet, Small Luxury Hotels

Swedish owned, minimalist and super hip hotel in converted 16th century buildings in the old town. Large, chic rooms and suites, some with cathedral views. Spectacular rooftop terrace with pool, sauna and panoramic views. Lively bar and courtyard scene. Ideal for city exploring. See More

Check Availability
posted Monday, 7th February 2022