Where to Stay in Barcelona
Top Tips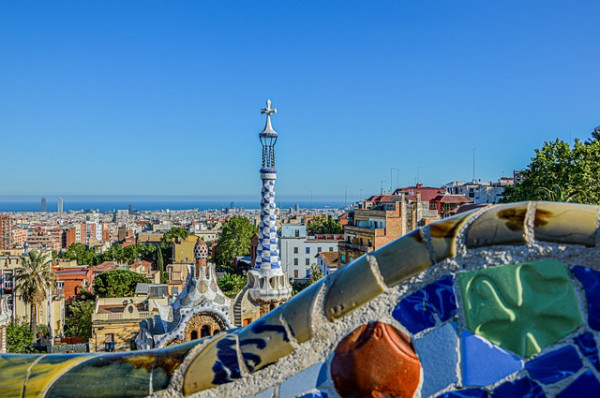 Nikolaus Bader from Pixabay
Barcelona is a sultry beauty like no other, thanks to her lovers, a collection of famed artists, architects and chefs, but her many neighbourhoods are varied, so she poses a challenge: where to stay in Barcelona? Our detailed guide to Barcelona's neighbourhoods is designed to help you answer that question, allowing you to pick out the area that's the best match to your plans for visiting the city. Whether you've planned a tour of the highlights, you're intending to eat your way across the city, or just meander around and see what you uncover.
Neighbourhood Guide to Barcelona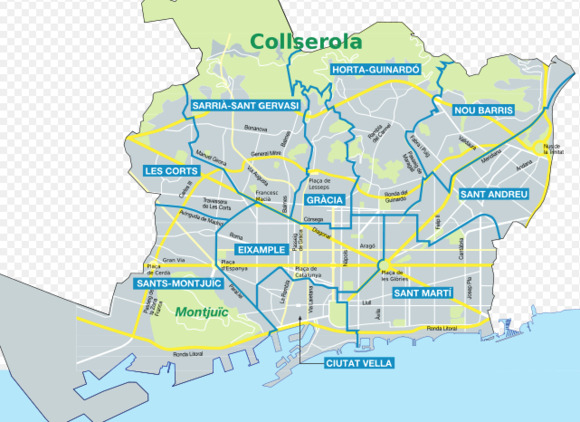 Vinals, CC BY-SA 3.0
Sunny, Mediterranean-side Barcelona has a lot to recommend it. We mentioned the art, food and architecture, but as well as the incredible buildings, art galleries and restaurants, Barcelona's fascinating history is here to be uncovered, with the relics of ancient Rome, and the Middle Ages, forming a backbone to different parts of contemporary Barcelona. The beaches, and beach views create a relaxed backdrop, but the central parts of town are always bustling with activity. And come the evenings, the city is alive with music, and people having a good time until whatever hour you can manage!
Barcelona is the kind of city that will always hold surprises, there's so much colour and detail to these Catalan streets that you'll miss great treasures if you zip from one place to the next. And luckily it is the perfect size to explore on foot. If you need to get around quickly Barcelona's public transport system consists of the metro, buses, trams and two different kinds of suburban trains. And taxis. There are several ticket options, but the multi-use ones are definitely recommended.
Ciutat Vella, or Old City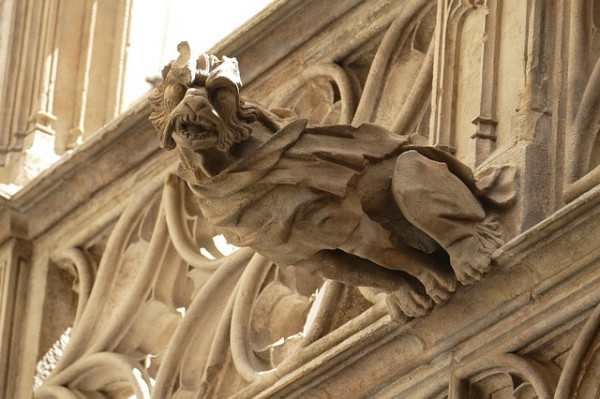 falco from Pixabay
The oldest part of Barcelona is still the most central, radiating inland off the coastline, in a collection of cobbled streets and grand squares, which the rest of the city has sprawled out around. And Ciutat Vella, or the Old City, is where you'll find the majority of Barcelona's headliner sights — with the famous Modernist attractions the exceptions. Within its old stone boundaries are several of the most famous of Barcelona's neighbourhoods and districts, including Barri Gòtic or the Gothic Quarter, El Raval, La Ribera and Barceloneta. And through it runs La Rambla, Barcelona's most famous pedestrian strip, a street that never seems to sleep and barely seems to take a breather. We'll deal with the neighbourhoods separately in detail, because they're all different, and have a lot to offer, but within this area you're close to everything, and you're close to Barcelona's transport hub too, at Plaça Catalunya, so it's very easy to get in and out.
Pros and Cons
Pros: central, historic, major sights and attractions
Cons: busy
Ideal For: sight-seers, history-buffs, everyone!
Discover our pick of the best city centre hotels in Barcelona
La Rambla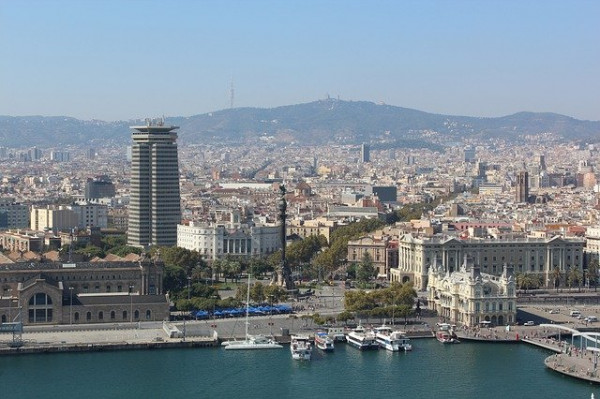 hoelli from Pixabay
La Rambla is Barcelona's hub, a broad, sunlit boulevard that stretches between the harbour and Plaça Catalunya, cutting straight through Ciutat Vella in contrast to the narrower side streets and alleyways. The whole city seems to regularly pass through and along La Rambla, so it's busy and dynamic, jammed with buskers and street-sellers, but ne'er do wells too, and often a lot of tourists. However this world famous thoroughfare is packed with visual treasures: lavish flower stalls, a cultural and exhibition centre, the jolly La Boqueria market, a Miró mosaic, newspaper kiosks and oodles of cafés. While they're not cheap, these cafes offer one of the best shows in town, morning, noon and night. And La Rambla is the beating heart that sits within walking distance of everywhere else.
Pros and Cons
Pros: central, lively, busy, lots of cafes and bars, colourful shopping
Cons: lively, touristy
Ideal For: sight-seers, fun-lovers, flaneurs
Discover our recommended hotels around La Rambla.
Barri Gòtic or the Gothic Quarter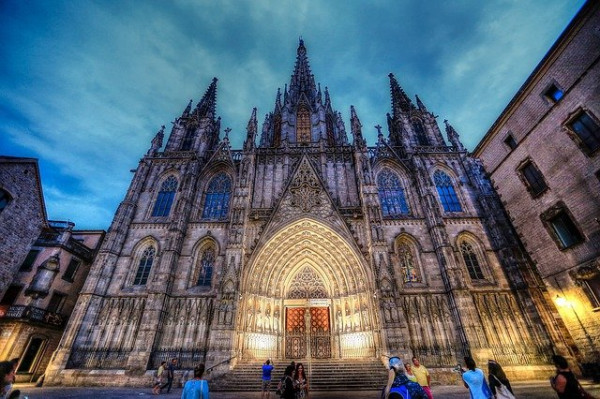 Catharina Rytter from Pixabay
Atmospheric, dramatic and historic, Barcelona's medieval, Gothic heart is the very oldest part of the city, with foundations dating from the Roman settlement of Barcino — you can still see the old Roman wall in several places. Atop those foundations sit cobbled, fully-pedestrianised streets, medieval buildings and the Barcelona Cathedral. And Barcelona's excellent City History Museum; Guell Palace, a Gaudi design; the City Hall; Plaça Sant Felip Neri, one of Barcelona's most beautiful and romantic squares; the Plaça Reial, which is known for nightlife, and for the streetlights by Gaudi; and Carrer Petritxol, a narrow street known for its chocolate shops and decorated flagstones. Even if you think you know it well this labryinthine part of Barcelona can lead you to new discoveries every visit, and there are plenty of bars, cafes and restaurants to sustain you on your adventures. Not all of the landmark 'Gothic' buildings are as old as you think, some were built in the 19th and 20th century, but that adds to the charm too. Plus Picasso and Miró both lived and worked here.
Pros and Cons
Pros: atmospheric, historic, romantic, central, major sights, great cafes and restaurants
Cons: many hotels are pokey
Ideal For: history-buffs, romantics, couples, sight-seers
Discover our recommended hotels in Barcelona's Barri Gòtic or Gothic Quarter.
La Ribera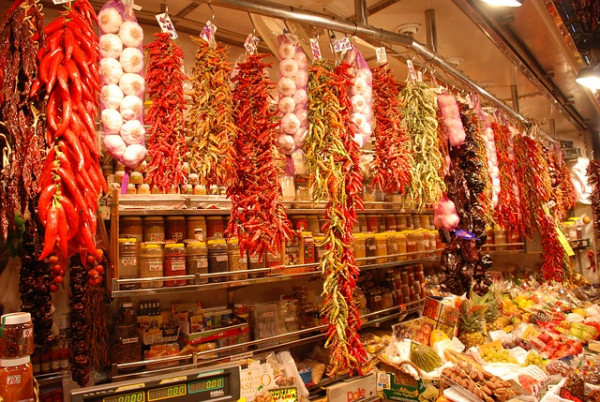 EzPzPics from Pixabay
La Ribera is the part of the Old City between the Arc de Triomf and Via Laietana, known for its markets — Santa Caterina being the most famous — and independent shops by day, and its lively bar and restaurant scene by night. La Ribera is packed with fantastic old buildings, many of them dating back to the 15th century, and some of the most interesting streets have suitably interesting names to match, such as "the street of silversmiths", or "the street of leather", or "the street of jars". As well as being a great place to shop and eat out (especially tapas), La Ribera is where you'll find the Museum Picasso, the wonderful Modernist imagined Palau de la Música Catalana, which is a concert hall, and the Gothic grandeur of the Basílica de Santa Maria del Mar.
Pros and Cons
Pros: great atmosphere, great markets, great shopping, great tapas bars, central, historic
Cons: busy, some bars and restaurants are expensive
Ideal For: foodies, shoppers, market-lovers, history-buffs, couples, sight-seers
Click here for all our recommended hotels in La Ribera
El Born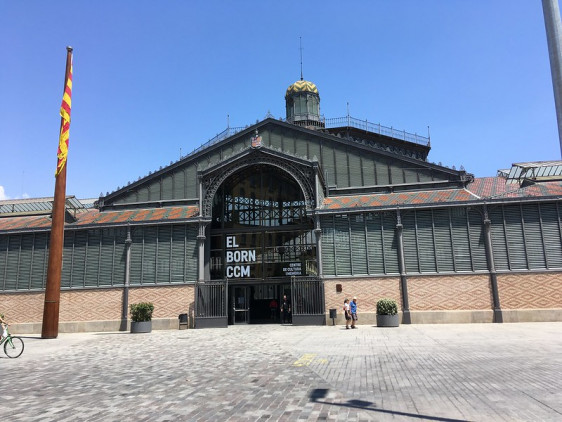 By Flickr user Manel Zaera
Within La Ribera is El Born, a neighbourhood name that's often used for the whole of La Ribera, but is actually smaller, crowded around the El Born Market. This was Barcelona's central marketplace until the 70s, when it was renovated, uncovering whole Roman streets, complete with a wealth of historic treasures. So instead of a simple renovation it was converted into a cultural centre and archaeological museum, so all that was unearthed could be displayed. Today El Born is still a pretty and historic part of town, and a trendy part, with numerous boutiques and cool streets lined with great bars and restaurants. El Born offers a good choice of late night entertainment too.
Pros and Cons
Pros: lively, historic, central, lots of places to eat and drink
Cons: open all hours
Ideal For: night-owls, foodies, fun-lovers, sight-seers
Click here to find all our El Born hotel recommendations
El Raval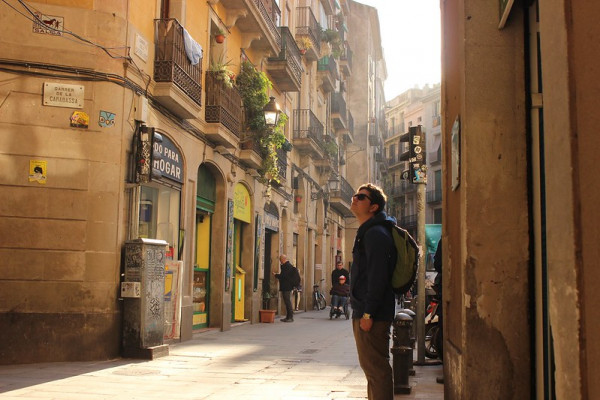 By Flickr user Kevin Pitters
El Raval is the Old City neighbourhood to the west of La Rambla, and, while it's not as pretty as La Ribera, it's still historic. El Raval's main story is one of gentrification, it used to be a light-deprived, and somewhat seedy place, but in the preparations for the 1992 Olympics, the government demolished many of the old buildings, and replaced them with more spacious builds. Numerous restaurants, bars and cafes moved in, as did the fantastic MACBA museum of modern art, the CCCB or Centre de Cultura Contemporània de Barcelona, the CASM or Centre d'Art Santa Mònica, a Maritime Museum, and the Filmoteca, so it's more of an entertainment hub than the rest of the Old City, but still super central, and a good place to look for good value accommodation.
Pros and Cons
Pros: central, major attractions, modern art gallery hub, great choice of bars and restaurants, lively nightlife
Cons: not as atmospheric as the rest of the Old City
Ideal For: art-lovers, value-seekers, sight-seers, night-owls
Click here for all our recommended hotels in El Raval
Eixample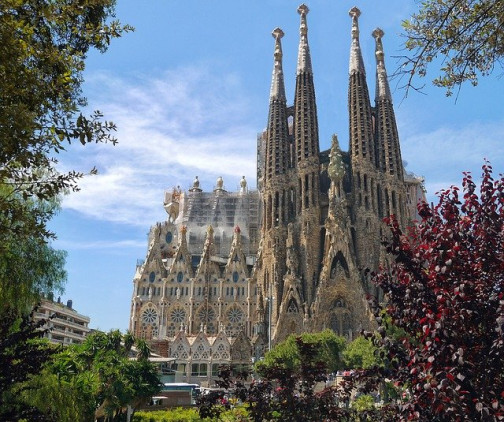 Patrice Audet from Pixabay
If you're here to appreciate Gaudí's work, and the work of his contemporary Modernists, Eixample is the district for you. The building of this area coincided with the Modernista movement, and this is where you'll find the Sagrada Familia, La Pedrera, and the Casa Batlló, plus numerous less well known Modernist architectural treasures. And these days the shopping is good too, especially along the glamorous Passeig de Gràcia. Eixample is built on a neat gird pattern of wide avenues intersected by long, straight streets, with enlarged corners and squares, designed to let as much light and ventilation through the area as possible. Its planning also demanded a certain number of markets per street, and the majority of these remain in their same spots today.
Pros and Cons
Pros: great shopping, central, luxurious, stunning architecture
Cons: expensive
Ideal For: treating yourself, romantics, foodies, sight-seers
Discover our recommended hotels in Eixample, Barcelona.
Barcelona's Port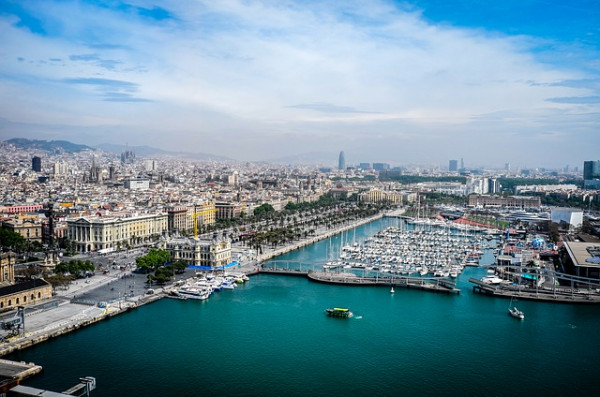 Leonhard Niederwimmer from Pix
Barcelona's large, working port is an attractive part of town, with a range of excellent bars and restaurants, plus it's close to the beach and at one end of La Rambla. There are nine passenger terminals, so there's a lot of traffic in and out. Once very industrial Barcelona's seafront is now an elegant stretch of beach-side restaurants, parks, yacht-filled marinas, sculptures and a 4.5 kilometre long boardwalk. There's also excellent public transport links, but the best thing about this part of town is certainly the ocean and ocean views.
Pros and Cons
Pros: sea views, great transport links, plenty of restaurants and bars, lively atmosphere
Cons: busy
Ideal For: value-seekers, beach-lovers
Discover our recommended hotels in Barcelona's Port.
Barceloneta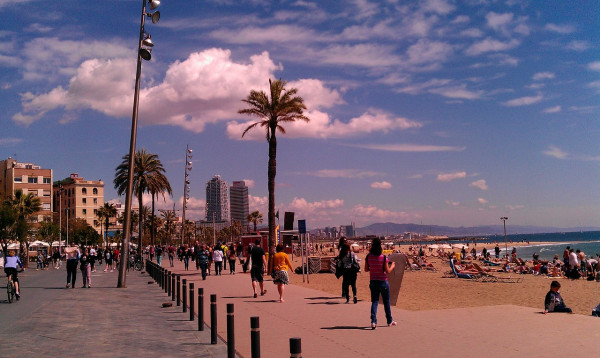 gorpol from Pixabay
Barceloneta, or Little Barcelona, is what was built after King Felipe V demolished a tenth of Barcelona in order to build a fortress right up against the city. Or, on top of it really. So Barceloneta came about, along the waterfront, and with a very fisherman-feel. The original houses are neoclassical, but there are now plenty of newer ones, and there was a lot of regeneration here in the 90s pre-Olympics. Today the excellent seafood restaurants here are a big draw, and there's a bourgeoning foodie culture. Barceloneta is also close to the major sights, and to the ocean.
Pros and Cons
Pros: ocean views, beach-side, great restaurants, historic, central
Cons: small
Ideal For: foodies, beach-lovers, families
Discover our recommended beach hotels in Barcelona.
Montjuic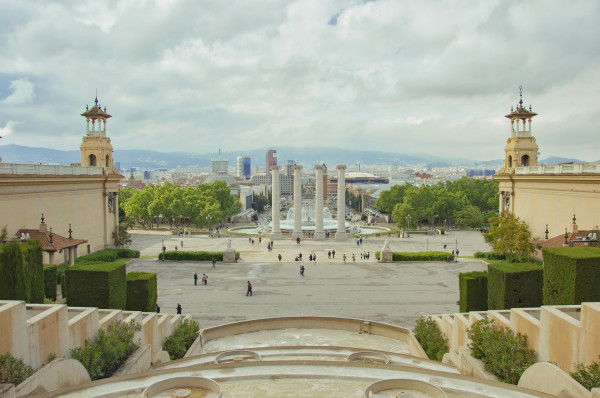 Image by Kevin Ramirez from Pi
Just south of the centre of Barcelona, running along a hillside overlooking the Mediterranean coast, Montjuic is a neighbourhood of museums, monuments and incredible views of the city and the ocean. There's even a castle, and a collection of lively tapas bars and restaurants. Among the museums is the Joan Miró Museum, the Museu Nacional d'Art de Catalunya with its unrivalled collection of Romanesque art, and the CaixaFòrum with its modern art exhibitions. And, if art isn't your thing, there's the Catalan Archaeological Museum and the Catalan Ethnographical Museum. Montjuic also plays host to one end of the harbour cable car, at the Miramar viewpoint (and cactus garden), and it's close to Camp Nou, FC Barcelona's home turf.
Pros and Cons
Pros: ocean-views, numerous art galleries and museums, great value, good choice of restaurants and bars
Cons: off-centre
Ideal For: great value, families, museum-lovers, sight-seers
Discover our recommended hotels in Montjuic
Search the best hotels in Barcelona