Top Tips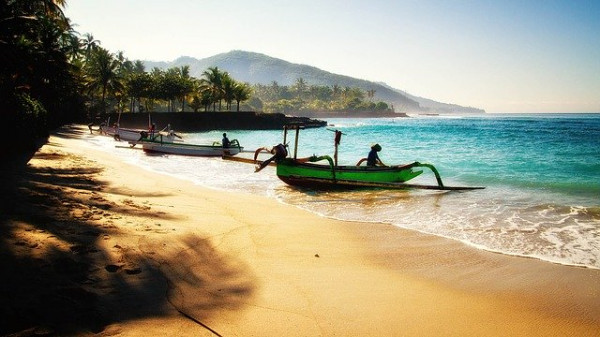 Martin Fuhrmann from Pixabay
Our where to stay on Bali guide is ideal for helping you decide which of Bali's towns and centres make the perfect bases for your stay on this daydream of an island. We've included detailed information about the most popular centres, plus practical recommendations. Our aim being to help you choose, whether you're coming to Bali to surf or dive all day and party all night; or to relax on an idyllic stretch of sand; to lose yourself in the jungle, or the culture, or if you want to do a bit of everything!
Guide to Bali's Towns and Centres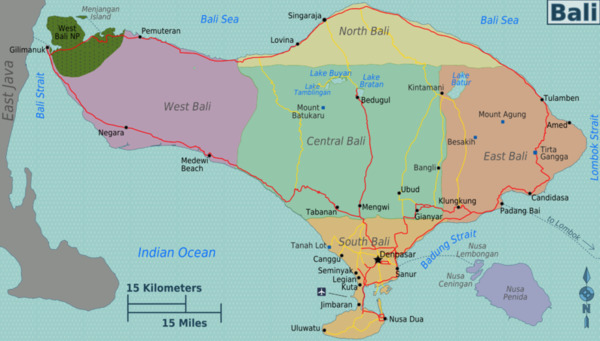 User:Burmesedays, Peter Fitzge
For many people the name Bali is synonymous wth paradise. It's not just the jungle-fringed beaches with their sands that range in colour from jet to alabaster, and the oceans with their rainbows of colour, or the lush green tangle of the interior peaked by volcanoes, it's the cultural package too. Bali is known for its warmth, both in temperature and in friendliness, and for its rich cultural heritage which is a strong focus of some parts of the island. Bali manages to be both fun and spiritual, and there's something particularly appealing about getting in touch with your spiritual side in such a friendly, idyllic setting.
Bali isn't a small island, and if you want to see more than your local surrounds you will need to think about how you're going to get around. The roads in many places can't quite keep up with demand and you have to allow for traffic, whether you're travelling by bus, taxi or rental car or motorbike. For this region many visitors join arranged tours or trips, which can be an easy way to get from place to place, or else hire their own driver. Both of these options save the trouble of parking.
While Kuta has become quite touristy, don't think you've missed the magic. You really haven't, and if you come out of season you'll be taking decades off your experience.
Ubud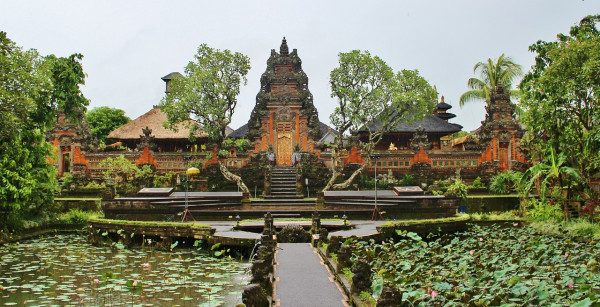 Image by Michelle Maria from P
Ubud is arguably Bali's cultural and spiritual heart. Bali has numerous incredibly special, spiritual places, but Ubud has a real concentration of them. It's an easy place to come to and a difficult one to leave, a very seductive collection of 14 separate villages, all with colourful traditions, a wealth of art and design, culinary ingenuity and some extremely memorable sights. In central Ubud there's a huge market, and this acts as the hub of these villages; pretty much everything within a five kilometre radius is referred to as Ubud. This radius includes the Monkey Forest, the Agung Rai Museum of Art, the Neka Art Museum, Puri Saren Agung — or the Royal Palace, and the Chapel of Mother Goddess. Just outside Ubud you'll find Goa Gajah, also called the Elephant Cave, and the 11th century Hindu temple of Gunung Kawi. Ubud is also a centre for the arts, and the perfect place to see a dance, gamelan or shadow puppet performance.
Today Ubud is very popular with visitors interested in yoga and mindfulness practices, but you wouldn't guess it from the roads! It's often very busy! You can get around central Ubud on foot, and can probably get away without vehicular help at all, but if you do need it you'll need to rely on taxis or bemos, which are a cross between a bus and a mini-van. If you're looking for an upmarket stay have a look at the hotels in Campuan and Kedewatan.
Pros and Cons
Pros: culturally rich, atmospheric, major sights,
Cons: busy, traffic, limited public transport
Ideal For: yogis, history-buffs, visitors with an interest in local culture, art-lovers
Discover our recommended hotels in Ubud, Bali.
Kuta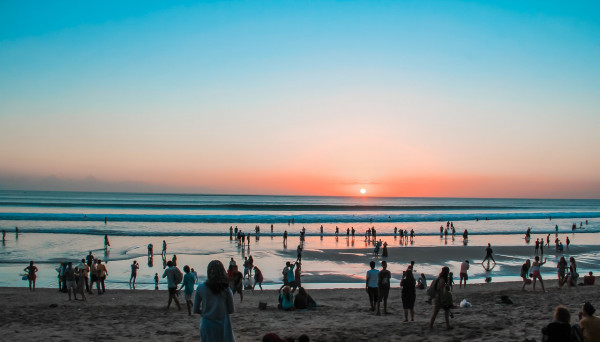 Image by Nguyen Do from Pixaba
It's Kuta's waves, which run up against a superb white-sand beach in a reliable, yet varied way, that first drew visitors to this little city behind a crescent of a bay. And the surf is still a huge draw. That and the beaches themselves, which are a series of wide, white arcs, with aquamarine waters on one side and palm and banana forests on the other. All those surfers needed somewhere to stay, and now well-developed Kuta is the best known visitor destination on Bali. It's lively and busy, crammed with people trying to sell you something, whether you're in the market place, on the street, or in one of Kuta's many cafes, bars or restaurants. But the vibe is friendly, and every evening people come in off the beach and head out to have a good time. The beaches are still incredible, though, and if you want bit of peace and quiet all you have to do is walk towards Legian and Seminyak and pick your plot of sand. The traffic is a hassle, but you don't need to go out in it unless you want to do a trip outside of town -- all the highlights of Kuta are within walking distance.
Pros and Cons
Pros: lively, fun, great surfing, beautiful beaches, ocean views
Cons: busy, touristy, lots of traffic
Ideal For: surfers, night-owls, party people, beach-lovers
Discover our recommended hotels in Kuta, Bali.
Seminyak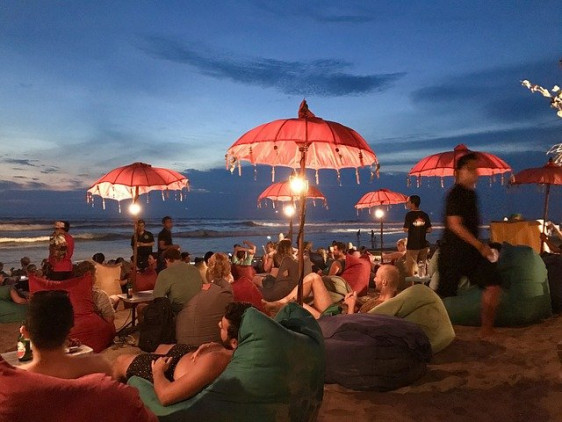 Victoria Al-Taie from Pixabay
Seminyak is north of Kuta, at the furthest end of that series of crescent bays and beaches, so it's close physically, but it looks and feels worlds away. Its beach is as wide, white and sandy as Kuta's, but behind that the hotels are a far more luxurious proposition; the cafes, bars, clubs and restaurants that line the broader streets are, generally, aiming to be higher end, and in between them the shops are boutiques, arty design shops and galleries. Arguably Seminyak has the best boutique shopping on Bali. And it's also known for its spas and spa hotels. Seminyak's roads are still quite congested, especially those that run along the coast, but most of the town's main sights and sites are within walking distance of the centre, including the beach, the temple of Pura Petitenget, and the shops.
Pros and Cons
Pros: beautiful beach, luxurious, relaxing, great spas and spa hotels, boutique shopping, huge range of drinking and dining options
Cons: traffic congestion, expensive
Ideal For: beach-escapers, spa-lovers, luxury-lovers, shoppers
Discover our recommended hotels in Seminyak, Bali.
Legian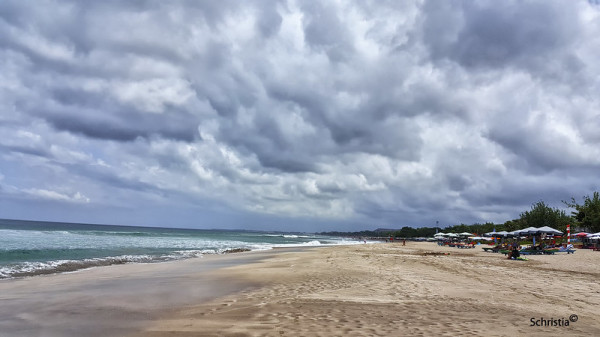 By Flickr user Schristia
Legian is between Kuta and Seminyak, and more like the former than the latter. But it's more relaxed, tailored more to a slightly older, more family-orientated crowd, and there's a long strip of family-friendly hotels right up against the wide sand of Legian Beach, which has one of the best sunset views on Bali. The prices are still good, but there's a bit less of the hassle of hawkers and touts, and the cafes, restaurants and bars are more relaxed. This isn't the sort of place for sightseeing, but there's a lively centre with great shops and markets, and it's a nice stroll to both Kuta and Seminyak, and makes a good base for exploring the island if you can tolerate the traffic in and out of Legian.
Pros and Cons
Pros: good value, beautiful beach, family-friendly atmosphere, good choice of dining and drinking options, great surfing, lively
Cons: busy, touristy, traffic congestion
Ideal For: families, value-seekers, surfers
Discover our recommended hotels in Legian, Bali.
Denpasar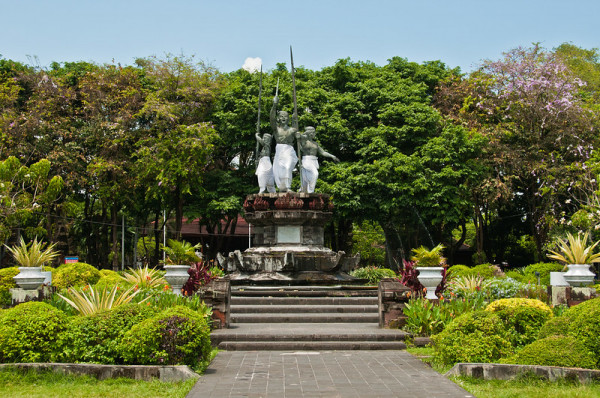 By Flickr user Graeme Churchar
Denpasar is Bali's largest city and capital, and it's got all the pros and cons you can expect from a busy capital city: in some parts it's hectic, dirty and congested with traffic, and in others it's peaceful, green and genteel, brimming with temples, palaces, and museums, and elegant buildings surrounded by glorious tropical gardens. Denpasar has incredible markets, and the sort of shopping variety required by around a million locals plus tourists. And it's got some excellent restaurants and cafes -- Indonesian cuisine is popular, and this is an amazing place for trying new flavours. Denpasar isn't a key stop-off on Bali's well-worn tourist trail, so it's less touristy than many people expect, but it's home to some incredible Balinese sites — the Alun-Alun Puptan statue, the Palace of Satria, and the Bali Museum, for example, and many of them are within walking distance of the centre to town. Just make sure you have a decent map, and modest dress. Taxis are everywhere if you need to hail one.
Pros and Cons
Pros: major sites, local cuisine, explore on foot, lots of markets and shopping, frequent cultural events
Cons: busy, traffic congestion
Ideal For: travellers looking for something different, sightseers, history-buffs
Discover our recommended hotels in Denpasar, Bali.
Nusa Dua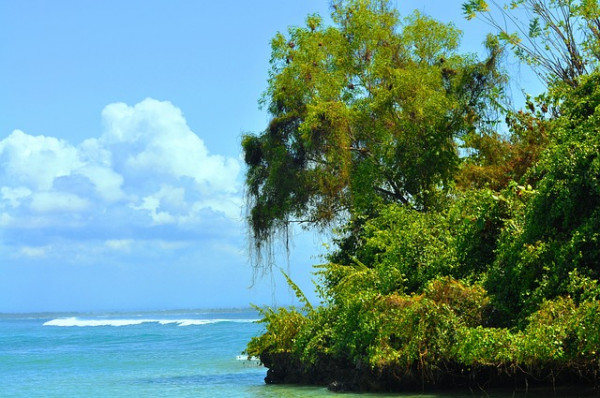 Putu Doni Adi Jaya from Pixaba
Nusa Dua translates to 'Two Islands' which refers to two raised headlands on the eastern side of the Bukit Peninsula, which are both topped by a small temple. But these days it's come to refer to a gated community of around 20 large, luxury resorts, and the acres of gardens and land that surrounds them. This is a fly and flop destination for those who want to treat themselves to a tropical idyll, with cultural events held in the evening to give Balinese warmth and colour. The beaches here are exceptional. Many of the resorts have private beaches, but even the public beach, at Geger, is white-sandy beautiful, with warm seas because of the reef, and lined with great cafes and restaurants. Nusa Dua also has Bali's most popular golf course. And just off shore from here is Seragan Island, known for its turtle conservation program. Guests staying at Nusa Dua are subject to security checks anytime they enter one of the area's three gates.
Pros and Cons
Pros: safe, beautiful beaches, family-friendly, luxurious, relaxing, ocean views
Cons: expensive, sterile
Ideal For: resort-lovers, fly-and-floppers, honeymooners, romantics, spa-lovers
Discover our recommended hotels in Nusa Dua, Bali.
Bukit Peninsula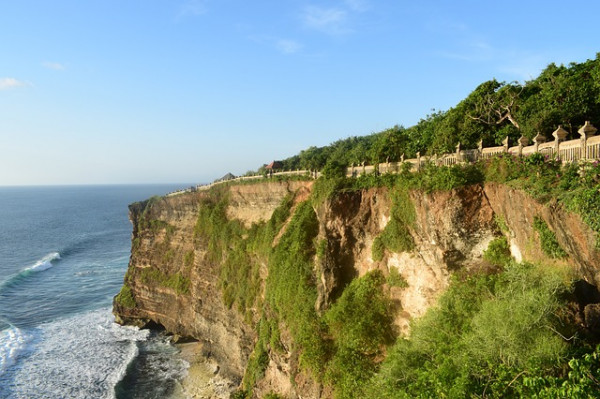 vSap1 from Pixabay
The Bukit Peninsula stretching beyond Nusa Dua has retained much more of its hot, dry, rugged character, and is best known for the incredible temple of Uluwatu, its beaches, including beautiful Balangan, and for having some of the island's top surfing spots. The western coast of the peninsula is where most of the best beaches can be found, as well as some of the best surf breaks. If you want to stay in this part of Bali Bingin is a good place to look for accommodation, or on the southern coast consider Ungasan. While the Bukit Peninsula is a legendary surf spot it's not a great one for beginners. If you're hoping to explore the peninsula it's worth having your own transport, as some of the best beaches are reached by small dirt tracks not served by bemos or buses, and you'll only find taxis in major centres.
Pros and Cons
Pros: great beaches, great surfing, relaxed atmosphere, major sights
Cons: difficult to get around without your own transport
Ideal For: surfers, beach-lovers, travellers looking for something different
Discover our recommended hotels on the Bukit Peninsula, Bali.
Jimbaran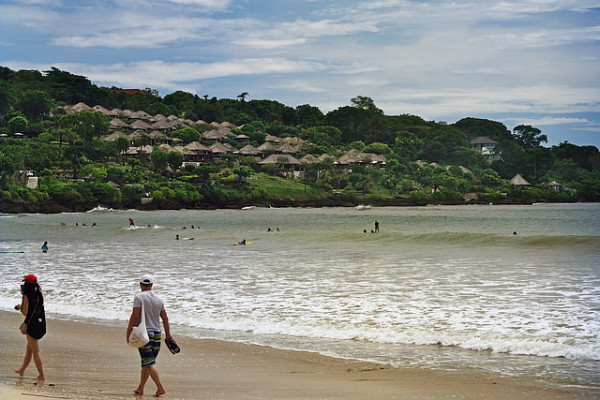 Jeniffer, Wai Ting Tan from Pi
Jimbaran is a small up-and-commer, against yet another beautiful, white crescent of a beach, just to the south of the airport and Kuta. It's steadily becoming more popular, but the majority of hotels going up are quite luxurious, so it's not too busy, and it still feels dominated by local people and local culture. The largest temple in town is still busy holding parades and celebrations; there's also a great local market, with a more genuine feel than you'll find in some of the larger, busier centres, and an excellent row of seafood restaurants, stalls and carts running up against the beach. There are a few shops, but no nightlife. Jimbaran isn't a large town, so it's easy to get around on foot.
Pros and Cons
Pros: relaxed, beautiful beach, ocean views, great spas, luxurious, peaceful
Cons: quiet, limited dining and drinking options
Ideal For: families, romantics, visitors looking for a peaceful break
Discover our recommended hotels in Jimbaran, Bali.
Canggu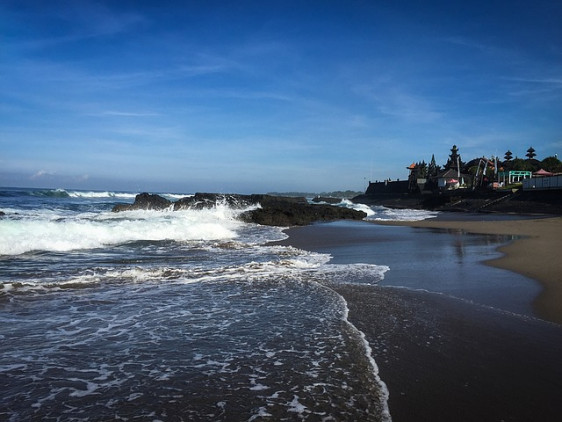 evaychen from Pixabay
The name Canggu has come to mean the strip of villa-lined dark-coloured sand running for about eight kilometres between Berawa and Cemagi, all north of Seminyak. This used to be a rural stretch, with Canggu itself just a small, beach-side village. It was unpopular with developers for ages, because of its black, or dark grey sand, but it was always popular with surfers, as the breaks are great and the water is crystal clear. Despite its colour the sand here is a lot cleaner than in Bali's busier spots. And behind the beaches and the hotels there's a glimpse of Bali's rural hinterland, with undulating rice paddies and stretches of forest and jungle. Canggu is a great spot for seafood, as there's a proper seafood market here, which starts early each morning. And it's a good spot for learning to surf too.
Pros and Cons
Pros: ocean-views, beaches, rural atmosphere, great seafood, peaceful
Cons: hard to get around without transport, quiet
Ideal For: surfers, families, peace-seekers, travellers looking for something different
Discover our recommended hotels in Canggu, Bali.
Mount Agung and Surrounds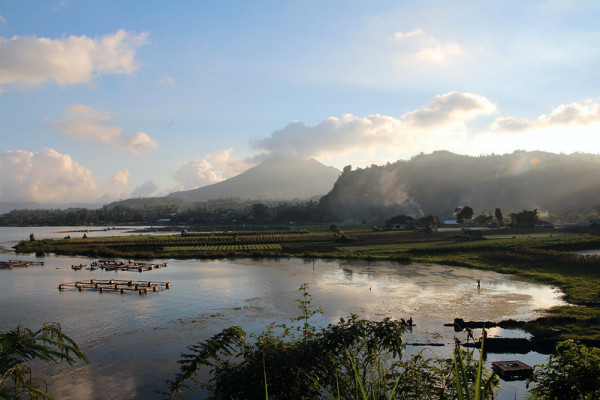 By Flickr user DavideGorla
Mount Agung, or Gunung Agung, is Bali's highest peak, a volcano, rising 3142 metres above sea level. It's also spiritually significant to the Balinese culture, extremely impressive looking, and, on a mist-free day, it's visible from most of the east and south of the island. Traditional houses on Bali are laid out in line with Mount Agung, and the traditional belief is that it houses the spirits of Balinese ancestors. At the moment you can't get close to it, since 2017 there has been sporadic volcanic activity and there's a four kilometre exclusion zone around the crater. But four kilometres away there's still quite a bit to see, in the lush forests at the base of the volcano, known for wild pigs, macaques and an amazing array of bird-life. And there are also several temples. This whole area is dotted with little villages, separated by forest, fields and rice paddies, and in amongst them are jungle resorts and guesthouses, and even if you're not able to climb Mount Agung this is still a part of Bali criss-crossed with hiking trails.
Pros and Cons
Pros: spectacular, traditional village life, jungles packed with endemic animals and plants
Cons: remote, rural
Ideal For: hikers, explorers, a jungle resort stay
Discover our recommended hotels near Mount Agung, Bali.
Sanur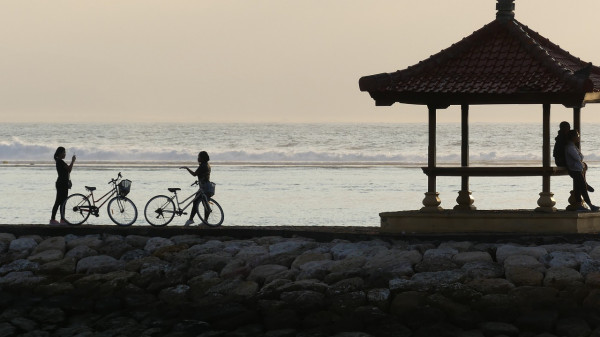 terrier_ticket from Pixabay
Sanur is a beach-side resort town on the opposite side of Denpasar to Kuta, stretching about five kilometres along a thin stretch of east-facing beach, protected by a reef and breakwaters. There's a good mix of hotels and businesses not owned or run by hotels, like independent cafes, bars and restaurants, and shops too. There's far less of the hassling you'll see in Kuta, and it's not as expensive as Seminyak; it's relaxed and it makes a good base for exploring the island, especially if you're planning to drive yourself, which is one of the main reasons it's so popular with families. Another reason is that the beach, though thin, is quite safe, the reef and breakwaters keep the waves soft and regular. Being close to Denpasar the transport links to the rest of the island are pretty good, but you don't need more than your legs to get around town — there's a long paved footpath running along the coast that makes this a real pleasure. There's also quite a bit to do here, including temples and museums to visit, and you're close to the Serangan Island Turtle Conservation Centre. Sanur also has a selection of great, regular markets.
Pros and Cons
Pros: family-friendly, peaceful, ocean-view, good beaches, good base for exploring the island
Cons: sleepy
Ideal For: families, peace-seekers
Discover our recommended hotels in Sanur, Bali.
Padang Bai

By Flickr user Lavinia Elysia
Many people pass through Padang Bai, it's a little port town, used by the ferries connecting Bali with Nusa Penida, Lombok and the Gili Islands. It's not so fancy, but it does have plenty of charm, with a market, and lots of cafes and seafood restaurants. It's mostly geared towards the backpacking and diving markets, but it has a couple of really lovely beaches — not the main one, but there's one just to the left of the main beach in a pretty cove about five minutes walk, with a coral reef that comes in close to the shore, and a couple of restaurants. This is a great spot for snorkelling and diving. Padang Bai also has five temples. They're not major ones, but one of them, Pure Silayukti, was built in the 11th century and is one of the oldest temples on the island.
Pros and Cons
Pros: transport hub, great beaches, ocean views, good diving and snorkelling, great value
Cons: functional looking, busy with travellers passing through
Ideal For: value-seekers, divers, snorkelers
Discover our recommended hotels in Padang Bai, Bali.
Singaraja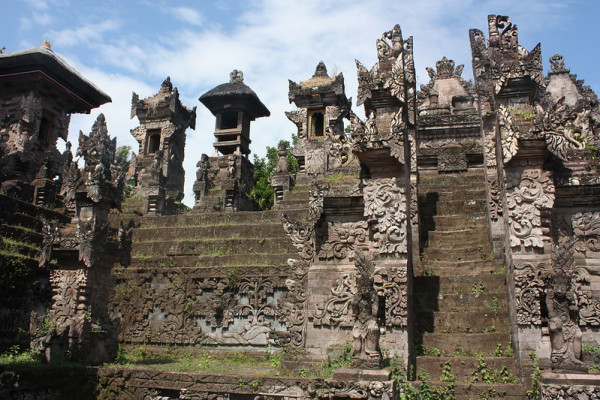 By Flickr user Arian Zwegers
Singaraja, on the northern coast, was once Bali's capital, and it was the centre of Dutch administrative power here until 1953, so it's big. It's also far more European looking with wide, tree-lined streets and Dutch colonial buildings, in between the traditional palaces, temples and tropical gardens. Today Singaraja has an academic, cultural edge to it too, fuelled by its multiple universities and cultural and arts centres, and it's got a much more multicultural feel than Bali's other centres. Singaraja is definitely off Bali's tourist trail, but there's a lot to see here, especially if you're interested in cultural, and natural history museums, and some of Bali's most photographed temples are just outside Singaraja, or on this side of the island. The jungles around Singaraja are known for some incredible waterfalls, and this is a great base for hikers too. Singaraja is also a centre of textile production, so it you want to buy silk or cotton ikat, then this is the place to seek it out. And end your days in one of a stretch of restaurants on stilts that overlook the water.
Pros and Cons
Pros: culturally rich, historic, varied architecture, many sites, un-touristy, ocean views
Cons: un-touristy
Ideal For: history-buffs, culture-buffs, travellers looking for something different, hikers
Discover our recommended hotels in Singaraja, Bali.
Lovina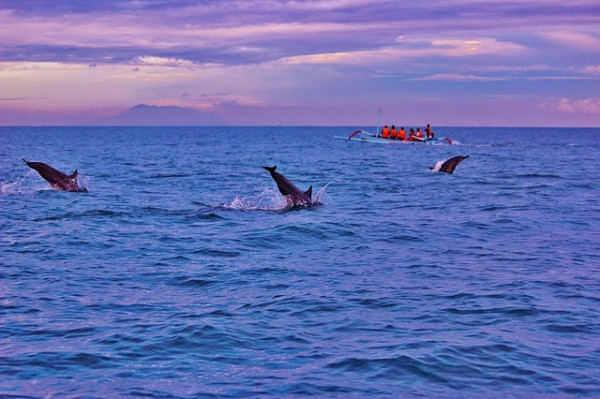 Michelle Maria from Pixabay
If you're looking for a 'holiday' holiday destination, one where you can relax and enjoy some idyllic sights and sounds, and do some different things, but not a whole lot of racing around, then Lovina might be perfect for you. It's also a wonderful base for diving, snorkelling, dolphin watching and getting out on the water. And it's very family friendly. It was created in the 1950s by Balinese royalty, who built a small tourist lodge, but now the name refers to an area of around eight kilometres, along a beautiful stretch of sand and a string of small, traditional coastal villages. The hotels here are low-rise and low-key, and one of the daily highlights is watching the fishing boats prepare to go out of an afternoon. Singaraja is only a couple of kilometres away, so many people use peaceful Lovina as a base. Singaraja is relatively well connected to the major sites and cities by bus, so you probably don't need public transport to get around.
Pros and Cons
Pros: friendly, family-friendly, relaxed atmosphere, great diving and snorkelling, great beaches, oeean views
Cons: quiet, villages are small and traditional
Ideal For: families, divers and snorkelers, travellers looking for something different, peace-seekers
Discover our recommended hotels in Lovina, Bali.
Search the best hotels in Bali