Where to Stay in Istanbul
Top Tips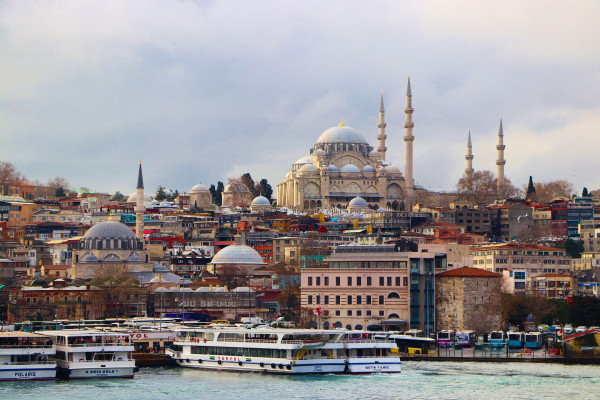 Image by Sinasi Muldur from Pi
Our guide to the best neighbourhoods in Istanbul has tips and information that will help you decide which of Istanbul's 39 districts will suit you best. Whether you're here to see this city's incredible landmarks, or its museums, or to see the legacy of its incredible past, or just to enjoy contemporary Istanbul with its markets and cuisine and cosmopolitan atmosphere, or do as much of both as you can!
Neighbourhood and District Guide to Istanbul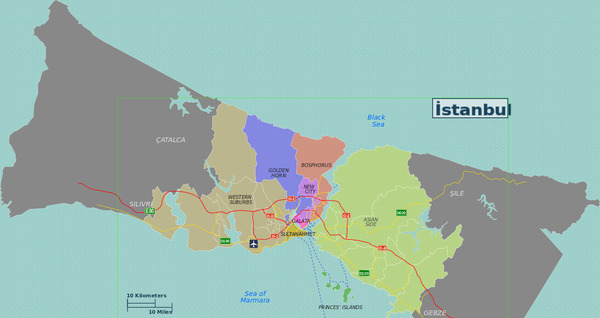 By Peter Fitzgerald - Own work
Istanbul spreads out on either side of the Bosphorus river, on banks in both Europe and Asia, and there are important sights, and sites, on both sides. And it's big. Istanbul has had a long time to grow, and it's spread into 39 districts, many of them quite distinct from each other. Istanbul was the last stronghold of the Roman Empire, the beating heart of the Byzantine Empire and the Ottoman capital, plus it was an immensely wealthy trading city, and many of the markers of Istanbul's glorious past are still visible and visit-able. As well as the famous mosque domes and Orthodox church spires, Istanbul's skyline includes Byzantine battlements and Ottoman palaces, and the riverscape is incredible. To see much of this city you really need a great public transport system, and luckily Istanbul has one, which utilises buses, trams, light rail lines and ferries. There's very little point having a car unless you thrive on stressful situations, but even if you do the parking is a challenge, as are the traffic jams!
The Sultanahmet District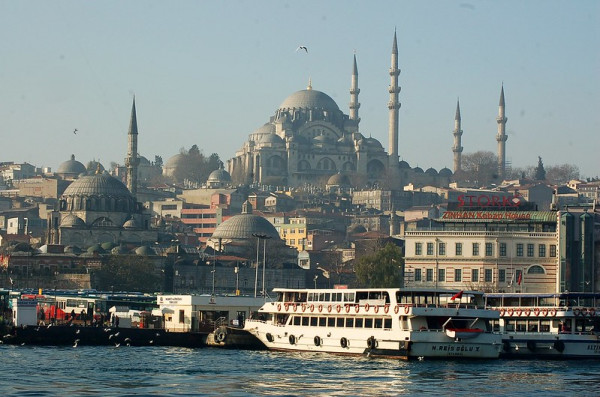 By Flickr user Dan
The historic heart of Istanbul is called the Sultanahmet District. It's surrounded by water, except to the west, where you'll run up against the old city walls. Inside the walls is a jumble of streets, many of them narrow or cobbled, and crammed with churches, palaces, mosques and historic villas, with architecture that spans the Roman, Byzantine and Ottoman periods. Among the sights of the Sultanahmet District are the Blue Mosque and the Hagia Sophia, the Topkapi Palace and the Istanbul Archaeology Museum. Then into Sultanahmet's nooks and crannies are crammed cafes and eateries, making it really easy to visit Istanbul, even for an extended period, and never leave Sultanahmet. So it's a great choice if this is your first trip to Istanbul, or you only have a couple of days. It's small enough to walk around, and there's a handy tram to Beyoğlu, which is the entertainment district, and on the opposite side of the Golden Horn.
Pros and Cons
Pros: central, packed with major sites, historic, atmospheric, spectacular
Cons: busy, limited dining and drinking options, busy with touts
Ideal For: short stays, first-timers, history-buffs, those who want to explore on foot
Discover our recommended hotels in Istanbul's Sultanahmet District.
Grand Bazaar District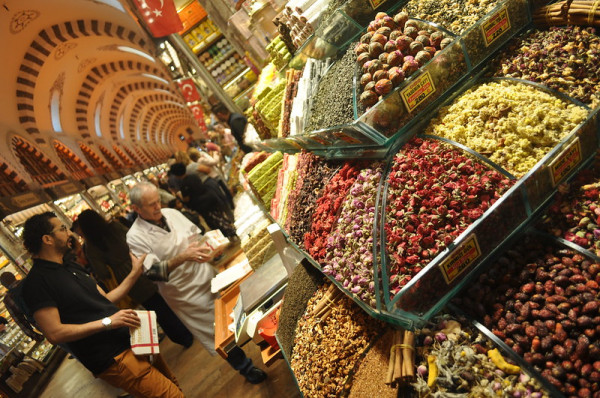 By Flickr user fabian.kron
On the western edge of the Sultanahmet District, close to the city walls, is Istanbul's Grand Bazaar district, which is also where you'll find the Spice Bazaar. All together there must be thousands of shops and stalls here, along with street-sellers, and it's often a hive of activity. This part of town also has several hammams, and tea gardens, and as far as major sights, aside from the bazaars, there's the magnificent Suleymaniye Mosque. There's not a huge range of accommodation available here, but what there is quite traditional, plus it's very central, and well suited for families in particular. There's obviously a lot of food you can buy, but there's also plenty of choice when it comes to cafes and restaurants here, because it's a bustling area generally! You're still within a short walk of the all the major attractions of the Sultanahmet District too.
Pros and Cons
Pros: bustling, very central, amazing atmosphere, lots of cafes and restaurants, incredible shopping!
Cons: busy, some shops, cafes and restaurants are only open during the day, or during the week
Ideal For: families, shoppers
Discover our recommended hotels in the Grand Bazaar District.
Beyoğlu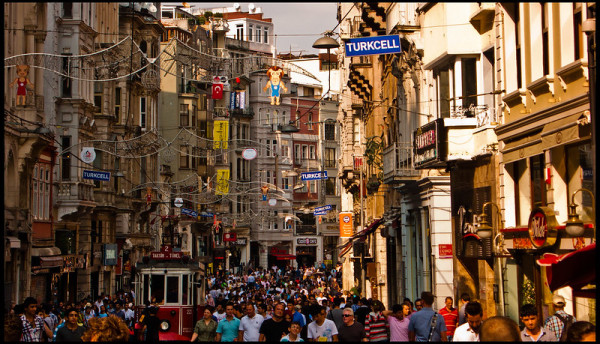 By Flickr user Guillén Pérez
On the opposite side of the Golden Horn from the Sultanahmet district, Beyoğlu is Istanbul's entertainment hub, a district with a huge variety of restaurants, cafes, bars, theatres, and live music venues. There's a real buzz here, both day and night, especially around Istiklal Caddesi, which is a major, pedestrianised centre, lined with Neoclassical and Art Nouveau buildings, and was historically one of the most European parts of Istanbul, great for Parisian fashions and profiteroles. It's still one of the most cosmopolitan parts of Istanbul, with a large expat population, so the variety of food, drink and entertainment on offer is excellent. Beyoğlu has museums and galleries too, including the Pera Museum and the Istanbul Modern Art Gallery, and some of Istanbul's best boutique shopping. You're just across the water from Sultanahmet and the Grand Bazaar, so you're still very central, and it's only a short journey on the tram or the metro from the main sights.
Pros and Cons
Pros: entertainment district, lively nightlife, choice of bars and restaurants, central, easy access to major sights, boutique shopping
Cons: can be noisy, busy in places
Ideal For: night owls, foodies, couples
Discover our recommended hotels in Beyoğlu, Istanbul.
Karaköy formerly Galata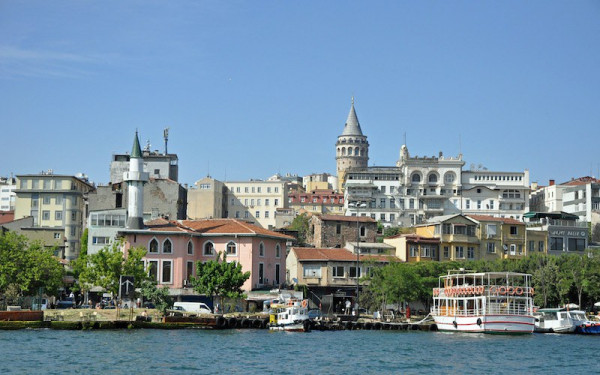 By Flickr user Philipp Alexand
Karaköy, which used to be called Galata, is another recently gentrified option. It's a relatively small neighbourhood at the mouth of the Golden Horn, part of the Beyoğlu district, but with its own distinct character because of its impressive medieval, and neoclassical architecture, and because it was once one of the city's most important ports. The whole port area has been restored, and now, as well as the impressive mosques, centuries old hammams, and architecture, there's also museums, boutiques, galleries, cafes and restaurants. And of course the famous Galata Tower, built in 1348. Of an evening this is a lively place to be. The Galata Bridge crosses between Karaköy and Sultanahmet, so you're still very centrally located.
Pros and Cons
Pros: central, gentrified, historic, lively of an evening, great choice of cafes and restaurants, water-views
Cons: busy, noisy
Ideal For: night owls, foodies, couples, city breakers, romantics
Discover our recommended hotels in Karaköy, Istanbul.
Taksim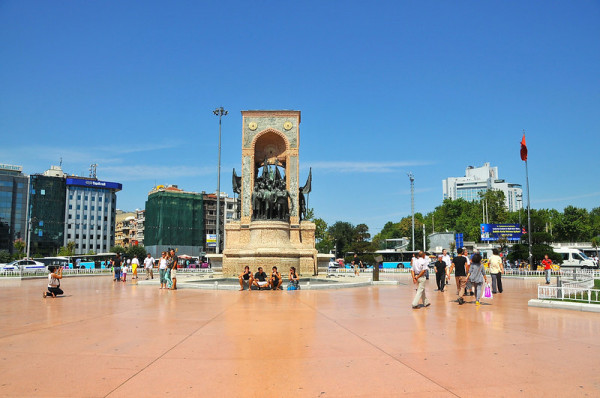 By Flickr user FaceMePLS
Running north from Galata Tower, Istiklal Caddesi heads towards Taksim Square, Istanbul's central square, where it finishes. This part of Istanbul is part of the Beyoğlu district too, but again has its own character, a more modern one, with broader streets and more green space and public gardens. Because of the wider, pedestrianised streets, this part of Istanbul feels a bit less frenetic than others, with fewer hawkers and accommodation with larger plots of land — enough for pools etc.. There are lots of cheap and cheerful places to eat and drink, and contemporary rows of shops. And if you want to see the sights there's the very impressive Hagia Triada Orthodox Church. Taksim Square is also a transport hub, with metro stations, bus stops, and even a funicular railway to Karaköy, and a cable car to the residential area of Maçka.
Pros and Cons
Pros: central transport hub, contemporary feel, spacious, lots of places to eat and drink
Cons: busy
Ideal For: families, budget accommodation, security conscious
Discover our recommended hotels in Taksim, Istanbul.
Kadıköy, Selimiye and Moda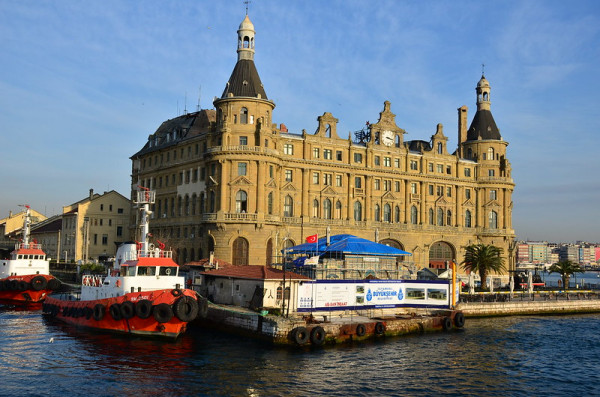 By Flickr user Anthony G. Reye
On the opposite side of the Bosphorus from Sultanahmet are the neighbourhoods of Kadıköy, Selimiye and Moda, which are some of the hippest parts of Istanbul. Along the water's edge you'll find the most beautiful parts of these neighbourhoods, with graceful mansions, historic palaces, and long stretches of parkland. Kadıköy is where you'll find one of Istanbul's best produce markets, and surrounding it is a growing hub of eateries and cafes, which are lively almost 24 hours a day. Bağdat Caddesi is another good option if you're looking for places to eat and drink here, a broad, shaded road with upscale restaurants and cafes that spill out onto the pavement. Moda is a great neighbourhood for an evening stroll too, and as well as its parks and Neoclassical architecture, this is a great place to admire the view across the water to the old city. This isn't the sort of area you can walk into central Istanbul from, but you can take the metro, or a charming ferry trip.
Pros and Cons
Pros: great markets, great choice of dining and drinking,
Cons: busy in the mornings and the evenings, public transport required for sightseeing
Ideal For: foodies, self-catering, evening strollers, romantics, couples
Discover our recommended hotels in Kadıköy, Istanbul.
Beşiktaş, Ortaköy and the Banks of the Bosphorus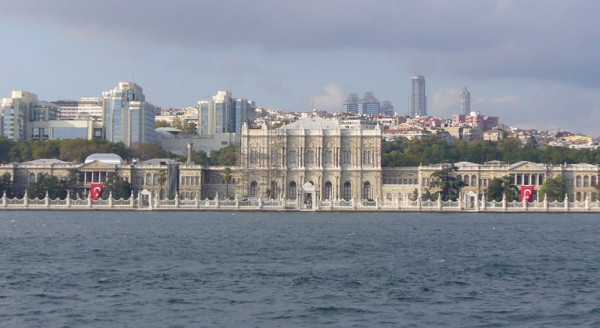 By Flickr user QuartierLatin19
North of Beyoğlu, and further out from central Istanbul, these districts run along the banks of the Bosphorus, on the European side. Beşiktaş is a relatively small district, but it's home to several impressive palaces, including the Dolmabahçe Palace and the Çırağan Palace, a major shopping district, several of the tallest buildings in Istanbul, numerous art galleries and theatres, and several universities. And the water views are wonderful. Between Beşiktaş and Ortaköy are a line of beautiful palaces, a couple which have been converted into simply stunning hotels, and beyond Ortaköy are a line of well-to-do suburbs which were once fishing villages. This is a particularly romantic spot come the evening, when the lights from the old city and the eastern peninsula reflect on the water, however it's not central, the metro doesn't reach this far.
Pros and Cons
Pros: views, atmospheric, peaceful, elegant, not-touristy
Cons: residential, off-centre
Ideal For: travellers looking for a different bace, romantics, a more relaxed stay
Discover our recommended hotels in Beşiktaş, Istanbul.
Kabataş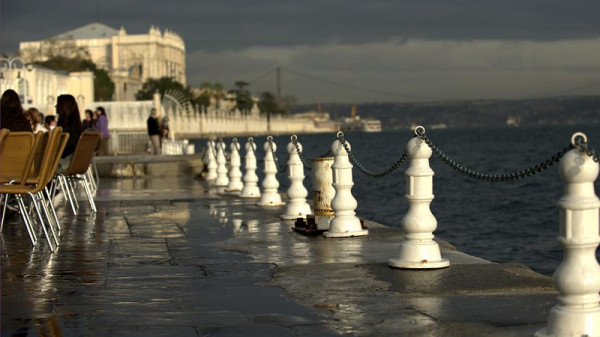 By Flickr user Physiowilly
Kabataş is another neighbourhood in the Beyoğlu district, to the north, between the centre and Beşiktaş, known for its many food outlets, from fancy restaurants to tiny kebab stalls, and for its good transport links all over Istanbul. So even if you don't choose to stay here it's a good place to come to eat, especially if you find a table at one of the many restaurants or bistros overlooking the water. Kabataş tends to specialise in Turkish food, and seafood, but there's plenty of choice, and the atmosphere is relaxed, but buzzy. There are a number of museums in this part of the city too.
Pros and Cons
Pros: great transport links, views, great places to eat and drink, atmospheric
Cons: public transport required
Ideal For: romantics, couples, foodies
Discover our recommended hotels in Kabataş, istanbul.
Sirkeci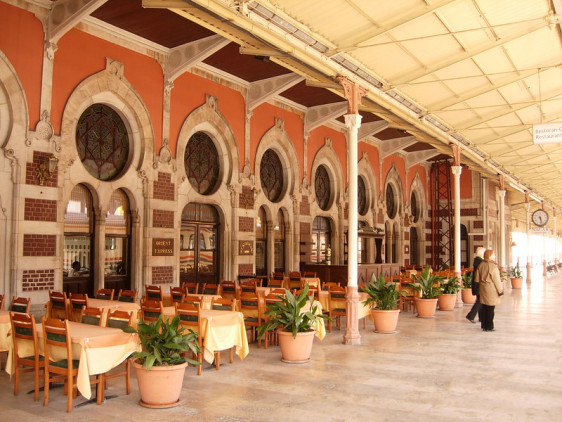 By Flickr user MaxPax
Sirkeci is on the southern peninsula, just to the west of the Topkapi Palace area, close to the mouth of the Golden Horn. It's a travel hub of regional train services, and Istanbul's metro, ferry and tram systems, and the major ferry port for the Bosphorus, so it's bustling and busy with travellers eating, drinking, shopping and passing through. If you've heard of it, it might be because Sirkeci was famously the end of the line for the Orient Express. Sirkeci is close to many of the main sights of Istanbul, but because it's a transport hub it's got a different atmosphere to Istanbul's more historic districts. But that does mean that the restaurants, bars and cafes here are, broadly, more affordable, and that goes for the accommodation as well.
Pros and Cons
Pros: central, transport hub, close to major sights, good value
Cons: busy, few luxury options
Ideal For: value seekers
Discover our recommended hotels in Sirkeci, Istanbul.
Search the best hotels in Istanbul