Top Tips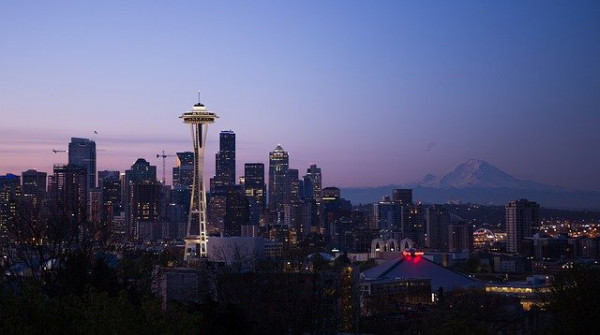 Free-Photos from Pixabay
Seattle is known for being a collection of very different neighbourhoods, as much as a city, so our guide to the best neighbourhoods to stay in in Seattle is packed with useful tips about what you'll find where, aimed at helping you choose where to stay in Seattle. Whether you're here to gorge at Pike Place Market, see the sights of Capitol Hill or drink coffee in Fremont or Ballard, we can match you up.
Neighbourhood Guide to Seattle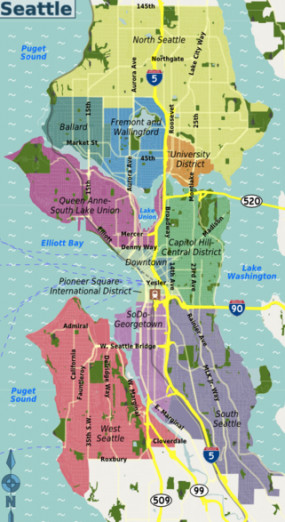 PerryPlanet via WikiTravel
Seattle is one of those classic dichotomy destinations, a collection of distinct neighbourhoods dressed up as a city, the birthplace of multinational brands which champions independent ones, and where everyone knows the provenance of everything! Seattle's picturesque location, overlooking a bay, with a backdrop of mountains to the east and west, means this is a city break destination that will please lovers of the great outdoors. And its two, arguably, most famous landmarks are the Space Needle, which has an eye toward the future of design and technology, and Pike Place Market, which celebrates all that's good about producing things in the here and now. Among Seattle's other landmarks count the Seattle Art Museum, the Pacific Science Centre, the Seattle Aquarium, the Museum of Flight and the Chihuly Garden and Glass Museum.
Seattle does sprawl towards the mountains and the water, but it's still pretty easy to get around, with a central district, especially, that's well served by public transport. Seattle has several transit companies, running buses, light rail networks, streetcars, a monorail, water taxis and road taxis. Seattle is one of the few U.S. cities it's worth considering hiring a car in, and they've made it easier to navigate by calling all north-south routes 'avenues' and all east-west ones 'streets'.
Downtown Seattle and the Waterfront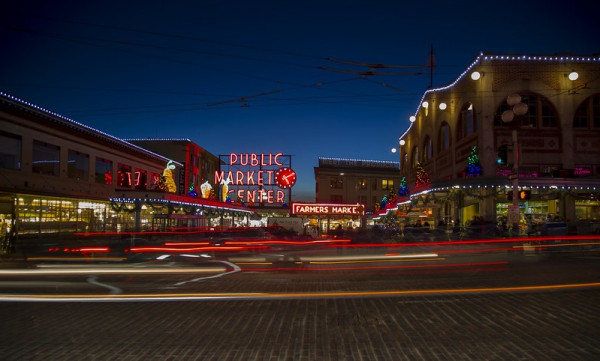 By Flickr user Tiffany Von Arn
Downtown Seattle is both the business district and the cultural hub of Seattle, and where you'll find the Pike Place Market, the Central Library, the Seattle Art Museum, and the Paramount Theatre. On quite a surprisingly hilly stretch, to be honest. The Pike Place Market has been mentioned above as one of Seattle's major sights, and, if you're not familiar with what it has to offer it's got a myriad of little shops and stalls, including loads of little hole-in-the-wall bars and restaurants , and a parrot shop! If you really want to see Seattle laid out before you visit the Columbia Centre, which is 330 feet taller than the Space Needle, and offers a panoramic view that includes the Needle. This is a densely urban area, and the residential parts are high-rise too, but these pockets have some great bars and restaurants. There are excellent public transport links too, though the Downtown area is easily walkable. The Waterfront area is between Downtown Seattle and the Puget Sound, and is where you'll find the Seattle Aquarium and the Seattle Great Wheel. It's a livelier place to stay, with really incredible views of the Sound.
Pros and Cons
Pros: central, major sights, water views, great bars and restaurants, home to the Pike Place Market
Cons: busy and business-y
Ideal For: sight seers, families, couples, shoppers
Pioneer Square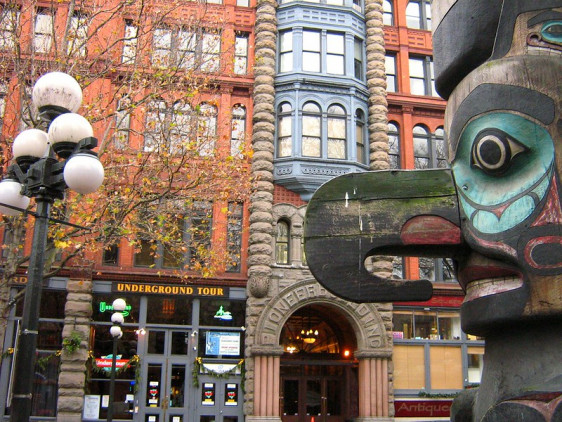 By Flickr user Bjørn Giesenbau
Pioneer Square is the oldest part of Seattle, a collection of red-brick buildings that made up the original Skid Row: the place where the the logs used to collect after skidding to a halt. These days the humble beginnings, and the austere warehouses belonging to distilleries and dispensaries, are offset with art galleries and a collection of restaurants. The main sights of this neighbourhood include the Klondike Gold Rush National Historical Park, Smith Tower: Seattle's first skyscraper, and a number of parks and squares littered with historic buildings and statues. There are lots of restaurants in this neighbourhood, with a large representation of Asian cuisine which reflects the neighbourhood's population, especially in Seattle's early days.
Pros and Cons
Pros: central, historic, major sights, great choice of restaurants
Cons: varied neighbourhoods
Ideal For: history buffs, sight seers
Queen Anne, Seattle Center and South Lake Union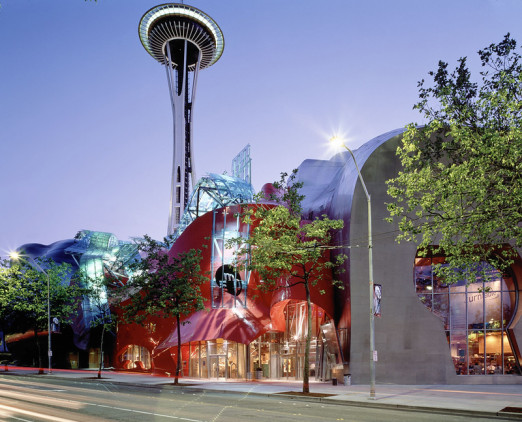 By Flickr user Smart Destinati
To the northwest of Downtown Seattle, Queen Anne, Seattle Center and South Lake Union are some of the oldest neighbourhoods in Seattle. Seattle Center was built to host the 1962 World's Fair, an event which also spawned the Space Needle and the Monorail which are the neighbourhood's major local sights, but the center was the park-y hub, where several arenas and theatres went up, so there's a lot to see here. Queen Anne is atop a hill, with wonderful views and elegant old mansions taking advantage of them, and South Lake Union is also old, but probably better known for being the headquarters of Amazon. These neighbourhoods have lots of innovative restaurants and great cafes, and, as far as local sights, there's the Lake Union Park with its Maritime Heritage Centre, the Pacific Science Center and Children's Museum in Seattle Center, and Queen Anne's parks with their incredible views.
Pros and Cons
Pros: central, major sights, historic, water views, luxurious, great restaurants and cafes
Cons: varied neighbourhoods
Ideal For: families, sight seers, history buffs, luxury lovers
Belltown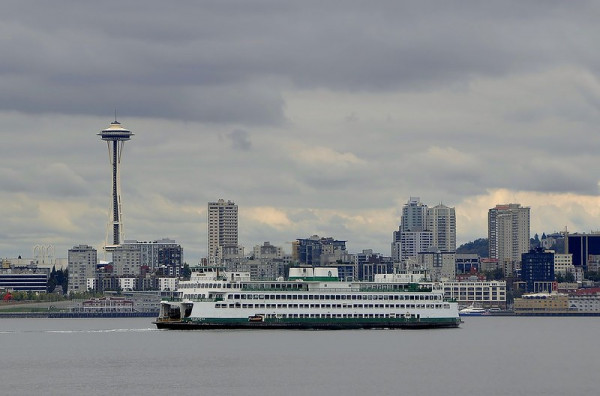 By Flickr user Joe Wolf
Belltown is a small neighbourhood sandwiched between Downtown Seattle and Queen Anne. It's trendy and fashionable, with an enviable collection of cafes, restaurants, bars, clubs and boutiques. And you're edging up onto the waterfront too. This is where some of the best Belltown restaurants can be found, and there are A LOT to choose from. This neighbourhood is also enviably close to the museums and galleries of Downtown Seattle, and the Space Needle and Chihuly Garden and Glass Museum are just on the doorstep. Belltown has lots of green space too, which makes it a popular neighbourhood for families.
Pros and Cons
Pros: central, great restaurants, cultural sights, green spaces, lively nightlife
Cons: varied
Ideal For: sight seers, first-time-visitors, restaurant lovers, cool cats, families, hipsters, value seekers
Capitol Hill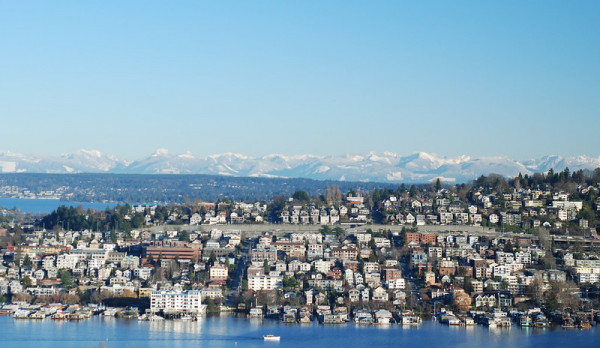 By Flickr user Steve Voght
Directly east of Downtown Seattle, Capitol Hill is a culturally diverse, and densely populated neighbourhood known for its restaurants, boutiques and live music scene. Capitol Hill has long been associated with Seattle's counterculture, and it's very LGBT friendly, as well as being hip, with a residual feeling of grunge left over from the 90s when this neighbourhood spurred on Kurt Cobain and co.. These days there's a venue for every music style you can imagine. And if you like to shop try Pike and Pine, which are lined with independent shops and boutiques. Capitol Hill also has a number of charming parks, and several smaller art galleries. Madison Valley and Madison Park are neighbours, and while residential, they're great places to eat out (see below.)
Pros and Cons
Pros: central, hip, great bars and restaurants, good public transport links
Cons: too cool
Ideal For: cool cats, hipsters
Ballard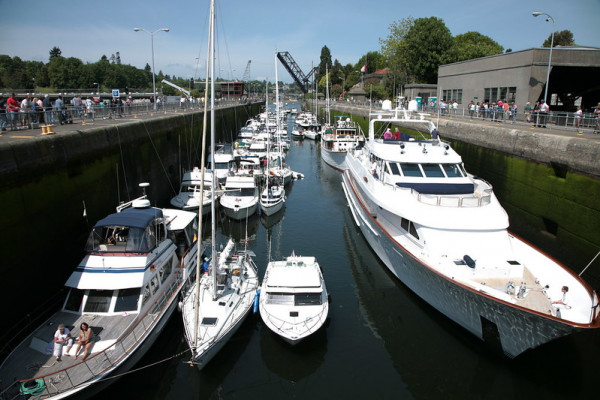 By Flickr user ryan harvey
Ballard is a classic example of why Seattle is considered a city of neighbourhoods, because this old fishing community with its Scandinavian heritage, canals and locks, has now been absorbed into the city, but still retains its character. And it's now a really good place to go for fish! And for a walk. There's also good independent shopping along Greenwood Ave and there's a great Sunday Farmers' Market on Ballard Ave., which people travel to from all over the city. When it comes to obvious landmarks, the Fisherman's Terminal is the docks, where you can still buy fresh fish if you time it right, and the Nordic Heritage Museum, reflecting how important this historic link is to the neighbourhood. Just across the bay from Ballard is Discovery Park, a fantastic place for hikers and outdoorsfolks.
Pros and Cons
Pros: water views, historic, great seafood restaurants, atmospheric, farmers' market, great shopping
Cons: off-centre
Ideal For: families, history buffs, water lovers, walkers, hikers, outdoors folks, couples
Madison Park, Madison Valley and Madrona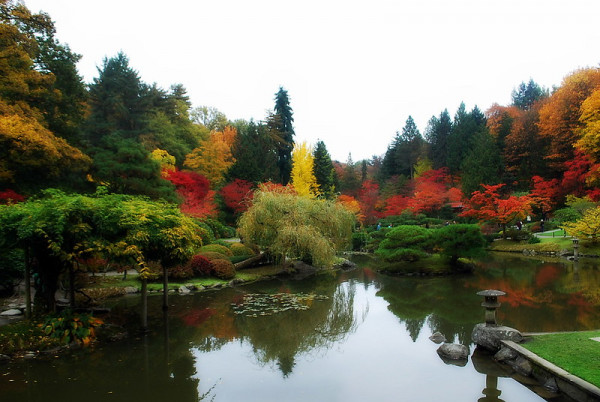 By Flickr user Joe Wolf
Madison Park, Madison Valley, and Madrona are on the shores of Lake Washington, on the other side of the city to Elliot Bay. As well as being by the lake these neighbourhoods are also where you'll find several of Seattle's most impressive green spaces, including the Washington Park Arboretum, the beautiful Seattle Japanese Garden and Madison Park and Madrona Park and Beach, which are both also great places to go swimming. These are residential feeling neighbourhoods, but good places for visitors to stay in if you want to be somewhere quieter, or if part of your Seattle daydream involves water views and plenty of hiking. And if you want to eat out well at the end of the day then these neighbourhoods are definitely for you. Madison Valley can be heard called 'Little France', so you can imagine the sort of restaurants you'll find there.
Pros and Cons
Pros: green spaces, water views, central, quiet, residential, great restaurants
Cons: residential, spread out
Ideal For: families, romantics, sight seers, outdoors-folks
Fremont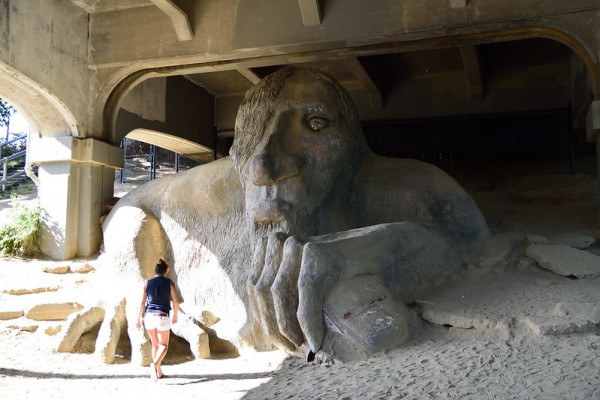 By Flickr user Ming-yen Hsu
Fremont is a quirky, bohemian neighbourhood produced by the convergence of hipsters onto hippies, the result being lots of unusual health shops, retro and vintage shops, more urban sculpture than you'd find in most neighbourhoods and fun boutiques, cafes and bars. Fremont's urban art is nothing to be sniffed at, these are some serious local landmarks, and include a bronze of Lenin, a statue of five people and a dog waiting for the trolley bus that shut down in the 1930s, and the Fremont Troll, a huge concrete statue of a troll eating a to-scale VW Beetle. This neighbourhood is great for markets and events, with something on most weeks. Wallingford to the east, is similarly quirky, but with more of a small town vibe, with bungalow accommodation and some really great local businesses. And Green Lake is to the north, with its own park and lake, and is where you'll find the Woodland Park Zoo and the Green Lake Aqua Theatre.
Pros and Cons
Pros: bohemian, creative, residential, fun, relaxed, great markets, off-beat shopping, great cafes and restaurants, green space
Cons: quirky and residential
Ideal For: value seekers, families, hipsters, cool cats
Columbia City and Beacon Hill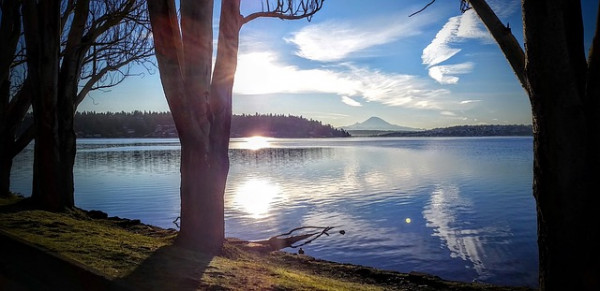 Y Yoncee from Pixabay
Beacon Hill and Columbia City aren't neighbourhoods you'll find recommended everywhere, they're often overlooked, the sort of places rapidly gentrifying. Both neighbourhoods are south of Downtown, on the Lake Washington side of Seattle, around Seward Park, one of Seattle's great green lakeside expanses. Beacon Hill has lots of restaurants and bars, and great shopping too. Columbia City has more of the same, plus art galleries, theatres, cinemas and the recently upgraded Carnegie Library.
Pros and Cons
Pros: water views, green spaces, great bars and restaurants, quiet, relaxed, residential, great transport links
Cons: off-centre, residential
Ideal For: families, value seekers, outdoors-folks
Search the best hotels in Seattle