18 of the Best Boutique Hotels in Normandy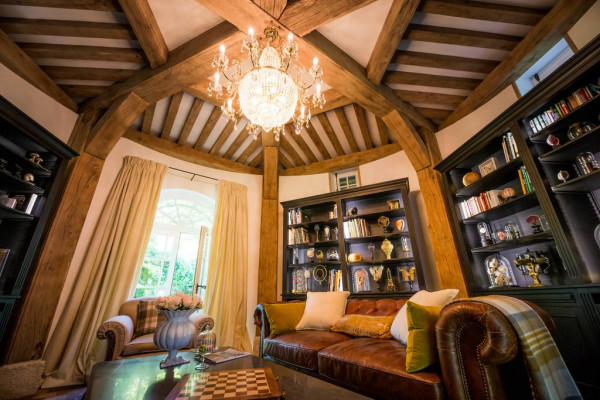 Camembert, crepes, cider, calvados and cream-rich cuisine, Normandy is certainly a destination with luxurious credentials. Normandy is also rich in art, in museums, in historic sites and in architecture. But its rural charms and dramatic coastal landscapes mean it's also perfect for an escape-type break. And Normandy has a boutique hotel to suit visitors in search of both luxury and an escape. Normandy also has boutique château hotels, for those looking for something extra special, and boutique hotels perfect for family holidays, with large rooms, suites or private villas or gîtes. You'll find beautiful boutique hotels in the pretty ports or secluded hamlets, as well as in the major centres. In fact Normandy is really quite rich in boutique hotels. If we agree that the term boutique hotel is predominately about being small, chic, independent, personal and one of a kind. With these qualities in mind these are our Guru's recommendations for the 18 of the best boutique hotels in Normandy.
For a boutique hotel with a view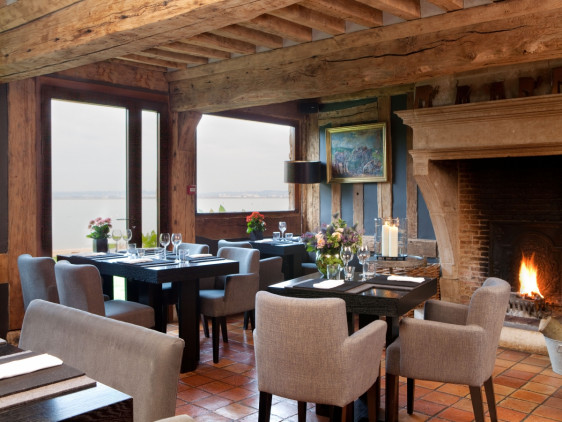 La Chaumiere is romantic, would appeal to lovers of great design and flair, and anyone looking for a hotel right on the beach, with a garden, and an excellent restaurant… So it fits the bill for several of our categories. We just can't get over the views of the ocean from the restaurant, though, and the views of the gardens and the woods from the other side of the property are serene too. There are just nine suites, all light and airy, with artistically chosen contemporary furnishings and details, and a very cool mix of old and new.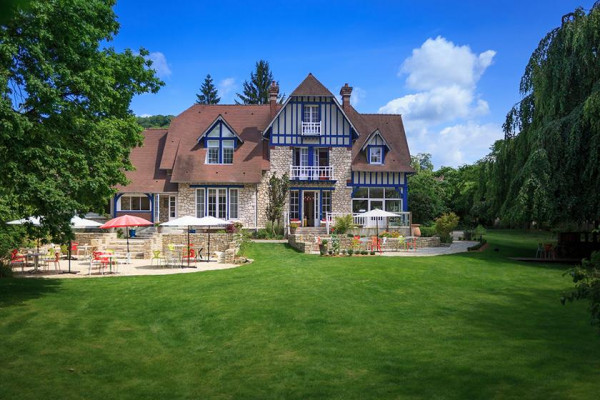 Le Jardin des Plumes is a short stroll from Monet's house and gardens at Giverny, and looking out the windows, or off your terrace, at this hotel, you'll feel as if you're in the Giverny of his day, with green views, small cobbled country roads and elegantly rustic homes. On the outside, the hotel looks like part of the traditional, rural scene too, with painted beams and windows within the pitched roof, but inside it's decorated with a modern/contemporary style, complemented by Art Deco and mid-century details. There are just eight rooms and suites, a beautiful garden and a Michelin-starred restaurant. Oh, and an impressive hotel parrot who will befriend your children if you bring them.
For a romantic stay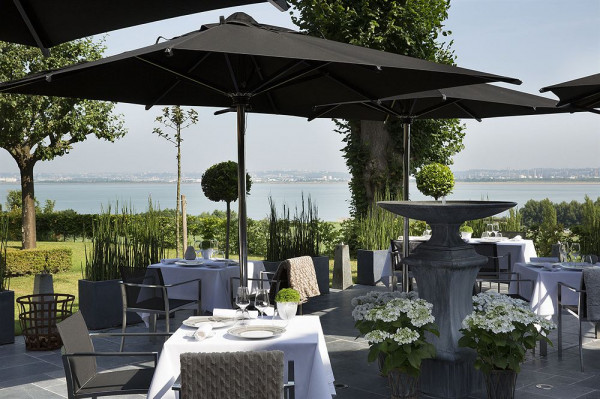 Honfleur is another of Normandy's towns well known for pretty appeal, and, while there are a couple of really fantastic hotels in Honfleur, we also love Les Maisons de Léa, a unique B&B hotel set in three different buildings, and offering 28 rooms, five suites and a private cottage which sleeps five. Each of the three buildings has its own decor and appeal, from rustic, to Mediterranean to contemporary, but they're all stylishly executed, and many of the rooms are quite luxurious with huge bathtubs or hot tubs, or private terraces. The restaurant is good too.
In Honfleur we also j'adore La Ferme Saint Simeon a luxurious, five star choice with 35 rooms and suites and a top of the range spa. The views from many of the rooms, and especially the roof terrace and the garden, are wonderful, and this is just the perfect spot to unwind with your loved one. The restaurant is offers the finest local cuisine too.
For a complete escape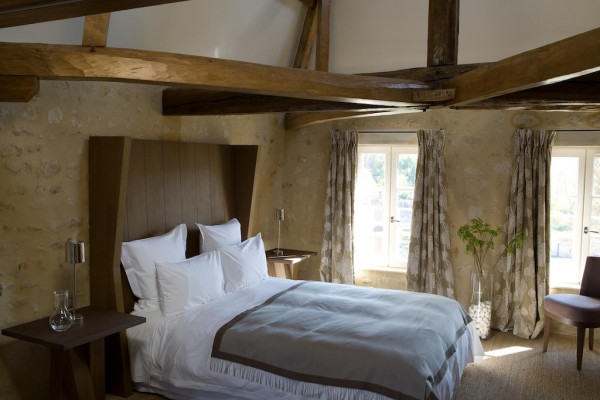 In the heart of the Perche Regional Natural Park, Cote Parc, is a rustic chic eight room escape. Some of the rooms are more rustic than others, with exposed beams and stone walls, but the rusticity is just for show, this is a very comfortable hotel with plenty of luxurious features, including a spa, gym and tea room. There's also a lovely garden.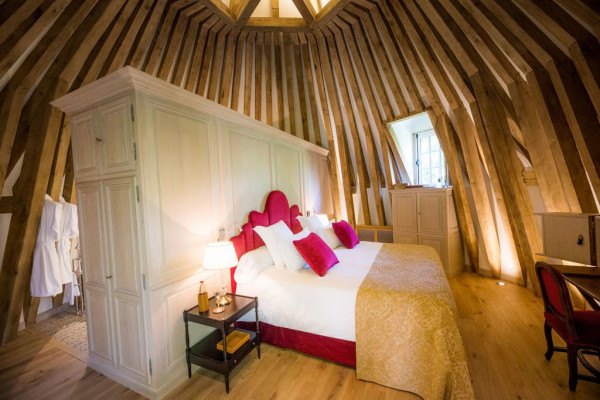 Le Domaine d'Ablon is a really special escape, in a rural spot inland of Honfleur. It has just four accommodation choices, ranging from extremely elegant suites in incredible rooms within the thatched roof of one of its beautiful old timber houses, to larger, family sized suites of rooms which include living space too. In addition to the fantastic original features, this hotel has been very stylishly decorated, with antiques and artworks, and it's got a fantastic restaurant specialising in regional cuisine, where you can also learn to make some of them yourself. Guests are also able to take horticulture or flower arranging classes.
The Manoir de Surville is more of a proper hotel, if that's what you're looking for, with a superb spa too, and an excellent restaurant. It's in a beautiful rural spot, just outside the sleepy Norman village of Surville. There are just nine suites, decorated in soft greys and great black and white photographs, which fit in elegantly with the original features of this timbered building.
Best Boutique Beach Hotels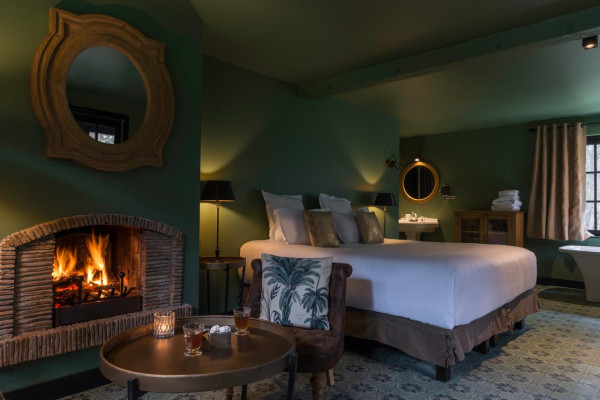 Tucked away amongst pretty gardens and woodland just along the cliffs from Etretat, Les Pins de Cesar is a seductively elegant hotel with 14 rooms and suites, decorated stylishly in dark, moody colours to make the most of the views and the estate's original features. There's a gorgeous indoor pool and an indulgent spa, but there's also an outdoor hot tub with wonderful forest views. There's not strictly a restaurant, but you can arrange to take meals in one of the hotel's lounges or the dining room, and the cuisine is highly regarded. This is a tranquil, romantic, sophisticated spot. But they do have family suites too, and a private villa.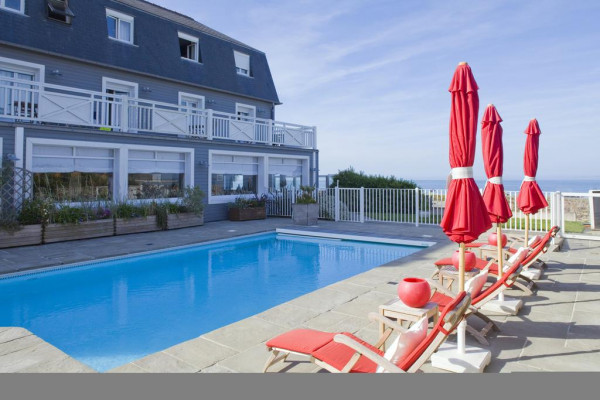 The Hotel des Isles is in a great spot just above a long, sandy beach outside Barneville-Carteret. A 31 room hotel with a New England, nautique-chic feel, and big windows letting in lots of light and offering lots of opportunity to enjoy a sea view, the Hotel des Isles has a good range of accommodation, including family suites, as well as simple, affordable rooms. And outside there's a pool, hot tub and several decked terraces, including one for the restaurant.
For a boutique chateau stay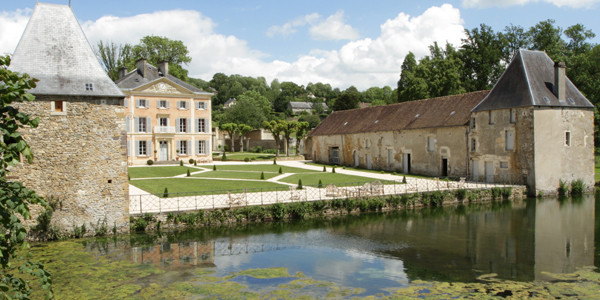 The Château de la Pommeraye is an elegant stately home in a beautiful, rural location. It has just five rooms, all of them sumptuous and traditional, with beautiful antiques in a simple arrangement, huge beds and fairytale views. For many this will match your idea of the Perfect Château, from the Louis XVI furniture to the Italianate stairwells. You can also book the whole property for private use, and arrange meals as needed.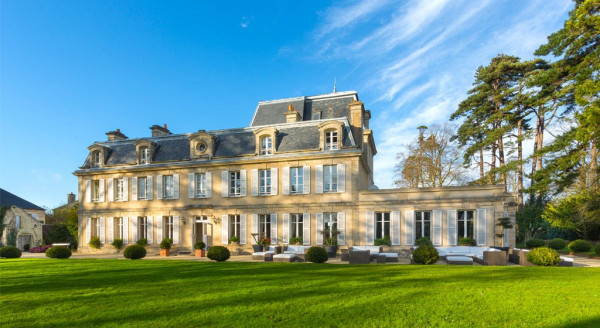 Elegant and romantic, the Château la Cheneviere is an 18th century château between Bayeux and the beach, but closer to the beach. Offering all the luxury of a fine hotel, but in a château setting, with some wonderful original features, these 29 large rooms and suites are decorated with the height of modern luxury in mind, and there's a cocktail bar, a classical French restaurant, a heated pool and tennis courts. And you're surrounded by the château's beautiful gardens and parkland.
The Best Boutique Hotels for Families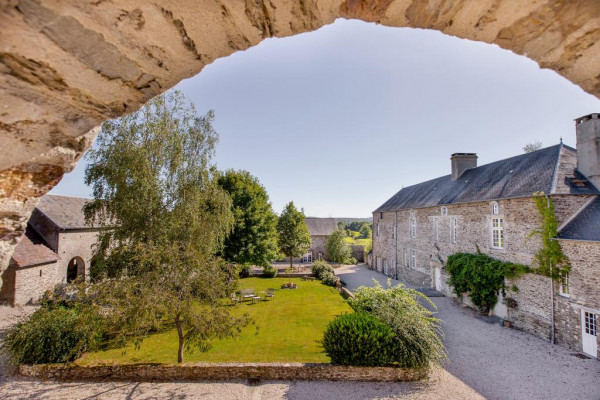 If you'd like more space than a hotel room traditionally offers consider Les Rochers, a lovingly restored, 16th century rustic-feeling manor house, with six rooms, a large family duplex room and a separate gîte, which is perfect for families wanting their own space. The decor is a fun collection of art, furniture and finds, and you're surrounded by fields, aside from the courtyard, which is perfect for badminton or pétanque. There's no restaurant, but they can provide gourmet suppers on request.
Close to Monet's Giveny, La Dime de Giverny is a converted low manor house, arranged around a central courtyard, with a collection of seven self-catering cottages. Inside the cottages you'll find a sort of rustic minimalism, with bare brick, or white washed walls, exposed beams and tiled floors, and yet every modern comfort. They offer breakfast, and you're just a short stroll from numerous restaurants and eateries in the local village. And of course the location is impeccable for seeing all the wonders the Impressionists saw.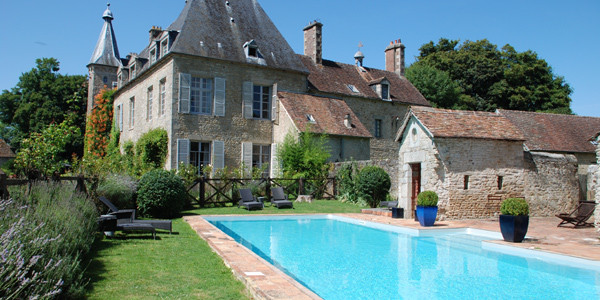 Romantic AND family friendly, the Château de saint Paterne is 15th century château with really charming hosts in an idyllic spot outside Alencon. There are nine rooms and two suites — one of the suites is in a treehouse in the woods! and the suites are part of why this château is listed as one of the best boutique hotels in Normandy for families. The other parts of the reason are the early, Michelin-starred suppertime for the children, and all the things you can do here, including swimming, playing tennis or badminton, or croquet or table tennis. The interiors are very romantic, some rooms have four-poster beds, or exposed beams, some have parquet floors or painted murals, but they're all lovely. And the table d'hotes is fantastic.
For great value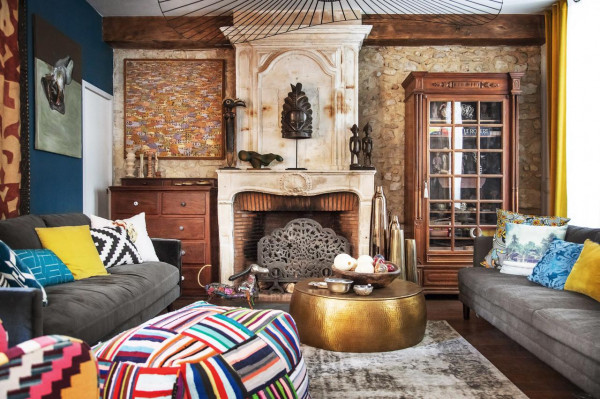 With just four rooms and a colourful travel theme, La Belleme Bleue is a chic but affordable choice inside a simple guesthouse in Belleme. Somewhat off the beaten tack, this little town is right inside the Parc Natural Regional du Perche, so its green and lovely, and makes a good base for exploring the region's interior. Considering its size the bar has a great wine list and the restaurant specialises in local cuisine. There's even a sauna. No kids.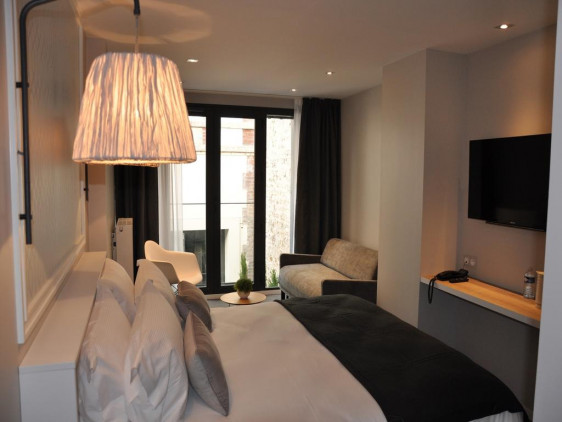 If minimalism is more your style then the Hotel Les 2 Villas might be more to your taste. A five room hotel converted from two neighbouring villas in the heart of Trouville, this affordable hotel has neat, design-style furnishings in monochrome colours, with natural materials and chic black pendant lamps. It's got a sunny courtyard too, and it's just a few minutes stroll from the beach. There's no restaurant, but they do offer breakfast and you're surrounded by cafes and restaurants.
The Manoir'Hastings is a renovated 17th century farmhouse in the pretty town of Bénouville, which is just a short walk from Pegasus Bridge, a key spot during the D Day landings, and a short drive from Caen. Modernised, but with some of its original, charming features retained, like the pitched roofs and large beams and fireplaces made out of great slabs of stone, this manior has just four rooms and suites, all light and airy, and a modern French restaurant.
Still not sure which to book?
posted Monday, 22nd March 2021