20 of the Best Boutique Hotels in Normandy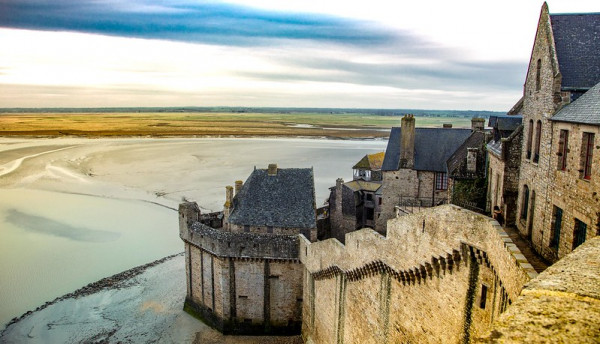 By Flickr user Angelo Brathot
Normandy has a lot to offer its visitor. From some of France's most famous sights such as the Bayeux Tapestry and Mont St-Michel to relics from the D-Day Landing. The landscapes are very alluring too with a dramatic coastline and pastoral interior with quaint villages and rolling fields. Like all of France, the region has world-renowned cuisine and is especially famed for its apples, cider, and camembert. With so many attractions, it comes as no surprise that the choice of accommodation is broad. However, our Hotel Gurus always lean towards a boutique property, when available, for their individual feel. The best boutique hotels in Normandy range from converted chateaux to quaint seafront cottages. Chosen on their amenities, design, and location there is something for everyone whether you are on a family break or a romantic escape. So why not browse through our collection to start planning your stay?
For a hotel with a view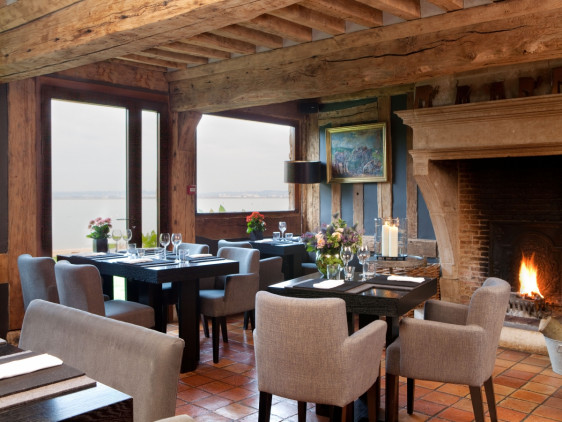 La Chaumiere offers nine light and airy suites with artistically chosen contemporary furnishings and a very cool mix of old and new. Located right on the beach, the sea views are spectacular (particularly so from the restaurant). A great choice for a couples' escape.
Le Jardin des Plumes is a short stroll from Monet's house and gardens at Giverny. There's much to admire at this property from the heady mix of traditional and contemporary design, the perfect pastoral views, and even a Michelin starred restaurant.
For a romantic stay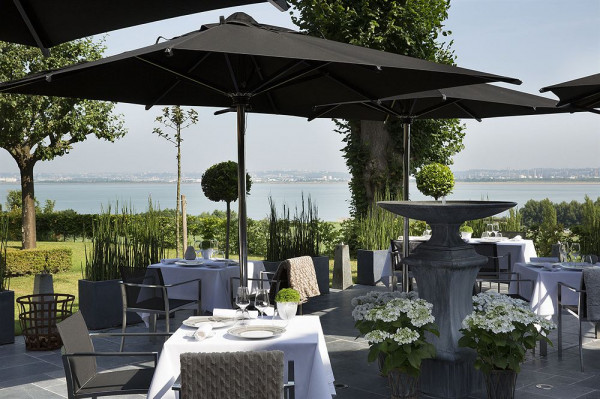 Les Maisons de Léa is a unique B&B set across three buildings. Each of the three buildings has its own decor and appeal, from rustic to Mediterranean to contemporary — but they're all stylishly executed. With an atmospheric restaurant, suites with huge bathtubs and private terraces — this is an ideal choice for a romantic escape.
La Ferme Saint Simeon is a luxurious five star with a top of the range spa. The views from many of the rooms, and especially the roof terrace and the garden, are wonderful. An indulgent spot to unwind with your significant other. The restaurant offers the finest local cuisine too.
For a complete escape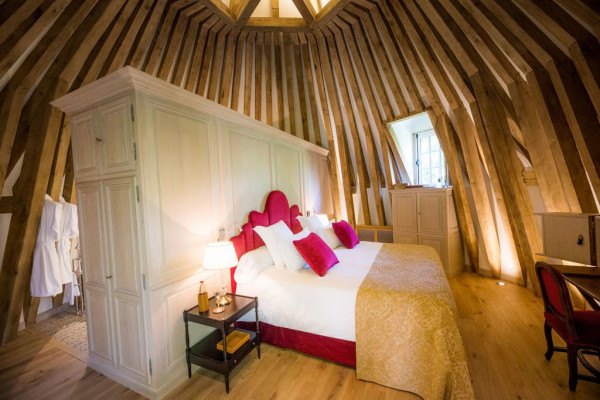 In the heart of the Perche Regional Natural Park, Cote Parc is a rustic-chic eight-room escape. Some of the rooms are more rustic than others, with exposed beams and stone walls. Expect amenities beyond its size including a spa, gym and tea room.
Le Domaine d'Ablon is a really special escape in a rural spot inland from Honfleur. It has just four accommodation choices ranging from extremely elegant suites set within the thatched roof of one of the beautiful old timber houses to larger family sized suites. There's a noteworthy regional restaurant and plenty of onsite activities.
The Manoir de Surville boasts an extensive spa and an excellent restaurant. It's in a beautiful rural spot, just outside the sleepy Norman village of Surville. There are just nine suites, decorated in cool monochrome hues which fit in elegantly with the original features of the timbered building.
For a beach break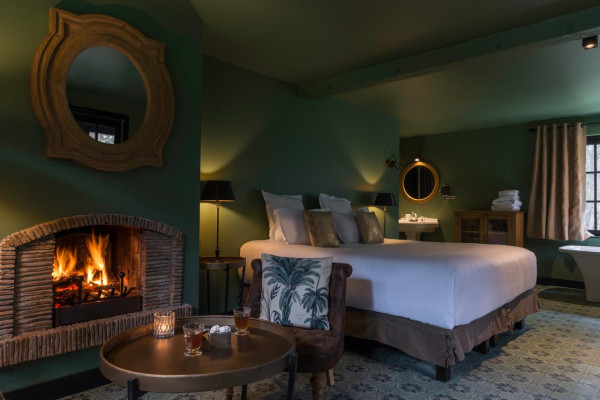 Tucked away amongst pretty gardens and woodland just along the cliffs from Etretat, Les Pins de Cesar is a seductively elegant hotel. Rooms and suites are stylishly decorated in dark, moody colours. There's a gorgeous indoor pool, an indulgent spa, and an outdoor hot tub with wonderful forest views. A tranquil, romantic, and sophisticated spot.
Manoir de la Plage is a seaside manor with rooms decorated in a charismatic mix of traditional French decor and contemporary style. Ideal for couples, this adult-only stay offers hydrotherapy massages, an infrared sauna and the sunset beach walks are a must!
For a chateau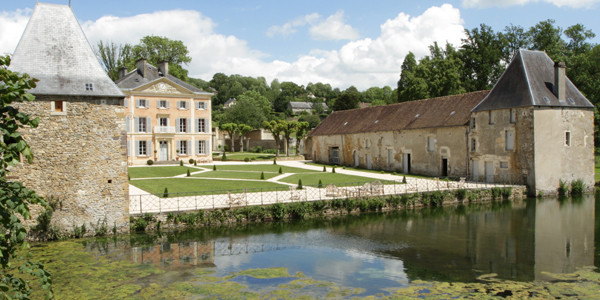 The Château de la Pommeraye is an elegant stately home in a beautiful rural location. It has just five rooms, all of them sumptuous and traditional. Expect beautiful antiques, huge beds, and fairytale views. You can also book the whole property for private use, and arrange meals as needed.
Elegant and romantic, the Château la Cheneviere is an 18th century château between Bayeux and the beach. Original features remain, however, rooms and suites are decorated with the height of modern luxury in mind. Complete with a cocktail bar, a classic French restaurant, beautiful parklands, a heated pool and tennis courts. An idyllic rural escape.
Chateau Saint Gilles is a beautifully converted 18th-century chateau set in a secluded rural spot near Bayeux. Bright and contemporary apartments and rooms keep their heritage charm. With a beach nearby and plenty of activities on offer, this is a great choice for a country escape.
For Families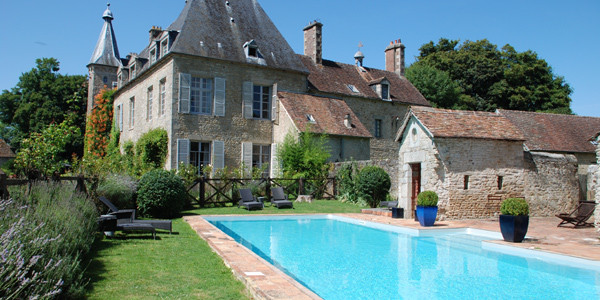 Les Rochers is a lovingly restored 16th-century manor house with six rooms, a large family duplex room and a separate gîte (perfect for families wanting their own space). The decor is a fun collection of art and vintage furniture. The courtyard offers an ideal space for badminton or pétanque and there's plenty of space in the surrounding fields.
La Dime de Giverny is a converted low manor house arranged, around a central courtyard, with a collection of seven self-catering cottages. Inside the cottages, you'll find a sort of rustic minimalism, with bare brick, whitewashed walls, exposed beams and tiled floors. Breakfast is served and it's just a short stroll from numerous restaurants and eateries in the local village.
Romantic and family-friendly, the Château de saint Paterne is 15th-century château, with charming hosts, in an idyllic spot outside Alencon. There are nine rooms and two suites — one of which is a treehouse in the woods that kids (and adults) will love. There's Michelin-starred dining, a swimming pool, tennis courts, badminton, and croquet to keep everyone entertained. Perfect for the whole family.
For great value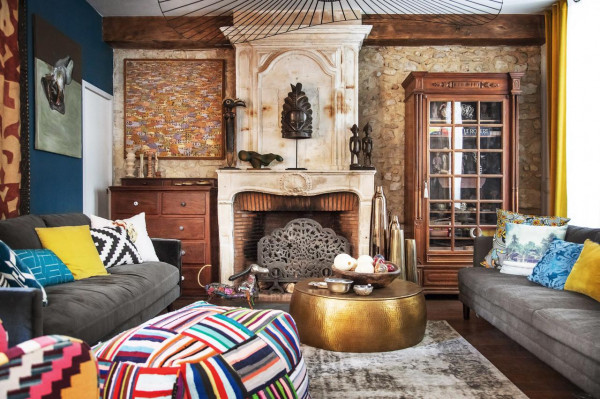 Still not sure which to book?
posted Wednesday, 12th May 2021