The 20 Best Hotels in Rural Provence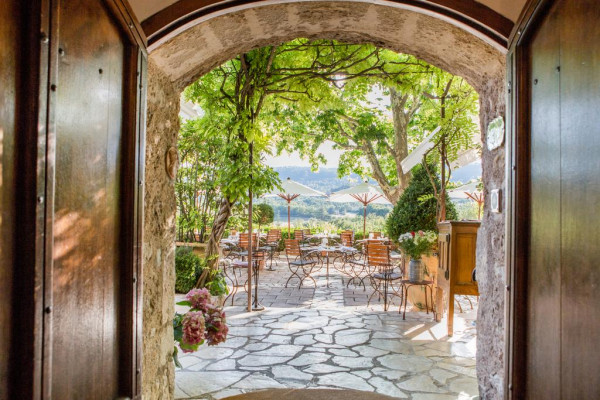 If you've always dreamed of spending time in the real Provence, this one is for you! Our experts have uncovered the very best hotels in rural Provence to share with you. They've dug deep into this picturesque countryside to discover bijou hotels in wonderful little medieval villages with cobbled streets, church towers and bountiful, almost daily, food markets; converted farmhouse hotels surrounded by lavender fields, olive groves or vineyards — and views beyond of the mountains or the Mediterranean; and chic townhouse conversions in bustling, historic Roman towns, with their little art galleries and elegant ruins. Use our guide to the best hotels in rural Provence and plan your next trip to enjoy the pleasures of the view, the incredible food and drink, those smells, and that sky.
For the Scrapbook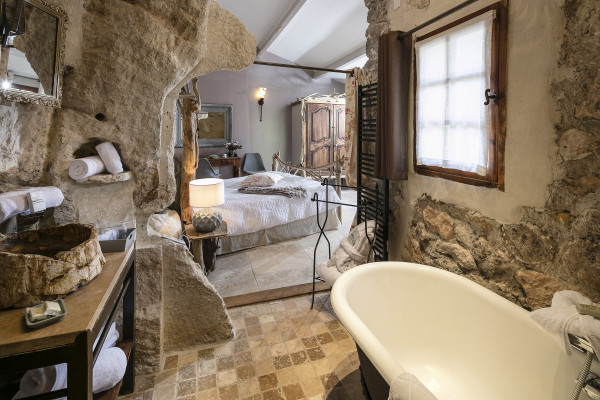 Le Mas D'Aigret is a charming villa in a superb spot, overlooking the Alpilles and the Valley of Baux, with some of this elegant building actually carved into the rock behind it, including two generously proportioned hotel rooms and the dining room. There are 14 other rooms and suites, including a collection of two room suites which are ideal for families. The gardens surrounding the hotel are lush and fragrant, and there's a heated pool and sunny terrace. The gourmet restaurant is known for its regional recipes and locally sourced produce.
For a Rural Retreat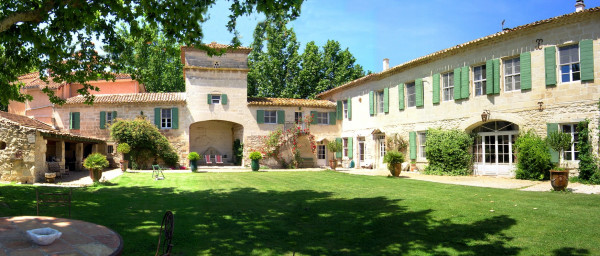 With its sunny terraces, expansive lavender-scented gardens and grand farmhouse feel, Domaine des Clos is quintessentially Provençal. This 18th century, green-shuttered, stone clad, picturesque country retreat on an old wine estate is the stuff of Provençal dreams. Its 18 rooms, suites and nine self-catering apartments mean there's a configuration to suit most families and small groups. There's also a pool and a welcoming range of communal spaces to relax and enjoy each others company. It's also well located for Nimes, Arles and Avignon.
Mas de Fauchon is a very French feeling countryside escape, a caringly converted farmhouse in which the original stone fireplaces, tiles, beams and shutters have been retained, but contemporary comforts have been added. There are 16 rooms and suites, and a charming restaurant specialising in regional dishes. In the warmer months the restaurant spills out onto a terrace and into the lush, scented gardens.
Le Mas de Peint is a charming, 18th century country house hotel with 13 rustic chic rooms and suites and beautiful grounds. Its large enough to feel like a hotel, but still small enough to give the impression of being a grand house owned by a lucky acquaintance. Gourmet suppers here are served in the middle of the kitchen, people relax with a book by the pool, and you'll certainly meet the owners, who breed bulls and horses on their farm next door.
For Vineyard Views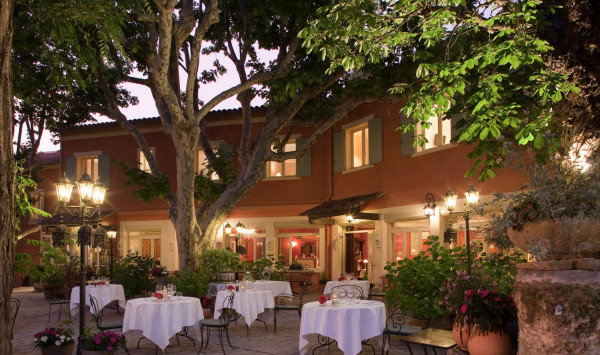 Les Florêts is a family-run, 15 room hotel set in the wooded hills on a family-owned vineyard in the Gigondas region. The rooms, restaurant and terrace are elegant, and the views are glorious. If you're here in summer you'll be able to appreciate the outdoor dining terrace and the pool too, and whatever season you're here you'll appreciate the excellent cuisine paired with, naturally, the owners own Gigondas.
For Romantics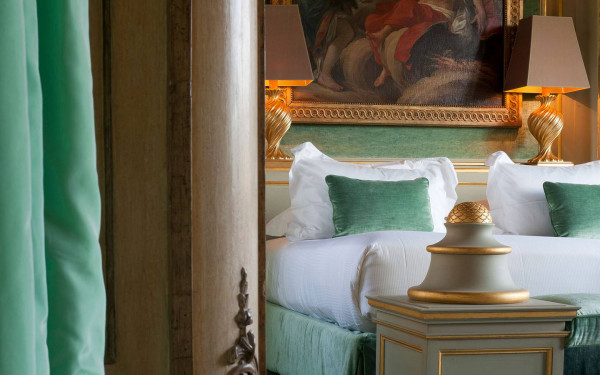 The Villa Baulieu is a grand affair — royal originally, having been built by Henry III in 1576. There are 11 elegant rooms on a regal scale, complete with vast windows, opulent fabrics and intricate wallpapers. Outside are 220 hectares of grounds, encompassing wine estate, gardens, fountains, and a swimming pool. There's no restaurant as such, but they offer an impressive table d'hote supper on request.
La Bastide de Boulbon is a grand manor house conversion in a pretty medieval village, ideally located for exploring Avignon and Arles. All around the manor are beautiful rural views, with the bastide's own rose gardens, terraces and pool in the foreground. As well as being idyllic on the outside, the eight rooms and suites on the inside are charming too, with simple, elegant, timeless decor.
For Families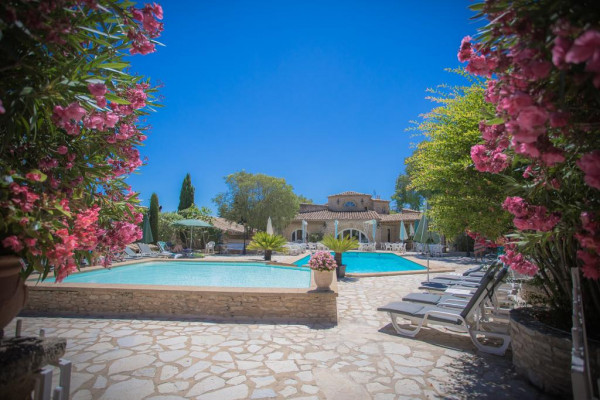 Where can you sleep peacefully in a farmhouse amongst vineyards, orchards, olive groves? L'Enclos des Lauriers Roses. This gorgeous old farmhouse feels more like a country house hotel, with its 23 light, airy rooms and suites, restaurant specialising in local cuisine, extensive wine list and four pools. It's also within a short drive of Nimes, Avignon and Orange, so is one of the best places to stay in rural Provence for people wanting to explore the history of the region without staying in town. Duplex suites and apartments are ideal for families or small groups.
La Bastide de Voulonne is an attractive sandstone farmhouse surrounded by extensive gardens, herb gardens and lavender fields, just outside Gordes. The 13 rooms and suites range in size, with suites sleeping up to five, and with a welcoming pool and family-friendly Provençal suppers, this is one of our top picks for a family-friendly stay in Provence.
For Foodies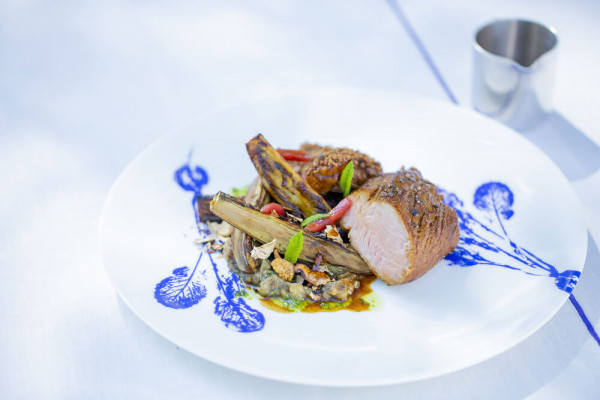 La Bastide de Moustiers is a 17th century bastide in a spectacular spot, and with a Michelin starred restaurant overseen by Alain Ducasse. The building is charming, and inside the 13 rooms and suites have been kept simple, with original features preserved against a whitewashed backdrop. Outside are lavender-filled gardens, shady terraces and a large pool.
Le Mas des Romarins is a 19th century villa with wonderful views across to the pretty town of Gordes. There are charming views from the terrace, where drinks and breakfast are served, and from some of the 13 chic, freshly renovated rooms and suites. There's a lovely garden, with a pool, and the restaurant is excellent, known for its fresh local produce, which equates to a daily changing menu.
The Domaine du Colombier has been converted from a 14th century country house, and the resulting 24 room hotel has retained many of the most charming original features: fireplaces, tiled floors, grand windows etc, but is now much more comfortable, with big, luxurious bathrooms, cosy lighting and a fantastic pool. Our picks of the rooms have private terraces. The hotel's gourmet restaurant boasts one Michelin star, and offers a menu inspired by local cuisine. They offer cooking classes onsite too.
For a Provencal Escape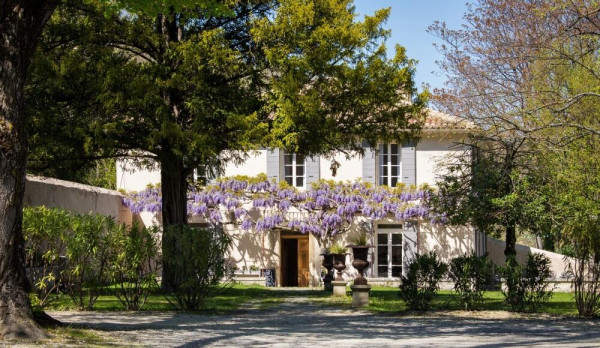 Le Pont de L'Orme is a charming Provencal villa, set in tranquil gardens on the outskirts of a pretty village and enjoying idyllic views from the terrace. Inside are just five rooms and suites, beautifully decorated by someone who appreciates original features, but also appreciates the pleasures of a clean, crisp, contemporary style. The food and wine are very good too.
Surrounded by the competing scents of lavender, cypress and olive groves, Le Mas de L'Oulivie is a glorious Provençal farmhouse conversion with stunning views. The 25 rooms and suites retain a hint of the rustic about them, but with contemporary comforts, and the tiled and beamed common areas are still farmhouse-y, but elegant with it. Our favourite rooms have private terraces, and some of the suites are perfect for families. They offer poolside lunches, but come supper time they recommend you take a stroll to one of the local restaurants.
For Chic Design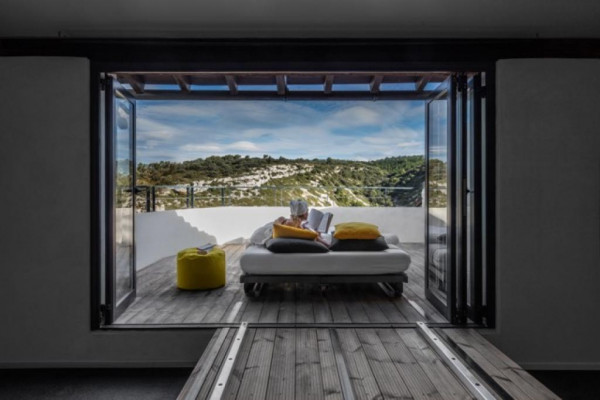 Metafort is a super stylish retreat perched on a clifftop overlooking a peaceful valley. There are just six rooms, all light and airy, and featuring wonderful views and minimalist decor, with interesting art and design pieces. The view from the pool is pretty spectacular too, and the breakfasts are excellent.
For Great Value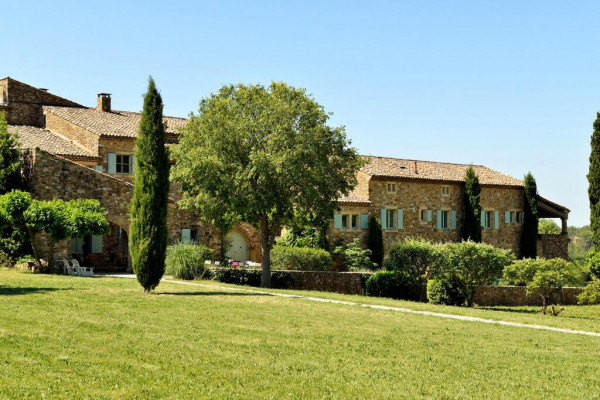 Le Mas des Carassins is a converted farmhouse just outside Saint-Remy-de-Provence. The building is charming: two storeys of pale stone with shutters and creepers and just the right number of archways, and the surrounding gardens of lavender and citrus are a Provençal idyll. There are 22 rooms and suites, with farmhouse details like exposed stone walls and heavy fabrics, and some have private terraces too.
La Buissonnière is a beautiful stone, 18th century villa — once part of a winery, with six charming guestrooms and suites. The views are bucolic, and the decor is simple and relaxing. There's a pool, gardens, and a restaurant and bar.
Best B&Bs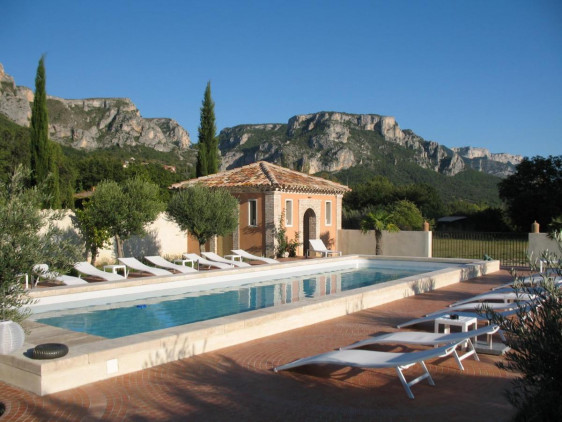 The pretty pink farmhouse which has become B&B, La Ferme Rose is just outside Moustiers, but it feels like it's further away — and possibly in another era! So it's perfect if you're looking for something quirky and original. The charming owner, Kako Vagh, has done a lot of the decor, and is a passionate collector of wonderful things, so the public areas are a wonderful treasure trove. The 11 rooms are fresh and simple — mostly white — and the breakfast is a cut above with good quality coffee and croissants and freshly squeezed orange juice.
Les Sardines aux Yeux Bleus is a beautiful sandstone B&B in a charming little hamlet, surrounded by other charming little hamlets, so there are plenty of excellent local markets nearby. There's also kayaking, cycling, spectacular walking routes and wine tasting opportunities in the vicinity. There are three rooms and three apartments in this complex, along with a lovely swimming pool and garden. It's a great choice for families or groups looking for a retreat in rural Provence.
Still not sure where to book?
posted Wednesday, 8th February 2023