Postcard Perfect Provence: The 12 Best Hotels in Rural Provence
If you've always dreamed of spending at least the ubiquitous year in Provence, but taking the plunge is proving a bit unlikely, don't despair! Provencal dreamers here are some of the best places to stay in rural Provence where you can experience all the highs of this beautiful countryside: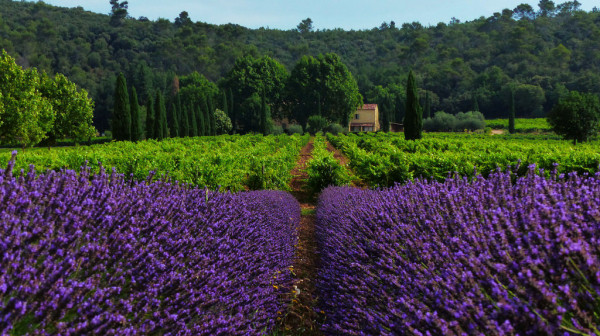 Flickr user Headwater Holidays
the wonderful little medieval villages with their cobbled streets, church towers and bountiful almost daily food markets;
the lavender fields, olive groves and vineyards, and views beyond of either the mountains or the Mediterranean;
and the bustling historic towns and cities with their Roman treasures and art galleries reflecting back the beauty of this landscape.
And none of the lows involved with trying to convert your own property in a foreign land!
And who knows, maybe experiencing one of the guru's best places to stay in rural Provence will be enough to inspire you closer towards the big plunge… Or alternatively you'll have a wonderfully relaxing time bathed in glorious sunlight and eating well, and you'll keep coming back to your own pocket of Provence year after year.
In the Middle of Nowhere!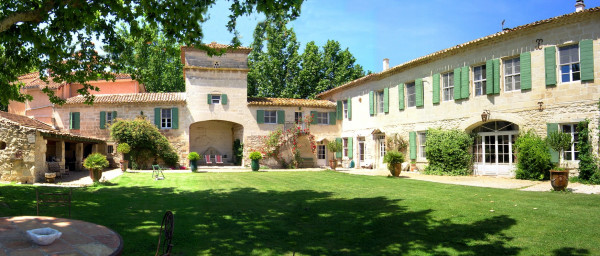 With its sunny terraces, large and lavender scented gardens and rustic farmhouse feel, Domaine des Clos is quintessentially Provence. This green-shuttered, stone clad, picturesque country retreat is the stuff of Provencal dreams. It's also very reasonably priced, with rooms starting from just £88 per night. Its varied and comfortable selection of rooms, family suites and self-catering apartments makes it one of the best places to stay in rural provence for families.
Where can you sleep peacefully in a farmhouse amongst vineyards, orchards, olive groves? L'Enclos des Lauriers Roses. This gorgeous old farmhouse feels more like a country house hotel, with its great restaurant, extensive wine list and four pools. It's also within a short drive of Nimes, Avignon and Orange, so is one of the best places to stay in rural Provence for people wanting to explore the history of the region without staying in town.
For a vineyard stay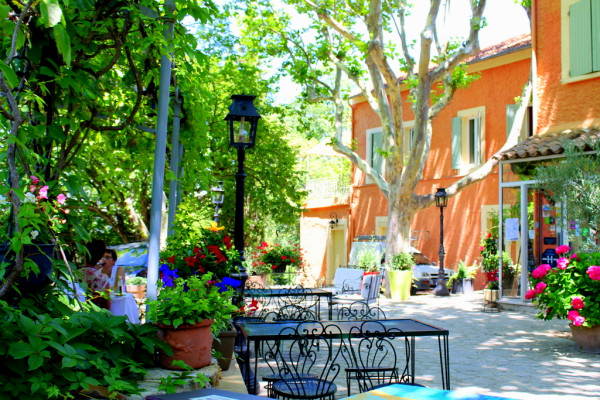 Les Florêts is a family-run hotel set in the wooded hills on a family-owned vineyard in the Gigondas region. The rooms, restaurant and terrace are elegant, and the views are glorious. If you're here in summer you'll also appreciate the outdoor dining terrace and the pool. Whatever season you're here you'll appreciate the excellent cuisine paired with, naturally, the owners own Gigondas. And it's great value too.
Walking Distance from Transport (and Restaurants)
If the sound of all that lavender and row upon row of vines leaves you cold, maybe you might also consider staying in a small village? Benefit from the clean air and peace, but put yourself within walking distance of a station, local food markets and restaurants. Many of the best places to stay in rural Provence can be found in the mediaeval villages and towns that dot the countryside.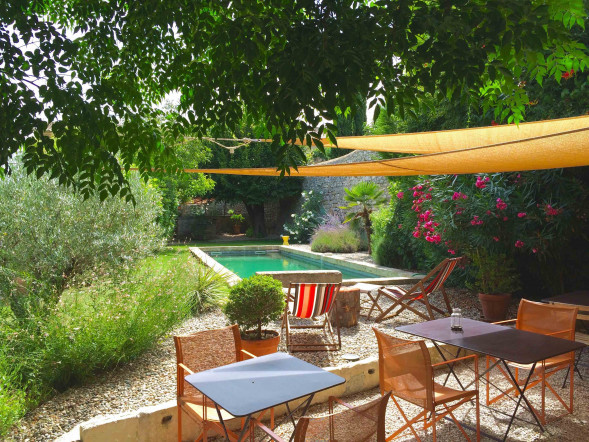 Maison Felisa is a charming B&B with a home from home vibe, situated in the pretty village of Saint Laurent des Arbres, just 15 minutes from Avignon. It offers just five contemporary chic style rooms (three with hot tub style bathtubs), plus lovely walled garden and outdoor pool. It's walking distance to the restaurants in town, but you can also enjoy maison d'hotes style dinners, featuring plenty of seasonal Provencal ingredients, on two evenings per week.
In a perfect medieval village, perfectly located for Avignon and Arles, La Bastide de Boulbon is as near perfect as it gets if you're looking for the rural Provence of tiny towns and spectacular views. The bastide is, you guessed it, perfectly renovated, and set amongst beautiful rose gardens and terraces. And of course there's a small, but perfectly proportioned pool. Peaceful on the outside, comfortable on the inside, this place is…perfect for couples trying to get away together.
While romance is on the cards, Le Mas des Carassins is one of the best places to stay in rural Provence for couples escaping to the country. What could be more romantic than staying in a farmhouse surrounded by lavender and lemon trees in Saint-Remy-de-Provence? Not much. It feels like you're deep in the countryside here, but you're actually just a short walk from the town centre. Bedrooms and suites benefit from exposed stone walls and private terraces, and the whole hotel benefits from the feeling you get from the owners that nothing is too much trouble. Children are lovely, but there's a time and a place, and only the over 12s are welcome here.
Simple, chic and full of character, Le Mas des Romarins is an excellent choice if you're looking for a rural hideaway somewhere very green. This 19th Century house has been sympathetically converted to retain all the of the charm of its secluded gardens and wonderful view. It's also just outside of charming Gordes, one of the most beautiful old villages in the region - you may have seen photos of this town looking luminous orange, its 12th Century beige stone glowing in the evening light. So this is definitely one of the best places to stay in rural Provence if you want to be close to a particularly lovely looking pub - or cafe/ bar.
For foodies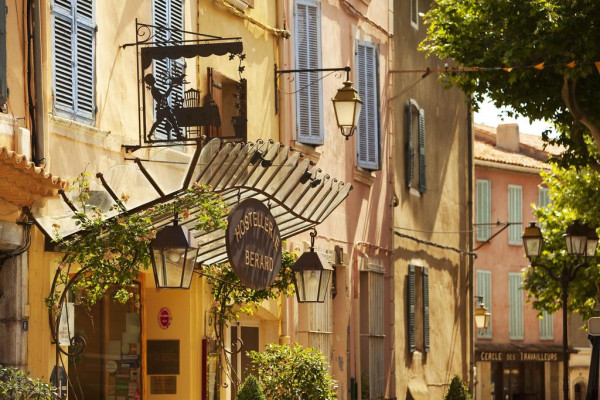 Rural Provence is a foodie's dream, but if you stay in La Cadiere-d'Azur you'll have access to both ends of the scale - the farmers' markets with their rustic treasures and the Michelin starred restaurant of Hostellerie Berard et Spa. As well as the restaurant, Hostellerie Berard also has an impressive wine cellar and an indulgent spa. And all in this tiny, medieval cliff top village which has views all the way to the shores of the Mediterranean, narrow lanes winding past the colourful and indispensable shops, and traditions which have remained the same for hundreds of years. Hostellerie Berard also runs cooking classes, so this is probably one of the very best places to stay in rural Provence for foodies
Provence has numerous excellent restaurants with rooms, but one of the best in a rural setting is the Hotel des Deux Rocs. The food is very Provencal, the views over the valley are sublime and you're close to both the charming local hilltop towns and the Côte d'Azur. This is one of the best places to stay in rural Provence if you'd rather be in a pretty little town than in the middle of nowhere.
For a rural B&B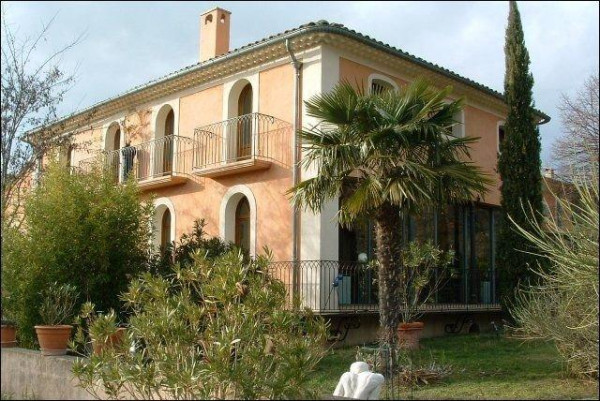 The pretty pink farmhouse which has become B&B, La Ferme Rose is just outside Moustiers, but it feels like it's further away - and possibly in another era? So it's perfect if you're looking for one of the best places to stay in rural Provence and you like things quirky and original. The charming owner, Kako Vagh, has done a lot of the decor, and is a passionate collector of wonderful things, so the public areas of this B&B are a wonderful treasure trove. The 11 rooms are fresh and simple - mostly white - and the breakfast is a cut above with good quality coffee and croissants and freshly squeezed orange juice.
Les Sardines aux Yeux Bleus is a beautiful sandstone B&B in a charming little hamlet, surrounded by other charming little hamlets, so there are plenty of excellent local markets nearby. There's also kayaking, cycling, spectacular walking routes and wine tasting opportunities. There are three rooms and three apartments in this complex, along with a lovely swimming pool and garden, and its prices start from just £92 per night, so it's a great choice for families or groups looking for a retreat in rural Provence.
Still not sure?
posted Tuesday, 15th June 2021