The Best hotels in Monastiraki, Athens
With streets and alleys crammed with shops selling everything from genuine antiques and worthless junk to gold and silver jewellery, attractive linen clothes and handmade sandals, Monastiraki's seemingly endless flea market is at its liveliest on a Sunday morning. Get there early to avoid the crowds or find a table at one of the cafés or restaurants that cram the central square of one of the city's oldest neighbourhoods and the surrounding streets, where you'll find the best traditionally-grilled lamb, chicken, and pork in the city, as well as some of the best hotels in Monastiraki.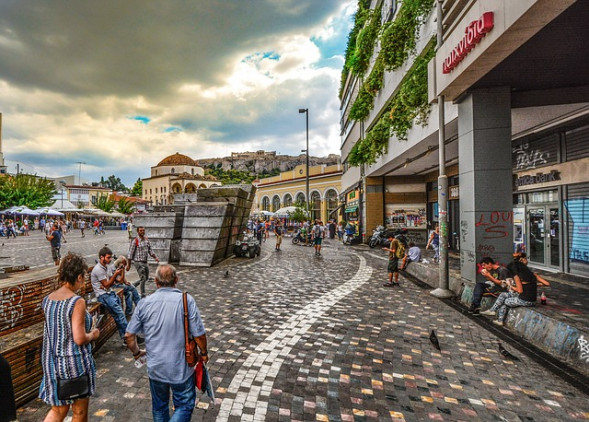 Image by Kirk Fisher from Pixa

There's plenty for history buffs and culture vultures here too, from the tiny 10th-century church that gives the neighbourhood its name to Roman and ancient Greek ruins and Ottoman-era mosques. Located between historic Plaka and up-and-coming Psyrri, Monastiraki is as much a long-standing favourite spot for Athenians as for visitors.
The Best hotels in Monastiraki, Athens
For a romantic stay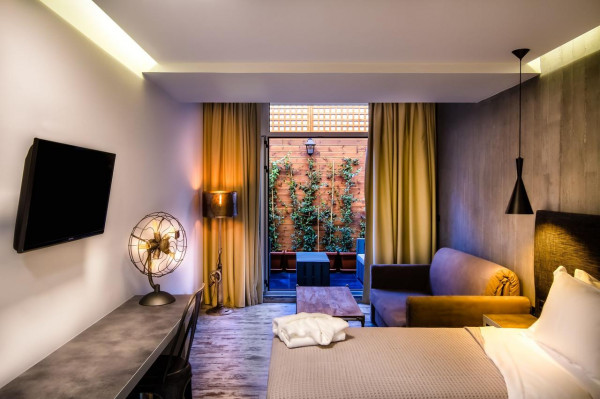 With only twenty rooms individually designed rooms with great views and a roof-level bar with Acropolis views 360 Degrees makes a great pick for a romantic hotel.
For a lively location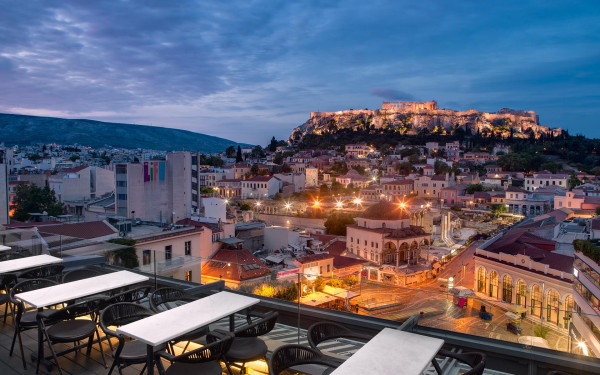 Situated right on Monastiraki Square, A for Athens is an elegant hotel with a rooftop bar that looks over the bustling square and across the old city to the Acropolis.
Still not sure which of the best hotels in Monastiraki to book? Expand your search to include our recommendations in Psyrri or all of the best places to stay in Athens.
Local exploring - Located next to Hadrian's Library and Monastiraki Flea Market, this hotel is a great starting point for local exploring

Romantic Break - Couples love the romantic roof terrace at night, with signature cocktails and stunning views over the historic city

City Style - With unique design pieces and individually styled rooms, this hotel has reams of city style

Local markets - Wander round Monastiraki Flea Market, a short walk from the hotel, and bag a bargain to take home

Recommended by - Great Small Hotels

This charming hotel is nestled in the heart of historic Athens. Individually styled rooms have unique, vintage design pieces and views of the city sights. Stay in the Junior Suite to enjoy a pretty outdoor patio. Drink at the rooftop bar for majestic views of the Acropolis. An intimate guesthouse. See More

Check Availability

A for Athens

Athens (Monastiraki)

35 rooms from £87

Romantic Break - A perfect romantic getaway — fantastic food, great cocktails and remarkable Acropolis views from the rooftop restaurant

Close to nightlife - Monastiraki Square is just across the street and is a hotspot for bars, eateries, markets and lively street scenes

Great walks - Centrally located in one of Athens most vibrant neighbourhoods, be sure to wander the streets and soak it all in

Sights nearby - As you can probably tell from the views, you are only a 15 minute walk to the Acropolis

Recommended by - Great Small Hotels

An elegant and sought after hotel overlooking the Acropolis in central Athens. The rooms are simple and stylish with hardwood floors, artsy light fixtures and the odd marble sculpture; some offer balconies. The rooftop bar serves incredible cocktails and their Greek cuisine is excellent. Wonderful! See More

Check Availability
posted Wednesday, 6th May 2020