A Foodie's Marrakech: Where to eat and where to stay
Mysterious and welcoming, Marrakech has been a medina town for as long as it can remember. A place desert caravans converged upon, bringing in wonders from all over Morocco and the world beyond. The flavours of the spices, and recipes, brought in off the desert, are one kind of wonder, and one of the reasons Marrakech is considered a heaven for foodies. So for those of you here to eat, here are some recommendations for the best places to stay in Marrakech for foodies - either because of their restaurant's reputation, the renown of their chef or cooking school, or just 'cause they're close to some of the best foodie haunts in town.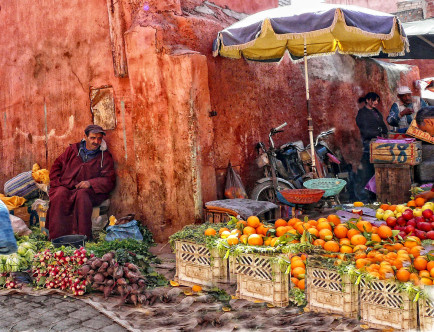 The Basics
Marrakech has no shortage of choice when it comes to eating, with everything from street food to sumptuous feasts. The very best meal you have here may not be from a world renowned tasting menu or even a perfectly tender teyhan (spleen) kebab in the medina, but something home cooked served on the rooftop of your riad. Which ever of our foodie favourites you choose, it's worth giving the staff plenty of notice about any dietary requirements, as they'll more than likely tailor a menu to your needs.
Wherever you're dining the traditional way to enjoy your food is with your bare right hand - use breads to scoop - and plenty of gusto!
The Medina
The frenetic streets and alleyways leading towards Djemaa el-Fna Square are filled with people finishing long journeys - some load off buses, some have carts. Tuareg, Berbers and other tribesmen come in off the Sahara to trade amongst mysterious herbs drying in the sun, heaped piles of colourful spices and air thick with the smell and smoke of cooking. Mmmmmm. Which is why the area around the medina is perhaps the perfect destination for foodies.
Part of the experience is the atmosphere. This isn't street food for the sake of being a hipster, this is street food because of necessity, and in amongst the goggle-eyed visitors you'll find workers and locals finding lunch or supper just the way they always have.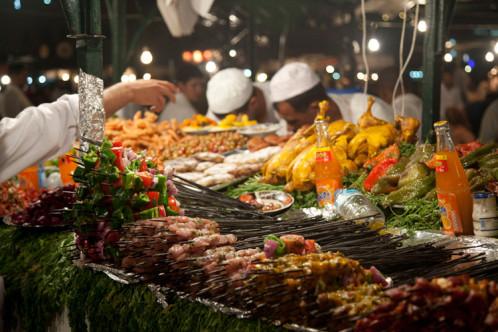 The medina is rife with new experiences for the adventurous: sheep's brains - or a whole sheep's head even, sheep's intestines, grilled sheep's hearts, stuffed camel's spleen and loads of snails. That'll be the French influence, but here it's common for snails to be served in a broth.
If you're not feeling that adventurous there are plenty of sausage dishes, fish, familiar kebabs, tagines and veggie dishes. You'll also find stalls specialising in egg sandwiches, and then the sweet stalls with their cakes, dates and juices.
Eating from the busiest stalls usually means you get the freshest ingredients and cleanest cooking oils. And it's recommended you bring your own water bottle and eat with your hands to avoid hastily washed utensils. It's also worth saying that there are only a few licensed restaurants in the medina.
If you venture into the medina and start to feel a bit lost, pop into a store to ask for directions, then you're most likely to get the free, unaccompanied version of the answer - if that's what you're looking for! It's also a good idea to look up - minarets and distinctive mosque roofs make great points to get your bearings from.
The New Town
The Ville Nouvelle - New Town, just west of the medina is arranged in a much more orderly way, with modern roads and street signs. The Gueliz area, with its numerous busy bars and restaurants, is a good area to head for - you're bound to find something tasty there. There are more licensed restaurants in this area. And if for you the wine accompanying the meal is important, this is the place to go for a decent wine list.
Best Places to Learn to Cook in Marrakech
If the idea of getting lost in the muddle of 43 districts which makes up the labyrinthine medina doesn't particularly appeal then maybe it's a good idea to get a guide. And there are numerous options if you're looking for foodie guides - in fact some of the cooking schools will lead you on forays into the medina, showing you the wheres and wherefores. This is also a great way to build up the confidence to try some of those more exotic sounding specialities…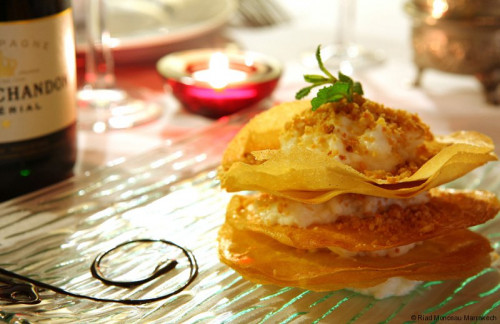 Many of the best places to stay in Marrakech for foodies actually offer cooking classes on their own premises. And this is a great, low risk and comfortable way to taste the flavours of Marrakech.
While tasting Marrakech it's worth remembering that this town has some wonderful one-dish meals - perfect for your travelling trader on the move, just come in off the High Atlas passes. Try bisarra, a hearty, white bean soup, or tangia, slow cooked lamb shoulder. If you're here to eat, then it's also a good idea to head out into the desert to try a Berber lunch - tours usually leave out of Imlil.
Best Places to Stay in Marrakech for Foodies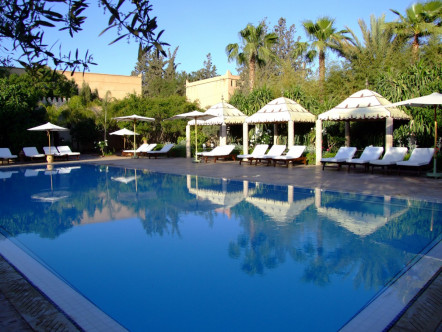 Medina Adjacent Riad Recommendations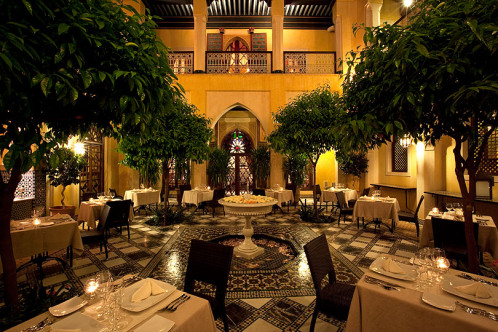 Best Hotel Cooking Classes in Marrakech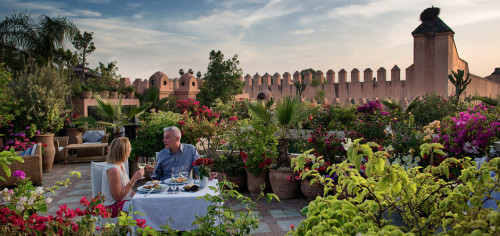 On the outskirts of Marrakech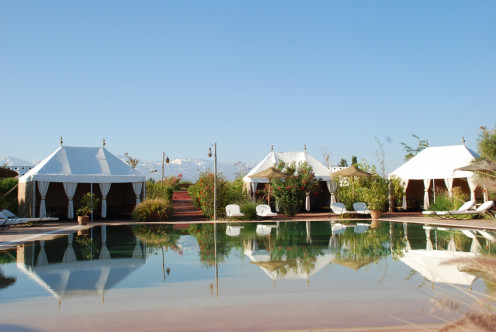 Nothing amongst our recommendations for the best places to stay in Marrakech for foodies that tickles your taste buds?
comments powered by

Disqus
Search the best hotels in Marrakech