✓ Book Online Now
✓ Save time, save money
The Best Hotels for the Guggenheim Bilbao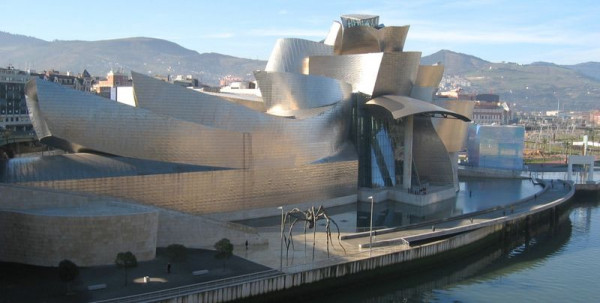 Christ via Flickr
Bilbao is by no means a pretty city, but it's totally unique and when, in 1991, the Basque government approached the Solomon R. Guggenheim Foundation about sharing the cost of building a new Guggenheim Museum in Bilbao's old port area - once the throbbing heart of this fading industrial powerhouse - it proved to be an inspired way of breathing new life into the city. The stunning Frank Gehry building, packed with large scale works by contemporary artists and well known Basque and Spanish works, had a profound effect on the city, drawing crowds, but also drawing in interest for more artistic and cultural institutions. If you've not been then it's probably on your bucket list, and if you've been before then you'll need to return to see some of the new exhibitions coming up. And it was in response to just such a query from one of you that our Guru's came up with this list of the best hotels for the Guggenheim Bilbao.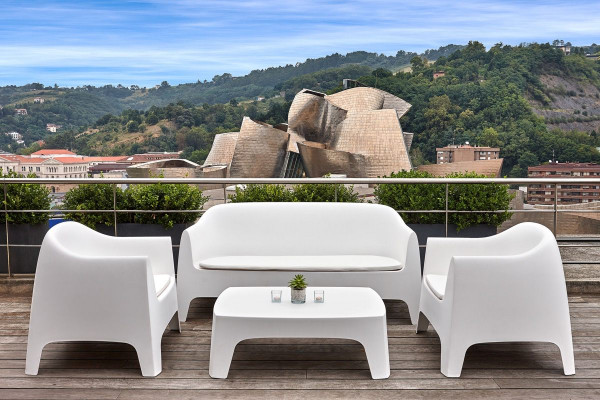 They've started with two of the closest hotels, which both also have a contemporary feel which is in keeping with the atmosphere of the museum - it's like staying in the Disney hotel when visiting one of the parks - and they've finished with a recommendation that's closer to the centre of Bilbao. In case you're here for the food as well as the art.
The Best Hotels for the Guggenheim Bilbao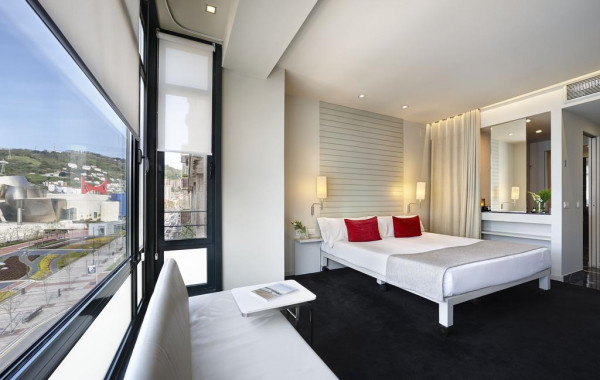 Just opposite the Guggenheim and right by the river, the Miro Hotel is sleek and modern, and a lot of glass has been used in its construction. If you need a bit more space the suites are enormous, and even the smallest rooms have all the mod. cons. and a chic design hotel feel. There's also an excellent tapas restaurant, a gym and spa. Rooms start from around £100 per night.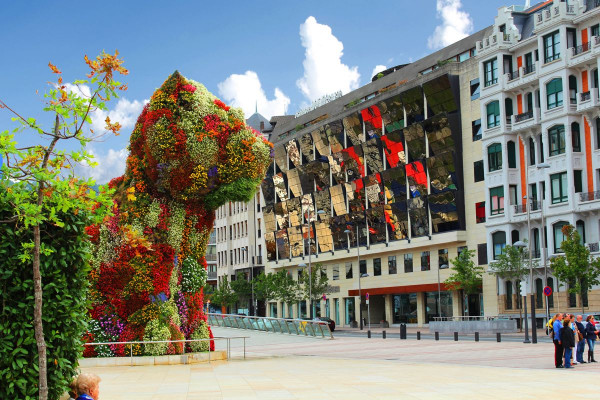 The next closest hotel we recommend is the Gran Hotel Domine, which borroiws some of the museum's cache of cool by having its different areas designed according to different artistic eras. So you have the Bauhaus bit, the Sixties section and the 90s minimalist area. Quirky and cool, this is perfect if you're looking for a modern five star hotel.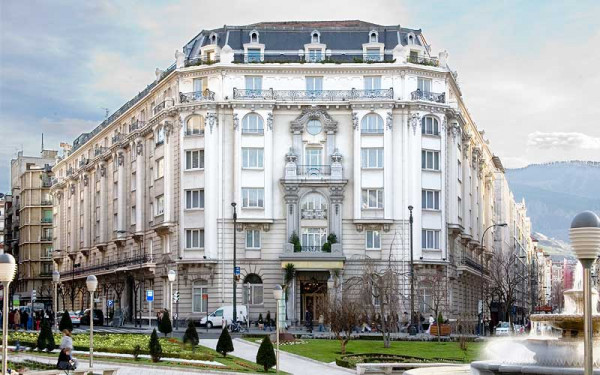 If you'd prefer to be in the centre of town then the Hotel Carlton is a great choice. This old grand dame of a hotel is elegant but traditional, and it's very affordable, with rooms starting from around £85 per night.
If you haven't found your idea of the best hotel for the Guggenheim Bilbao on our Guru's list you could consult our Guru's collection of all the best places to stay in Bilbao, or contact one of our friendly Gurus for advice.
The Best Hotels for the Guggenheim
Bilbao

A fabulous contemporary designer hotel opposite the Guggenheim and close to the river. Sleek modern rooms and enormous suites have all the mod cons and fantastic views. Excellent tapas restaurant, spa, gym, and meeting rooms. A super stylish choice.

Sights nearby - 5 minutes walk from the historic city centre and literally across the road from the Guggenheim

City Style - A supremely stylish stay in the heart of buzzing Bilbao

Views - Great views over Frank Gehry's masterpiece

Local markets - Good for local colour.

Recommended by - I Escape, CN Traveller, Tablet

Check prices

Bilbao

A quirky Five Star hotel close to the Guggenheim and the river. Each area of the hotel is designed according to era, Bauhaus, the sixties, 90s minimalism. Rooms and suites are contemporary with balconies and all the mod cons. Fabulous Basque cuisine. A trendy choice.

City Style - A smart contemporary luxurious hotel, ideal for those with an eye for design.

Sights nearby - Situated opposite the Guggenheim Museum, right in the heart of Bilbao's Arts Quarter.

Outstanding location - The only five star property located across the road from the Guggenheim

Quirky - Each part of the hotel is designed by 20th century era.

Recommended by - Tablet, CN Traveller

Check prices

Bilbao

A grand hotel in central Bilbao. Contemporary classic rooms and suites have seamless furnishings and all the mod cons. Traditional elegant living areas and restaurant. Meeting rooms and a gym. A stylish spot for tourists and business visitors.

Value chic - For a five star hotel it offers great value. Doubles can be had for as little as €99 per night.

Local exploring - A luxurious base from which to explore both Bilbao and the surrounding area.

City Style - A luxury five star stay in the centre of Bilbao.

Sights nearby - Situated bang in the centre of town. 10 minutes from the Guggenheim Museum

Recommended by - CN Traveller

Check prices
posted Wednesday, 28th June 2017
comments powered by

Disqus
Search the best hotels in Bilbao