17 Great Devon Hotels with Pools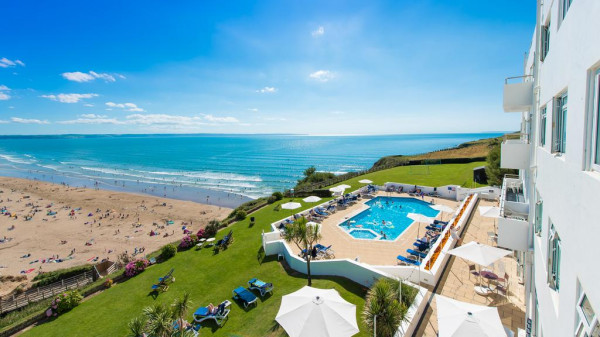 What do you think about pools by the sea? Some of us here at the Hotel Guru think they're a fantastic addition to a seaside hotel, and that the very best seaside hotels have both indoor and outdoor pools, but some of us think they're a bit superfluous, and could be a tennis court or hot tub instead. It turns out that choosing our favourite Devon hotels with pools has brought this discrepancy to light and caused much discussion of the pros and cons.
But these sorts of discussions only make our recommendations better! From one camp we've drawn some of Devon's Best Hotel Pools with a View, and from the other we've received a great list of fantastic Devon hotels with pools which are in some of Devon's prime inland spots, like Dartmoor, offering views over the moors rather than the ocean. In the end our recommendations for 17 great Devon hotels with pools includes some lovely B&Bs as well, and some fantastic hotels with self-catering options perfect for families, as well as the luxurious Devon spa hotels we assumed we'd come out with.
For a hotel pool with a view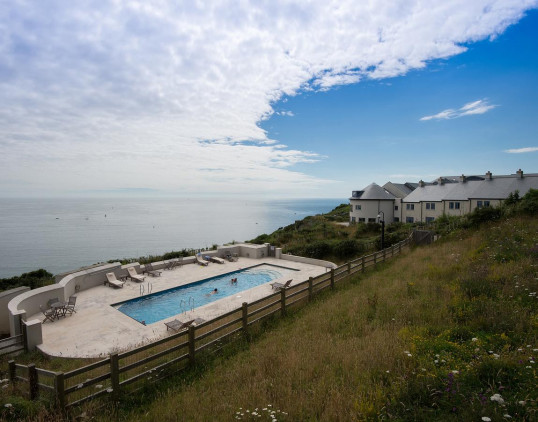 With ocean views from both its indoor pool and outdoor pool, Gara Rock is a fantastic choice if a pool is at the top of your list of priorities for your Devon hotel. The location, on a hilltop just back from the beach in East Portlemouth, is idyllic and peaceful, and the views are panoramic. There are 12 choices when it comes to where you sleep, ranging from rooms to suites to family-friendly self-catering cottages. All have large windows and are stylishly decorated with modern rustic/industrial accents and a bohemian feel. The restaurant is well regarded, as is the spa.
The Saunton Sands Hotel's pool is similarly perched on top of a grassy plateau above a golden sandy beach, so it's just like you're on the beach but without the sand getting into your bathers. This 95 room hotel is perfect for families, with that quintessential seaside feel and white paint, and there's plenty of choice when it comes to room configurations, with the possibility of connecting rooms, family suites or apartments. There are great facilities onsite too, with a heated indoor pool a part of the comprehensive spa. There's also a supervised playroom and tennis courts.
Hotels with Indoor and Outdoor Pools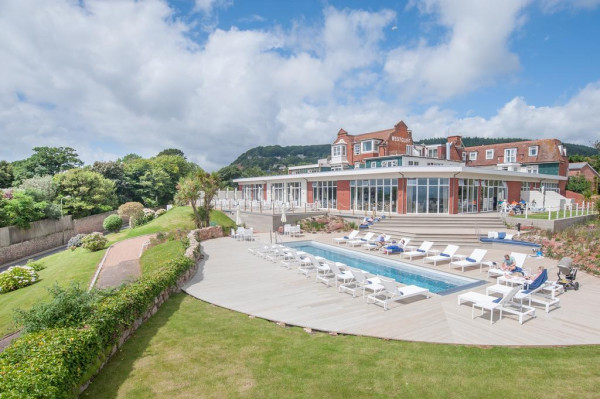 Like Gara Rock, the Sidmouth Harbour Hotel has two pools: a long, narrow outdoor pool perfect for laps or reclining beside, occasionally trailing a foot into, and a broader, shallower indoor pool which is part of the spoiling spa complex, and has floor to ceiling windows at one end. The location is excellent, on the edge of the Jurassic Coast, and the hotel has 57 rooms and suites, plus a restaurant serving British classics. Perfect for a coastal escape.
Some of Devon's Most Romantic Hotels with Pools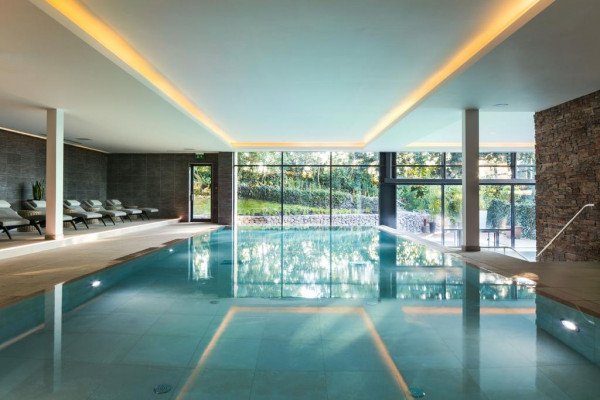 Boringdon Hall Hotel is a five star castle-cum-country house hotel and spa on the fringes of Dartmoor National Park. It offers the romance of a castle: with huge ceilings, impressive windows and great stone fireplaces, four-poster beds and grand free standing baths; and the comfort of a more contemporary property, what with the state-of-the-art Gaia spa, hot tubs in some of the rooms, and the innovative restaurant. The pool is indoor, but with huge glass windows that offer the benefits of outdoors without the actual weather. Adults only.
Northcote Manor offers an escape to the Devon countryside, in a charming, Victorian country house hotel. For peace and the simple pleasure of beautiful grounds, rural views and good food, Northcote is perfect. Converted from a rambling manor house, the hotel's 16 rooms are a varied lot when it comes to outlook and size, so you might want to be specific when you book. There's a good choice of relaxed public spaces, and a slightly old-fashioned air to the place, but a cosy welcome. The pool is indoor in the separate luxury, and very contemporary, spa.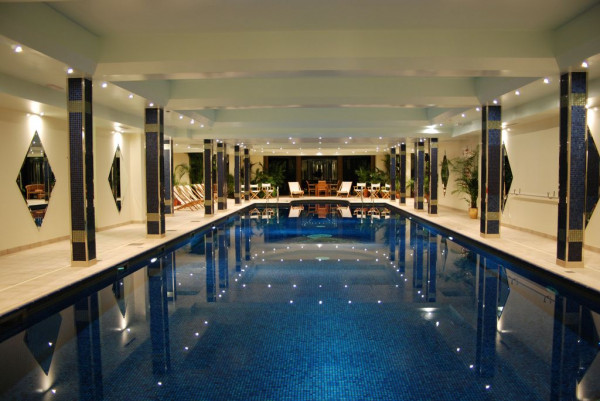 Set in acres of beautiful countryside on the slopes of Dartmoor, Bovey Castle is grand and castle-y enough for the name, but in an 18th century rather than medieval sense, which arguably make its 64 rooms and suites, and 22 self-catering lodges, more comfortable to stay in. And comfort is important here: this is a beautiful hotel, but not a stuffy one; they make an effort to make families feel welcome here with things like special menus and Lego room service. But it's romantic too, with a choice of two restaurants: the family-friendly Castle Bistro and the elegant Art Deco Edwardian Grill, a great spa and the beautiful indoor pool the hotel receives its recommendation for this time.
Right on the edge of buzzy, picturesque Salcombe, the Salcombe Harbour Hotel is a boutique hotel with seriously gorgeous views over the estuary with its sailing boats to one side and sandy beaches to the other. The hotel's 50 rooms and suites are arranged so that there are plenty of rooms with a private terrace, and huge public terraces for the bar and the chic restaurant, which also offers cooking classes for kids and adults. The pool is indoor, part of the spa and gym complex.
Dartmouth's Dart Marina Hotel is right on the marina, overlooking the River Dart. As well as the great views this hotel also has a luxurious spa and an AA Rosette awarded restaurant. There are 49 rooms, suites and self contained apartments, plus a really elegant indoor pool to go with the spa and its treatment packages. Relaxing, grown-up and romantic!
For Families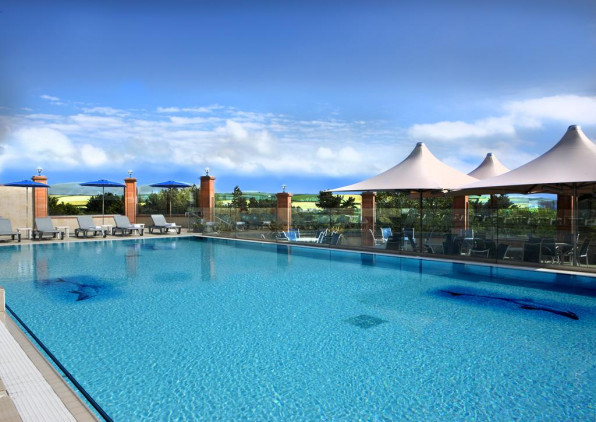 The Thurlestone Hotel is a great family-friendly, 65 room hotel right on the south Devon coast with fantastic views, superb facilities and indoor and outdoor pools. There's lots to do onsite for families: there's a croquet lawn, tennis courts, a golf course, surfing and waterskiing on the beach, there's a kid's club, a gym and spa, and both indoor and outdoor play areas for the kids. And there's a really good choice of room sizes and configurations, so you're bound to find something to suit your family.
Drive a couple of miles out of Salcombe along the coast and you'll get to a pretty cove and the Soar Mill Cove Hotel, a family-friendly, 20 room hotel with stunning sea views. As well as standard rooms Soar Mill Cove also has family suites and self-catering units — which share an outdoor hot tub. There's also a 2 AA Rosette restaurant with a menu heavy on the local seafood, and a gym and indoor pool. The same family has owned and run this hotel for the past 30 years, and you can really feel the care that goes into the place.
Great B&Bs with a Pool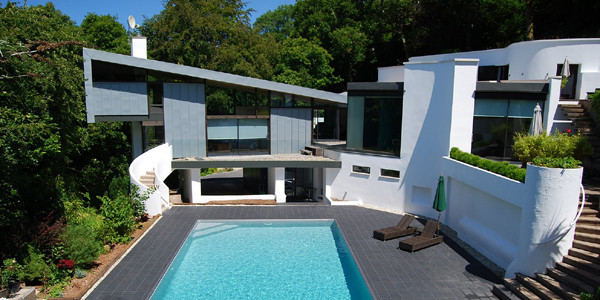 Kaywana Hall is very modern looking, with sweeping staircases, angled roofs and lots of white paint — there's a Californian vibe to it. The setting is lovely, surrounded by established trees, close to the River Dart and Dartmouth. There are four rooms, each with their own entrances and sit-out terraces, arranged around the pool. The views are beautiful both inside and out, with well chosen art and well positioned windows and terraces.
Bulleigh Barton Manor is a three room B&B a few miles outside Torquay. This is still very much a home, albeit a beautifully appointed one, surrounded by rolling hills just back from the coast, and it has a welcoming feeling, with a cosy lounge and breakfast room. The pool is surrounded by established gardens, and is a nice addition to a very affordable, comfortable B&B.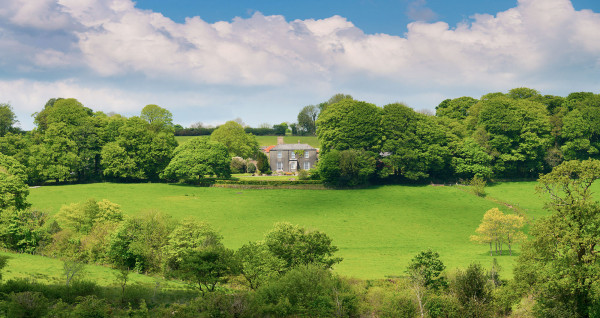 Burnville Farm is another charming B&B surrounded by rolling Devon countryside, this time on the western edge of Dartmoor, making it a great choice for walkers and ramblers. There are four, lovely rooms in the main farmhouse, and three self-catering cottages in the grounds, which are ideal for families or groups. And there are beautiful views from many of the rooms and from the pool terrace.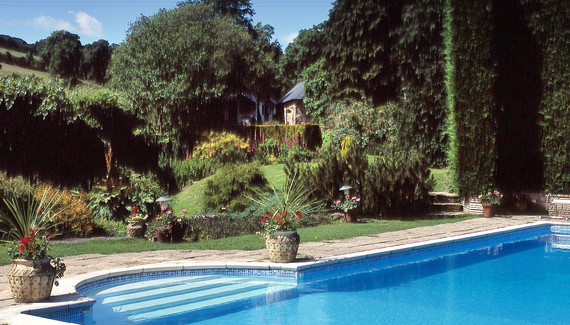 You can find Tor Cottage down a small country lane, deep in farming countryside — on 28 acres of its own in fact, and surround by peace and quiet. This B&B has just five rooms, most with a working log burner and a private terrace, and all with old fashioned country charm. Some are in the main house and some are just adjacent, and in the elegant and mature landscaped gardens is a lovely pool. Maureen, the owner, is known for her Full English breakfasts as well as her charming country-style welcome.
Great Value Devon Hotels with Pools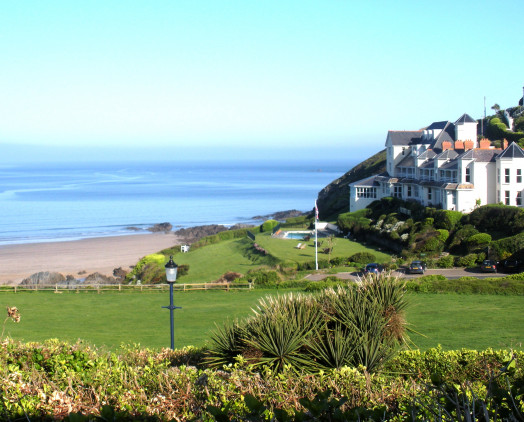 The Watersmeet Hotel is a classic seaside hotel which has been operating as such for more than a hundred years: painted white, sitting on a grassy ledge just above the beach — with the pool in between the beach and the hotel, and with views out to sea from almost all of the 25 bedrooms. They go a bit further than the basics though with their 2AA Rosette restaurant serving English classics and their spa, with a steam room and small treatments menu. And to do? All the fun of the seaside, plus a local championship golf course.
Ilsington Country House is the opposite Devon offering: a quintessentially British country house hotel set amongst the ruggedly beautiful terrain of Dartmoor. The pool is indoor, part of the contemporary spa, which, with the very latest in spa technology, is an indulgent proposition after a day out on the moor. The hotel has 25 rooms, with plenty of charm and great views, and there's a well regarded restaurant which prides itself on its local, seasonal menu.
If you haven't found your idea of a great Devon hotel pool on our Guru's list of 17 you could:
Browse through our list of all the best places to stay in Devon.
Or refine your search to just our recommendations for 11 of the Best Spa Hotels in Devon, or you might be interested in our 15 of Devon's Most Romantic Hotels, or the 10 Best Hotels with Hot Tubs in Devon.
Alternatively, you could contact one of our friendly Gurus for personalised advice.

Gara Rock

South Devon

12 rooms from £168

Country Escape - This cosy, stylish retreat is set on the beautiful Devon cliffs, ideal for refreshing windswept walks and coastal exploration

Families - The self-contained cottages are perfect for a family holiday, with self-catering facilities available

Romantic Break - Book a loft suite for romantic views over the dramatic Devon coastline

Great walks - There are a host of picturesque coastal trails to explore; ask your hosts for recommendations for your itinerary

This clifftop hotel is located in East Portlemouth, Devon. Choose from loft suites with excellent views or family-friendly self-catering cottages. All feature large windows and a bohemian feel, with jute rugs and block-prints. Sample the gourmet restaurant before booking into the spa; a chic hotel. See More

Check Availability

Swimming Pool - Heated indoor and outdoor swimming pools.

Sights nearby - Enjoy a day out at Victorian Watermouth Castle; providing a theme park for the kids.

Kids Club - A supervised playroom and two hours free childcare per day for under-eights.

Spa - A comprehensive facility offering all you could want to relax and unwind.

Quintessential family seaside hotel with a spectacular setting on the North Devon coast. Stylish contemporary accommodation in neutral muted hues, with flexible options from doubles to family apartments. Top class on-site facilities for sports, relaxation & family fun plus 2AA Rosette fine dining. See More

Check Availability

Northcote Manor

Burrington, Devon

16 rooms from £170

Views - Fine views over the Taw Valley

Garden - 20 acres of lawn and woodland

Spa - Luxury spa facilities including hot tub, sauna, steam room, gym and treatment rooms.

Restaurant - Seasonal à la carte restaurant.

Recommended by - Sawdays

This 18th century country house hotel offers the simple pleasures of good food, lovely views and peace and quiet. Tranquil walks can be enjoyed in the the walled 'secret garden', apple orchards and Japanese water garden. Great for a relaxing weekend break. See More

Check Availability

Suites - All rooms come with 'balcony baskets' with binoculars throws and books, complimentary gin and sherry

Sit-out Terrace - Wonderful terraces with sunloungers and glorious views of the harbour, estuary and out to sea.

Restaurant - The Jetty Restaurant is both chic and family friendly with mouthwatering seafood lunch bar

Parking - Cars are left on the hotel state of the art turntable and valet parked!

On the edge of bustling and picture postcard Salcombe this stunning newly refurbished boutique hotel has everything one could wish for. Magnificently situated, overlooking the estuary with its sailing boats, sandy beaches and a short walk into town. Wonderful terraces, spa and pool, cinema. Bliss See More

Check Availability

Bovey Castle

Chagford

64 rooms from £229

Child friendly - Daily egg collecting, meet the ferrets and falconry displays. Colouring books & crayons for little ones at meal times!

Spa - UK's flagship SUNDARI spa

Families

Restaurant - The Edwardian Grill for fine dining and Castle Bistro for more family friendly fare.

Recommended by - Tablet, Frommers, Small Luxury Hotels

Family friendly country hotel with something for everyone: lego room service for the little ones & bespoke spa treatments for the adults! Ideally situated for exploring the wilderness of Dartmoor and more activities on site than you can imagine. See More

Check Availability

Country Escape - A country house boasting a location on the spectacular Jurassic Coast, ideal for a rural getaway.

Sights nearby - Visit Sidmouth's interesting Norman Lockyer observatory.

Great walks - Take long walks along the Jurassic Coast.

Kayaking - Explore the coast from the sea by kayak.

Recommended by - Mr & Mrs Smith, Sawdays

A nautically inspired hotel set on the famed Jurassic Coast. Light and airy rooms are decorated with soft hues and have floor to ceiling windows (the best are sea facing). Boasting both a spoiling spa and an excellent restaurant serving British classics. A fabulous spot for a weekend getaway. See More

Check Availability

Boringdon Hall Hotel

Plymouth (South Devon)

40 rooms from £155

Foodies - Serious foodies will not be disappointed with the 3AA Rosette fine dining restaurant Acleaf

Spa breaks - Unwind in the state-of-the-art Gaia spa, one of the best in Devon.

Restaurant - Choose between the stunning fine dining or more relaxed Mayflower Brasserie

Great walks - Spend days exploring the rugged countryside of Dartmoor National Park.

A five star Country House and spa located next to the beautiful Dartmoor National Park. Smart rooms perfectly mix traditional and contemporary styles, the best featuring heavy four posters and in-room free standing baths. An extensive spa and innovative restaurant make this a very special stay. See More

Check Availability

Great walks - The Devon Coastal path is on the doorstep

Families

Restaurant - Delicious 2 AA Rosette standard dining, with menus featuring plenty of local seafood.

Private Hot Tub - Book one of the Ocean View self catering units for your own outdoor hot tub.

Relaxed family friendly hotel a couple of miles from Salcombe. Spacious rooms and suites, some with private patios and stunning sea views. Delicious food with an emphasis on local specialities. Wonderful walking on the doorstep and a warm welcome for canine guests too! See More

Check Availability

Dart Marina Hotel

Dartmouth (South Devon)

49 rooms from £160

Sailing - This hotel is places perfectly for sailing enthusiasts of all abilities.

Swimming Pool - Indoor heated pool with dedicated hours for family friendly swimming.

Sights nearby - Dartmouth and Kingswear Castle are both nearby and a great day out!

Spa - Offering a wide range of holistic and luxury treatments.

Recommended by - Good Hotel Guide

This property, in Dartmouth's buzzing harbour has a luxury spa and an AA Rosette awarded restaurant. Chic rooms in pale palettes are bright with large windows overlooking the River Dart. There are also self-contained apartments. This property is perfectly located to explore Dartmoor. See More

Check Availability

Thurlestone Hotel

Kingsbridge, Devon

65 rooms from £150

Local exploring - From hidden beaches to National Trust Properties and pretty seaside villages, there's masses to see and do.

Sights nearby - Within a short drive there is a wide range of museums, castles, National Trust properties and pretty seaside towns to explore

Tennis - Thurlestone has two all weather courts with racquets and balls to borrow if required.

Spa - The Voyage Spa offers a good range of beauty therapies, plus pool and hot tub

A charming family friendly property on the South Devon coast with superb facilities for all ages. There's a wide range of rooms with a traditional yet contemporary feel - many with a private balcony and sea view, plus award winning fine dining, superb spa, golf course and much more. See More

Check Availability

Kaywana Hall

Dartmouth, Devon

4 rooms from £170

Great walks - Down to the river Dart or through the valley

Cooking classes - Next door at Manna from Devon

Restrictions on children - Adults only

Swimming Pool - Indoor/outdoor

Recommended by - I Escape, Sawdays

Modern design, Californian style boutique B+B with a pool, close to the River Dart. Rooms have their own entrances and sit out terraces, so ideal if you don't want to be disturbed. See More

Check Availability

Local exploring - Perfect for exploring the countryside surrounding Torquay.

Birdwatching - The surrounding scenery offers a varied landscape that is home to a vast array of birdlife.

Sights nearby - Take a day trip to nearby Totnes, hailed as one of Britain's funkiest towns.

Great walks - Go for beautiful walks along the South West coastal path.

Beautiful views, charming hosts and lovely bedrooms all come together to create Bulleigh Barton Manor. A few miles from Torquay, it offers guests a great base for exploring the wonders of South Devon. See More

Check Availability

Burnville Farm

Dartmoor, Devon

4 rooms from £95

Sights nearby - Take a day trip to Tavistock, voted the UK's best market town.

Great walks - Dartmoor National Park is full of superb walking routes.

Swimming Pool - Seasonal outdoor pool

Recommended by - Sawdays

Set on a beautiful Devonshire farm amidst rolling green fields, Burnville Farm is an excellent B&B. Boasting lovely rooms, an outdoor pool and stunning views, it's a great base for exploring Dartmoor. Also offer self-catering cottages that are great for families and groups. See More

Check Availability

Watersmeet Hotel

Woolacombe, Devon

25 rooms from £134

Restaurant - Serves classic English dishes with the majority of the ingredients sourced locally.

Spa - In room treatments available plus steam room and hot tub

Views - Amazing sea views from all but two of the bedrooms

On the beach - Direct access to a sandy beach below the hotel

Recommended by - Good Hotel Guide

Classic seaside hotel with fabulous views over the North Devon coast. Tastefully refurbished rooms reflect the beach side location and the restaurant offers delicious food sourced from local ingredients. An romantic hotel for a seaside break and ideal for a family holiday too. See More

Check Availability

Spa breaks - A country house and contemporary spa which uses the latest technology alongside touches of ancient Tibetan knowledge.

Swimming Pool - Indoor pool

Views - Great views from hotel

Secluded setting - For escaping.

Recommended by - Good Hotel Guide

A quintessentially British country house set in beautiful, rugged Dartmoor. Charming rooms feature soft hues, tartan fabrics and sink-into beds. A fabulous restaurant (using the freshest local produce) and indulgent spa are a welcome respite after a day spent on the moors. See More

Check Availability
posted Monday, 28th March 2022