✓ Check Availability
✓ Book Online Now
The Best Hotels near Death Valley National Park
The moniker isn't the most welcoming, but that doesn't stop the Death Valley National Park being one of the world's most spectacular places to visit. The landscape is striking, with much more than the harsh, hot, sandy desert conjured up by the name. There are dramatically sculptured canyons, surprise oases, amazing springtime wildflower displays, and thousands of animals who've adapted to the harsh environment in fascinating ways. It's true that the best hotels near Death Valley National Park are those with pools and air conditioning. But beyond the facilities which will help keep you feeling comfortable during your visit, one of the things which really sets the best hotels near Death Valley National Park apart are the spectacular views of the valley and the mountains beyond.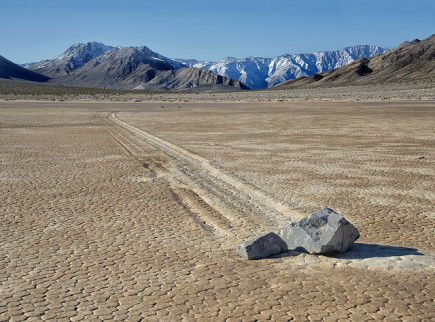 John Fowler via Flickr
You'll probably want to visit during winter or spring - when you'll see the wildflowers blooming. During this time the best hotels near Death Valley National Park are booked solid, so you do need to plan your trip in advance. If you're here in summer, the temperatures are up around 49°C (and this is where the record for the highest temperature ever recorded was set - 57°C) so it's even more important to have a hotel booking - you'll need to know where you can go to cool down!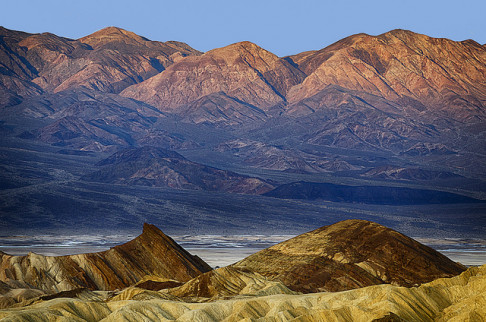 Tom Babich via Flickr
As well as the highest temperature, the Death Valley National Park also has the lowest point in America at Badwater Basin - which is 282 feet below sea level, the highest recorded sand dune in the US, the lowest annual precipitation of any region, and it's the largest National Park outside of Alaska.
As well as Badwater Basin, some of the park's other highlights include the 'Devil's Golf Course',

Su--May via Flickr
'Artist Drive'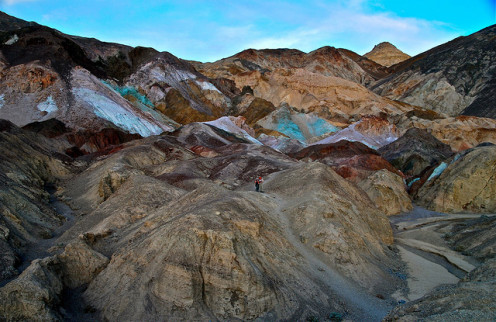 Digne de Lenea via Flickr
'Mustard Canyon'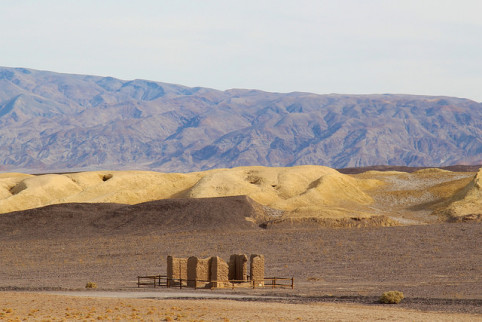 daveynin via Flickr
and 'Zabriskie Point'.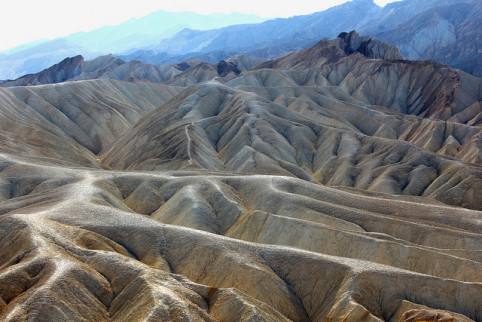 EagleCam via Flickr
The Best Hotels near Death Valley National Park
There are a couple of options when it comes to settlements within the park: Furnace Creek is near Zabriskie Point and the Visitor Centre, while Stovepipe Wells is near the sand dunes and the Marble Canyon. Outside the park options include Beatty, just to the northeast of Death Valley, with has some inexpensive accommodation options, Death Valley Junction, which is about half an hour from the park, and Shoshone and Lone Pine, which are to the west of the park.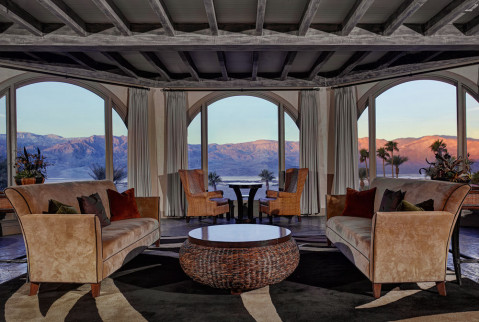 The Inn at Furnace Creek is in amidst a lush oasis, surrounded by the Death Valley National Park. As well as views of the park you have views of the Panamint Mountains from the 66 rooms. And there are all sorts of activities laid on: tennis, swimming and stargazing for example...
Still not sure which of our Guru's recommendations for the best hotels near Death Valley National Park might be perfect for you? Contact one of our friendly Gurus for advice.
California

Situated in a lush oasis, surrounded by the expansive Death Valley National park. Rooms are traditional in style & feature spectacular views of the park and the Panamint Mountains. There are facilities galore for all: tennis, hiking, swimming, photography, walking, stargazing and shopping.

Back to Nature - Set amid the dramatic backdrop of Death Valley

Views - Great views from hotel

Outstanding location

Local markets - Good for local colour.

Check prices
posted Wednesday, 6th July 2016
comments powered by

Disqus
Search the best hotels in California