✓ Check Availability
✓ Book Online Now
Best places to stay in Monument Valley
It only covers 13 square kilometres but this unearthly landscape of limestone "buttes" has come to symbolise the entire American West – and indeed America itself, in the world's imagination. The best places to stay in Monument Valley could more accurately be described as "within easy driving distance of Monument Valley" as this remote place is rightly free of numerous hotel developments spoiling the magnificently austere desert views.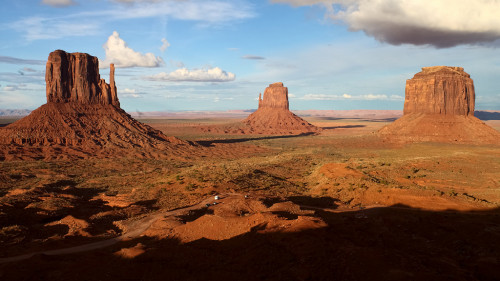 Flickr user Nicolas Vollmer
Thanks to the westerns of John Ford and many others, this part of the Colorado plateau, on the border of Arizona and Utah, featuring vast lumps of rock left isolated and erosion-resistant by a freak of geology, is kind of visual shorthand for Western adventure.
Though we can be sure that these natural cathedrals of rock mean different things to the Navajo tribes whose Monument Valley Navajo Tribal Park takes up part of the area. For conservation reasons, some parts of Monument Valley are only accessible with a guided tour.
Best places to stay in Monument Valley
Gouldings Lodge, Oljato, Monument Valley, Utah is a former trading post, now containing comfortable rooms with private balconies looking out onto an unforgettable landscape. Has its own Museum explaining the place's history, and encouraging visitors to appreciate and respect the local Navajo and their way of life.
Nothing here that fits the bill? Check out all our recommendations for Utah or Arizona, or contact a friendly guru for advice.
Oljato-Monument Valley, Utah

Discover the Wild West! See Monument Valley in all it's burnt orange glory. This lodge houses comfortable rooms with private balconies looking out onto an unforgettable landscape. Hillside suites are complete with kitchenette & cosy cabins have all facilities. The indoor pool will soothe the senses.

Sights nearby - Goulding's Trading Post Museum built to educate visitors to appreciate and respect the local Navajo and their way of life.

Swimming Pool - Indoor heated pool. Closed in the winter.

Remote - Desert location.

Outstanding location

Check prices
comments powered by

Disqus
Search the best hotels in Utah