20 Best Luxury Hotels in South Carolina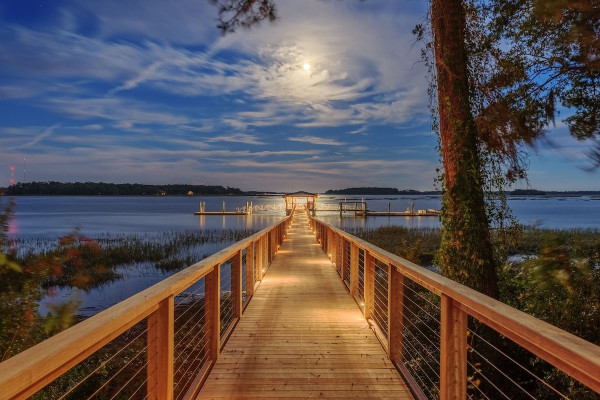 A southeastern state, known for its old fashioned charm and beautiful Atlantic shoreline, South Carolina is a destination that welcomes time and exploration. There are a myriad of reasons to visit — as many reasons as there are visitors — so our Gurus have decided the trick to recommending the best luxury hotels in South Carolina is to seek out the crowd pleasers, and then pepper the list with a few niche picks. They found Charleston to be a particular hub of elegant, luxurious hotels, but their recommendations also include some gorgeous resorts in the Sea Islands and in Myrtle Beach, and inland, close to spectacular waterways. Plus a number of impressive golf resorts. They hope they've found a luxurious South Carolina hotel for everyone…
For a Special Occasion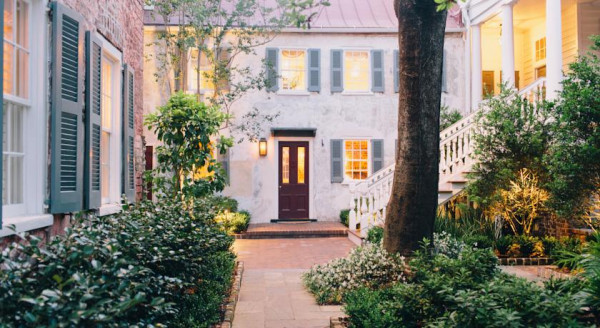 Zero George Street is a haven of comfort and elegance, occupying three early 19th century colonial era clapboard townhouses, each with plenty of Southern charm. All in there are 18 rooms and suites, with wonderful original features and luxurious linens — this is the stuff interiors magazines come calling for. Foodies will appreciate it here too, the original carriage house has been converted into a kitchen and restaurant, the kind of place where you can see the chefs at work. Zero George Street is a few blocks from the heart of Charleston, where there's plenty to see, do, eat and drink.
For a Beach Break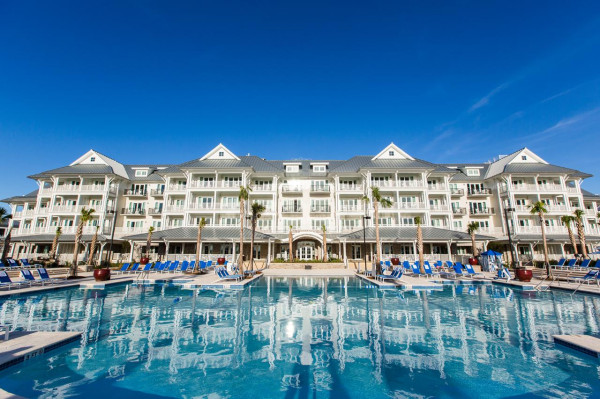 The Beach Club at Charleston Harbor Resort & Marina is a luxurious resort with a private beach and views over Charleston. Its 92 rooms and suites overlook a huge resort pool, then the marina, the ocean and the sunset. The range of room shapes and sizes is excellent — the Family Parlor Rooms are idea for families, with their second bedroom and private outdoor space, and they have some extremely romantic picks too. Families will appreciate the waterslides, playground, sailing camp and sunset s'mores, while couples will appreciate the range of dining options and waterfront Tiki Bar where they serve sunset cocktails. There's a large spa too.
The Sanctuary at Kiawah Island Golf Resort is a luxurious choice, offering the finest in Southern charm, in a beautiful and peaceful spot, looking out over ten miles of pristine, sandy beach, and the Atlantic at Kiawah Island. The resort has 255 rooms and suites, decorated with classical style, lashings of space and comfort, and ocean views. There's a world class golf course, tennis courts, a choice of five restaurants, a state-of-the-art spa and indoor pool, and plenty to do.
For Charleston Chic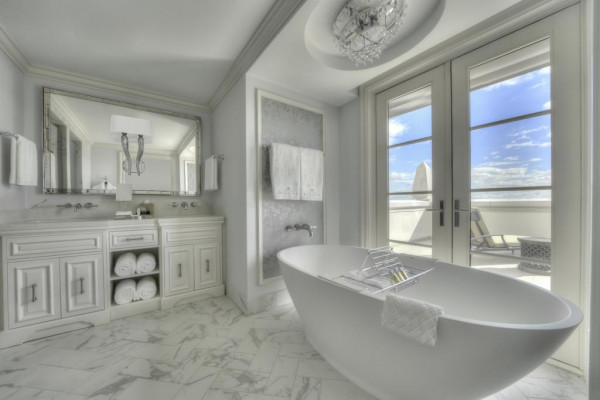 Charleston's Hotel Bennett occupies a memorable building — large and white, with grand entrances, large windows, and plenty of glamour. The inside is glamorous too, with spacious public areas, and 179 rooms and suites — some of them huge: complete with living space and private terraces. All have classical furnishings in pale shades, and lavish white bathrooms. There's a pool on the rooftop, where you can also find a Mediterranean restaurant, or you can eat in the hotel's signature restaurant, Gabrielle's, which has a European flavour.
The Market Pavilion Hotel is another chic choice in Charleston, with similar traditional luxury, and another show-stopping rooftop pool. The Market Pavilion is smaller, though, with 70 rooms and suites, and decor that incorporates a lot of dark wood, and plush prints and fabrics. The location is excellent, close enough to the historic waterfront to have cocktails on the foot terrace and watch the sun set over the ocean. Downstairs is a piano bar and a popular steak restaurant. For added romance opt for a Terrace Suite, they have private terraces and marble fitted bathtubs.
For a Relaxing Retreat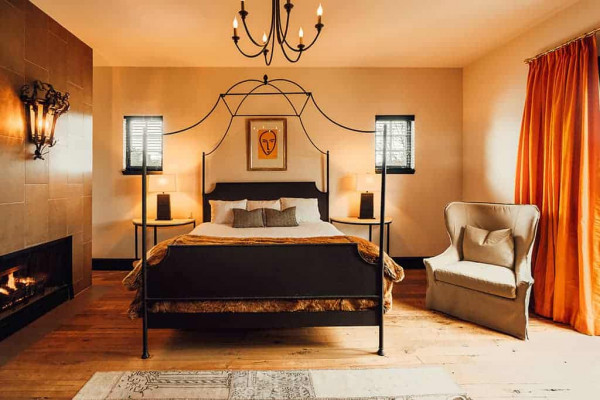 The Hotel Domestique offers a romantic, chateau-style experience in a peaceful, rural setting near the border with North Carolina. The 13 rooms and suites are simply, but very elegantly decorated, with a neutral colour palette and original art — the most romantic have four-poster beds, fireplaces, mountain views, and stand-alone tubs too. Perfect as a retreat, but also much loved by cyclists, they offer yoga classes and a massage and treatment menu that will appeal to both camps. The public spaces and cool, contemporary restaurant are a real pleasure, plus there's a pool and tennis courts.
For Couples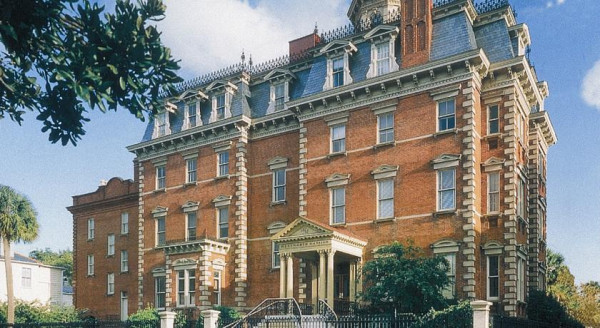 Wentworth Mansion is a Charleston charmer: a converted mansion from Gilded Age America, with marble floors, vaulted ceilings, ornate original stained glass and fireplaces, and some seriously impressive art and antiques. The mansion has just 21 rooms and suites, all different, plus a spa converted from the mansion's former stables. There's also a garden, library and a charming restaurant.
The Spectator is a boutique-style hotel in the centre of Charleston, with contemporary Art Deco style decor, and warm, Southern hospitality. It has 41 rooms and suites, with a white-on-white colour scheme and private balconies or terraces. The public areas have a more salty colour scheme, and there's a 1920s style speakeasy bar/library. There's no restaurant, but they offer breakfast, and you're a short stroll from numerous places to eat and drink.
86 Cannon is an elegant private Charleston residence built in the 1860s, turned seven room boutique hotel. The interiors reference European chic, with mid-century modern shapes and decorative wallpapers, and there's a very Southern warmth to the welcome. Think cheese and wine served on the verandah of an evening, generous breakfasts, and a charming neighbourhood of places to drink and dine. Adults only.
For a Weekend Break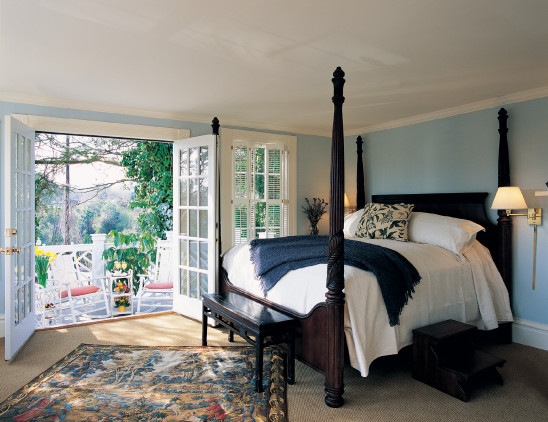 The Hotel Bella Grace is a stylish, contemporary hotel converted from a 1830s building in historic Charleston. The contemporary design conversion is pretty complete, with plenty of creamy white and pale grey marble, monochrome decor, and 50 cleverly designed rooms, suites and studios. Breakfast is included, but you can self cater if you would prefer, though there is a popular Charleston restaurant right next door. The hotel has a gym too, and beautiful terraces.
The Anchorage 1770 in Beaufort is an historic townhouse turned boutique hotel, with 15 grand, individually styled rooms and suites, all with plenty of luxurious features. Intimate and peaceful, and with fine dining facilities, this is something of a retreat — though with a very popular Lowcountry restaurant. The Anchorage also has a bar, an elegant garden, and complimentary bike hire.
The Willcox is a grand and graceful, 19th century mansion turned 22 room boutique hotel in Aiken, known for its fine Southern hospitality, classical interiors and proximity to some world renowned golf courses. Expect stylish antiques, plump furnishings, a welcoming spa, and a highly regarded restaurant.
For Families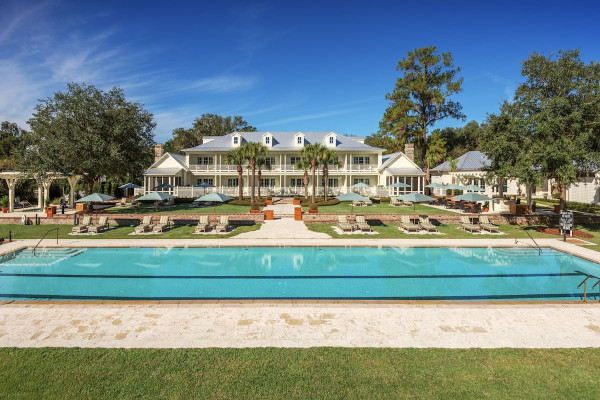 Montage Palmetto Bluff is a luxury resort on the May River, complete with a golf course, a choice of hotel pools and restaurants, and an impressive collection of accommodation that includes entire clapboard cottages and villas. This is certainly the sort of resort you don't need to leave — with a list of facilities that includes stables, tennis courts, a collection of boats for hire along with lots of watersports gear, five restaurants, a kids club, a private beach club, and hotel bikes. There's also a spa. And a bar. And meeting rooms!
For Resort Facilities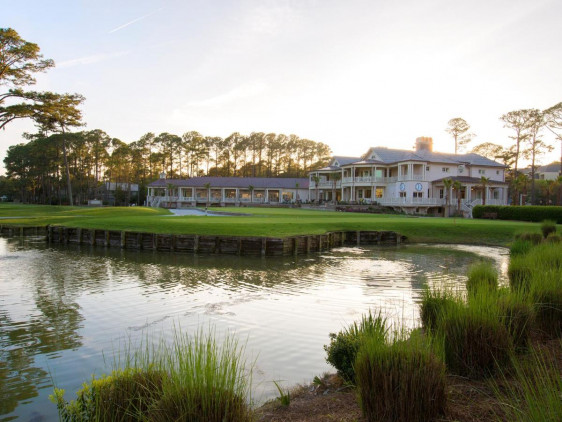 The Inn and Club at Harbour Town is a holiday resort with all the bells and whistles, including an award-winning golf course, a beach club, tennis courts, complimentary resort bikes, yoga classes and a chic clubhouse. There are 60 rooms and suites, with plenty of variation — there's an especially romantic part of the resort, which is in a different location to the especially family friendly part. The decor is elegantly traditional, and there's plenty of space.
For Design Chic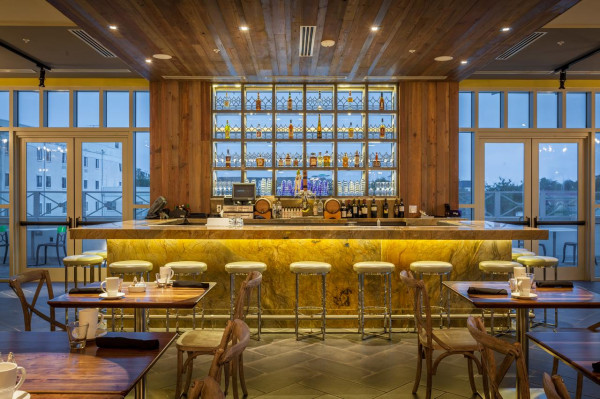 The Grand Bohemian Hotel Charleston is a luxurious choice in historic Charleston, with bold decor and a contemporary art gallery that spills into the rest of the hotel. As well as art, the 50 rooms and suites feature crushed velvet, printed drapes, ornate lighting, fluffy robes and smart TVs. Expect champagne on arrival, a funky rooftop bar with city views, and a fancy restaurant and wine bar.
The Dewberry is rather glorious 155 room hotel in an historic Charleston building. The decor is traditionally charming, with a chic blend of antiques and contemporary pieces, and a warm pastel colour scheme. The French brasserie style restaurant is a chic choice locally, and there are two bars, know for elegant cocktails and oysters. This hotel epitomises Southern charm at its contemporary finest. And it's family friendly too.
The Emeline is an elegantly converted historic hotel, with plenty of charm, decor worthy of an interiors magazine, a chic courtyard and terrace, and lively dining options. It's 212 rooms and suites are memorable for all the right reasons, and despite the hotel's size, there's an intimacy and character — think complimentary evening limoncello toasts and original artworks and vintage pieces.
For Historic Charleston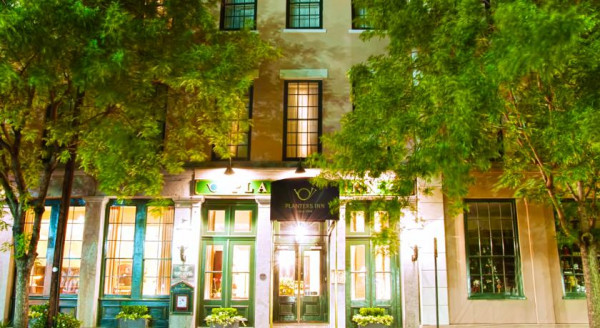 The Planters Inn was built in the 19th century, in a central Charleston spot, with classical decor and a fine dining restaurant. It hasn't changed a huge amount since then, though of course the idea of mod. cons. has progressed, and now each room has satellite TV, luxurious modern bathrooms, and many times updated furnishings — though still plenty of original antiques and art. The inn has 64 rooms and suites, plus an elegant restaurant with a terrace and bar.
The Charleston Place is a grand old hotel; it's large, historic and luxurious. Located in the historic heart of Charleston, and offering an impressive reception and old Southern hospitality, this hotel has class and facilities in spades. The grill has a menu of old Southern classics, the bar is popular with locals as well as guests, and there's an indoor pool, spa, gym and 434 rooms and suites.
Best B&Bs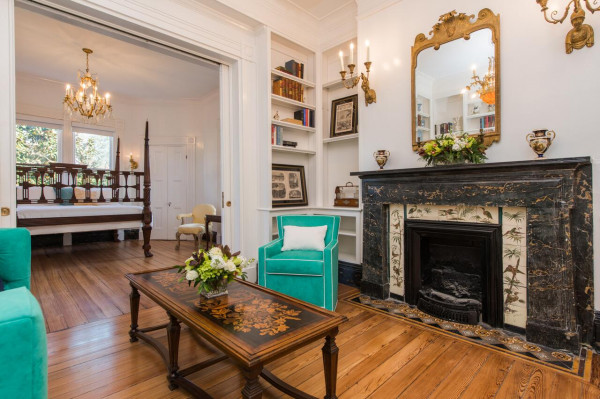 20 South Battery is an historic, private mansion turned 11 room B&B, carefully returned to its elegant best, which means four-poster beds, stylish sitting rooms, impressive antiques and period artwork. But also all the mod cons like smart TVs and fancy bath products. The South Battery location means sea views and the waterfront promenade, beautiful local gardens, and plenty of colonial character. There's no restaurant, but they do offer breakfast, and cheese and wine of an evening.
Still not sure where to book?
posted Tuesday, 24th May 2022