Where to Stay in West Sussex
Top Tips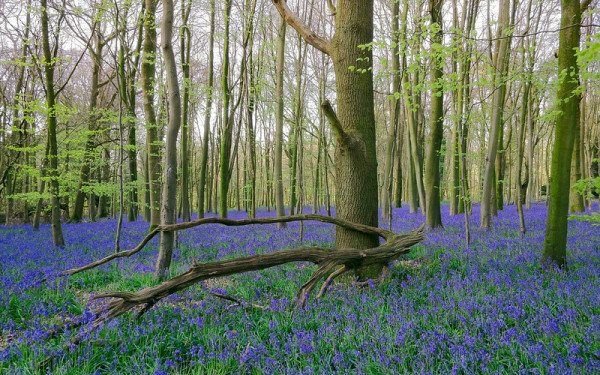 By Flickr user sagesolar
The Hotel Guru's guide to West Sussex will help you find the ideal part of West Sussex for your stay, whether you're here for the horse or motor racing at Goodwood, the polo at Cowdray Park, the Roman Villa at Fishbourne, the Bluebell Railway or the surrounding bluebell woods, the stunning South Downs, or just out for a stroll in the beautiful countryside followed by an excellent ale in a country pub. West Sussex offers both excitement and relaxation, a chance to see something new, or to enjoy life's simple pleasures. And it's the perfect place to do a bit of both, because almost half of West Sussex is protected countryside.
West Sussex Guide to Towns and Centres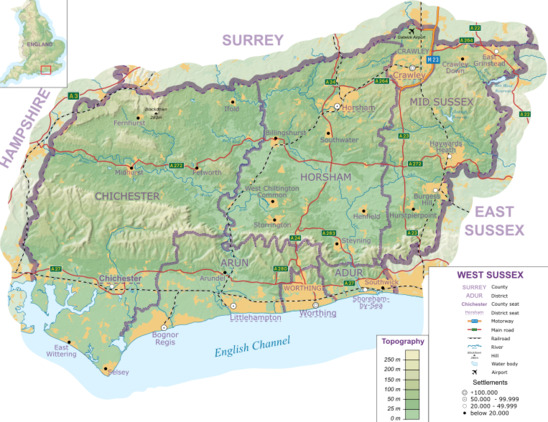 SANtosito / CC BY-SA (https://
Despite being extensively invaded by the Romans, and more recently Londoners snapping up second homes, West Sussex has thankfully retained plenty of its character. This is still a county of country lanes, grand manor houses, and welcoming pubs with panoramic views. Some of the best views can be found around the South Downs, a wooded ripple, arranged around chalk ridges, which crosses the county to the coastline. Picturesque little Arundel is a nice base for the Downs, and it's also close to several of West Sussex's Roman ruins, which are certainly worth travelling for. If you're looking for a little more excitement, West Sussex has a myriad of racing and sporting events, and numerous arts festivals.
Chichester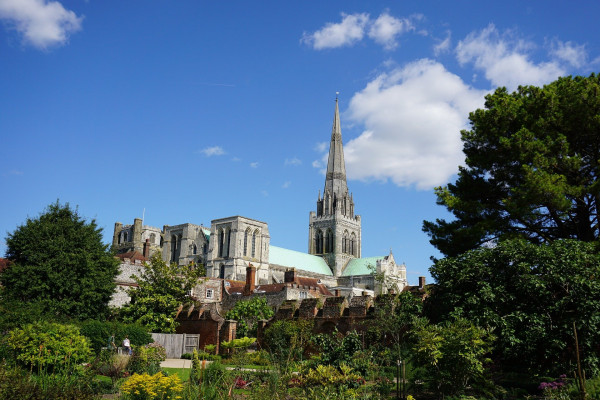 Image by Dan Jones from Pixaba
Chichester is a beautifully preserved Georgian market town, with rows of 18th century townhouses and a spectacular cathedral, which gives Chichester historic city status. Around the centre of town are the remains of its medieval town walls, but Chichester was founded by the Romans, and the really fascinating ruins are the Roman ones. Fisbourne Roman Villa is one of the most important Roman sites in West Sussex, and is less than two miles west of Chichester. The South Downs National Park and Goodwood Racecourse are to the north, and to the south is the coast.
Chichester's annual arts festival draws many, but it also hosts a real ale festival and a jazz festival, and during these events the pretty pedestrianised streets of the centre of town, lined with shops and cafes, buzz. Chichester is very easy to get around on foot, but the station connects it to London, Brighton, Portsmouth and Southampton, and there are buses to other local centres. There's a mixed bag of places to eat and drink, but hopefully that means there's something that really takes your fancy. Market day is Wednesday.
Pros and Cons
Pros: historic, picturesque, great events calendar
Cons: limited public transport
Ideal For: history-buffs, couples, sightseers, families
Discover our recommended hotels in Chichester, West Sussex.
Arundel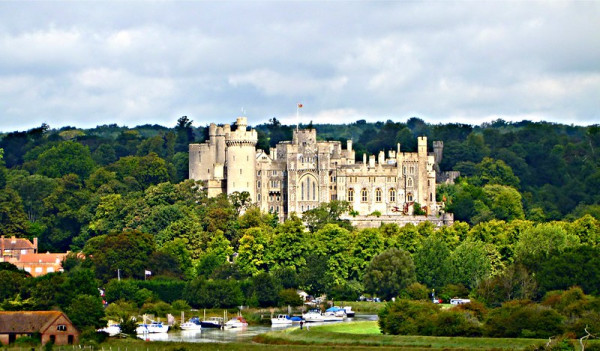 By Flickr user Herry Lawford
Arundel is small, but despite its size there are a lot of reasons to visit, and to stay here. Firstly, Arundel is extremely picturesque, with a castle that wouldn't be out of place in a book of fairytales, and an incredibly ornate cathedral, built in the late 19th century in the French Gothic style. It also has a small but charming museum. Around these buildings are streets of antique shops, galleries, and tea rooms. Outside the town is the Arundel Wetland Centre, and you're very close to the coast too.
Arundel is small enough not to have any requirement for public transport to get around town. You can reach the town by train in about an hour and a half from London Victoria, or around 20 minutes from Chichester. Or you can catch the number 85 bus from Chichester.
Pros and Cons
Pros: picturesque, charming, historic, rural
Cons: small, can be busy
Ideal For: history-buffs, B&B lovers, couples
Discover our recommended hotels in Arundel, West Sussex.
Bognor Regis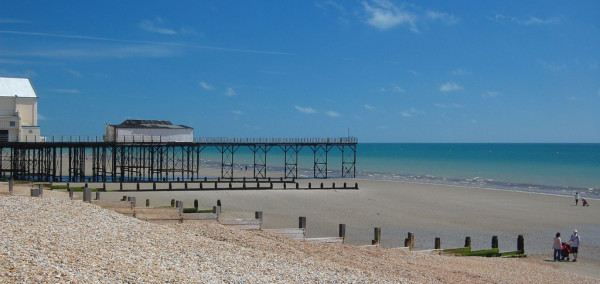 Flickr user Phill Davy
Bognor Regis is a fading seaside town with a reputation for sunshine, a long, long shingle beach, and charmingly traditional seaside amenities: think a pier with entertainments, B&Bs, grand hotels, pubs and restaurants, lots of fish and chip shops, and an international birdman rally. Before it was converted into a holiday resort in the 18th century, Bognor was a fishing and smuggling town, and there are some pretty lively stories about the town during this period.
Bognor Regis's station is on the Barnham branch line of the West Coastway Line, and is linked to London and other towns on the south coast.
Pros and Cons
Pros: seaside charm, family fun, long stretch of beach
Cons: faded, dated
Ideal For: families, traditional seaside holidays
Discover our recommended hotels in Bognor Regis , West Sussex.
Midhurst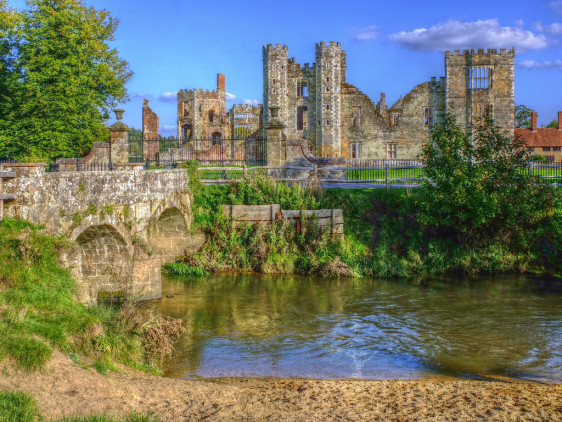 Flickr user Dave Price
Midhurst is an attractive, and wealthy, market town between the Low Weald and the South Downs, with no fewer than 94 listed buildings, including architecture from the Tudor, Georgian and Victorian eras. Almost every building around the market square dates from the early 16th century, but the oldest in town date back as far as 1120. Just across the River Rother is the ruin of Cowdray House, one of England's great Tudor houses. The Low Weald has woody hills and steep valleys, and the Downs chalky, rolling ones, so it's a very varied spot for walkers. Midhurst doesn't have a train line, it's just connected to local towns and centres by bus, but the town itself is small enough to walk around. Midhurst is very convenient for the races at Goodwood, or the polo at Cowdray Park.
Pros and Cons
Pros: impressive local architecture and landmarks, rural charm, great walking trails
Cons: limited choice when it comes to eating and drinking, limited public transport access
Ideal For: walkers, rural-escapers, history-buffs, mini-breakers
Discover our recommended hotels in Midhurst, West Sussex.
Petworth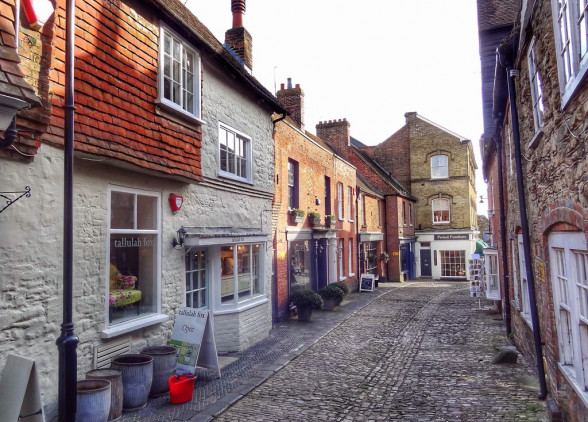 https://www.geograph.org.uk/pr
Petworth, Petworth House and the Petworth Estate, make for a beautiful, peaceful destination, perfect for a country escape packed with walking, eating and drinking well, visiting incredible local manors and sights, and browsing antique shops and galleries. An historic town, mentioned in the Norman Doomsday Book, today the town is probably best know for the house and estate, with its gardens, and deer park by Capability Brown, and an incredible art collection, including many woks by J.M.W. Turner who was a family friend of the owners. One of the other local historic attractions is the Petworth Cottage Museum, which is the converted house of a seamstress, whose family worked on the estate around 1910. There's no train service to Petworth, but there is a bus service from many local towns and centres.
Pros and Cons
Pros: rural, historic, picturesque, peaceful, memorable, great escape destination
Cons: limited access to public transport
Ideal For: mini-breakers, country-escapers, history-buffs, relaxing
Discover our recommended hotels in Petworth, West Sussex.
East Grinstead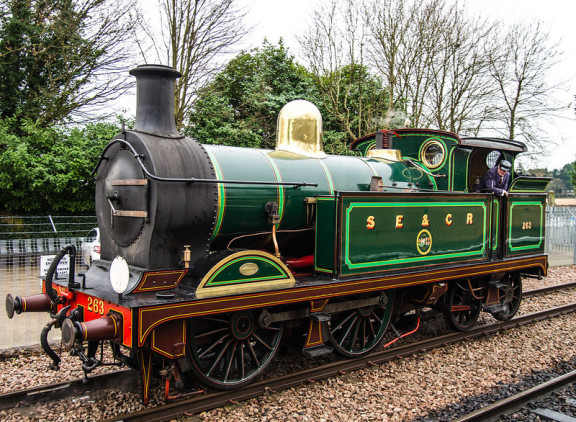 By Flickr user Michael Gaylard
East Grinstead is an ancient market town, well positioned on the 'corner' of four counties: West Sussex, East Sussex, Surrey and Kent, close to the spectacular Arts and Crafts property, Standen, and one of the main stations of The Bluebell Railway, one of England's best loved restored steam railways. East Grinstead makes an excellent base for exploring the region, but it also has some beautiful architecture of its own, including an impressive High Street with a long row of 14th century, half-timber buildings. It also has an excellent museum. There's the usual array of places to eat and drink, and it's within commuting distance of both London and Gatwick, so there are good rail connections and decent public transport links.
Pros and Cons
Pros: historic, atmospheric, great local base
Cons: limited choice of places to eat and drink
Ideal For: walkers, history-buffs, railway-enthusiasts, families
Discover our recommended hotels in East Grinstead, West Sussex.
Search the best hotels in West Sussex