Where to Stay in Los Angeles
Top Tips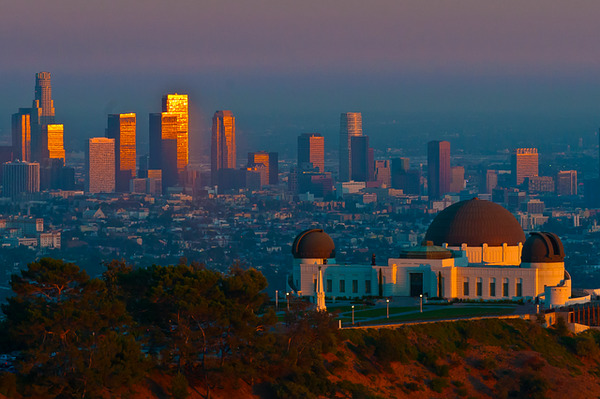 Ira Gorelick from Pixabay
While you probably recognise the names of a lot of Los Angeles' neighbourhoods — Hollywood, Malibu, Beverly Hills and Venice Beach for example, don't limit yourself to what you know. Why not let us make some recommendations too? Our guide to where to stay in Los Angeles has tips and recommendations for some of the most popular neighbourhoods for visitors to stay in, and good ways of working out which ones will be the best match for the sort of L.A. adventure you have planned.
Los Angeles Neighbourhood Guide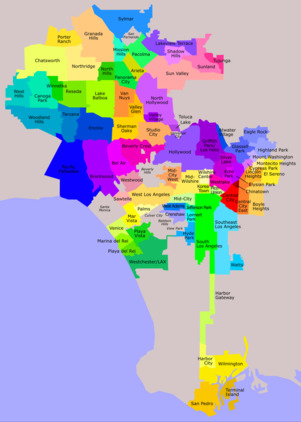 By Stilfehler - Own work, CC B
Los Angeles is packed with dreams bigger than those of Hollywood starlets and bronzed bodies; this is a hub for creativity of all sorts. Los Angeles is a city to inspire films, yes, but it also inspires musicians, fashion designers, architects, artists, chefs and restaurateurs, and entrepreneurs of all sorts. And even visitors will notice there's something intrinsically hopeful in the atmosphere. In L.A. you'll find old delis and hot dog vans beside super clubs and Michelin starred restaurants, flea markets beside big brand boutiques, and museums beside cinemas. You'll also find plenty of sunshine, plenty of preening, but also plenty of fun. Some of L.A. takes itself too seriously, but that's one of the reasons why it's so much fun for the rest of us!
When it comes to highlights and landmarks the list is long, but the Hollywood Walk of Fame, the Chinese Theatre, Griffith Park, Venice Beach, Universal Studios, the Museum of Contemporary Art, the Los Angeles County Museum of Art and the Getty Center, are all good places to start.
L.A. is a huge, sprawling city with a correspondingly huge public transport network, some parts of which work better than others. Some neighbourhoods have great access, whilst in others getting around is more of a challenge. L.A. is also known for its legendary traffic jams.
Downtown Los Angeles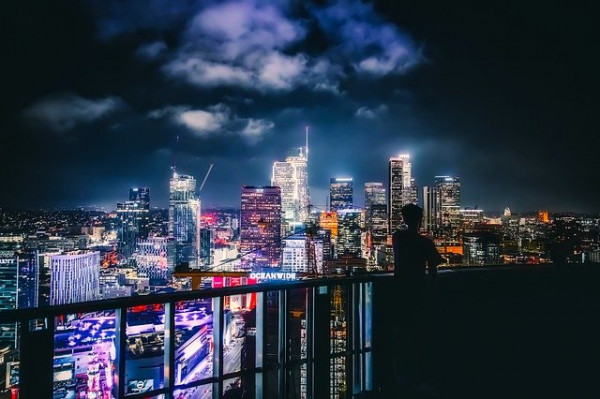 David Mark from Pixabay
Downtown Los Angeles is almost a cultural microcosm of the whole city, with lots of little neighbourhoods representing the city's diverse cultures. Chinatown, Koreatown, Little Tokyo and Olvera Street (Mexico) are the obvious ones, and all of these little neighbourhoods fuse the spirit of Los Angeles with the design, heritage and cuisine of the district's original inhabitants. In addition to these especially colourful neighbourhoods there are also some very Los Angeles mini neighbourhoods!
When it comes to landmarks Downtown Los Angeles has a lot on offer, including the Museum of Contemporary Art, Grand Central Market, the Japanese American National Museum, the Los Angeles Public Library and Library Town, the Cathedral of Our Lady of the Angels, the Disney Hall and the Grammy Museum. And there are gorgeous landmark buildings everywhere. Downtown is also a shopping hub, try the Fashion District for fashion, the Flower District for flowers, etc..
Downtown L.A. isn't just a cultural hub, it's also a hub for traffic and public transport. You can see some impressive road infrastructure, and catch the rail, Metro Bus, Metro Rail light rail or subway, or the DASH shuttle service in many directions from here. Plus, Downtown Los Angeles is where you'll find the incredible Union Station building, which looks just as it did in the 1940s. But this is the one part of town you probably don't need to use any of the above, despite the high density of attractions.
Pros and Cons
Pros: central, major attractions, museums, galleries, theatres, entertainment, lively nightlife, interesting architecture, excellent shopping, huge range of bars and restaurants
Cons: busy, working
Ideal For: sight seers, city breakers, shoppers, theatregoers, families, value seekers, night-owls
Click here to discover all our recommended hotels in Downtown LA
Hollywood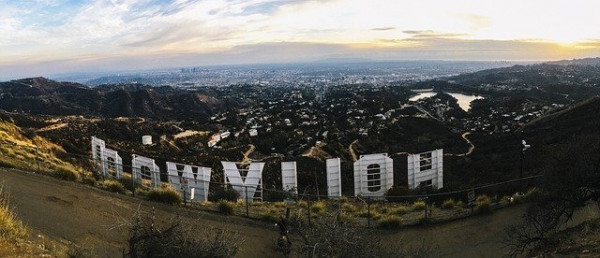 Free-Photos from Pixabay
When it comes to famous places there's nowhere like Hollywood. We've all heard so many myths and stories about Hollywood that it's writ large in our consciousness. From the Hollywood Walk of Fame to Hollywood Boulevard and the Hollywood sign, we all know what it looks like. But you might not know what lies beyond Hollywood Boulevard, Sunset Boulevard, Melrose Avenue, Capitol Records and the Chinese Theatre — with all the concrete-preserved handprints, where they hold the Oscars. First there are bars and restaurants, but radiating out from there are boutiques and galleries, some of them quite edgy, and streets of mansions, most of them once home to a star of one kind or another. These suburban feeling parts of Hollywood are more atmospheric, and visit-worthy than you might imagine.
Broadly speaking Hollywood's main streets are known for their nightlife and shopping, and Hollywood Boulevard itself for Hollywood history too. We've mentioned most of the major landmarks, but there's also the Hollywood Heritage Museum, Madam Tussauds Hollywood, the Los Angeles Zoo and Botanical Gardens, the Hollywood Forever Cemetery and the studio lots — some which are still working, and some which are more museum pieces, but many of them run tours. Hollywood is also home to some really incredible architecture, with a lot of Frank Lloyd Wright around.
Hollywood is fairly central, and on the Red Metro Rail line. You could walk all over the neighbourhood, from Hollywood Boulevard to Melrose. If you have access to a car make sure you take it up Mulholland Drive.
Pros and Cons
Pros: historic, famous sights, major sights, great shopping, great bars and restaurants, incredible nightlife, amazing architecture
Cons: busy, can be expensive
Ideal For: once-in-a-lifetime visitors, sight seers, night-owls, luxury lovers, celebrity spotters, glamour-pusses
Discover our recommended hotels in Hollywood, Los Angeles.
Beverly Hills, Bel Air and Brentwood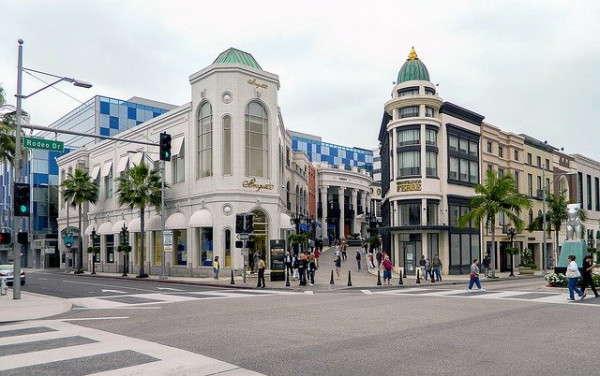 D Thory from Pixabay
These neighbourhoods are some of the most glamorous in L.A., home to mega-mansions, super-high-end boutiques and extra-swanky restaurants. This is where the A-listers, and wannabe A-listers live and hang out. Beverly Hills has had this reputation since the 50s, and there's still a smattering of that era's glamour to some of the streets and mansions, but there are also affordable pockets. Santa Monica Boulevard divides Beverly Hills and you'll find more of the shopping to the south of it including Rodeo Drive, and the more residential sections to the north. There are some really fantastic places to eat and drink around the shopping streets! Fashionable Bel Air and Brentwood are where you'll find most of the mansions, along long, broad, palm-lines streets. Brentwood has the Getty Centre, so it's more of a cultural hub too. There's a bus that connects Downtown Los Angeles and Santa Monica, and Beverly Hills and Hollywood are en route.
Pros and Cons
Pros: glamorous, famous, world-class shopping, world-class drinking and dining opportunities, luxurious, great architecture, historic
Cons: expensive
Ideal For: luxury lovers, treating yourself, shoppers, foodies, fashionistas, see-and-be-seeners
Click here for the best hotels in Bel Air or here for the best hotels in Beverly Hills
Malibu, Pacific Palisades and Santa Monica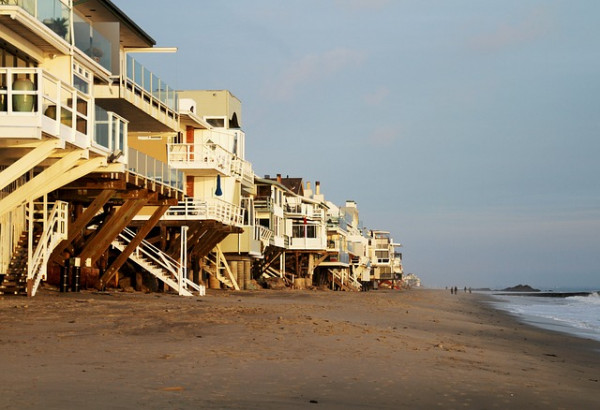 Monica Volpin from Pixabay
Santa Monica, Pacific Palisades and Malibu are in the northwest, coastal corner of Los Angeles. Beachside and beautiful beyond spoiling, Malibu has been a popular spot with movie star types since the 1930s, and it's a glamorous neighbourhood with plenty of high-end restaurants and bars, and several TV shows set here. Malibu's natural assets are its most accessible, so start off by enjoying the beach, at Zuma or Westward Beach, and upon strolling around you'll end up seeing some great surfing, the trails of Highlands Park, and how those who can afford it live, in the cafes, bars and bistros that line the Pacific Coast Highway. Pacific Palisades has some seriously impressive mansions, including the J. Paul Getty Villa, while Santa Monica is a bit more relaxed, a welcoming, home-y neighbourhood, albeit Hollywood style, meaning there are great farmers' markets, child-friendly cafes, family-owned restaurants and bars, and great parks, but they come with Hollywood price tags. The beach is still free, though, and there's the extra pep of famous Santa Monica pier, with the beach-side ferris wheel and roller coaster. Santa Monica is a good base for visitors to Los Angeles because it's close to Malibu and Venice Beach and Beverly Hills, plus it's got a great collection of smaller museums, galleries and bookshops which makes it popular with creative types. You can get out here by bus or train from the rest of Los Angeles, and once you're here it's easy to get around on foot.
Pros and Cons
Pros: beach-side, creative atmosphere, hip cafes and bars, glamorous, cultural sights, funfair
Cons: busy, touristy
Ideal For: beach lovers, families, beach loving city breakers, treating yourself, value seekers, celebrity spotters, cool cats, couples
Discover our recommended hotels in Malibu, Los Angeles, and our pick of the properties in Santa Monica
Venice Beach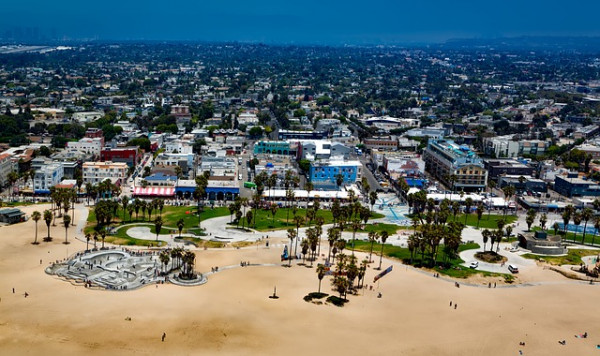 David Mark from Pixabay
Even if you don't stay in Venice Beach, most visitors to L.A. will come see its colourful boardwalk. Venice Beach does have canals like Venice, they were built in mimic, but instead of great Baroque villas the water is lined with architecturally diverse homes and mansions. Most of the cafes, bars, restaurants and shops are in the Abbot Kinney district, but the Boardwalk, which runs between Washington Boulevard and Ocean Boulevard, is the highlight, with its shops, snack shacks, arts and crafts stalls and booths, and other seaside-y businesses. And cafes, bars and restaurants in which to sit and take this all in. And of course there's the beach! Including Muscle Beach. The point of Venice Beach is to look and stare to your heart's content, and sometimes there are extra events and festivals to stare at too.
Pros and Cons
Pros: beach-side, eclectic atmosphere, hip cafes and bars, interesting architecture
Cons: off-centre
Ideal For: beach lovers, cool cats, creative types, architecture aficionados, relaxing
Discover our recommended hotels in Venice Beach, Los Angeles.
West Hollywood and Sunset Strip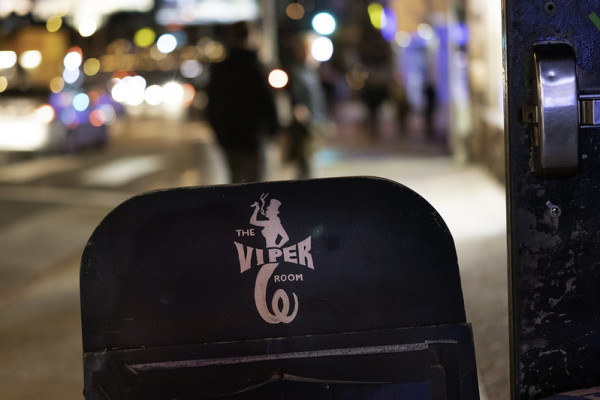 By Flickr user Lorie Shaull
West Hollywood is where you'll find the Sunset Strip, with all its glorious nightlife and music history, and some of Santa Monica Boulevard. It's a very different neighbourhood to Beverly Hills, known for its cool music venues and clubs, many of which have been here since the 60s. West Hollywood is still one of the best places to go out of an evening in Los Angeles and it's got a good collection of places to eat before hand. There's trendy shopping along Robertson Boulevard, and Santa Monica Boulevard. And a huge Pride festival, which reflects the area's large gay community.
Pros and Cons
Pros: lively nightlife, world-class music venues, trendy shopping
Cons: open all hours
Ideal For: night-owls, party people, shoppers
See more of our recommended hotels in West Hollywood.
Wilshire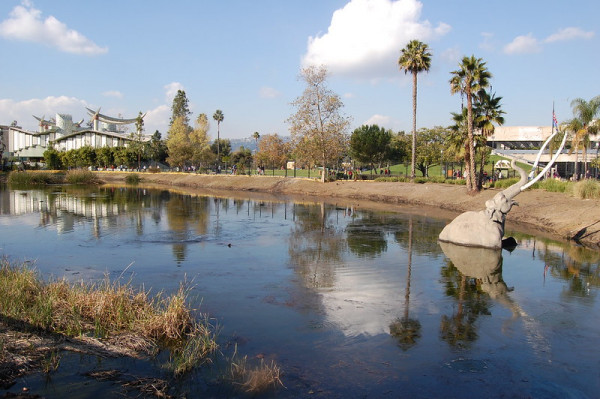 By Flickr user stu_spivack
Wilshire isn't one of the more familiar names on the Los Angeles map, but this is where you'll find the Los Angeles County Museum of Art, the Page Museum and the La Brea Tar Pits and the Petersen Automotive Museum, which sounds niche, but is a lot of fun. Wilshire is on the border of Hollywood and West Hollywood, so there are plenty of impressive properties to gawk at, and shopping to match. This is where you'll find Koreatown, so there's a definitely Korean flavour to a large percentage of the restaurants and cafes here. Wilshire is also known for its Art Deco architecture, religious icons and for its numerous farmers markets.
Pros and Cons
Pros: central, excellent markets, interesting foodie scene, cultural sights
Cons: un-touristy
Ideal For: value seekers, cool cats, visitors wanting to stay somewhere a bit different
Eastside Los Angeles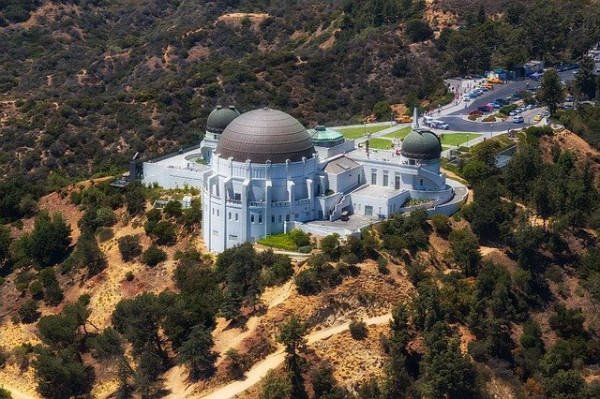 David Mark from Pixabay
The Eastside area is neighbours with both Downtown Los Angeles and Hollywood, and can be roughly said to sit between Griffith Park, and the triangle between Freeway 101 and Freeway 5, and inside are the neighbourhoods of Lincoln Heights, Highland Park, Eagle Rock, Griffith Park, Los Feliz and Silver Lake. Griffith Park is probably the best known name on that list, because of the observatory, but it also covers more than four thousand acres of land, some of it manicured, and some of it rugged and raw. MacArthur Park, the Silver Lake Reservoir, and the Barnsdall Art Park with its Frank Lloyd Wright designed complex on top, are also within the Eastside triangle, so there's plenty of opportunity to get outside here. Los Feliz and Griffith Park are also known for being the home of celebrities who're after a more low key lifestyle, screenwriters, musicians, producers, who might not be instantly recognisable household names, but they still have some pretty grand ol' mansions. These areas have some legendary bars and restaurants too. Highland Park and Eagle Rock are hip neighbourhoods, the sort of places where every cafe is fussy about their coffee, and there's a really cool array of mid-century signage and retro pizzerias, delis and shops. These neighbourhoods also have some great, niche museums and up-and-coming art galleries. Some of Eastside's best shopping can be found in Los Feliz, which has cool fashion, and Sunset Junction, for antiques and furniture, plus vintage fashion.
Pros and Cons
Pros: central, varied, great cafes bars and restaurants, green space, great shopping, hip
Cons: in the process of gentrifying so it's a mixed bag
Ideal For: hipsters, cool cats, outdoors enthusiasts, value seekers, families
Click here for all our recommendations in Los Feliz
Port of Los Angeles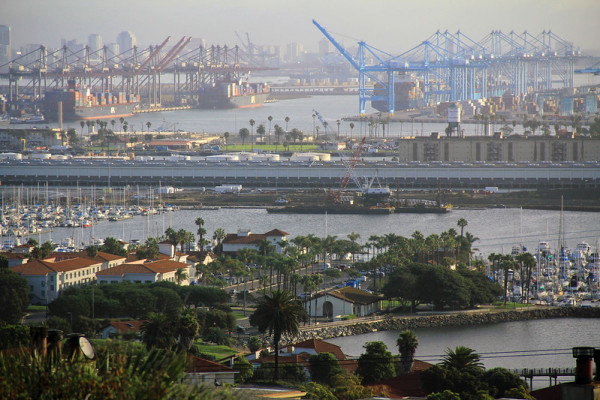 By Flickr user Green Fire Prod
The port of Los Angeles sort of merges with the port of Long Beach to form a huge, industrial feeling region on Los Angeles' coastline, but if you like water views and a maritime vibe, this is a great place to look for great value accommodation. The Harbour is where you'll see the aquarium, the Maritime Museum and the USS Iowa. This is also where you come to catch the ferry across to Catalina Island, a marine haven where you can snorkel and dive, sail, hike, and generally relax. There aren't a huge number of hotels in the harbour area, but the numbers are increasing, and there's a good collection of bars and restaurant along West 6th Street.
Pros and Cons
Pros: not touristy, waterside, great value, historic
Cons: off centre
Ideal For: value seekers, water-view appreciators, visitors wanting to stay somewhere a bit different
Search the best hotels in Los Angeles