The 20 Best Wine Hotels in Provence, France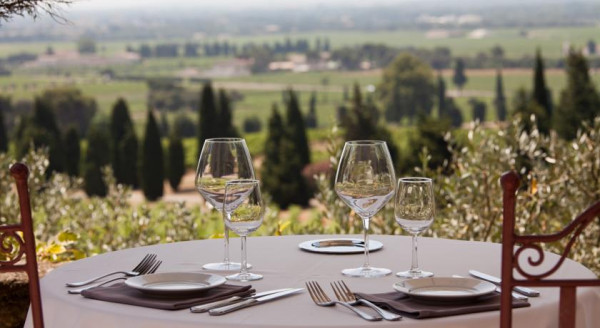 Wine has been grown in Provence since Roman times, a wonderful legacy to the region, along with the beautiful monuments and impressive amphitheatres and aqueducts. Now grape rows are as much a part of the Provençal landscape as lavender fields, misty valleys, and medieval hilltop towns, and this backdrop is just the thing for pairing with local wines. Our Gurus' recommendations for the best wine hotels in Provence are equally perfect pairings if one of your reasons for visiting Provence is to enjoy the local produce. They've discovered great wine hotels in towns and centres, as well as hamlets, rural spots and vineyard estates, and their recommendations are based on excellent cellars, wine tasting opportunities and location in regards local appellations, as well as their usual fussiness regarding interiors, service and amenities.
For the Scrapbook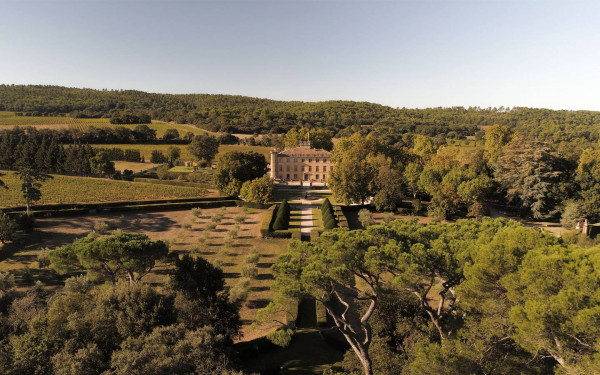 The Villa Baulieu is a grand affair — royal originally, having been built by Henry III in 1576. it offers 11 elegant rooms on a regal scale, complete with vast windows, opulent fabrics and intricate wallpapers. Outside are 220 hectares of grounds, encompassing a wine estate, gardens, fountains, and a swimming pool. There's no restaurant as such, but they offer impressive table d'hote dinners on request.
Le Clos Saint Saourde is a striking villa, partly carved into the great piece of granite it sits upon. Its handful of rustic rooms and cottages have some rooms like caves, while some are raised off the ground entirely, but they're all very elegantly decorated, and it feels cool and exotic — certainly memorable. There's also an outdoor pool, terraces and a lush garden. We recommend this hotel to groups and families, because there's a large shared kitchen, and indoor and outdoor tables you can use — they do offer a lovely breakfast though. But we also think it's a charming pick for a honeymoon, because the rooms are so private and romantic.
For a Countryside Escape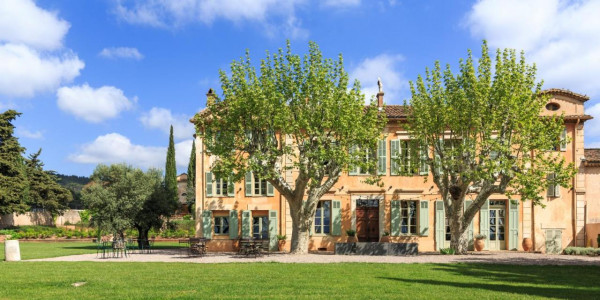 Le Château des Demoiselles is surrounded by the vines of its own 300 hectare wine estate, and the five gorgeous rooms have views over the them in every direction. This is the sort of villa many of us would imagine to sit upon a wine estate in Provence, with large, shuttered windows, and warm, neutral colours. Inside are original tiles and beams, and outside there's a pool and terrace. One of the suites is ideal for families, with two bedrooms.
The family-run Les Florêts at the foot of the Dentelles de Montmirail is set in the heart of the owners' own vineyards. The Gigondas wine that they produce is available in the restaurant where many of the dishes on offer complement it beautifully. You'll find homely furnishings in the rooms, a delightful terrace for eating outside, stunning outdoor pool with a view and excellent French service.
For Vineyard Views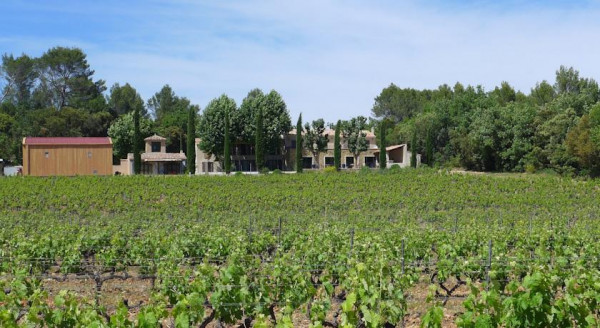 The Le Clos de L'Ours wine estate has a small but elegant hotel onsite, converted from an outbuilding, and renovated with contemporary, minimalist taste, whilst retaining the original details. There are just seven rooms and suites, all with views over the vines, snd some with views of the pool too. Guests are welcome to take complimentary vineyard tours and tastings.
For a Château Stay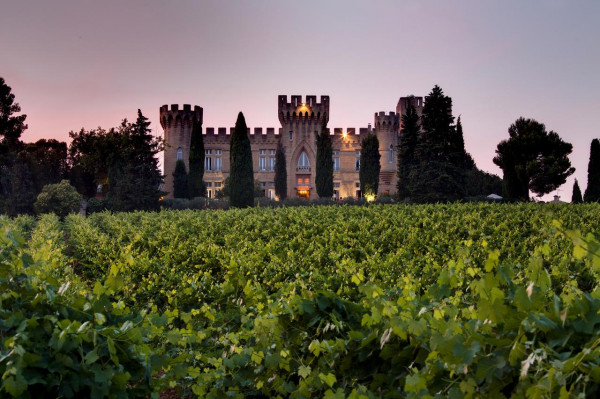 The Château des Fines Roches is an impressive château, with fantastic vineyard views in the Chateauneuf du Pape region. Carefully converted into an 11 room hotel, this building retains its elegant proportions, huge windows and warm Provençal colours, among other original features. The decor chimes well with the tiled floors and vast fireplaces, and there are cast iron four-poster beds and warm-coloured linens. The restaurant is charming, and spills out onto the terrace when the weather allows. Naturally there's an excellent wine list, and you can take lessons from the Sommelier if you want to know more about the local wines.
The Château Talaud is an 18th century built villa-type château, offering an excellent range of accommodation options, including two apartments and a separate cottage in the grounds which sleeps up to five. The decor feels traditional and luxurious, the château has a lovely collection of antiques, and through every window are wonderful garden views. It offers daily breakfast, and table d'hote suppers during the summer months, accompanied by wines made onsite.
The Château de Massillan, also in Avignon, is a beautifully renovated small château with turret bedrooms and elegant interiors. It's surrounded by parklands, a herb garden and lavender banks, and has a lovely lake, and an excellent restaurant serving regional cuisine. Plus there's a dedicated wine tasting room where you can sample the region's best organic wines.
For Romance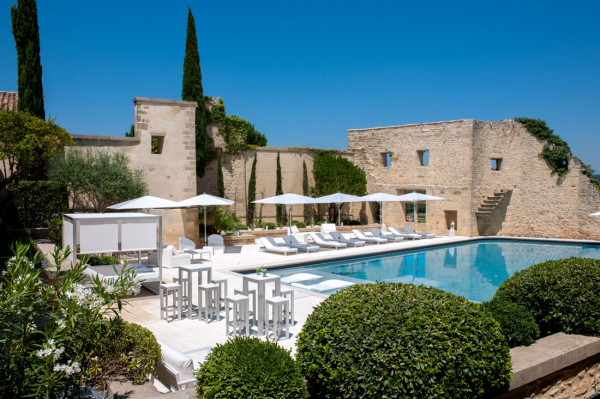 Le Vieux Castillon is a stunning, 30 room hotel in Castillon-du-Gard. A Renaissance building, made from golden stone, surrounded by terraces then cypress and olive trees, this hotel is perched on a hill overlooking a beautiful valley. The cuisine is flamboyant Provençal and the rooms and suites are very romantic.
Domaine Les Roullets is a romantic, stone-clad retreat beneath the Luberon mountains. There are no children or pets allowed, with the idea being to offer blissful peace in idyllic surroundings, accompanied by first class service. The six rooms and suites all have their own private balconies or terraces, overlooking immaculately manicured grounds and the hotel's own vineyards. The hotel offers a mouthwatering breakfast, plus there's a communal kitchen, and an honesty bar stocked with house wines.
For Foodies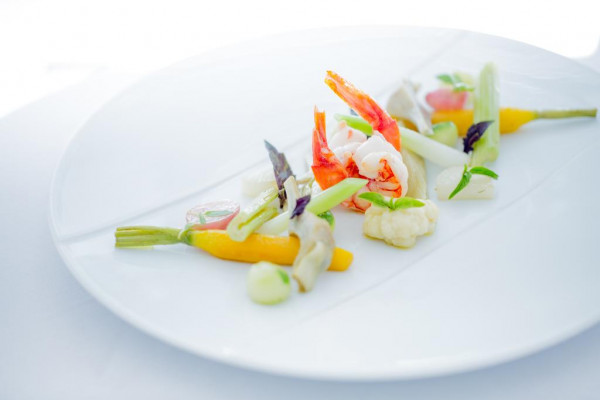 For a Provençal City Break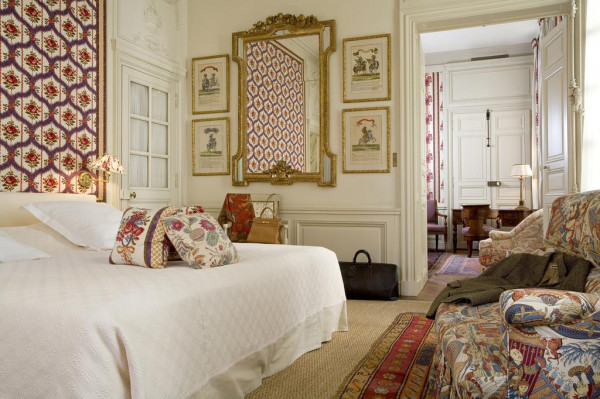 La Mirande, in Avignon, is an immaculately converted former Cardinal's mansion in the heart of the city opposite the Palais des Papes. There are 21 rooms and suites and a sculpture-filled courtyard where they serve Michelin starred cuisine. There's also a cookery school. Plus there's easy access to the miriad surrounding vineyards for winetasting opportunities!
For Families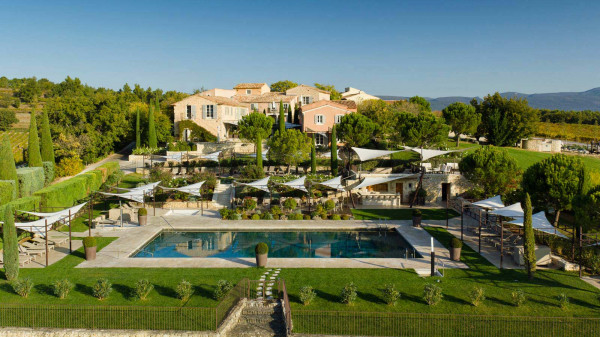 The 63 room Domaine de la Coquillade is the largest hotel on our list of the best wine hotels in Provence. So if you're looking for the kind of facilities you only find in mid-sized hotels, then this is the one for you, with its three restaurants — one with a Michelin star — landscaped pools and indulgent spa. If you're travelling with little ones there's a good range of accommodation options, plus a raft of activities on offer at the kids clubs which run in July and August, age appropriate pampering spa treatments, outdoor playground, bikes to borrow and special children's menus in the restaurants.
For a Rural Retreat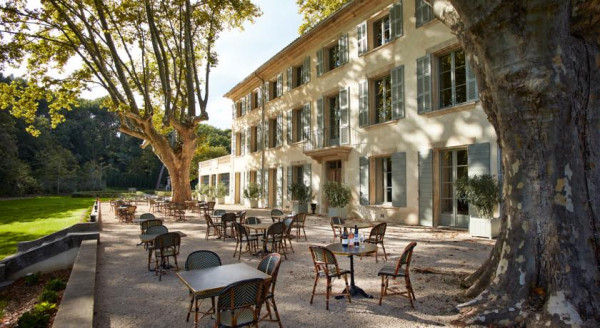 Nestled into the shady woods of the Luberon Valley, Domaine de Fontenille is an elegant 18th century villa hotel with 17 rooms and suites and super stylish decor that mixes rustic French country charm and comfort with contemporary Scandinavian colours and minimalism. The hotel is part of a vineyard, so the cellar is packed with very local vintages, and there are two restaurants, both under the wing of a Michelin-stared chef and both specialising in regional cuisine. There's a spa and gym, and they offer yoga classes of a morning.
La Bastide de Marie is a beautifully converted Provençal bastide in a postcard-perfect setting, overlooking cypress trees, manicured gardens and vineyards. In addition to 14 rooms and suites, the bastide has an excellent restaurant and an exceptionally nice pool too.
For Great Value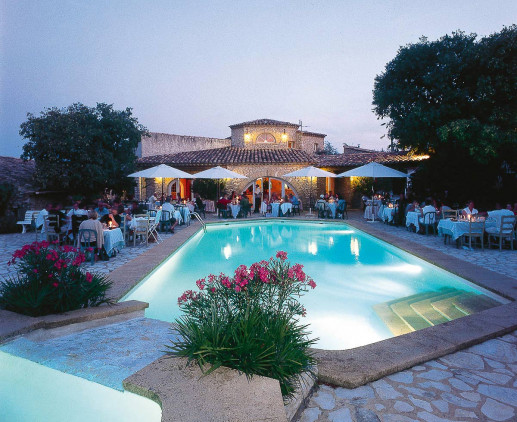 L'Enclos des Lauriers Roses is a fabulous country hotel surrounded by vineyards, orchards and olive groves. There are 23 airy and bright rooms, arranged in a way that's perfect for families or groups. This hotel also has four pools, a great restaurant and equally impressive wine list.
For a reasonably priced hotel with a Michelin star you can't go past the Hostellerie Berard et Spa in La Cadière-d'Azur, a lovely hilltop villa overlooking a green valley. There are 40 chicly decorated rooms and suites, most with private balconies, and an excellent spa and wine cellar.
Still not sure where to book?
posted Wednesday, 12th January 2022