✓ Book Online Now
✓ FREE cancellation on most rooms
Wine Hotels in the Rhone Valley
Running from the foodie superstar-city of Lyon through to the northern reaches of Provence, the Rhône valley contains some of France's oldest vineyards. Covering such a long stretch of country means that the wine hotels in the Rhone valley are similarly scattered across a wide area. One of the nicest ways to enjoy the area is to take a leisurely drive between them.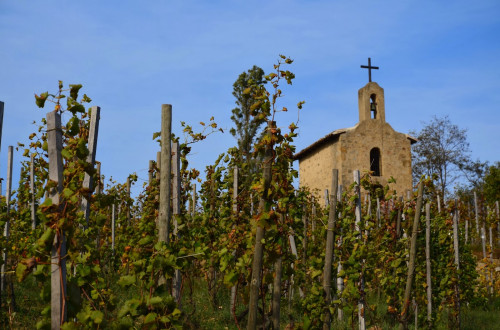 Between Vienne and Valence you'll find appellations such as Côte Rotie, Hermitage and Crozes-Hermitage. Further south, as you slip into Provence, the large village of Châteauneuf-du-Pape - named after the summer palace of the Avignon popes - gives its name to the biggest appellation in the southern Rhône.
Its rich red wines, redolent of the south's heat and herbs, are made from several grape varieties, predominantly Grenache, syrah and Mourvèdre. Also in the south are the vineyards of the Côtes de Rhône Villages.
Rhone valley wine hotels for foodies
Lyon boasts a cornucopia of cooking hot-spots. For our pick of wine hotels in the Rhone Valley for foodies, we've chosen two hotels with Michelin-starred restaurants so you don't have to walk far for supper.
Lyon
Villa Florentine, a former convent converted with panache which also has an infinity pool;
and Cour des Loges, a sumptuous mini-palace with courtyard dining room, spa and rooftop garden.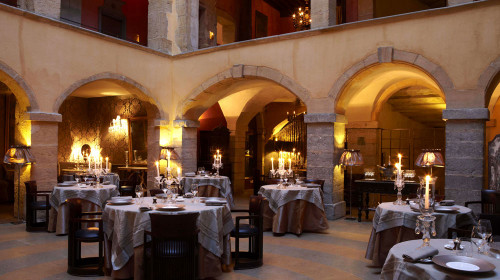 Further south
in Valence, food-lovers will make a beeline for Maison Pic, the sleek designer hotel where chef Anne-Sophie Pic heads its three-Michelin-starred restaurant.
Rhône valley wine hotels for romance and relaxation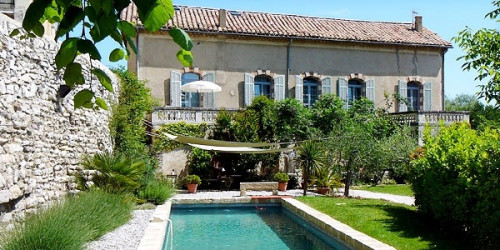 Close to Bollène, Château de Massillan is a romantic château with elegantly cool interiors, covered terrace, large pool and turret bedrooms.
Staying at Maison Felisa, near Saint-Laurent-des-Arbres, is like being invited to the country house of a friend who has effortless contemporary taste. Rooms are chic, the atmosphere relaxed, and terraces and quiet garden corners abound.
Indoor and outdoor pools, a hamman and a Jacuzzi are just some of the things that make Justin de Provence, a converted Provencal farmhouse, a place where you will totally switch off. Rooms are a mix of rustic and vintage, much restored by the artist owners.
Rhône valley wine hotels for château-lovers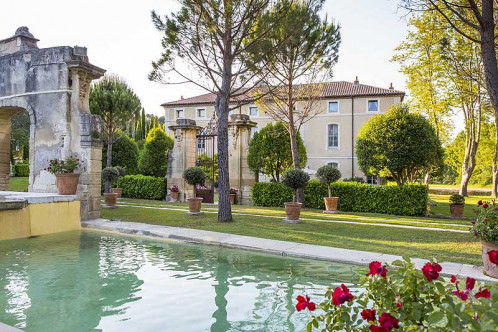 Château de Varenne, near Châteauneuf-du-Pape, is all picture-perfect blue shutters, pale stone and secret terraces. Rooms have a pretty Provencal feel plus there are idyllic gardens, a pool and wine tours.
In the same region, and surrounded by its own vineyards, Château Talaud has five vast and luxurious, antique-strewn rooms. Windows overlook manicured gardens which contain two 18th-century spring-water filled pools. Dinners are served in the summer months and there are several self-catering properties if you prefer.
Rhône Valley wine hotels for good value
It's not all top notch, luxury chateaux here. There are plenty of options amongst our selection of wine hotels in the Rhone Valley to suit all tastes and budgets.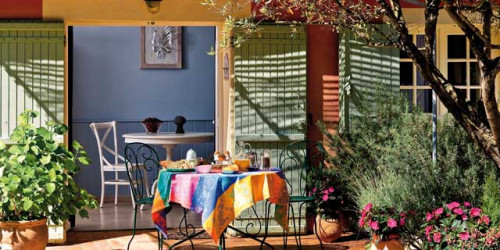 In the charming village of Albon, Domaine des Buis is a relaxed, traditional townhouse with just five rooms and a quiet pool amidst gardens. Breakfast is provided and you can rustle up your own suppers.
Jacques and Laurence Deschamps are partly responsible for the warm, welcoming atmosphere at Piolenc's Auberge de l'Orangerie, a simple, cosy inn of rough stone walls and terracotta floors. The vaulted dining room serves up excellent food, plus there are wine-tasting opportunities.
Les Florêts, set amongst the hotel's own vineyards near Gigondas, is a family-run hotel with pool, stunning views and a terrace dining room.
Unusual Rhône valley wine hotels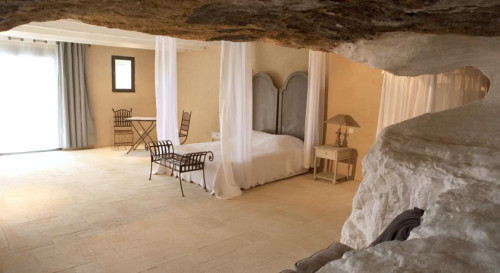 Maison de la Pra, in Valence, is an imaginative conversion of a 16th-century mansion where exposed stone and rafters combine with striking colours and contemporary lighting.
To the east of the Rhône, in the Dentelles de Montmirail, near Beaumes-de-Venise, and high above vineyards, Le Clos Saint Saourde is a striking hotel that has been built into the rock face. Expect rustic-chic rooms with plenty of exposed stone and open rafters.
The charm and attraction of this region's wines are their sheer variety. And the wine hotels of the Rhone valley reflect this in spades. Nothing here that fits the bill? Check out our ultimate guide to wine hotels in France for a full selection. Alternatively call or email a friendly guru for advice.
Lyon

Contemporary design and Italian Rennaisance in an attractive former convent. Romantic rooms with private terraces overlooking Lyon. A gourmet restaurant, beauty treatments, and swimming pool make it a relaxing spot to explore Lyon from.

Gourmet - Michelin starred restaurant

City Style

Swimming Pool - Lovely Outdoor Pool

Sights nearby - Well located for major sights.

Recommended by - Relais & Chateaux

Check prices

Lyon

Nothing short of spectacular. A Five Star hotel with a Michelin restaurant. Classical elegance throughout constructed by artists. Think romantic Venetian landscapes and Italian opera framed with silk embroidery. Fabulous spa, rooftop garden, and wine vaults.

Foodies - Michelin stars.

5* Luxury - Very high service standards.

Gourmet

City Style

Recommended by - Fodors, Kiwi Collection, Small Luxury Hotels

Check prices

Valence

Luxurious, contemporary hotel which is renowned for it's three Michelin Starred restaurant - headed by Chef Anne-Sophie Pic. Bedrooms are cool and sleek with designer pieces from Bruno Borrione. Enjoy the beautiful garden and outdoor swimming pool. A foodies delight.

Cooking classes - Available at the hotel

Designer - Uniquely designed interiors.

Swimming Pool - Indoor/outdoor

Check prices

Saint Laurent des Arbres

Fantastic country house with a very relaxed atmosphere. Walled gardens, sunny swimming pool, shady terraces, and contemporary chic rooms. A real home from home, if home were in the South of France.

Sights nearby - Easy access to Avignon, Orange, Nimes and the Gorges d'Ardeche

Private Hot Tub - Three rooms have their own private jacuzzi bath tubs

Restrictions on children - Not suitable for babies

Swimming Pool - Outdoor pool

Recommended by - I Escape

Hotel Website

Avignon, Provence

Beautifully renovated chateau with turret bedrooms, parklands, and lake. Large swimming pool and elegant interiors perfectly marrying modern decor with a historical property. Herbed gardens and lavender banks fill the air with delicate aroma. Some of the regions finest cuisine. The ideal escape.

Total relaxation - Unwind by the pool, surrounded with the aroma of lavender and the sound of cicadas- complete tranquility

Foodies - Spectacular modern french cuisine- the six course tasting menus and excellent wine never fail to wow.

Cooking classes - Learn from the regions best chefs using produce from the chateau's own garden.

Great walks - Walk right from the property through typical Provence countryside.

Recommended by - Mr & Mrs Smith, Sawdays

Check prices

Orange

Isabelle & Philippe, the owners of this wonderful Provençal farm, have thought of everything; from the enchanting rooms with the furniture sourced & restored by them personally, to the jacuzzi, hammam, café, and outdoor & indoor pools. Isabelle's sculptures decorate the 7 hectare grounds.

Full of character - Isabelle spends her time in the art studio, crafting the sculptures that you see around the house and grounds

Sights nearby - Isabelle & Philippe will be delighted to suggest restaurants, markets and the must-dos of the area

Great walks - In the beautiful Provence countryside with the fields of lavender and picturesque villages

Spa - Hammam, jacuzzi, heated pool, massages

Check prices

Gard

In the heart of the provence countryside sits this charming hotel overlooking the Rhone Valley. Enjoy a stay in the lovely comfortable bedrooms, then fling open the pretty blue french shutters and revel in the view of the beautiful gardens and swimming pool. A picture perfect place in Provence.

Sights nearby - A good base from which to visit Avignon, the Pont du Gard and Saint Rémy de Provence

Spa - Massage and beauty therapist on request

Cooking classes - Cooking classes at the Chateau

Swimming Pool - Outdoor swimming pool

Check prices

Loriol du Comtat, Provence

18th century Provencal chateau turned luxury B&B. Five stylish bedrooms with antiques throughout plus two apartments and a separate cottage for self catering. Table d'Hote dinners available during summer months accompanied by wines made on site.

Swimming Pool - Two level bassin filled with spring water which dates back to 1772 and overlooks the vineyards

Sights nearby - Easy access to both Avignon and Orange

Great walks - Good for walkers.

Local markets - Good for local colour.

Recommended by - Sawdays

Check prices

Albon, Rhône-Alpes

A traditional 18th century house in a charming village. Just five rooms, sleeping 3 each, some modern, some more traditional. Large living area and communal kitchen, pool and gardens. Excellent value for a family or a big group of friends. Low-key and laid back.

Traditional - An 18th century house with Austro- English furnishings.

Sights nearby - Historic monuments to explore in the village.

Kayaking - Available locally.

Great walks - Good for walkers.

Check prices

Piolenc, Provence

A modest but delightful inn in the pretty town of Piolenc. The simple attractive bedrooms exude Provencal charm with antique furnishings, exposed wood beams and whitewash walls. However the real magic happens in the vaulted dining room, where they serve unmatched French cuisine and wine. Delicious.

Restaurant - Recommended.

Sights nearby - Check out Orange, an exceptional, UNESCO-listed Roman heritage site only five km from the town.

Local markets - There is a year round flea market in the town where you can pick up a range of curious objects.

Great walks - Wander around the town of Piolenc, explore the Provencal alley's and historic sites.

Check prices

Gigondas, Provence

A charming family-run hotel set amid vineyards, lush gardens and century-old trees. Rooms are elegant and light. Excellent local cuisine is served on a shaded terrace with wine from the hotel vineyard. Lounge by the pool and enjoy the panoramic views. The ideal Provence property.

Country Escape - An enchanting getaway- sip wine at the foot of the majestic Dentelles de Montmirail, surrounded by lush gardens and vineyards.

Local markets - Check out the weekly picturesque Provençal markets displaying a wide range of local produce.

Great walks - Over 300 km of marked hiking trails wind through lavender fields and vineyards.

Sights nearby - Day trips are possible to Orange, Avignon or Vaison-la-Romaine.

Recommended by - Sawdays

Hotel Website

Valence

Stunning conversion of a 16th century mansion located in the historic centre of Valence. The rooms are spacious and airy, with smart modern, tiled bathrooms, whilst maintaining a rustic charm with exposed stonework and wooden beams. A chic base from which to exlore the area.

Great walks - The rivers Drome and Ardeche meet just a short walk from the hotel

Local markets - Visit the markets in the towns and villages of the area

Sights nearby - 550 yards away from Valence Cathedral

Views - Great views from hotel

Check prices

Beaumes de Venise, Provence

A striking hotel built into the rock face and surrounded by vineyards. Rustic chic rooms and cottages have wrought iron four poster beds, day beds, large bathrooms, and sofas. An outdoor pool, terraces, and gardens. Extremely romantic, laid back, and boutique. Perfect for a honeymoon.

Honeymoons - Lots of privacy and gorgeous rooms built into the cliff face.

Great walks - Walk the Dentelles de Montmirail, a small range of mountains which sit between Beaumes de Venise to the south

Local markets - L'Isle-sur-La-Sorgue is home to one of Europe's biggest antiques markets. It takes place every Sunday

Sights nearby - Orange, an old Roman town

Recommended by - I Escape, Sawdays, Fodors

Check prices
comments powered by

Disqus
Search the best hotels in Provence