The Ultimate Guide to the Best Wine Hotels in France
All our wine region collections:
For many people, the joy of exploring France is the chance to sample its wines in the regions in which they're made; for some people, it is the only reason for visiting France. Fortunately, French hoteliers realise this, and so looking for wine hotels in France becomes a pleasurable task. Some hotels lie deep in the vineyards - roll out of bed and into the vines, more or less - while many specialise in wine tours and tastings.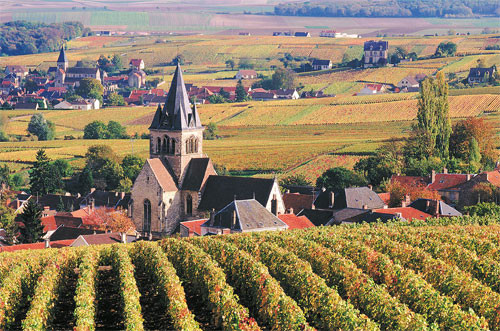 As good wines deserve good accompaniments, it goes without saying that these French wine hotels also score highly for their food - whether Michelin-star gourmet standard or French provincial cooking at its best.
So, where to go? Making a choice is both the joy and the hardship as each region throws up distinctly different wines determined by the 'terroir', the vigneron's skills and, of course, the grape - in France, over 60 varieties are grown.
Burgundy and Bordeaux rival one another for producing France's finest wines. Other people are lured by the more subtle wines of the Loire. The Rhône is best-known for its spicy reds; by contrast, Alsace is home of tall-bottled whites while Beaujolais is famed for its youthful red wines. The Savoie and Languedoc-Roussillon wine regions also have their distinct charms. Other people just start as they mean to go on and head straight for Reims, capital of glorious Champagne.
We have sipped and tasted our way around these regions and found some of the most delightful places to stay. Use our guide to the best wine hotels in France and you can do the same.
Let's not beat about the bush: the reason people come to Reims and Épernay, the region's two principal centres, is to taste the bubbly stuff. Wine has been produced here since Roman times, but commercial Champagne only since the 19th century when glass-moulding techniques had been developed that were strong enough to contain the fizz of the grapes' double fermentation process.
You can take tours around the Grand Marque Champagne houses, such as Taittinger and Mumm, and their 'caves'. A less costly way of learning about techniques, while still sampling, is to visit the smaller vignerons.
There's a clutch of hotels with Michelin-starred restaurants to choose from.
In Reims, for example, L'Assiette Champenoise has half-timbered exteriors and sleek interiors; some rooms with balconies and Jacuzzi baths.
Château les Crayeres is drop-dead château-gorgeous with classically designed rooms, a vast terrace and around 400 Champagnes to try.
To the south, in Épernay, the small, family-run, Les Berceaux has a charming atmosphere and a passion for food, hence its two restaurants, one of which has earned a Michelin star.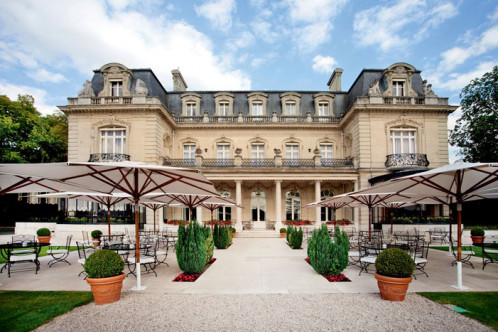 Near Epernay
In Épernay you'll find the sleek, parquet-floor-and-chic-cream La Villa Eugene - it was once owned by the Mercier family.
A little to the south, Château d'Etoges has all the château essentials - four-poster beds, grand fireplaces, moat - as well as a spa and wellness centre.
Known since Roman times for its wines, Burgundy's finest are concentrated in two regions: the Côte d'Or around Dijon and Beaune, and Chablis. The former produces the revered Côte de Nuits red wines and Côte de Beaune whites. Chablis is noted for the famous dry whites of the chardonnay grape. Indeed, some people believe the Chablis grand crus are the finest white wines in France.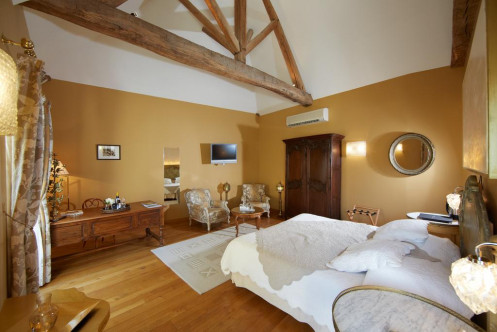 The fabled vineyards of Bordeaux spread out from the eponymous city in a vast semicircle, from the northern region of Médoc - with its famous names such as Pauillac and St-Estèphe - through the fortified medieval town of St-Émilion in the east to Sauternes in the south.
For many people, a wine hotel in France means a chateau. The Bordeaux region does not disappoint.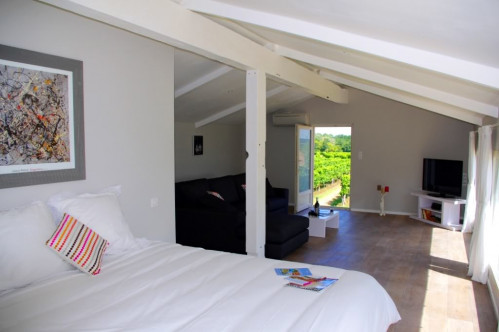 Some of France's oldest vineyards are found between Vienne and Valence in the Rhône valley. Here you'll find appellations such as Côte Rotie and Crozes-Hermitage. The other famed areas are around Châteauneuf-du-Pape, between Avignon and Orange, and the villages on the slopes of the Dentelles de Montmirail.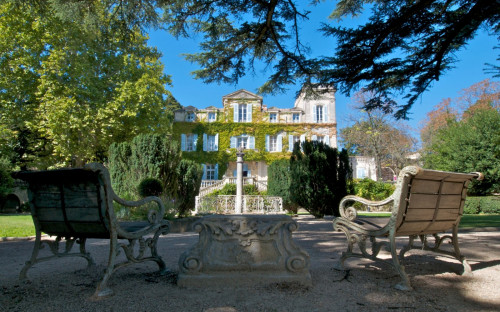 On France's eastern border with Germany, the Alsace region's Rhine valley produces a string of white wines with Germanic-sounding names but a definite French flavour. Riesling, Gewurztraminer and Pinot Gris are the names to look out for. The main wine areas are between Marlenheim and Mulhouse: the famous 'Route des Vins'.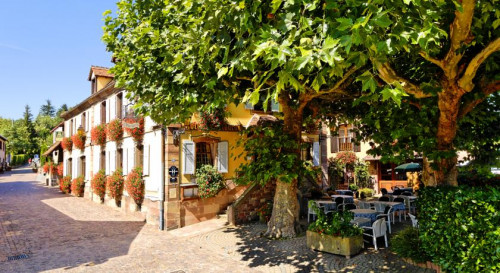 The Loire valley is worth exploring even if you don't visit the vineyards. Its breath-taking châteaux and grand mansions have earned the valley a UNESCO listing as a World Heritage site. Not as famous as Bordeaux and Burgundy, nevertheless the Loire's wines are up there amongst France's finest and include the beautifully crisp Sancerre and the great white Muscadet, the latter perfect with shellfish. The fine Touraine reds include Chinon and Bourgeuil while Saumur and Vouvray both produce sparkling wines that can rival Champagne, and at a fraction of the price.
This region has some of the most varied wine hotels in France.
If you want a good, comfortable base without unnecessary frills, Hotel l'Adresse in Tours is a crisply furnished townhouse hotel, excellent value, and well-placed for touring the vineyards.
Manoir du Bois Noblet, a charming 16th-century mansion between Angers and Saumur, is also well-priced and offers traditionally furnished rooms amidst beams and exposed stone.
For not many more Euros, you can relax in a former 12th-century monastery at Le Prieuré in pretty Dissay sour Cour.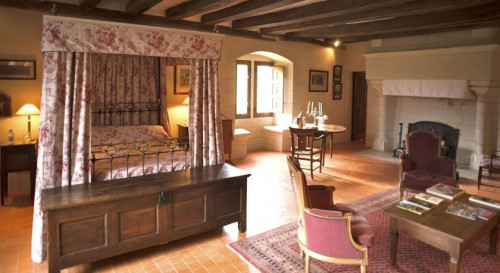 Of course, there are dozens of châteaux-turned-hotels where you can live out your French fantasy.
Overlapping Burgundy to the north and the Rhône to the south are the famed villages of the Beaujolais region. In the Saône valley, and centred round Fleurie and Villefranche, these vineyards grow the Gamay grape that produces the light, fruity red wines which are usually drunk when young.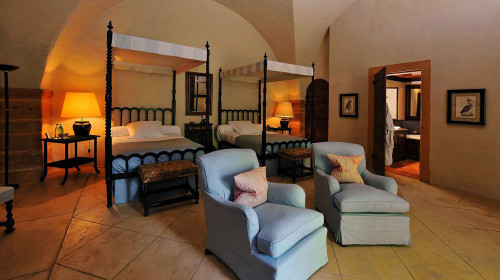 Auberge du Clochemerle, in Vaux-en-Beaujolais, is an excellent-value spot from which to explore this region. A traditional village inn, it has great dollops of charm and an unexpectedly good restaurant.
More upscale, romantic Château du Pizay at Saint-Jean-d'Ardières, has topiary gardens, a pool overlooking the vines and a gourmet restaurant.
For sheer wanton luxury, Château de Bagnols presses all the right buttons: vast rooms shimmering with antiques and panelling, heavenly views over vineyards and lake, 100-year-old lime trees and a romantic terrace.
The sub-Alpine slopes of the Savoie region, south of Lake Geneva on France's eastern border with Switzerland, produce wines that, like the air, are fresh and crisp. And predominantly white - although the red Mondeuse is deservedly popular. The two main appellations are Bugey and Vin de Savoie; due to the hilly terrain, their vineyards are scattered in isolated pockets separated by towns, mountains and lakes. So the best wine hotels in this region of France are as much about the views as the wines.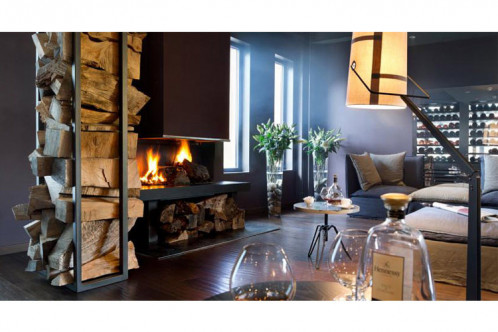 The fairtyale, ivy-clad Chateau de la Tour du Puits, near Cruet, is set in rolling countryside with views to the peaks of the Haute Savoie. Inside it's all spiral staircases, exposed beams and soft-white furnishings. There's also a pool and spa.
On the shores of Lake Annecy, we've discovered two hotels. Hotel Clos Marcel is a chic, stylish affair with dark-wood floors, huge windows and designer furnishings. It boasts a private beach, too.
Not to be outdone, Yoann Contes has a private pontoon, rooms in grand-Alpine-chalet style with balconies, plus there's a two-Michelin-starred restaurant.
The dry, stony hills and sunny climate of this southern coastal region of France produce one of the country's widest variety of wines. It was the Romans who first spotted the land's potential; some of the coastal regions have been producing wines continuously for over 2000 years. Names to conjure with include Gaillac, Corbières, Cotes du Roussillon, Costières de Nîmes and Muscat.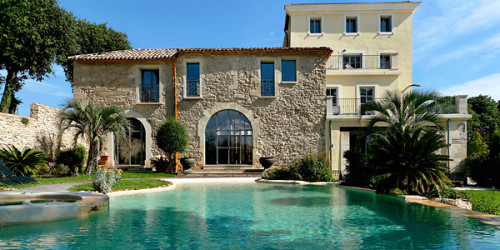 Whether you know your wines like a seasoned sommelier or, like many of us, you buy the best offer at the supermarket, France will not disappoint. Using our guide to the best wine hotels in France, you can plan a trip whether you want to stay in one place or plot a meandering route through the vineyards. Santé!
posted Monday, 5th August 2019
Search the best hotels in France