The 9 Best Trulli Hotels in Puglia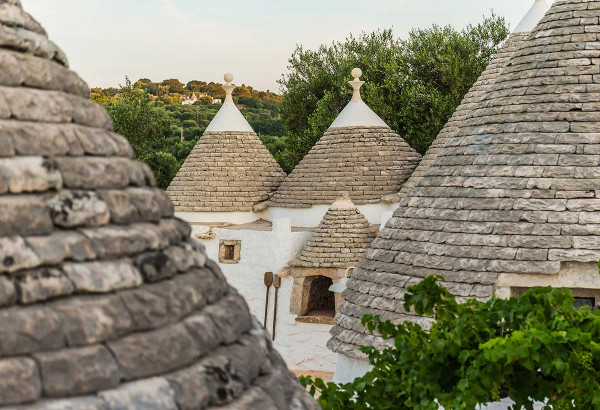 Puglia has many charms – medieval palazzi, rocky coves, snowy-white stone – but none as recognisable as its trulli houses. These conical-topped, white-washed, circular stone cottages – thought to originally have been built as peasants' dwellings – are found around Alberobello. Those in Alberobello itself are UNESCO-protected. Others have been imaginatively converted to provide a unique hotel stay with thick stone walls, quirky-shaped rooms, and beds tucked into alcoves. They're both romantic and great fun. We've picked out some of Puglia's best trulli hotels, so you can start planning...
Family friendly trulli hotels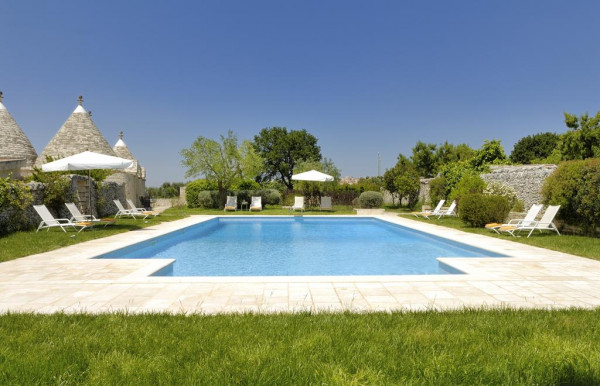 The four trulli at B&B Fascino Antico make an excellent choice for families on a budget. Sleeping up to four people, each of the trulli, separated by steps and terraces, have simple, rustic interiors with white walls and colourful bedspreads. There's also a large garden with swimming pool.
Also with a pool, Abate Masseria and Resort is more a rural hideaway than resort, with just eight rooms in delightful trulli with thick stone walls, domed ceilings and terracotta floors. This is excellent value for money plus the restaurant has a reputation for its excellent Puglian cooking.
The trulli rooms at Trulli e Puglia in Alberobello are all UNESCO-protected. Children will love the village atmosphere – there's a café, wine bar and small shop – and the quirky spaces inside each house. All are individual: some have beds in alcoves, others have spiral staircases while the larger ones have kitchenettes.
For renting in its entirety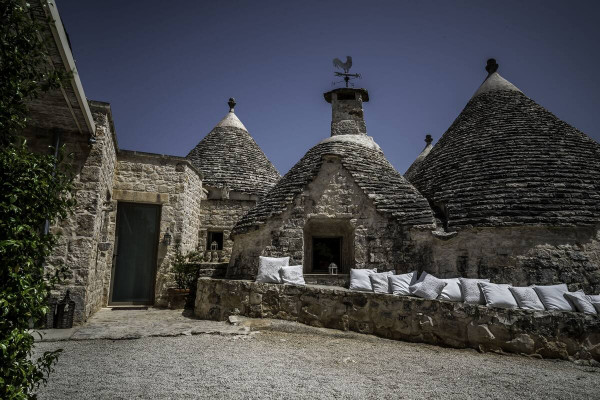 Lemoredinella B&B is a charming family-run property set amidst beautiful countryside. Each of the rooms is set in its own conical-shaped building and are packed full of character. The garden holds a lovely pool. With just three rooms, this is a great choice for friends or families looking to take a property in its entirety.
Mid-range trulli hotels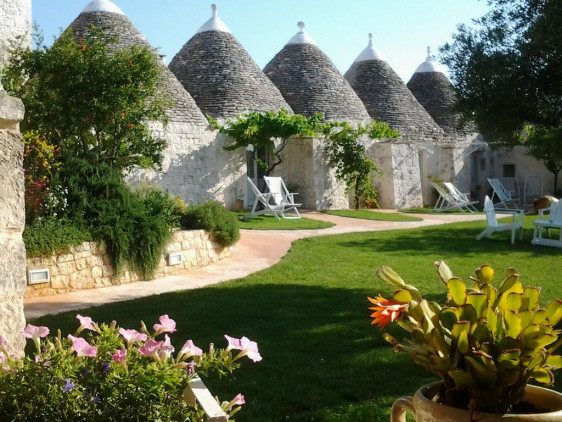 Set in extensive grounds with a large garden and freeform pool, Masseria Cervarolo offers charming rooms in individual trulli houses – several are family suites – that sit next to the former farmhouse. Spacious and rustic, with colourful rugs and individual patios, the rooms are very relaxing, and there's a choice of indoor and outdoor dining.
By contrast, Leonardo Trulli Resort – with just four rooms – is definitely a rural hideaway. Rooms are elegantly rustic with exposed-stone walls, flagged floors, pretty fabrics and beds often tucked romantically in alcoves. The pool, with shady loungers, overlooks lovely countryside.
Luxury trulli hotels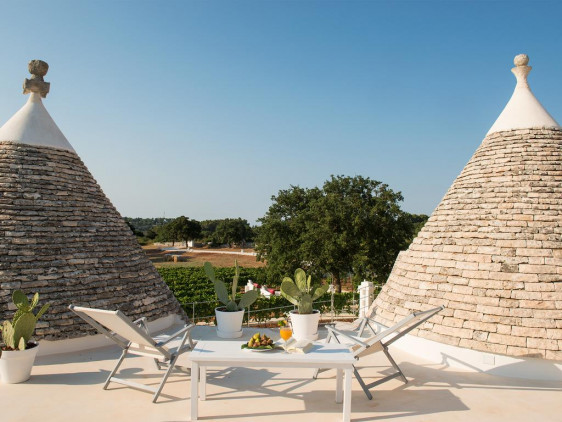 The six suites and rooms at Nina Trulli Resort offer a romantic hideaway feel. Elegantly simple with a mix of rustic and contemporary furnishings, and designer bathrooms, each room – dotted with candles and soft lighting – feels cosy and private. Some have terraces, and there's a large outdoor pool in the garden.
The 14 trulli houses at Borgo Canonica have been given a chic contemporary makeover without losing their innate charm. Sleek furniture, designer lighting, modern bathrooms and neutral tones are set against thick walls and flagged floors. There's a beautiful infinity pool and pretty gardens, too.
Once a traditional farmhouse Ottolire Resort has been beautifully converted into a luxurious and contemporary hotel. Offering chic rooms, a superb Mediterranean restaurant, and an alluring spa. A great choice for an indulgent rural escape.
Still not sure which to book?
posted Wednesday, 19th August 2020