The 6 Best Hotels in Bairro Alto, Lisbon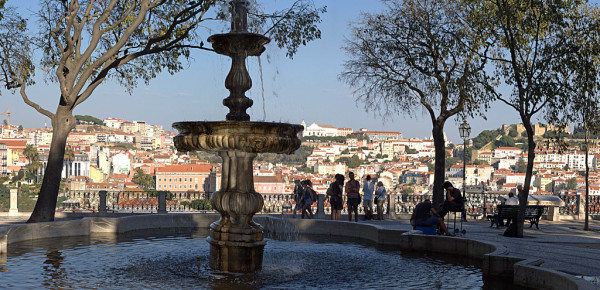 Lexe-I via Flickr
If you've come to Lisbon to see the sights by day and enjoy yourself in the evenings, then you're just the kind of visitor who should be booking into one of the 6 best hotels in Bairro Alto. Our Guru's recommendations are in no way party hotels, they have some exceptionally elegant suggestions and some great B&Bs, but there is a lot to do here in the evenings: think late-night bistros and tiny hole-in-the-wall bars, and it's always good to be able to get home easily.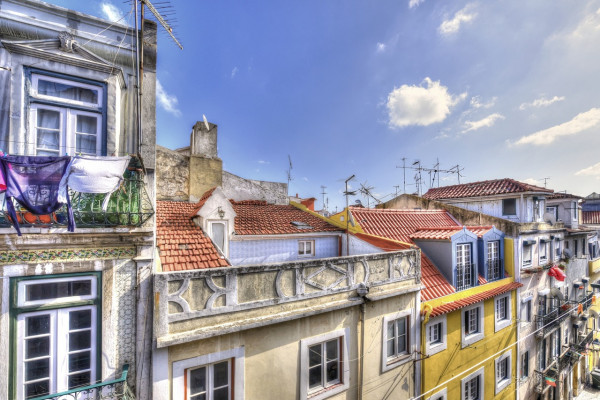 Traditionally, Bairro Alto has been Lisbon's bohemian quarter, favoured by artists and writers. It's a grid of Fado bars and restaurants - some of their facades carefully decorated with graffiti. During the day it's the shops, cafes and churches which are the main pulls, the romantic, Gothic shell of Carmo Church and magnificent, Baroque São Roque.
The 6 Best Hotels in Bairro Alto, Lisbon
The Best City Break Hotels in Bairro Alto
The Independente Suites and Terrace is in an historic building in the heart of Lisbon. There are 18 rooms and suites, individually designed and featuring plenty of colour and antique furnishings. There's also a great restaurant with stunning views.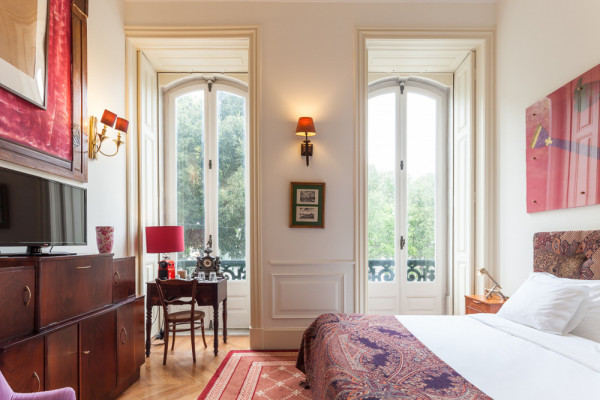 The Bairro Alto Hotel was Lisbon's first contemporary boutique-style hotel. It has 55 rooms, decorated with a minimalist style and palette, with glorious, hand-painted bird frescoes and wooden floors. The views of the city and the Tagus River are incredible too. Please note that the property is currently being refurbished, but will open its doors again in 2019.
9 Mercy is a cutting-edge city hotel boasting seriously slick design. The rooms are luxurious, complete with dim lighting and black and gold detail. Expertly crafted cocktails are served on the rooftop bar overlooking Lisbon's colourful landscape. A stylish urban base.
The Best B&Bs in Bairro Alto
Teatro B&B offers contemporary Parisian-style decor in a wonderfully central location. You're sandwiched between Bairro Alto and Chiado, and close to many of Lisbon's major sights, but also well positioned for access to the beach. There are just 15 rooms - with some quite dramatic art works - plus a superb buffet breakfast.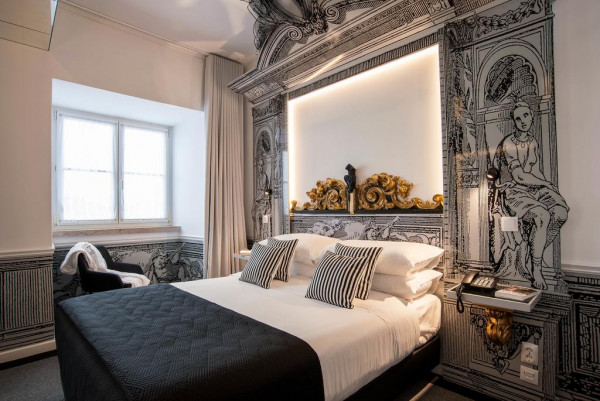 The Casa das Janelas com Vista is a chic B&B with 12 individually decorated rooms - some with balconies and river views. There's also a communal sitting room and the location, on a quiet, yet historic street, is perfect for exploring the city.
The best luxury hotels in Bairro Alto
The Lumiares is a stunning 5-star hotel in the heart of the Bairro Alto district, offering rooms and suites that blend classic Portuguese decor with chic contemporary style. Featuring a spacious spa, two restaurants and a rooftop bar. A prime location for exploring the cobbled alleys and shops of Lisbon.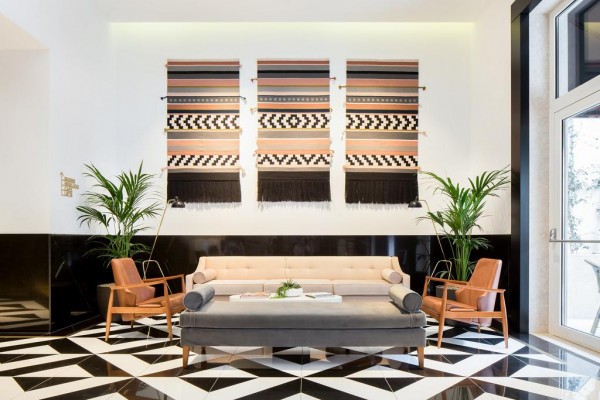 Still not sure?
Bairro Alto Hotel

Lisbon (Bairro Alto)

55 rooms from £282

City Style - A charming hotel in Lisbon's arty district, with classic chic decor, hand painted frescoes and amazing rooftop bar.

Sights nearby - Right in the centre of town on Lisbon's main square Praça Luís de Camões, within walking distance of the castle.

Great walks - The hotel offers two hour free English-speaking walking tours of the hip neighbourhood.

Views - Panoramic views of Lisbon and the Tagus River.

Recommended by - I Escape, Tablet, Frommers, Kiwi Collection

Currently closed for refurbishment until 2019. Contemporary boutique hotel with minimalist interiors and a warm ambience. Rooms have white washed walls, frescoes of birds and wooden floors. Sweeping views of Lisbon and the Tagus River from the roof terrace make this a stylish city break. See More

Check Availability

City Style - A stylish spot boasting parquet flooring and stucco ceilings, perfectly positioned in the hip Bairro Alto

Local exploring - With bikes available to use and many sights nearby, there's no excuse not to explore all over the city

Sights nearby - Head over to Chiado square, wander along Liberty Avenue or check out the architecturally stunning Jeronimos Monastery

Local markets - Time Out market aims to attract the city's finest food and cultural experiences under one roof-a must visit!

Quirkily decorated rooms in a turn-of-the-century townhouse with stunning views across the city. A choice of two restaurants, one with rooftop terrace and bar. A first-rate city stay. See More

Check Availability

Teatro B&B

Lisbon

15 rooms from £60

Romantic Break - Upmarket accommodation, one of Europe's most beautiful cities on your doorstep and long walks on the beach together-perfect!

City Style - Lisbon's most indulgent B&B with plush fabrics, marble floors, chandeliers and classical statues- a unique and quirky stay

Sights nearby - The historical sights of São Domingos, Igreja de São Roque and the Castle of São Jorge are within a 20 minute walk away

Local markets - Lisbon's TimeOut Market aims to host the city's finest food and cultural experiences under one roof-a must visit!

Recommended by - Great Small Hotels

Teatro B&B is located in central Lisbon between the district of Bairro Alto and Chiado. It offers contemporary Parisian-style decor with dramatic artwork adorning the walls. Enjoy a superb buffet breakfast each morning to set you up for the day. Great accommodation in a fantastic location! See More

Check Availability

City Style - Chic interiors, luxurious beds and fantastic local wines all within a few minutes walk of Lisbon's hotspots!

Local exploring - Ideally located in Bairro Alto with easy train connectivity to other parts of the city.

Families - The hotel provides board games, a library and a special kids menu for breakfast.

Local markets - The Ribeira Riverside Market has many kiosks, restaurants, cocktail bars and ice-cream parlours.

Recommended by - Tablet

A chic bed and breakfast offering unique individually-decorated rooms, some with balconies and views of the river. A warm sitting room is stylishly furnished with modern design and antiques. Located in a quiet street in a historic neighbourhood of Lisbon - a good base for exploring the city. See More

Check Availability

The Lumiares

Lisbon (Misericordia)

53 rooms from £156

Spa breaks - The spa boasts a gym, sauna, steam room and a variety of massage and beauty treatments.

Sights nearby - The Carmo Convent, a ruined old monastery, is a short walk away.

Outstanding location

Views - Great views from hotel

Recommended by - Mr & Mrs Smith

Occupying a beautifully renovated 18th-century palace set on an old cobblestone street in the lively Barrio Alto district, this boutique hotel offers chic, mini-apartment style rooms, a restaurant, rooftop bar, gym and spa, and is easy walking distance from the city's main attractions. See More

Check Availability

9 Mercy

Lisbon

47 rooms from £228

Local exploring - The hotel stands on a street between Chiado and Bairro Alto - both districts are vibrant, filled with restaurants and churches

City Style - The design is slick: black-brick townhouse exterior, with gilded, velvet interior touches

Short fly break - Perfect for a quick city stop-over - taking you straight into the heart of things

Sights nearby - Iconic symbol 'Convento do Carmo' is an old gothic convent located just around the corner

A cutting-edge city hotel boasting seriously slick design. The rooms are luxurious, complete with dim lighting and black and gold detail. Expertly crafted cocktails are served on the rooftop bar overlooking Lisbon's colourful landscape. A stylish urban base offering an unbeatable location. See More

Check Availability
posted Friday, 26th July 2019
Search the best hotels in Lisbon