The 6 Best Hotels on the Paseo del Prado, Madrid
With the Renia Sofia and El Guernika at one end and CentroCentro at the other, the Paseo del Prado is a great place to stay if one of the reasons you're in Madrid is to visit the museums. And many of the best hotels on the Paseo del Prado all have charming views of the street. Plus you're close to a wealth of tapas bars, cafes and restaurants, and Gran Vía with its shopping and entertainment.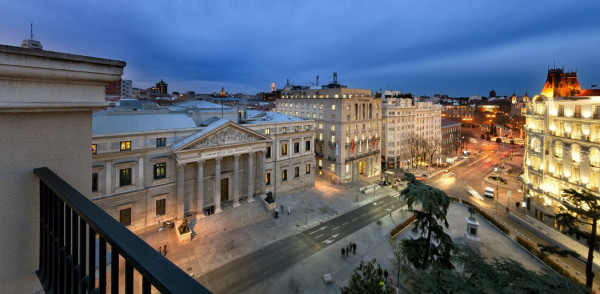 As well as the Renia Sofia and the CentroCentro, the other museums on the Paseo del Prado are the Thyssen-Bornemizsa, which is an incredible private art collection with work from the medieval period to the 21st century, the Prado Museum, which has a fantastic collection of Flemish and Spanish art, Spain's Maritime Museum, a Decorative Arts museum, the Caixa Forum which is a relatively new museum and art centre with lots on for families, and the Botanical gardens. The boulevard itself is also decorated with monuments, impressive fountains and landscaped grounds.
Plus it's tree-lined and elegant. And you're close to Retiro Park and the Barrio de Las Letras, which is particular well known for its tapas bars.
The 6 Best Hotels on the Paseo del Prado
The Best Hotels on the Paseo del Prado for Historic Style
You're right on the midpoint of the Paseo del Prado, and the location is excellent, and if you want a luxury stay opt for the Ritz Madrid. It's a converted palace oozing classical elegance, think antique furniture, embroidered sheets and marble bathrooms, plus superb service.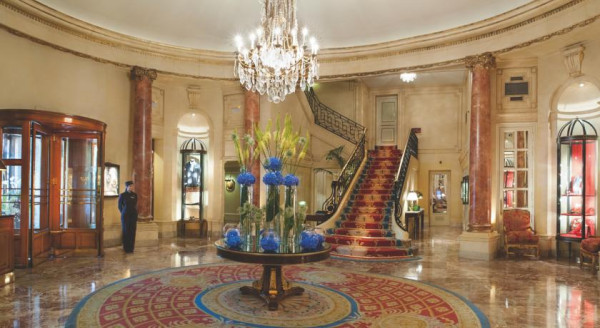 The Best City Break Hotels on the Paseo del Prado, Madrid
The Vincci Soho is an impressively modern four-star hotel in an historic building. There are 169 spacious rooms with sleek furnishings and mood lighting. There's also a garden, terrace and a lively bar.
Hotel Villa Real is just steps away from Madrid's museum golden triangle. It's the ideal base for exploring the city on foot. The facade is traditional, as is the decor: think rich leathers and Roman mosaics, but the comforts are contemporary.
The Best Value Hotels on the Paseo del Prado
One Shot Prado 23 is the place to book if you're looking for a stay that won't break the bank and is close to the museums. Rooms are modern and functional and prices start from £75 per night.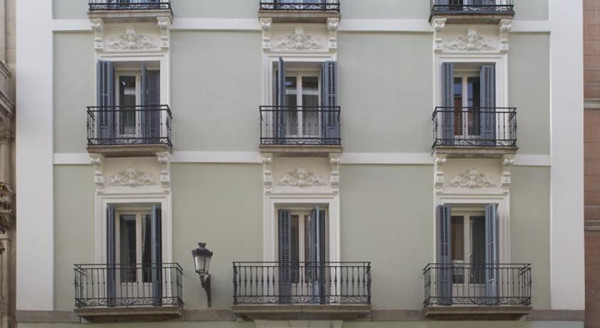 With rooms starting from just £78 per night, Room Mate Alicia is a great choice if you're looking for chic and central. They even have family rooms, as well as great lighting and a lively spot on the Plaza de Santa.
If you haven't found your idea of the best hotels on the Paseo del Prado on our Guru's list of the 6 Best Hotels on the Paseo del Prado, Madrid you could:
The 6 Best Hotels on the Paseo del Prado
City Style - Somehow at once both hip and timeless, this sleek modern update on a classic building oozes style from every pore.

Lively - Hip and happening.

Private Hot Tub

Restaurant - Recommended.

Recommended by - Mr & Mrs Smith, Tablet, Frommers, Kiwi Collection

Crisp, white and cool without being too bare - minimalism at its friendliest. Fantastic restaurant with a great wine list and hip crowd. The roof top bar is great for lounging at and taking in the views. City style for those with indulgent palates. See More

Check Availability

Vincci Soho

Madrid

169 rooms from £229

Local exploring - Right in the centre of Madrid, a great basse from which to explore this historic city on foot.

Great walks - Take a stroll through the beautiful Los Jardínes del Buen Retiro.

Sights nearby - Visit the Catedral de La Almudena or the Royal Palace.

Full of character

An impressively modern four-star hotel in a historic building. Spacious rooms with sleek furnishings and mood lighting. Lovely outdoor terrace and garden, lively bar, and good business facilities. Ideal for a stylish city break. See More

Check Availability

Elegant

Downtown

Traditional

City

Recommended by - Tablet, Frommers, Small Luxury Hotels, Michelin Travel

This hotel is centrally located within minutes from all the main attractions. Traditional facades are complemented by contemporary comforts - rich leather furnishings and Roman mosaics. A classic and comfortable destination for a city break or business event. See More

Check Availability

City Style - Rooms are equipped with all modern amenities like a a TV, safe, minibar and a dressing area

Value chic - Its comfortable and not so pricey. Good value for money

Local exploring - Superb location, right in the heart of the city

Local markets - Close by local markets and shops as well

Right in the middle of Madrid, in a building with Spanish architecture, there are modern rooms with sleek and functional design. Some rooms come with a balcony or terrace. Ideal for young couples, business or leisure travellers. Chic, affordable and comfortable. See More

Check Availability

Families - Close to museums, galleries, and child friendly amusements.

Family - Free for under 12s.

Elegant

City Style

Recommended by - I Escape, Fodors, Frommers

A chic and contemporary hotel in central Madrid. Ceiling to floor windows light up avant-garde designs and flood the rooms with the life of the Plaza de Santa Ana. A great place to stay for families or an elegant city break from which to soak up the energy of the area. See More

Check Availability
posted Wednesday, 17th August 2022