To Riad or not to Riad? 15 Best Boutique Hotels in Marrakech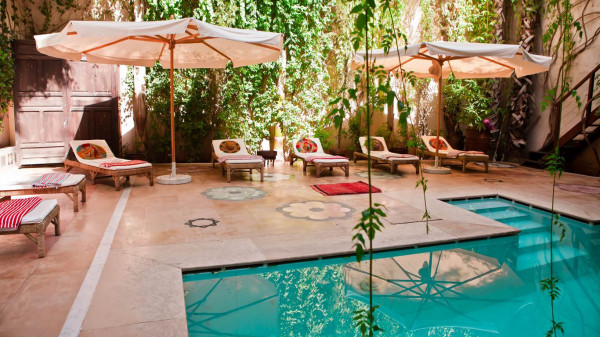 Marrakech is a heady blend of colour, spice, sunshine and activity which can leave the fresh-off-the-plane visitor very much in need of a hammam and a mint tea. But if you're booked in to one of our Guru recommended best boutique hotels in Marrakech then that will definitely be taken care of, plus a lot more. And from the boutique comfort you'll soon be ready to hit the streets and souks again.
Many of our Gurus' favourite places to stay in Marrakech are beautiful, traditional Moroccan riads, some of which we feel have similar qualities to what we'd call a "boutique hotel" in other countries. Morocco is known for its beautiful artistic heritage, and some of the tile work, stucco and carved wood design in these properties is up there with the city's cultural highlights.
But if you're looking for something a bit more modern then our list of the best boutique hotels in Marrakech has something for you too. As well as some amazing restaurants-turned-hotels and some peaceful Palmeraie retreats if you're here to relax as well as immerse yourself in the medina.
The Best Riads in Marrakech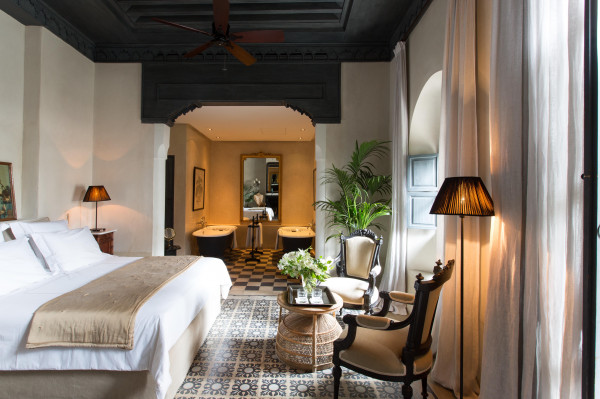 For a romantic stay
Dar Zemora is a traditional, six room hotel nestled in amongst beautiful gardens of olive, palm and lemon trees. The decor is colourful and Moroccan and there's a heated pool and romantic dining room. The large garden makes this a private and peaceful place to stay.
Great value boutique hotels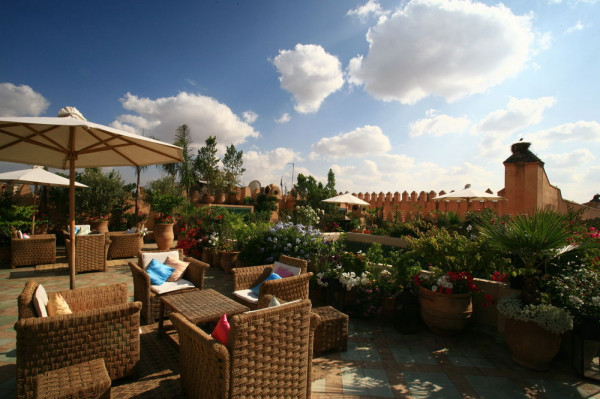 Understated and elegant, with design that combines Moroccan tradition and European style, Dar Les Cigognes is in a great location, with fantastic views from its roof terrace. There are 11 rooms, each unique, in these two converted riads, joined into one by a bridge over a small alleyway. There's also a spa, harman and hot tub.
In an off-the-beaten-track medina location, Dar Hanane represents excellent value for money. Its six rooms and suites are beautifully elegant, plus there's a fabulous roof terrace with epic views, charming courtyard, and delicious traditional cuisine if you want to dine in.
Just ten minutes walk from Djemaa el Fna, the Riad Les Yeux Bleus is charming and unpretentious, tucked away down a pink alleyway. Elegant and very Moroccan, there's a trickling fountain, a rooftop view, bright colours in the decor and in the bougainvillea-filled courtyard and the smell of lemon trees. There's a small hammam, and very reasonable prices.
Marrakech's Modern Style Boutique Hotels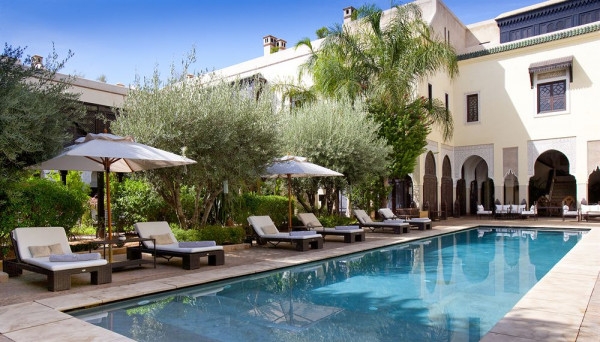 Recently restored, the Riad Joya is wonderfully unfussy, with natural materials used in a simpler, more modern way. The rooms and courtyards are bright and light with modern furnishings and the service standards are high.
The Villa des Oranges is a smart, 27 room hotel with a fusion of Moroccan and European decor. Think beautiful mosaic floors and wood panelled walls. There's a luxurious hammam and a tranquil inner courtyard.
Family friendly boutique hotels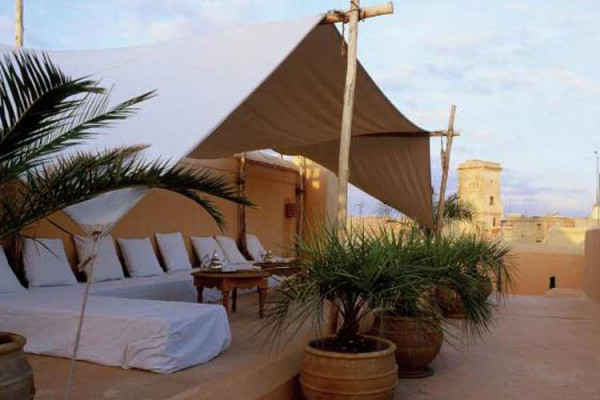 Ryiad El Cadi is a calm refuge in the heart of town, with 15 peaceful rooms and just the right amount of fine furniture and art so you're not constantly panicked about it. The white washed walls keep it simple and there's a lovely roof-top sun terrace.
The Best Boutique-y Hotels in Marrakech
This category is a bit different, with those hotels our Gurus love, but may not quite fit the boutique bill perfectly.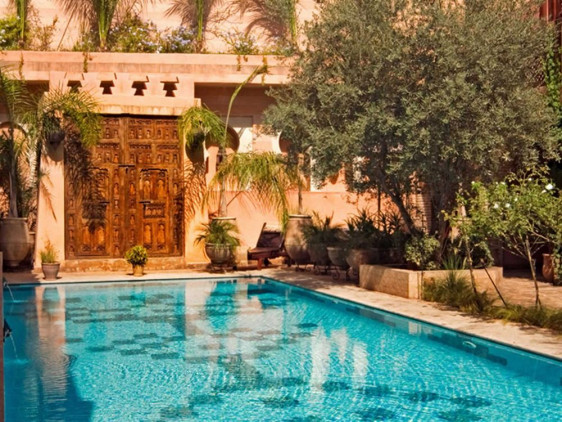 La Maison Arabe is an iconic restaurant turned luxury hotel with 26 rooms, in the heart of the medina. Does it qualify as a boutique hotel? Maybe? But it's got that sort of vibe, with a beautiful blend of traditional Moroccan craftsmanship and European style, and of course excellent food.
Still not sure which to book?
posted Sunday, 13th February 2022