The Best Hotels near Artis Zoo
Amsterdam's royal zoo is one of the city's great escapes, especially for families. If you're travelling with kids who find the urban vibe of the bustling centre a bit too much, a day at Artis, an oasis of greenery in the heart of the gracious Plantage neighbourhood, is the perfect antidote. You'll find some of the best hotels near Artis Zoo in Amsterdam's Jewish Quarter and the Plantage neighbourhood.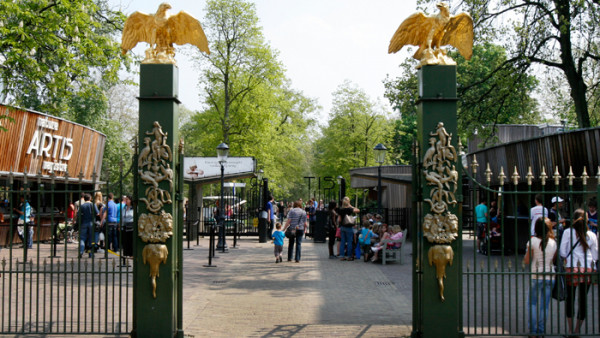 By Dejonkheer - Own work, CC B
Within the park, kids can marvel at hundreds of animals, from chimps and gorillas to elephants and sea lions. Smaller creatures can be seen in the Insectarium and the Butterfly Pavilion, where thousands of brilliantly coloured butterflies flit from flower to flower. Also within the park are a planetarium and aquarium – perfect rainy-day refuges for families. The zoo has its own café-restaurant and picnic areas.And there's more. In spring, Artis has the most stunningly floral displays in Amsterdam, with vast swathes of multicoloured tulips – what else? – flanked by thousands of crocuses and daffodils. More of the best hotels near the Artis Zoo can be found in the eastern Canal Belt, two blocks west across the Amstel river.
The best hotels near Artis Zoo
FOR SELF CATERING FAMILIES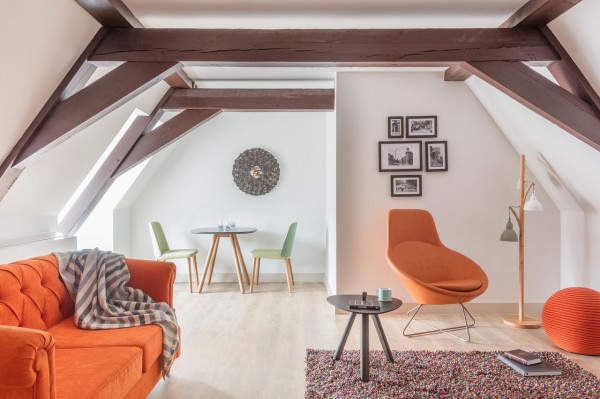 Smart self-catering facilities make The Wittenberg an excellent family choice. Bike hire is a bonus.
FOR ALL-ROUND VALUE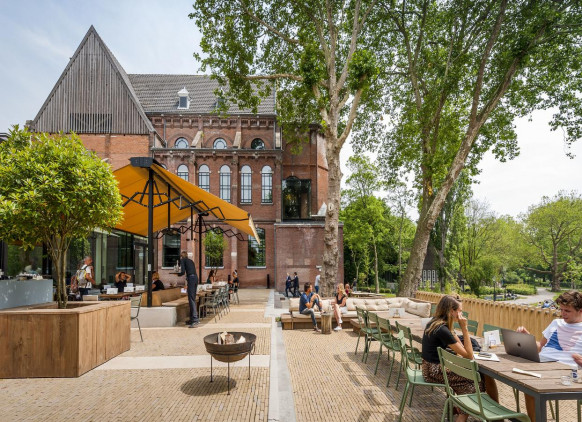 Hotel Arena is a family-friendly hotel next to the leafy Oosterpark, is a stylish property that also pleases couples.
Hotel V. Frederiksplein is a handy base for exploring Artis and the other sights of Plantage, with well-appointed modern rooms.
Still not sure which to book? Browse our list of the best places to stay in Amsterdam, or contact a friendly guru for advice.
City Style - A chic mix of vintage designer furniture and contemporary design pieces set against steely hues makes this a stylish stay

Local exploring - Set between the old city centre and the hip quarter of De Pijp, it is convenient both for sightseeing and restaurants

Self catering - The self-catering loft apartments (that sleep three) are a great option for those in search of a home-away-from-home

Artworks - Find photos by the renowned 19th-century Dutch photographer Jacob Olie adorning the walls

Recommended by - I Escape

This modern B&B in the heart of Amsterdam with stylish rooms and a handful of self-catering apartments. Interiors mix retro furniture with chic modern design pieces. Apartments, complete with kitchenettes, are perfect for small groups & families. A convenient and well-priced base in the city centre. See More

Check Availability

Hotel Arena

Amsterdam

139 rooms from £129

Foodies - Foodies are spoilt for choice at the hotel restaurant, with local and international dishes and a focus on fresh produce

City Style - Located in a beautiful heritage building on the outskirts of the city centre, this hotel has reams of local style

Romantic Break - Book a luxury suite with a freestanding bathtub for added indulgence on your next couples' getaway

Great walks - Explore Oosterpark, the pretty public park which neighbours the hotel, on a long walk

This chic, four-star hotel is located in a heritage property on the edge of Amsterdam's city centre. Rooms are bright and inviting with vintage design pieces; book a suite for beautifully appointed living space and panoramic views of the city or Oosterpark. Eat at the airy bistro; a charming hotel. See More

Check Availability

The Wittenberg

1018 VL Amsterdam

115 rooms from £187

Groups - With the option of two or three bedroom apartments complete with living areas and kitchens, these are ideal for a group getaway

Local exploring - The apartment style living is ideal for more independent travellers, and it's well located to easily access the famous sights

Chic - Enjoy the best of both worlds with your very own 18th century Amsterdam apartment (with very chic modern interiors)

Sights nearby - Head to the nearby Hortus Botanicus just across the canal, the world's oldest botanic garden

Historic accommodation in a peaceful, leafy central area consisting of chic self-catering apartments, ideal for independent travellers. The decor is simple and fresh, with a muted palette of greys and creams and hip statement pieces. A stylish home-away-from-home. See More

Check Availability
posted Tuesday, 12th July 2022