The Best hotels in Jordaan
West of the Singel canal ring and around 1km from Centraal Station, the Jordaan began life as a neighbourhood of workers' homes, small factories and workshops. You'll find the best hotels in Jordaan in historic buildings within this grid of narrow streets and small canals.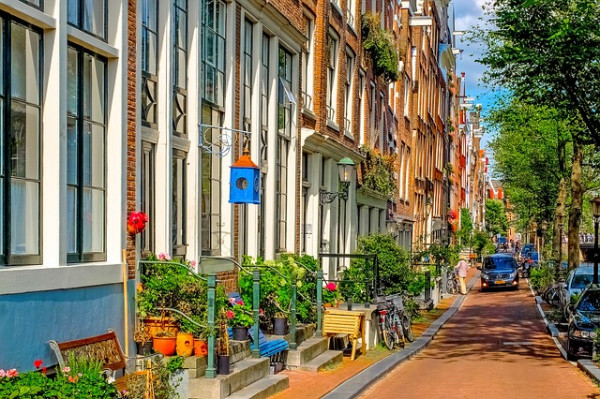 Image by djedj from Pixabay
Once a working-class neighbourhood, it lured artists and bohemians in the 1960s and '70s. In the 21st century, it has gone upscale, with trendy shops and galleries interspersed with smart cafés and wine bars. But it still has a certain funky vibe that's distinct from the rampant commercialism of Centrum. Traditional 'brown cafés' and charming old hofjes (almshouses) such as Claes Claeszhofje are typical of this part of town. The prime landmark is the towering 17th-century Noorderkerk, while the labyrinthine Antiekcentrum Amsterdam is an antique-hunter's joy. When you opt for one of the best places to stay in the Jordaan, you'll also find key attractions such as the Anne Frank House and the Westerkerk just across the Prinsengracht, and the Dam is just four blocks away.
The best hotels in Jordaan
FOR CANALSIDE STYLE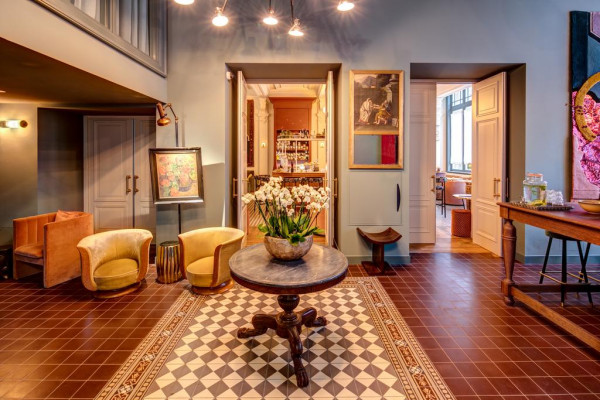 Mr Jordaan is a traditional canalside house in the heart of the Jordaan, offering well-designed rooms mixing minimalist modernism with retro touches.
In a handsome old building, AMS Suites provides contemporary accommodation and a base on the edge of the Jordaan, conveniently close to city centre attractions.
Art Deco style, antiques and works of art combine with local architectural heritage at Hotel Mercier.
FOR GOOD VALUE
Created from three adjoining canal houses, Hotel Wiechmann is an unpretentious B&B with light and airy rooms. It's handy for city centre shopping and all the must-see sights.
Still not sure? Check out the neighbouring Canal Belt, Negen Straatjes or Centrum areas or browse all our Amsterdam recommendations. Alternativley contact a friendly guru for advice.
Mr Jordaan

Amsterdam City Centre

34 rooms from £177

Local exploring - Ideally placed for an off-beat Amsterdam experience in the artsy Jordaan district and only a short walk from the main sights!

Boutique - Chic boutique interiors include bare brick walls, Sixties/Seventies retro designer chairs, and contemporary lamps

City Style - A hip and homely boutique-style canal house hotel, with retro furnishings, soft hues and a welcoming atmosphere

Groups - Two triple rooms are well suited to a small group of friends travelling together (or families)

Excellent contemporary hotel in the centre of Amsterdam. The rooms are modern and minimalist, focused on maximising comfort and functionality. With the city centre on the door step, it's a great launchpad for exploring the rich culture and traditions of Amsterdam. See More

Check Availability

Hotel Mercier

Amsterdam

48 rooms from £148

City Style - Nestled in the trendy Jordaan district of Amsterdam in a historic property, this hotel has reams of local style

Local exploring - Located in a fashionable, central area of Amsterdam, this hotel makes the perfect base for local exploring

Romantic Break - Couples love the hotel's chic, Art Deco style and the cosy hotel suites

Sights nearby - Visit the Westerkerk, a famous 17th-century Dutch church located within walking distance of the hotel

Recommended by - Tablet

This hotel is located in a heritage building in Jordaan, Amsterdam. The property has been lovingly restored, offering rooms with an Art Deco style, unique artworks and vintage furnishings; the best suite offers split-level living. Relax with coffee and cake at the Ons Huis café. A smart hotel. See More

Check Availability

Local exploring - A quaint and charming hotel overlooking the canal, peaceful and romantic, but within walking distance of the main attractions

Close to nightlife - This quiet hotel is just ten minutes from the busy Leidseplein Square, full of bars, restaurants and cafes

Less £ - With rooms ranging from singles to family suites, there is something to suit all budgets

Groups - Quadruple Rooms are a great option for small groups wanting an economic stay

Recommended by - Frommers

Hotel Wiechmann consists of three canal houses turned into a simple family-run B&B offering the essentials. Comfortable, breezy rooms with modern bathrooms and a complimentary delicious breakfast. Proximity to the main attractions and shopping districts is a big selling point. See More

Check Availability
posted Tuesday, 12th July 2022