Our Favourite Hotels on Amsterdam's Waterfront
Amsterdam's waterfront stretches from the picturesque Western Islands (Westelijk Eilanden) and along Prins Hendrikkade to the wide inner harbour of the Oosterdok. The Western Islands is an historic neighbourhood of old shipowners' homes and former warehouses along riverside quays, beside the River IJ. It has gone up in the world while hanging on to its maritime roots, and with its restored waterside houses and canals crossed by white-painted swing-bridges it's a delightful place for a stroll. You'll find some of the best hotels on the Waterfront along its tranquil quaysides, and it's only 1 km tram ride to Centraal Station.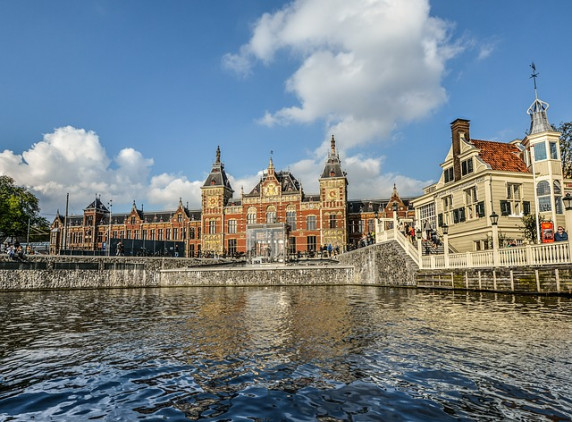 Image by Kirk Fisher from Pixa
Midway along the Waterfront, Centraal Station is a grand red brick building and one of Amsterdam's architectural treasures. Designed by P.J.H Cuypers, who also planned the Rijksmuseum, its grand frontage faces Stationsplein and the waters of the Open Haven. Two top family attractions, the NEMO Science Centre and the Maritime Museum, stand on the Oosterdok. The sights, shops, bars and restaurants of Centrum and the Nieuwe Zijde are on your doorstep and the Rijksmuseum and other museums around Museumplein are a short tram ride away. From the best hotels on the Waterfront you can also hop onto a canal cruiser at Prins Hendrikkade to explore the city at leisure or catch a free ferry across the IJ to Noord and attractions like NDSM, EYE and A'DAM Toren.
The best hotels on the waterfront
FOR ART LOVERS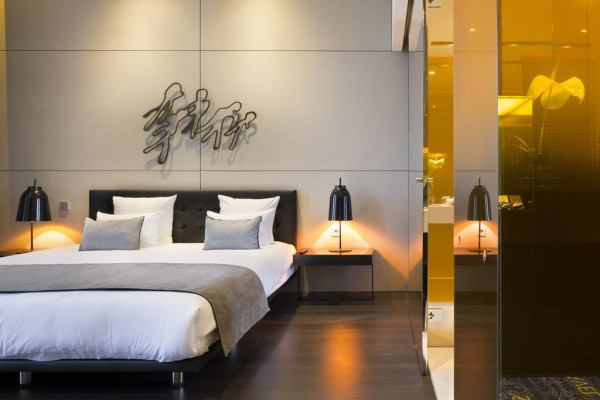 Art'Otel Amsterdam is a hip, style-conscious hotel with its own art gallery. Spacious rooms and suites are subtly lit. There's an excellent restaurant.
FOR RIVER VIEWS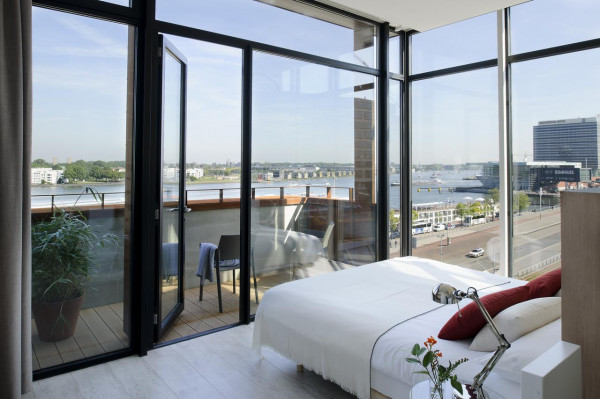 The penthouse suite at Eric Vokel Amsterdam Suites offers fantastic views of the IJ and the waterfront. All apartments have large windows and designer interiors. A short walk from Centraal Station.
FOR SELF-CATERING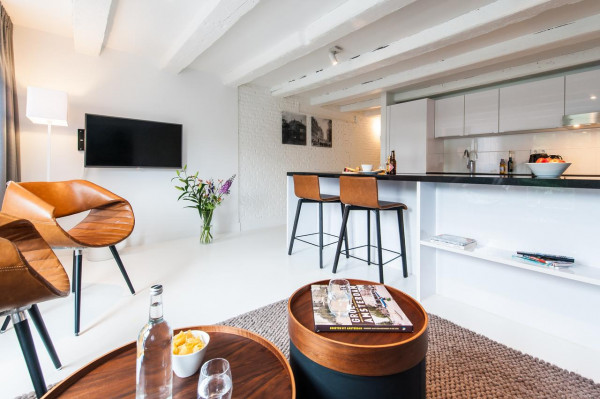 Live like a Western Island local at Yays Zoutkeetsgracht, where sleek self-catering apartments offer separate living space. Ideal for families.
Yays Bickersgracht is a distinctive row of cosy, self-catering canalside apartments, some with shared terraces. Ideal for a city break.
Still not sure which to book? Expand your search to include Noord district or all our Amsterdam recommendations, or contact a friendly guru for advice.
Short break - Located opposite Centraal Station, locations don't get much handier than this for those on a quick city break

Foodies - Renowned chefs at ARCA restaurant create spectacular dishes mixing Portuguese and Asian flavours

Swimming Pool - Boasting one of the largest hotel pools in town (big enough to do short laps)

Artworks - Find works by local artist Atelier Van Lieshout throughout the property

A sophisticated contemporary hotel with its own art gallery. Young, hip and designed for movers and shakers. Shiny rooms and suites offer lots of space and subtle lighting. There's an excellent restaurant and cocktail bar that merges Portuguese and Asian flavours. A trendy spot. See More

Check Availability

City Style - Located in a heritage building in the leafy Zeeheldenbuurt, this hotel has lots of local style

Families - The larger self-catering apartments are great for families travelling with children

Romantic Break - Book a luxury apartment on a houseboat for a unique couples' getaway

Great walks - Explore the neighbouring Westerpark on a long walk; the park combines green spaces with iconic architecture and great nightlife

A contemporary hotel with self-contained apartments in Zeeheldenbuurt. Accommodation is sleek & stylish, offering separate living space and self-catering facilities; live like a local with a stay in the chic houseboat apartment. Order groceries to your door; ideal for independent travellers. See More

Check Availability

Local exploring - Located in a prime, central location in Amsterdam, these apartments make a great base for local exploring

Families - These self-catering apartments are great for families travelling with children

City Style - With chic, designer interiors, this hotel has lots of contemporary city style

Sights nearby - Visit the Basilica of St. Nicholas in Amsterdam's old town, a short distance from the hotel

This hotel offers luxury suites in the centre of Amsterdam, close to Amsterdam Centraal. Apartments have custom layouts and designer interiors with large windows and ample living space; book the penthouse suite for fantastic river views. Book a free breakfast kit online; a chic and modern city stay. See More

Check Availability

Local exploring - This hotel is in a great location, far enough from the centre to avoid noise but close enough to visit the main attractions

Families - These large, two-bedroom apartments are great for families travelling with children, and offer ample living space

City Style - Located on the site of a heritage church on the canalside, this hotel has lots of local style

Sights nearby - Enjoy spectacular, 360 degree views of the city from the A'DAM Lookout, a 20-storey viewing platform

This boutique hotel offers self-contained apartments on the canalside in Bickerseiland. The apartments are great for families or groups, with multiple, cosy bedrooms and separate living space, plus self-catering facilities. Book a comfort suite for a shared terrace; a stylish city break. See More

Check Availability
posted Tuesday, 12th July 2022