✓ FREE cancellation on most rooms
✓ Save time, save money
10 Great Seaside Hotels in the UK
The UK is lined with a beautiful and varied coast, with great seaside towns, stretches of pristine beach and dramatic cliffs. The challenge is finding the best seaside hotels in the UK. Which is the task we set for our Gurus. As you can imagine it's been arduous for them to enjoy the incredible sea views, incredible seafood and comfort offered by our shortlist, which included the best seaside hotels in Dorset, the best seaside hotels in Devon, the best seaside hotels in Cornwall, in Kent and in the Scilly Isles, and even destinations you might not have considered like Norfolk or North Wales.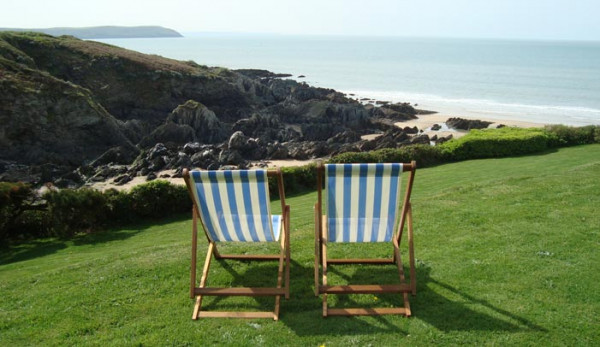 But they were able to narrow it down, and whether you're planning a bucket-and-spade holiday with the family or to indulge yourself with a sybaritic break, you'll find somewhere to tempt you amongst our Guru's list of 10 Great Seaside Hotels, UK. And all of them are within flip-flopping distance of the sea and a fine beach.
10 Great UK Seaside Hotels
Great UK Seaside Hotels for Romance
A popular choice for a London mini-break, Brighton is colourful and lively, with great restaurants and cafes and great boutique and antique shopping. The beach is pebbly, but it's long and lovely stretch of coast to stroll along. Especially if you're staying at drakes, a 20 room boutique hotel with a 24 hour bar, freestanding baths and views of the sea and the pier - which is beautiful when lit up at night.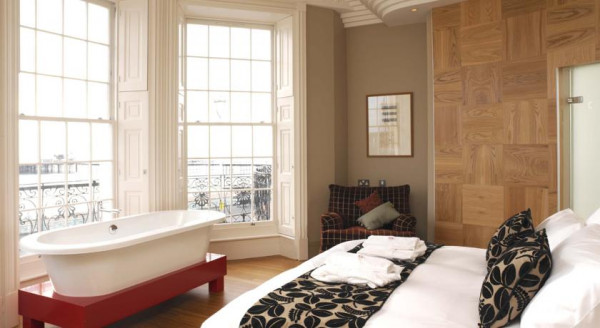 Great UK Seaside Hotels for Families
Stay right on the beach in Mawgan Porth, Cornwall, at the Bedruthan Steps Hotel, and look out over the Atlantic Ocean from 101 comfortable, modern rooms. Or from the Herring Restaurant, which is known for its Cornish cuisine and locally sourced ingredients. There are two pools - indoor and outdoor - and a spa, plus an OFSTED inspected nursery, a kid's club and the option of arranging babysitting.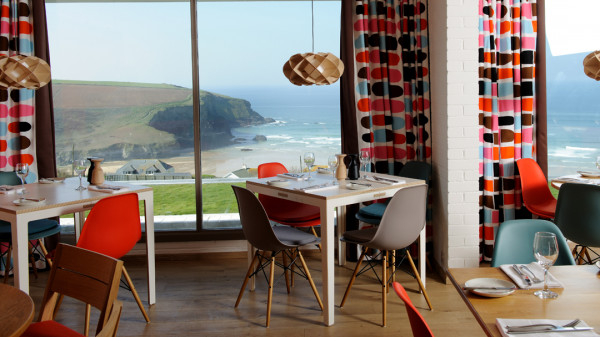 The Gurus also recommend the St Enodoc Hotel, which is also in Cornwall, and is a great choice for active families: the offer everything from sailing classes to golf lessons, and there's an excellent games room. Their family suites have separate bedrooms for the kids - some with bunks, and kitchenettes, but the lively restaurant is very family friendly. But it's the views of the Camel Estuary which are what really brought this 20 room hotel onto our list.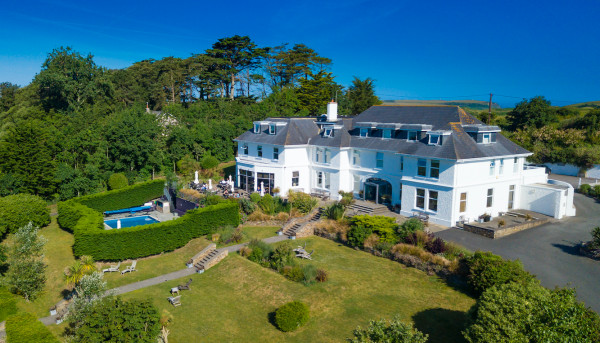 If you're looking for a great value seaside hotel for families then consider The White Horse, in Brancaster, North Norfolk. This lively inn with 15 rooms has panoramic views over the Brancaster Estuary and direct access to the coastal path. And all for around £130 per night. Popular with sailors as well as families, the theme here is nautical. And it's just friendly and good fun.
The Best Seaside Hotels in Cornwall
As well as being one of our favourite seaside hotels in Cornwall, the Driftwood Hotel near Portscatho, is also one of the best seaside hotels for foodies, with its Michelin starred restaurant. Sitting on several of its own private acres overlooking Gerrans Bay, and private beach access, the Driftwood Hotel is chic and intimate, with 14 rooms which are more 'Côte d'Azur than Cornwall'.

Great UK Seaside Hotels for Escaping
Originally built as a holiday cottage during the Edwardian period, The Henley has one of the best views on the South coast: a panoramic vista stretching from the Avon Estuary to Burgh Island. It has just five bedrooms, which are spacious and simple, and make for a private beach house-y feel - with a private beach. The owner's sophisticated home cooking showcases the local bounty, and it's peaceful and private.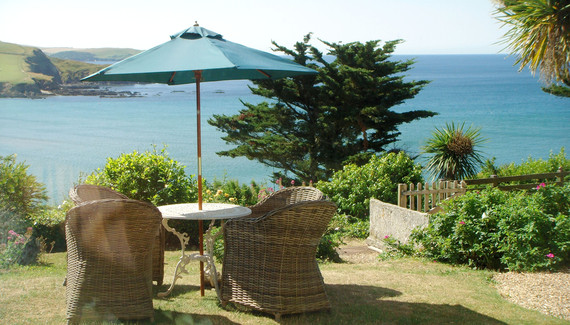 The Best Seaside Hotels in Devon
The Cary Arms, on the cliff above Torquay, is everything a modern British seaside hotel should be: boutique-y without spoiling the original inn-like charm, have spectacular views, have a comfortable restaurant serving great seafood and hearty British staples - hopefully with a view too, and a terrace with a view too. And we like that it's painted blue and white. They also have a glorious spa.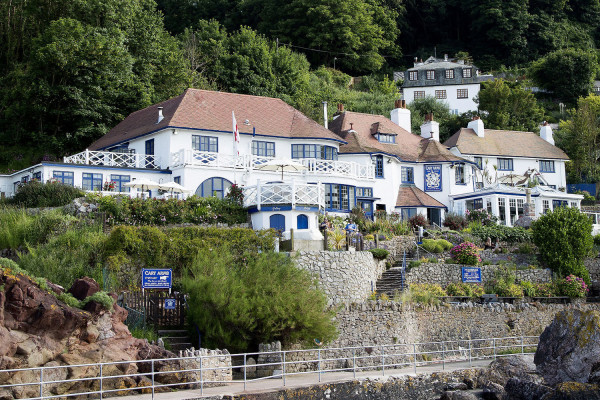 The Best Seaside Hotels in Dorset
The Pig on the Beach is a stylish, country house hotel beside four miles of unspoiled, and beach-y coast. The Pigs are known for their gourmet restaurants and shabby chic-country living decor, and this Pig is no exception. There are 23 rooms, a fantastic kitchen garden helping to 'feed' the restaurant, and the views are stunning - especially from the Lookout room, which is basically a two storey house.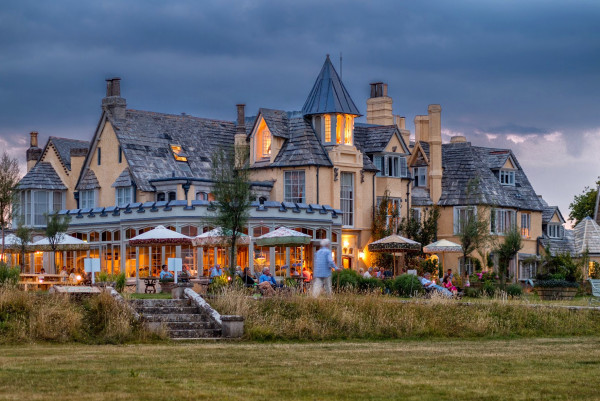 Great UK Seaside Hotels for Spectacular Views
For remote, panoramic views consider those of the Hell Bay Hotel, which occupies a stunning spot on Bryher Island in the Isles of Scilly - you need to go by ferry/ helicopter and then jeep to get here, the tip of England. These 25 rooms and suites are generously sized, and decorated in a beach-chic theme, and most have patios with magnificent views. Around you it's grass, rocks and beyond that the ocean all the way to America. Thankfully the onsite restaurant is good, considering it's really your only option!

Great UK Seaside Hotels for for Great Value
We have loads of recommendations for inexpensive seaside options on the Hotel Guru, but for really great value, where you get a lot for what you're asked to pay, we really like the Osborne House Hotel in Llandudno, North Wales. The facade is beautiful it's a listed, Victorian townhouse with six, luxurious suites right on the seafront. The views are spectacular, the antiques are exceptional, as are the pictures and the bathrooms with their roll-top baths. The location is convenient too, and rooms start from around £125 per night.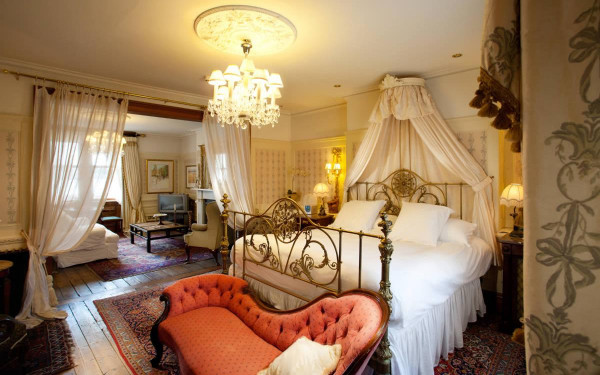 If you haven't spotted your idea of the perfect seaside hotel on our Guru's list of 10 Great UK Seaside Hotels you could:
Great UK Seaside Hotels
Woolacombe, Devon

Classic seaside hotel with fabulous views over the North Devon coast. Tastefully refurbished rooms reflect the beach side location and the restaurant offers delicious food sourced from local ingredients. An romantic hotel for a seaside break and ideal for a family holiday too.

Spa - In room treatments available plus steam room and jacuzzi

Views - Amazing sea views from all but two of the bedrooms

On the beach - Direct access to a sandy beach below the hotel

Great walks - South West coastal path on the doorstep

Recommended by - Good Hotel Guide, Johansens

Check prices

Near Portscatho, Cornwall

Sitting in privates acres, this chic and intimate hotel overlooks stunning Gerrans Bay. Light, marine inspired rooms are the perfect example of comfort meets plush. A Michelin Star at the restaurant makes dining a spoiling yet casual affair, matched by a fine wine list. A dream Cornish location.

Great walks - Grab a hotel picnic and head out through the private estate right down to the coast and explore the beautiful beaches!

Fishing - Right on the coast, there are plenty of fishing boats to rent for the day with equippment and guides if necessary.

Hideaway - A hideaway location just off the beach and in extensive private gardens, why would you leave?

Surfing - No trip to Cornwall is complete without a surf session in the bracingly cold Atlantic.

Recommended by - Mr & Mrs Smith, Sawdays

Check prices

Rock, Cornwall

Charming beachside hotel with views of Camel Estuary. Modern, breezy rooms are chic and comfortable. The lively restaurant serves healthy, modern dishes. Vibrant and cosy, with top marks for stunning location and warmth of service.

Families - Family suites, games room, special kiddies menus and a wealth of fun beachside activities make this an ideal family getaway.

Foodies - Fresh, local, seasonal produce is used in the hotels seafood restaurant to create flavoursome innovative cuisine.

Beach Life - Right on the beach, with nautical blue and white interiors and plenty of water based fun at hand.

Surfing - The hotel will organise a private surf lessons with George Stoy, a perfect introduction to Cornwall's most popular sport!

Check prices

Llandudno, Conwy

Victorian townhouse now 5* boutique on the Llandudno's seafront. The listed building houses antiques and fine art works in all rooms. Suites are comfortable with sea views. Continental breakfast to start the day, lunch and dinner at the casual cafe. A beautiful find in the Welsh countryside.

Local exploring - Whether your interest lies at land or sea Osborne House is the perfect base for exploring this beautiful part of the country.

Value chic - Lavish old world feel without the prohibative price tag- think marble fireplaces, fluted pillars and antique furnishings.

Swimming Pool - Indoor pool at the Empire Hotel is avaliable to guests at Osborne House.

Sights nearby - The worlds largest Bronze Age Copper Mine are located in the Great Orme

Recommended by - Good Hotel Guide

Hotel Website

Mawgan Porth, Cornwall

Fantastic spot overlooking the Atlantic Ocean from a family-friendly hotel. Modern interiors throughout with the comfortable rooms capturing the beach views. Herring Restaurant is Cornish throughout using locally sourced ingredients. Relax by one of the two pools, or at the spa.

Eco break - A sustainable and environmentally minded hotel with an extensive responsible tourism pledge, see website for further details.

Groups - This hotel is ideal for an active creative group holiday with workshops, open air theatre and plenty of fun facilities.

Spa breaks - Pamper yourself at the top of the range luxury spa, using all natural products and treatments- heaven!

Families - With family orientated rooms, activities, nursery and kids club its ideal for all the family.

Recommended by - Good Hotel Guide

Check prices

Aberaeron, Ceredigion

A contemporary seaside hotel and restaurant in charming Aberaeron. Rooms spread among three historic harbour side buildings. Splashes of colour, wrought iron freestanding baths and lively patterns make this a unique property. The chef prepares modern welsh cuisine. A standout property.

Value chic - Cosy, sophisticated design with thoughtful details, warm service and top notch cuisine- without the designer pricetag.

Country Escape - Nestled in a charming harbour town, with great walks, roaring fires and an extensie cellar.

Great walks - Jump on the Welsh Coastal Path running straight by the front door.

Restrictions on children - No children under 5 other than in the cottages

Recommended by - Mr & Mrs Smith, Good Hotel Guide, Sawdays

Check prices

Seaview, The Isle of Wight

Friendly, stylish hub in the centre of charming Seaview, popular with locals. Boasting a busy terrace, two restaurants and a mix contemporary or chintzy bedrooms in various sizes, some with views. Great base for sailing or local exploring, 50 yards from the sea.

Families - A family friendly hotel on an island that provides plently of outdoor activities for children, plus babysitting services.

Beach Life - Situated right on the coast. Ideal for all manner of sea bourne activities or simply coastal walking.

Sights nearby - Puckpool Mortar Battery is nearby and makes for an interesting historical visit.

Great walks - Bring one of the hotels packed lunches and walk the coastal path to Ryde beach.

Recommended by - Good Hotel Guide, Sawdays

Check prices

Brancaster Staithe, Norfolk

A lively inn with panoramic views overlooking Brancaster estuary. Popular with families and sailors. An ideal weekend getaway spot with direct access to the coastal path. Chic, modern suites are decorated in nautical palettes. The theme continues to the menu where fresh seafood dishes are served.

Exclusive offer

Foodies - Famed for its menu, specialising in seafood

Country Escape - Classic British coastal stay

Fishing - 'Norfolk Fishing Trips & Exploring the tidal creeks and Scolt Head Island

Great walks - Norfolk Coastal path runs along the bottom of the garden

Recommended by - Good Hotel Guide, Sawdays

Check prices

South Dorset

Stylish country hotel ideal for a weekend break in Dorset. 23 rooms are ultimate shabby chic with four-posters, wooden floors, stand alone bath tubs. Gourmet restaurant uses produce fresh from the kitchen garden. Miles of English coastline to explore and stunning views. The perfect getaway.

Exclusive offer - Complimentary Upgrade

Restaurant - James Golding prepares delicious food from the kitchen garden

Full of character - Shabby chic rooms with vintage touches

Garden - Kitchen garden, terrace and huge lawn

On the beach - Four miles of unspoilt beaches

Hotel Website

Torquay (South Devon)

A boutique hotel with the charm of a British pub. The cliff top position makes for stunning views. Chic white washed rooms mix traditional features with modern simplicity. Hearty gastro-pub styled food is served at the restaurant. A glorious spa. An excellent choice for a family holiday.

Total relaxation - Lazy days eating seafood on the terrace, followed by customised holistic treatments in the spa using Yon-Ka products.

Families - Three cottages with three, four or five rooms are ideal for families.

Great walks - Jump onto the South West Coast Path National Trail spanning for 630 miles through stunning landscapes.

Fishing - The Inn provides rods for the pier and nets for fishing in rock pools.

Recommended by - Good Hotel Guide, Johansens, Sawdays

Check prices

Bryher, Isles of Scilly

A stylish hotel on the remote Bryher Island. Homely suites follow a beach chic theme, think blues, whites and seashells. Most have patios with magnificent sea views. The on site restaurant produces a delicious range of dishes from seasonal locally sourced produce. A grown up beach hideaway.

Beach Life - This island has everything to offer from fishing, to sailing, beach combing and birdwatching.

Foodies - The restaurant has been awarded 3 AA Rosettes

Great walks - Take a walk on the beach or up Badplace Hill for unforgettable views of Hell Bay and Shipman Head.

Sailing - Sailing courses are available on nearby Tresco Island.

Recommended by - Good Hotel Guide, Sawdays

Check prices

Bigbury-on-Sea, South Devon

Small and friendly owner managed seaside bolthole of just five rooms, with a beach house feel. Cosy rooms are comfortable and clean with wonderful sea views. Cooking that finely showcases the Devon produce. Private beach access. A great weekend escape.

Romantic Break - A magical seaside escape for two, with charming rooms, fantastic food and phenomenal views and walks along the coast.

Birdwatching - The hotel provides binoculars in every room, so make the most of your large windows!

Great walks - Step out of the hotel and onto the pretty garden path tumbling down to the beach.

Surfing - Surf or kite surf on Bigbury, Challaborough and Bantham beaches.

Recommended by - Good Hotel Guide, Sawdays

Check prices

drakes 20 rooms from £171

Brighton

Seafront boutique hotel with impressive sea and city views. Luxurious large light rooms all individually designed, some with window side free standing baths. A 24-hour bar will keep party seekers occupied. The modern European restaurant has been highly accoladed. Ideal for a stylish city stay.

Romantic Break - Start with cocktails in the hip bar, a mouthwatering meal, a stroll along the pier and then back to your sumptuous handmade bed!

City Style - Brighton's most happening hotel, interiors ooze style and confident elegance not to mention the unbeatable location and views.

Great walks - Watch the sunset whilst strolling along Brighton Beach, or head down to the pier for a piece of Brighton Rock.

Sights nearby - In prime location just down the road from the Brighton Pier, the big wheel and the Royal Pavilion.

Recommended by - Mr & Mrs Smith, Good Hotel Guide, Kiwi Collection, Sawdays

Check prices

Grange over Sands

One of a kind and full of character: old fashioned, genteel Victorian hotel. Ornate rooms with heavily draped beds and antique style furniture. Beautifully manicured gardens. Blissful indoor pool, jacuzzi and extensive spa. Fabulous restaurant. Wonderfully romantic.

Local exploring - Set on four acres of landscaped parklands boardering the Lake District, yet within the town and convenient for exploring.

Great walks - Endless walks in the fells, tarns and lakes of the National Park, plus the hotel will pack you a lunch.

Sights nearby - Entertain children at the Beatrix Potter Experience, a wonderful family outing.

Swimming Pool - Indoor Spa Swimming Pool

Check prices
posted Monday, 22nd February 2010
comments powered by

Disqus
Search the best hotels in United Kingdom