✓ Check Availability
✓ FREE cancellation on most rooms
If the idea of lording it in a real castle, snuggling up in a converted railway carriage, or staying in a windmill by the sea appeals, these unusual UK hotels are for you. Dotted across the country, they also include former newspaper offices, an ex-prison and an eco hotel.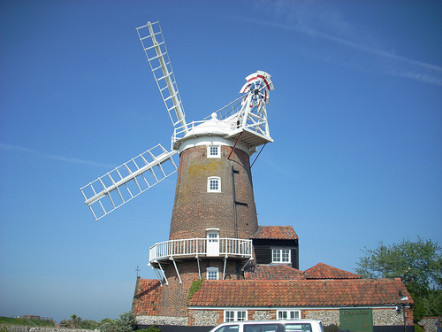 10 Unusual UK Hotels
Unusual UK Hotels by the Coast
Our first choice for unusual UK hotels by the seaside would have to be Cley Windmill in Norfolk: a romantically restored 18th Century windmill with beautiful views, which is now an upmarket B&B with access to an excellent chef. Those who prefer the west country could try The Scarlet in Mawgan Porth, Cornwall, a purpose built eco friendly grown-up retreat overlooking the beach - no children allowed at all! Or slightly further afield, in the Scilly Isles, you'll find the Star Castle Hotel, created from a fantastic 16th century star shaped castle on St Marys. The owner's two great passions are lobster fishing and wine.
Unusual UK Hotels in Castles
Many an unusual UK hotel has been converted from a drafty old castle, but two of the best are Augill Castle, near Kirby Stephen in Cumbria, which is stuffed with antiques, four poster beds and roll top baths - children and dogs are welcome - and dinner is taken round a huge communal oak table.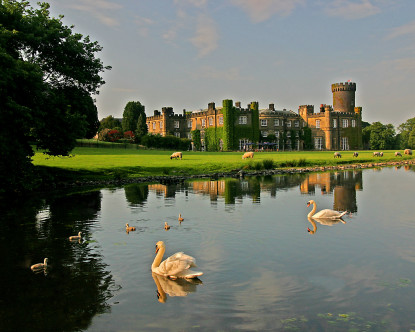 And Swinton Park in Yorkshire, which is a more traditional, luxurious affair, set in 200 acres complete with lakes, walled garden and spa, and with an award winning menu.
Unusual UK Hotels with a Theme
Themed hotels are certainly unusual, but many seem to miss out some of the essential pleasures of a hotel stay. Our selection of themed unusual UK hotels is different, starting with The Scotsman, created from the offices of said newspaper in the heart of Edinburgh, which maintains the newspaper theme, but effortlessly combines old and new - think Victorian oak panelling along side ultra modern glass and steel. In addition it has Michelin starred food..
The Avaitor at Farnborough airport is another highly successful example of a theme hotel, with top end design throughout and great views of the airfield from its Sky Bar.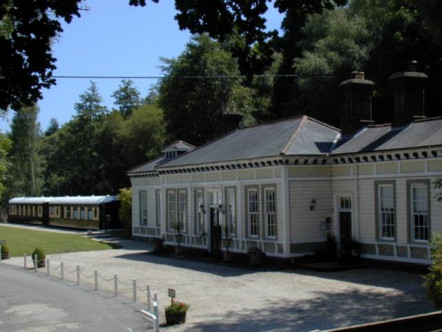 If railways are more your thing, then we can suggest the Old Railway Station, just outside Petworth, West Sussex, which offers rooms in both the old station or a converted train carriage.
Unusual UK Hotels in Unusual Conversions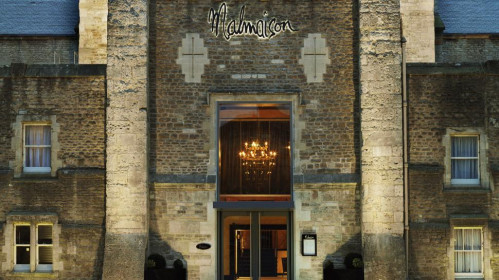 The Malmaison in Oxford has been imaginatively converted from a prison. Converted cells are now modern bedrooms but the original doors and window bars remain! The Exercise Yard has become an attractive outside space and you can enjoy pre dinner drinks in what was once the Visitors' room.
Unusual UK Hotels bordering Eccentric
There's an element of eccentricity to all of our selection of unusual UK hotels, but the Crazy Bear Hotel in Stadhampton deserves special mention. This eccentric creation was originally an old coaching inn, but now the reception is a double decker bus, champagne flows from a tap in the bar, there are pink padded walls and leopard print carpet in the restaurant…
Not found an unusual UK hotel that takes your fancy? Check out our Ultimate Guide to the best Party Hotels instead!
10 Unusual UK Hotels
Cley-next-the-Sea, Norfolk

Characterful windmill B&B overlooking marshes of Cley, a pretty village near shingle coast where locals swim. Quaint rooms with comfortable beds and wonderful views. Good birdwatching nearby.

Birdwatching - For keen ornithologist NWT Cley Marshes Nature Reserve is a wonderful area for spotting all manner of birds.

Views - Panoramic views over the salt marshes

Local markets - Just South of the mill are small shops, selling pottery, smoked fish and secondhand books.

Fishing - Saltwater Fly Fishing is available nearby, ask the friendly staff for further details.

Recommended by - Sawdays, Good Hotel Guide

Check prices

Mawgan Porth, Cornwall

Relaxing, purpose-designed eco-friendly hotel overlooking Mawgan Porth beach. Contemporary furniture and modern local art adorns bedroom walls. Great sea views from the cocktail lounge and stylish hotel restaurant. Fantastic spa facility for ultimate relaxation and great outdoor activities nearby.

Romantic Break - You, your loved one (and even the pooch) can enjoy an indulgent coastal stay

Spa breaks - Excellent spa with a range of Ayurvedic treatments

Swimming Pool - Outdoor and Indoor Pool

Great walks - South West Coast Path.

Recommended by - Mr & Mrs Smith, Good Hotel Guide, Sawdays

Check prices

Nr Kirkby Stephen, Cumbria

Standing between the Lake District and the Dales rests this eccentric castle welcoming all the family into the countryside and the Eden Valley. Four poster beds and antique furnishings make up the comfortable rooms. Restaurant is open on weekends. Great hideaway and local exploring to be done.

Families - With fantasatic facilities for kids, from cooking classes, to playgrounds, dressing up boxes and plenty of toys.

Country Escape - Spectacular walking, wonderful views and whiskey in the drawing room old school weekend in the country vibes.

Great walks - With national parks all around, this is the perfect spot to get on your walking boots.

Cooking classes - The hotel has a wonderful cookery school for children.

Recommended by - I Escape, Good Hotel Guide, Sawdays

Check prices

Ripon, Yorkshire

Striking, castle-like stately-home set in sweeping parkland and offering plenty of on-site activities from fishing and golf to a cookery school and sleek spa. Vast rooms, beautiful views and a choice of two restaurants.

Cooking classes - Variety of courses run throughout the year at the on site cookery school

Garden - 200 acres of parkland

Great walks - Trekking up to the moorland Dales

Full of character

Recommended by - Good Hotel Guide, Frommers

Check prices

St Mary's, Isles of Scilly

Delightful family-run hotel set in a star-shaped castle on St Marys Island. The newly refurbished rooms are extremely comfortable and well decorated, with quaint details. Fresh, local, seasonal produce sets the tone for the on site restaurant. Totally charming!

Views - Some of the best views on the island.

Swimming Pool - Heated indoor pool

Remote - Off the beaten track.

Seaside - Ideal for a seaside holiday.

Recommended by - I Escape, Frommers, Good Hotel Guide, Sawdays

Check prices

Edinburgh

This historic hotel overlooking Edinburgh Castle, was formerly the HQ for the Scotsman newspaper. Come for Michelin star restaurant, close promiximty to Princes St and a world-class gym. Chic interiors in traditional rooms.

Swimming Pool - State of the art stainless steel indoor pool

Great walks - Calton Hill, is just a short stroll from the hotel, enjoy 360 views of the city at the city's UNESCO World Heritage Site.

Sights nearby - Overlooking Edinburgh Castle.

Views - Good city views.

Recommended by - Fodors, Frommers, Good Hotel Guide

Check prices

Aviator 169 rooms from $261

Farnborough, Hampshire

A quirky designer hotel at Farnborough private airfield. Contemporary rooms (all soundproof) boast every modern connivence, plus the best offer views of the runway. A sleek and opulent luxury getaway for urbanites. Effortlessly cool.

Romantic Break - A chic retreat for discerning couples- stylish contemporary suites, extensive spa, fantastic food and knockout cocktails.

Foodies - This slick hotel boasts two fantastic dining options- Adam Fargin's Brasserie and the more laid back One Eleven.

Birdwatching - Enjoy a brisk walk and a bit of birdwatching at nearby Frensham Little Pond.

Great walks - Take a wander around The Sculpture Park in Churt, well worth checking out.

Recommended by - Mr & Mrs Smith, Johansens

Check prices

NOT TO SHOW

As close as you'll get, in a b&b, to the romance of the Orient Express. Quirky property for train lovers, just outside Petworth. Book a room on the old station or in a carriage.

Sights nearby - Great for Goodwood, Festival of Speed or Cowdray Park.

Restrictions on children - No children under 10 years old

Romantic - Good for couples.

Quirky - An experience!

Recommended by - Good Hotel Guide

Check prices

Oxford (3 New Road)

Fantastically modern interiors and stunning atrium in this atmospheric castle and former prison. Sleep in converted cells with original fittings and Gothic colours. New, airier rooms are also available in the additional buildings. Good brasserie food and a smart neon-lit cocktail bar.

City Style - Modern hotel in the heart of historic Oxford

Local markets - Oxford Covered Market

Sights nearby - Bridge of Sighs

Great walks - Good for walkers.

Recommended by - Frommers, Good Hotel Guide, Kiwi Collection

Check prices

Stadhampton, Oxfordshire

Eclectic, eccentric – a one off converted coaching inn. Think padded leather walls, silver beds, copper free standing baths. A London red bus sits decoratively in the garden. The two restaurants serve traditional British or Thai food. Best for wacky weekends away.

Romantic Break - In room freestanding baths and intimate dining areas make for a romatic weekend away.

Fishing - Fly fishing is organised by the hotel both for events or just a day out.

Great walks - Explore the 80 acres of parklands with rare bread farm and woods.

Full of character

Check prices
posted Monday, 22nd February 2010
comments powered by

Disqus
Search the best hotels in United Kingdom