6 of the Best Wine Hotels Auckland and Waiheke Island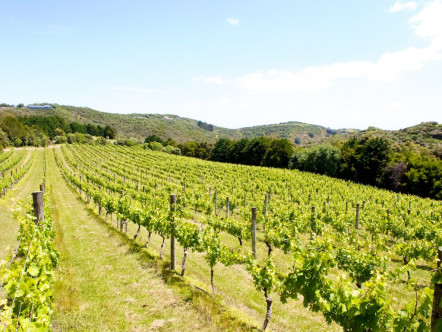 Flickr user Alister Coyne
Auckland in North Island is not only New Zealand's largest city but it's also internationally renowned for its boutique wineries. Planted mainly with chardonnay and Bordeaux varieties - merlot, cabernet sauvignon, cabernet franc - Auckland's vineyards are within easy distance of its city centre. Kumeu, to the north east, and Waiheke Island in the Hauraki Gulf, are home to some of its most famous vineyards. The small, hilly island of Waiheke has a quite distinct climate and feel, partly due to its laidback population of hippies and artists. This means that our range of wine hotels in Auckland has something for everyone.
The Best Wine Hotels on Waiheke Island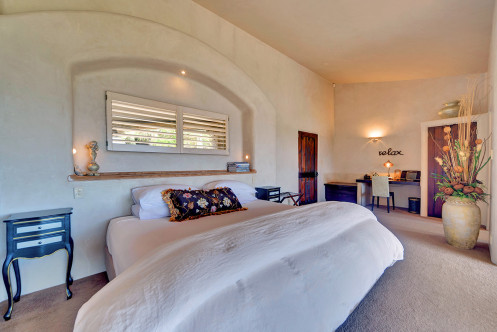 Even closer to the beach, Waiheke Island Resort also has self-catering studios and apartments but with a wider range of on-site facilities, including a bar, restaurant, pool and hot tubs.
If you want a little more cossetting, Te Whau lodge is a modern take on a chalet with lots of natural woods, glass and expansive views from its verandas. Close to both beach and wineries, it has a hot tub plus a garden that produces much of its fresh breakfasts.
And if you really want luxury, check out cliff-top Delamore Lodge where the sea-facing rooms have private courtyards, floor-to-ceiling windows and an understated elegance. There's an infinity pool, tropical rock pool with waterfall, and plenty of sculptural designed outdoor seating areas designed for just chilling and sipping wine.
Wine hotels in Auckland city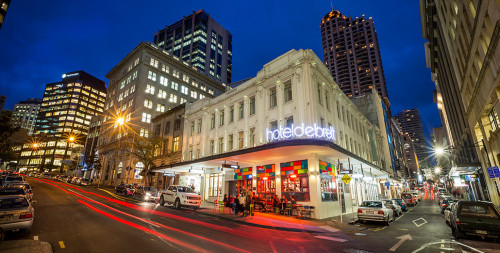 For good value and a historic building to boot, the Esplanade Hotel makes a charming choice. This Edwardian building has contemporary classic rooms, some with open fires. Sitting on Devonport waterfront, it's nicely away from the hustle of downtown Auckland.
Also large (165 rooms), but altogether cooler and crisper, with floor-to-ceiling windows and minimalist-furnished white rooms, the Hilton Auckland has a stunning position on the city's waterfront. One of its most remarkable features is its high-level, outdoor heated lap pool.
In the heart of the action, Hotel deBrett is a bright, quirky affair with colourful striped carpets, and a mix of retro and vintage furnishings. There's a clubby bar with a good choice of local boutique wines, contemporary art on the walls plus a gym and massage room.
Our choice of wine hotels in Auckland means you can combine both a beach and a city stay. For a wider selection either consult our Ultimate guide to the best wine hotels in New Zealand or check out our full listings for Auckland, Waiheke Island and the North Island.
posted Tuesday, 27th July 2021