5 of the Best Hotels near the EYE Filmmuseum
If you're a film fan, a visit to the Eye Filmmuseum is a must. If you're not yet a cinemaphile, Eye may turn you into one. It's perched on the north bank of the River IJ, so its name is a clever see-what-I-did-there pun. Some of the best hotels near the Eye Filmmuseum are within walking distance, in Amsterdam Noord.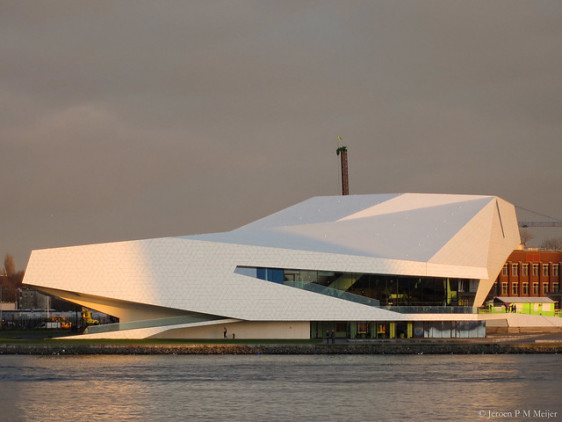 Flickr user jpmm
Eye's stunning design is straight out of a science fiction movie – from some angles it looks very like a starship ready for liftoff. Inside, it's equally stellar. EYE is a temple to cinema, with a collection that celebrates everything from the very first silent movies to the golden age of black-and-white talkies and the latest in 3D and digital special effects. Visitors can watch screenings of remastered classics and the latest cutting-edge indie releases in its four cinemas, or you can enjoy silent movies from the museum's archives in your own personalised viewing pod. There's a huge collection of cinema memorabilia, ranging from posters and photos of bygone stars to original soundtrack recordings and vintage cameras that will fascinate a generation of younger visitors who take mobile devices with built in video capability for granted.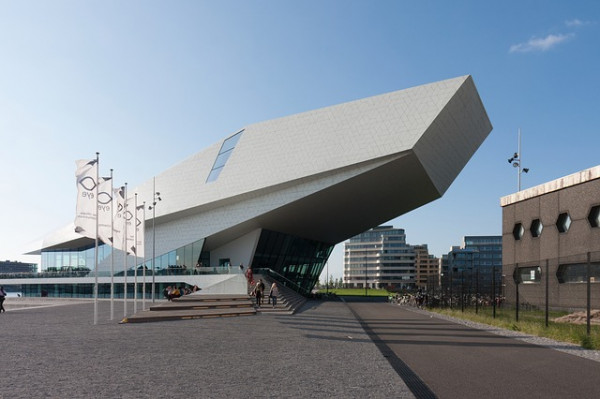 Image by studioklick from Pixa
It's an experience well worth making the journey across the IJ for, and the ferry crossing is a fun (and free) sightseeing trip in its own right, with great views of the waterfront. You'll find more of the best hotels near the IJ in Amsterdam Centrum, and the Waterfront neighbourhood.
The best hotels near the EYE Filmmuseum
ON THE DOORSTEP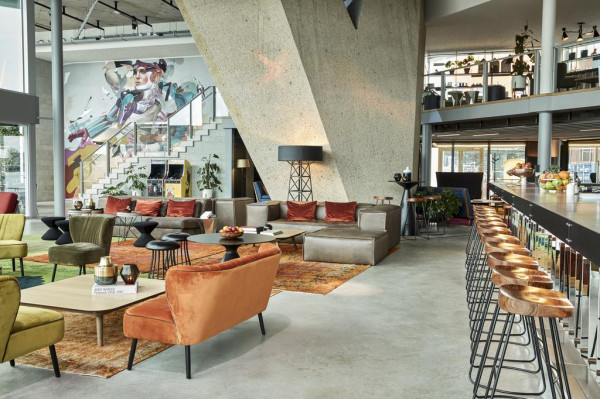 Sir Adam Hotel in the landmark A'DAM Toren can claim to be Amsterdam's coolest hotel. A perfect base for the style-conscious visitor.
Clink Noord is a hipster hangout with en-suite rooms and budget-priced beds in shared dorms, just steps from Eye.
WITHIN EASY REACH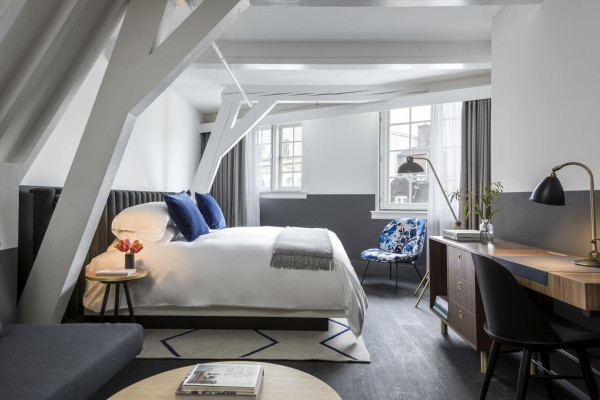 Art'Otel Amsterdam is a two-minute walk from the IJ ferry pier on De Ruijterkade (behind Centraal Station) and offers spacious rooms and suites.
Yays Bickersgracht offers comfortable canalside apartments on Westerdok, just across the IJ from Eye Filmuseum and within walking distance of IJ ferries.
Stylish De Witt Hotel is another good pick with easy access to Eye. It's a short walk from Centraal Station.
Still not sure which to book? Take a look at all our Amsterdam recommendations, or contact a friendly guru for advice.
Sir Adam Hotel

Amsterdam

108 rooms from £134

Lively - The gourmet burger joint doubles up as an all-night party pit stop at the weekend and the hotel hosts a nightclub too

Designer - The property has that warehouse-chic feel about it with soaring windows, polished concrete, and bespoke furniture

City Style - A quirky and unique skyscraper conversion, filled with artists, roadies, and fashionistas — uber cool!

Sights nearby - See the beautiful Royal Palace, visit Dam Square or head to Anne Frank House

Recommended by - Mr & Mrs Smith, Tablet, Design Hotels

The trendy Sir Adam Hotel is located in Amsterdam's historic centre overlooking the IJ-river. Plush rooms with funky features such as exposed stone walls and contemporary artworks. The Butcher Social Club serves up wonderful burgers with a great selection of beers. A one of a kind spot! See More

Check Availability

ClinkNoord

Amsterdam (Noord)

213 rooms from £113

Local exploring - Located in the artsy Noord district of Amsterdam, this hostel makes a great starting point for local exploring

Value chic - With beds in a shared dorm from under 20 euros, this hostel is great value for money

Groups - The larger dorms are great if you are travelling with a group

Sights nearby - Visit the Royal Palace Amsterdam, a palace used by the Dutch Royal House and which houses a number of 17th-century artworks

This friendly hostel is located in the Noord district of Amsterdam, on the banks of the River IJ. Guests can choose between modern private rooms, mixed or single-sex dorms. Lockers are available in every dorm, plush fresh linens and towels at reception. Meet other travellers in the bar; a fun hotel. See More

Check Availability

Short break - Located opposite Centraal Station, locations don't get much handier than this for those on a quick city break

Foodies - Renowned chefs at ARCA restaurant create spectacular dishes mixing Portuguese and Asian flavours

Swimming Pool - Boasting one of the largest hotel pools in town (big enough to do short laps)

Artworks - Find works by local artist Atelier Van Lieshout throughout the property

A sophisticated contemporary hotel with its own art gallery. Young, hip and designed for movers and shakers. Shiny rooms and suites offer lots of space and subtle lighting. There's an excellent restaurant and cocktail bar that merges Portuguese and Asian flavours. A trendy spot. See More

Check Availability

De Witt Hotel

Amsterdam

274 rooms from £207

Short break - Located just across the way from Centraal Station, this is a convenient choice for a fly-by city break

Intimate - The 5pm Wine Hour (offering free wine and snacks) becomes genuinely relaxed and chatty

City Style - A chic design hotel complete with atmospheric bar and a lively restaurant

Artworks - Enjoy the hotel's collection of ever-changing artworks by Dutch talents

A sleek hotel occupying two 17th-century hotels just minutes from the Centraal Station. Rooms vary slightly in design but all follow a blue and white scheme, and have wooden floors and luxurious bathrooms. American comfort food is served in Wyers restaurant and there's a lively cocktail bar too. See More

Check Availability

Local exploring - This hotel is in a great location, far enough from the centre to avoid noise but close enough to visit the main attractions

Families - These large, two-bedroom apartments are great for families travelling with children, and offer ample living space

City Style - Located on the site of a heritage church on the canalside, this hotel has lots of local style

Sights nearby - Enjoy spectacular, 360 degree views of the city from the A'DAM Lookout, a 20-storey viewing platform

This boutique hotel offers self-contained apartments on the canalside in Bickerseiland. The apartments are great for families or groups, with multiple, cosy bedrooms and separate living space, plus self-catering facilities. Book a comfort suite for a shared terrace; a stylish city break. See More

Check Availability
posted Tuesday, 12th July 2022