The 20 Best Wine Hotels in the Napa Valley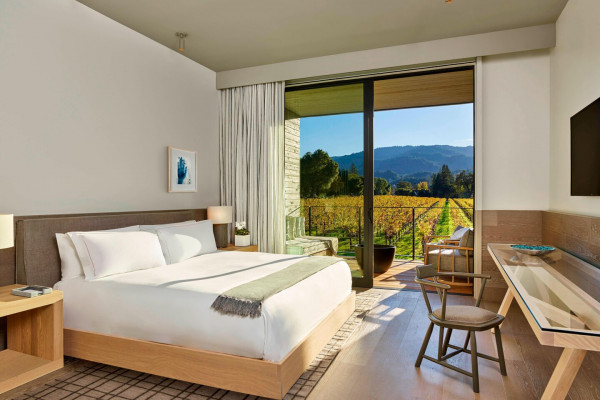 The Napa Valley is known the world over for its Cabernets, Chardonnays and spectacular sprawling wineries, but it's also a sunny, foodie heaven, and an exceptional place to visit if you want to relax and treat yourself. And many of the best wine hotels in the Napa Valley offer pampering extras, like spa treatments, massages, winery tours and wine-matching menus to make the utmost of your stay. In our Gurus' recommendations for the best wine hotels in the Napa Valley all the properties have a little something extra, with great picks for wine-loving romantics, foodies, photographers and spa lovers. There's five star luxury stays, properties set amongst the vines, and some charming inns and B&Bs too — in short something for all tastes and budgets! They're also spread throughout the valley, from Napa to Yountville to St. Helena and Calistoga.
For the Album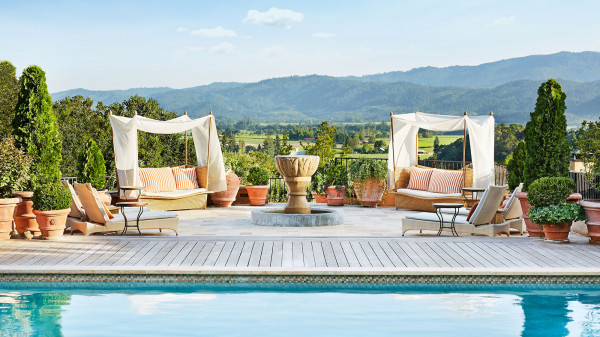 Built atop a 15,000 strong wine cellar, with incredible, panoramic vineyard views and the scent of olive groves, the Auberge du Soleil is a Napa Valley classic; a beautiful and luxurious boutique hotel, with 50 rooms and suites and a restaurant that's renowned across the valley. The Auberge started out as a restaurant with rooms, and the food is still a key part of the offering, and the myriad of wines available to pair each meal with, but now that's also a spa, yoga pavilion, pools, tennis courts, a gym and a wedding license. And the location, close to the Silverado Trail and gorgeous St. Helena, is ideal for exploring the whole region.
For the Vineyard Experience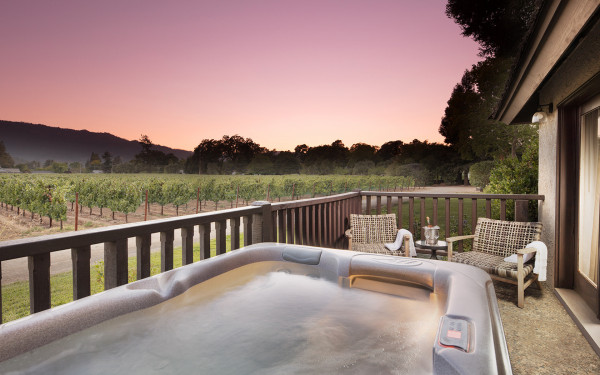 The Chateau de Vie is a peaceful, four bedroom chateau surrounded by lavender filled gardens, with grape rows beyond. The large rooms have wonderful views, plus the atmosphere of peace and tranquility space and views bring. There's no restaurant, but they offer a gourmet breakfast, and will assist with transport around the area — whether you want to travel by horse, bike or foot. At the end of the day return for the pool and hot tub.
The Harvest Inn by Charlie Palmer is the perfect way to experience life on a vineyard — with all the views and tastings, but none of the actual work! There are 78 rooms and suites, all well proportioned; our favourites come with open fireplaces, polished parquet floors and vineyard views. The restaurant specialises in local produce, and there's a large kitchen garden onsite to help with that. There's also a spa, with both indoor and outdoor facilities, and pet-friendly rooms.
For the Views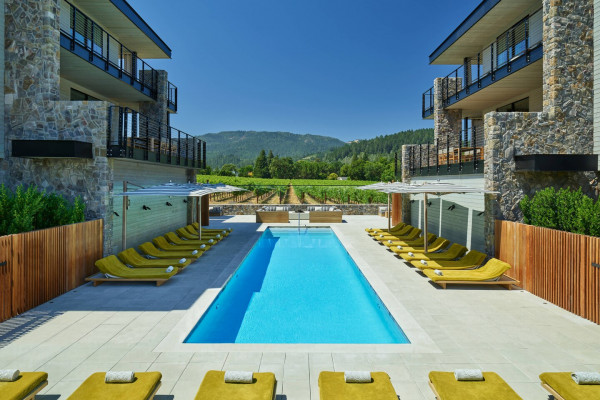 Las Alcobas Napa Valley is a villa resort hotel, that's grown out of its original white-timbered, pillared mansion, and spread into a collection of contemporary buildings, with upmarket, California-style decor, and huge windows overlooking vine rows. There are 68 rooms, suites, apartments and villas, in a great range of sizes and styles. There's also a very well equipped spa, with a sauna and gym attached, and a glamorous pool with incredible views. Las Alcobas also has an excellent restaurant.
The Poetry Inn is a small boutique hotel on the Sliverado Trail just outside Yountville, overlooking the valley and rows of vines, from its hillside setting. Rooms and suites are large and light, with plenty of additional luxury and huge windows. There's a spa onsite, and although there is no restaurant, the chef can arrange private dining experiences paired with local wines.
For Romantics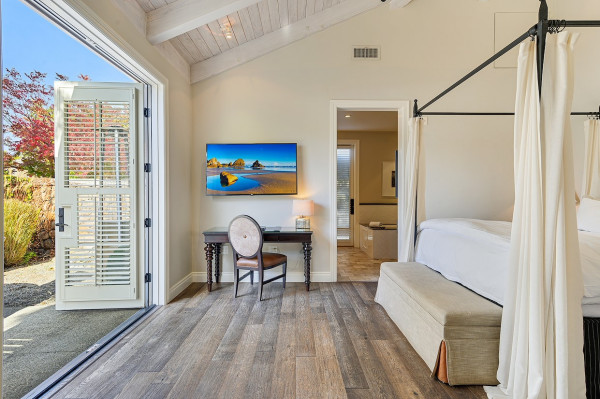 Just a short walk from the centre of town, but sitting on five acres of garden, the Hotel Yountville is a European-chateau style design, with 80 rooms and suites and an extensive spa. The stone exterior, and use of natural resources inside, lend a cosy rustic chic feel to the spacious rooms and suites. And if you fancy a four-poster bed, a fireplace in your room, or a private terrace, there's a room to suit you. The onsite restaurant is excellent — Yountville is a very foodie destination — and there are plenty of Michelin stars within walking distance. There's also a spa with a sauna, and a pool and hot tub.
The Milliken Creek Inn is an adults only inn on the banks of the Napa River, where they have a manicured riverside garden, and places to sit and sip. The inn has 12 rooms and suites, dressed in whites and greys, and exuding luxurious comfort from their plush linens, huge beds and large indulgent bathrooms. While there's no restaurant, they do a lovely breakfast, and provide 'magic hour' cheese and wine every evening — which is another opportunity to test the local produce.
Zinfandel's Napa Farmhouse Inn is a warm and welcoming B&B, in a charmingly converted country house that makes the most of its rustic features, but mixes them with the sort of contemporary style you see in interiors magazines. There are just four rooms — some with fireplaces, some garden-facing balconies — and all with large bathrooms. There's also a lounge, verandah, and a dining room, where breakfast is served.
Best Wine and Spa Hotels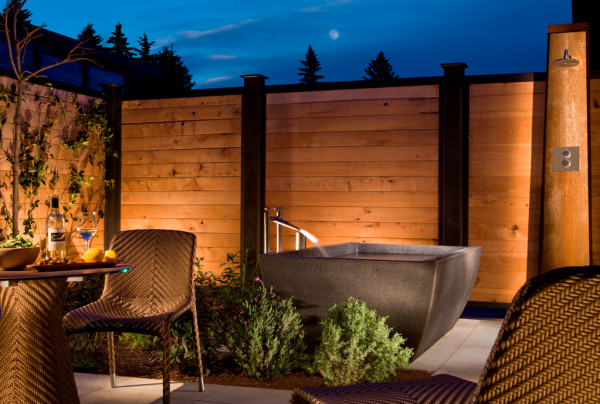 The Bardessono Hotel and Spa is a luxurious, and extremely eco-friendly spa, fuelled by geothermal springs that heat the rooms as well as the spa. Much of the hotel's other energy comes from solar panels, which are an elegant design addition to the roof. And it's not a small hotel, either, it has 62 rooms, suites and villas to serve — all with spacious bathrooms which are almost mini-spas — and an excellent restaurant. The hotel offers weekly wine tastings, and, being in the middle of Yountville, you're within walking distance of a number of vineyards and cellars.
For Indulgence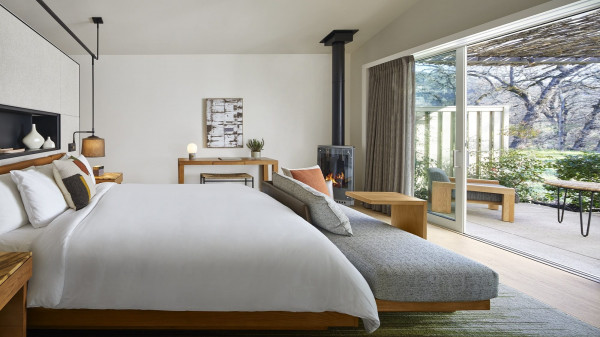 The 89 room Solage Calistoga is billed as an 'adult's playground', referring to the impressive list of facilities onsite — including a vast spa complex, a gorgeous lagoon pool, an impressive restaurant and cocktail bar, and complimentary bike hire, which is designed to 'help' with your wine tasting adventures. Though of course they offer plenty of tastings onsite too. And while it feels as if you're a world away, you're in Calistoga, close to the Silverado Trail.
For A Rural Retreat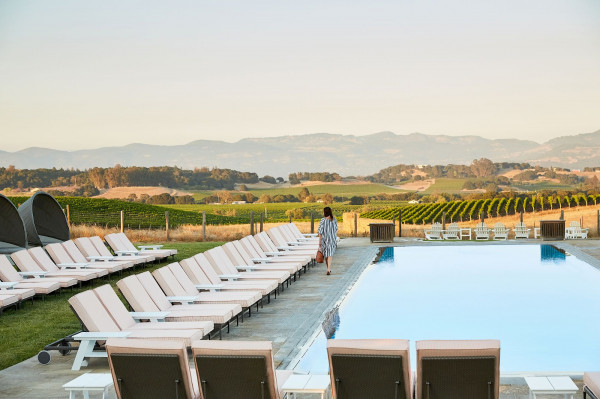 Cleverly converted from farm buildings, the The Carneros Inn offers accommodation in rooms, suites and cottages — with many offering private outdoor space — all done in agri-chic style. The lobby and restaurant are in a vast barn or silo, and there are two further restaurants (one on a hilltop overlooking rows of grapes), plus an award-wining spa, three outdoor pools with a view, and lush gardens all around. There's plenty more to do onsite, they offer cheese-making classes, art classes and horse riding. And they can accommodate families of all shapes and sizes.
The Rancho Caymus Inn is a small, Spanish mission style hotel in a prime Napa Valley position, close to Zinfandel, and surrounded by vineyards and wineries. The Rancho has 26 rooms and suites, in two storeys, arranged around a central courtyard with a pool. Each room has been individually designed and decorated, and include stained glass windows, beamed ceilings, tiled floors and antiques. There's also a small spa. There isn't a restaurant, but they do serve breakfast and 'small bites'.
The Wine Country Inn is a rural estate outside St. Helena, with vineyard and garden views in every direction. The inn has 29 spacious rooms and suites — all with huge floor-to-ceiling windows allowing in lots of natural light — or you can book a private cottage. You can bring your pet, but not your children. And while there's no restaurant onsite they do offer breakfast, and there's a heated outdoor pool and hot tub.
Stay in Town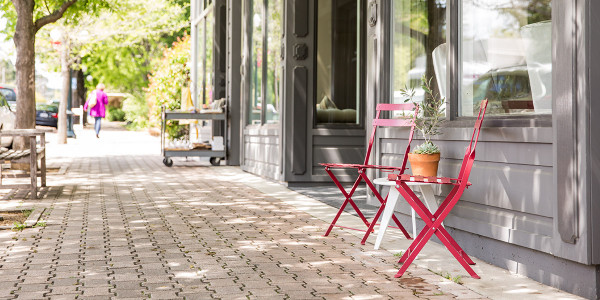 The Napa River Inn is a cheerfully decorated boutique hotel, in a buzzy neighbourhood right on the river in Napa town. Its 66 rooms and suites are decorated with old-fashioned, Victorian charm, but not too much of it to be chintzy; our favourite rooms have wonderful river views. The restaurant is Michelin rated, and there's a chic bar, and a nightclub onsite. Stay here and you're within walking distance of 20 tasting rooms, and a range of fantastic Napa restaurants.
The bijou Wydown Hotel is perfectly positioned in central St. Helena, surrounded by fantastic bars and restaurants. Its 12 rooms and suites are simply, but carefully arranged and decorated, using a perfectly mismatched collection of contemporary furniture and art, with some quirky design ideas, and cool lighting. The friendly owner is often around for excellent personalised advice. There's no onsite restaurant, but they offer breakfast in the dining room.
For Families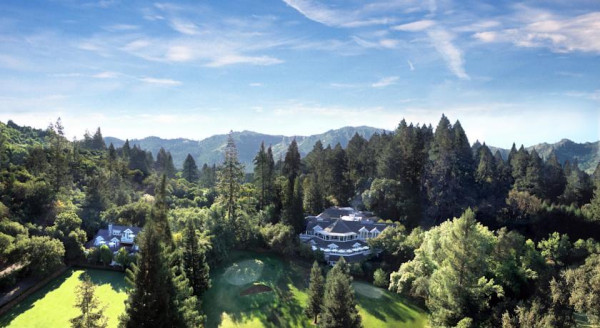 Meadowood is a rather magical haven, on a thickly wooded plot of land in St. Helena, offering the feeling of rural seclusion, with wonderful valley views, while still being within walking distance of a number of wineries. Meadowood will also supply bikes, if you'd rather head out on two wheels, and arrange horses if you'd prefer to travel that way. If you'd rather not travel too far you can take advantage of the hotel's golf course, complete with a pro, or its tennis courts, which also have a tennis pro to train you up. There's also a spa, pool, a gym, croquet lawns, the sort of gardens you can get lost in, and an excellent restaurant. Meadowood has 85 rooms and suites, including some suitable for families.
Maison Fleurie is a totally charming historic inn and B&B, in a collection of three stone buildings constructed in 1873, just a ten minute walk from the centre of Yountville. The 13 rooms and suites have a French country feel, with exposed wood beams and brick walls, floral fabrics and antiques. They also all have large windows and spacious bathrooms, and some are large enough for families.
For Privacy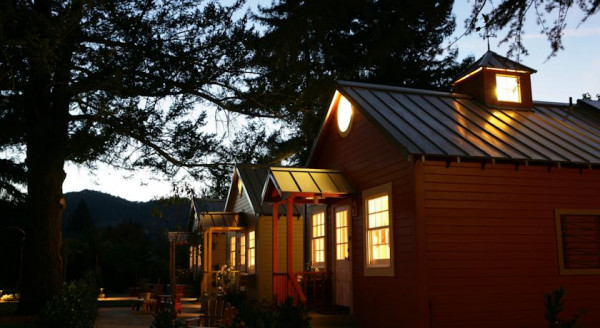 Eight cottages make up The Cottages of Napa Valley, offering the sort of hideaway-peace and tranquility worthy of a Hollywood star. Each cottage has a complete kitchen, plus sitting and dining area, and terraces with views. There's no restaurant, but plenty of local choices. Some of the cottages are perfect for families, so long as your youngest child is 12 or over.
Best B&Bs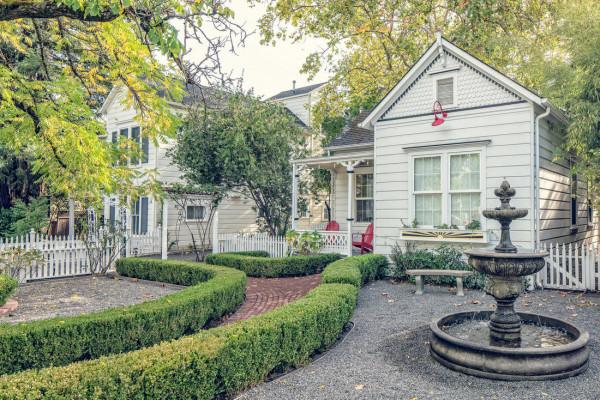 Lavender is a charming, eight room B&B in Yountville, with plenty of colour and a Provençal feel — which is where its surrounding lavender gardens and the name come from. The rooms are all individually decorated, and range from really colourful, to soft neutrals, and every room comes with some sort of added extra, be it a private porch, a spa bath or hot tub. There's a charming communal dining room style restaurant, and a boules pitch.
Inn St Helena is a boutique inn in a central St. Helena spot, offering accommodation in a Cape Cod-style shuttered villa, and the smaller Cottage House, which is a bit more country chic. Each of the eight rooms are individually designed and decorated, and some have private outdoor space and self catering facilities. There's no restaurant, but breakfast is included, and they offer complimentary wine tastings, with snacks, each evening.
Still not sure where to book?
posted Monday, 4th April 2022