3 Best hotels near the Roman Forum
Visitors will find some the best hotels near the Roman Forum in lively Plaka and around Monastiraki, within a short stroll of its ancient columns. The Romans founded this marketplace – also called the Roman Agora – in the first century AD, and it remained the busy heart of the city all through the centuries of Byzantine and the centuries of Turkish rule. There are relics of many imperial eras here – Julius Caesar and his successor Augustus built its main gateway. The Emperor Hadrian commissioned the nearby Hadrian's Library in 131AD, while the emperors Vespasain and Titus are honoured with their own temple.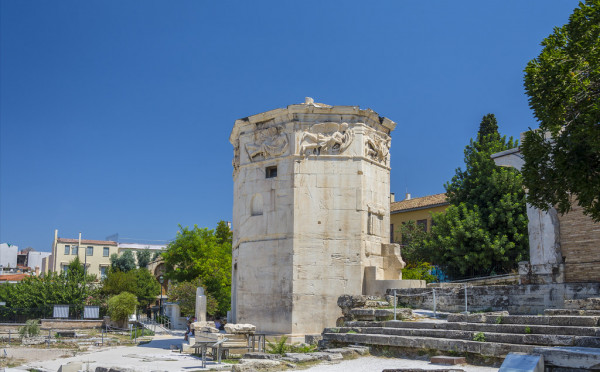 Flickr user Ava Babili
The Fetiye Mosque, built in 1456 on the north side of the Forum, is a monument to the Ottoman Sultan Mehmet the Conqueror. The Forum's best known landmark is the eight-sided 'Tower of the Winds', a 1st-century water-clock fed by a natural spring, which set the official time for the city.
You'll also find some of the best places to stay near the Roman Forum around Syntagma, less than 10 minutes' walk from the site.
Best hotels near the Roman Forum
For a rooftop bar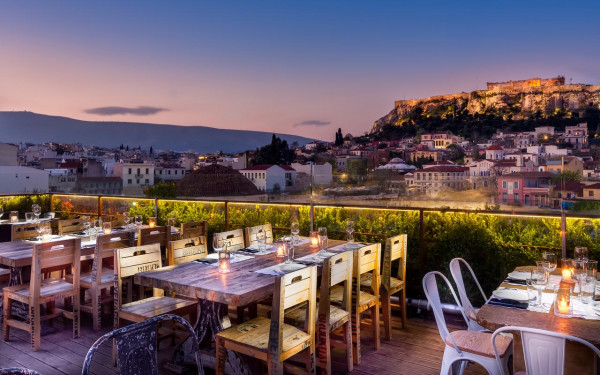 360 Degrees overlooks the bustle of Monastiraki Square, just steps from the Roman Forum. Rooms are individually designed and the rooftop bar has great views, and doubles start from only €120 per night including breakfast.
A for Athens offers simple, stylish rooms on Monastiraki Square. Its rooftop bar is a hip rendezvous for young Athenians.
For luxury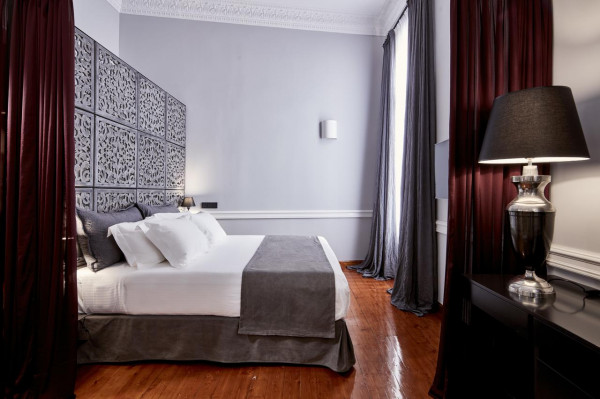 The Zillers is a stylish base, just half a dozen blocks from Roman Forum. Designer rooms and suites nod to local style and the roof garden is a super place to relax after a day's sightseeing.

Local exploring - Located next to Hadrian's Library and Monastiraki Flea Market, this hotel is a great starting point for local exploring

Romantic Break - Couples love the romantic roof terrace at night, with signature cocktails and stunning views over the historic city

City Style - With unique design pieces and individually styled rooms, this hotel has reams of city style

Local markets - Wander round Monastiraki Flea Market, a short walk from the hotel, and bag a bargain to take home

Recommended by - Great Small Hotels

This charming hotel is nestled in the heart of historic Athens. Individually styled rooms have unique, vintage design pieces and views of the city sights. Stay in the Junior Suite to enjoy a pretty outdoor patio. Drink at the rooftop bar for majestic views of the Acropolis. An intimate guesthouse. See More

Check Availability

A for Athens

Athens (Monastiraki)

35 rooms from $111

Romantic Break - A perfect romantic getaway — fantastic food, great cocktails and remarkable Acropolis views from the rooftop restaurant

Close to nightlife - Monastiraki Square is just across the street and is a hotspot for bars, eateries, markets and lively street scenes

Great walks - Centrally located in one of Athens most vibrant neighbourhoods, be sure to wander the streets and soak it all in

Sights nearby - As you can probably tell from the views, you are only a 15 minute walk to the Acropolis

Recommended by - Great Small Hotels

An elegant and sought after hotel overlooking the Acropolis in central Athens. The rooms are simple and stylish with hardwood floors, artsy light fixtures and the odd marble sculpture; some offer balconies. The rooftop bar serves incredible cocktails and their Greek cuisine is excellent. Wonderful! See More

Check Availability

The Zillers

Athens

10 rooms from $120

Romantic Break - Couples love the romantic roof garden bar and café, with great views over the historic city

City Style - Situated in a lovingly restored heritage building, this hotel has plenty of city style

Families - The spacious family suites are perfect for those travelling with children

Sights nearby - Visit the Acropolis, the ruins of an iconic 5th-century B.C. temple complex a stone's throw from the hotel

This boutique hotel is set within the picturesque neighbourhood of Plaka. Located in a heritage building, the hotel underwent a full renovation and now offers modern rooms and suites with design pieces that nod to local style. Unwind with a drink at the urban roof garden; a stylish city getaway. See More

Check Availability
posted Monday, 6th May 2019