Top Tips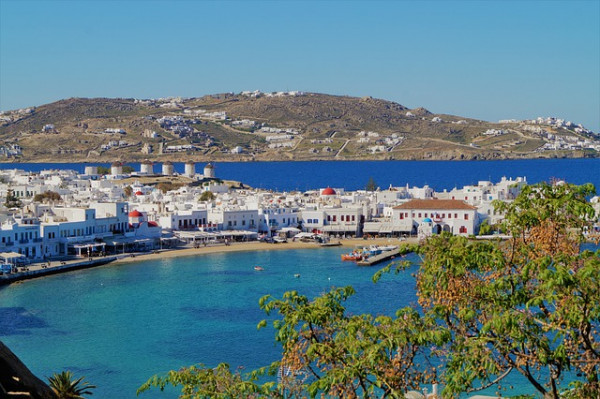 Pami exclusiv-travel from Pixa
The Hotel Guru's guide to where to stay on Mykonos will help you decide on the perfect base for your visit to this vision of Cycladic perfection. Whether you're here to sample the charms of its vibrant traditions, find a stretch of azure and white coastline to call your own, or to enjoy the sights and sounds of glamorous, lively Mykonos Town in full swing. We've got a match between your ideal Mykonos holiday and a town or neighbourhood.
Guide to the Towns, Centres and Neighbourhoods of Mykonos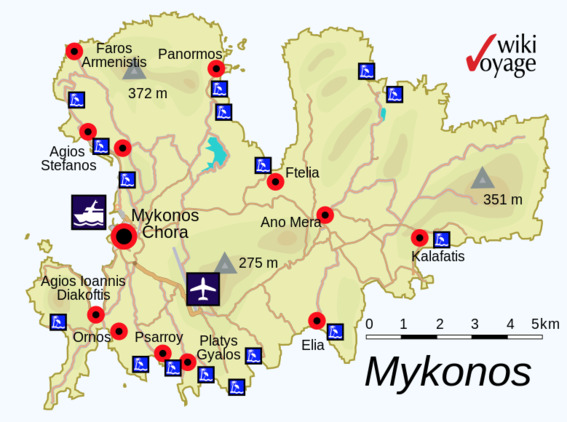 User: Bgabel at wikivoyage sh
Mykonos today is synonymous with glamour, popular with fashionistas and jet-setters, who adore the gorgeous backdrop of sugar-cube Cycladic architecture, clear azure ocean and almost constant sunshine. It's one of the most visited islands in the Aegean. Until relatively recently Mykonos was one of the barest-looking, and poorest, islands in the Cyclades, so much of the infrastructure here is fairly new, but some of the sights are ancient, and beautifully preserved. Mykonos Town's windmills are one of the island's landmarks, as is the architecture of the Little Venice area; there are some very good museums, and you're a short boat ride from the World Heritage listed archaeological site of Delos. But most people come to Mykonos for sun, sea and fun.
There's a very big difference between the experience you'll have staying in Mykonos Town, and staying elsewhere. Mykonos Town doesn't sleep, there are people up all hours enjoying themselves, and as that starts to dwindle the bakers and fishermen are up going about their business. And there are cruise ships docking here most days, so it almost always feels busy and lively. Many of the streets are pedestrianised, but there's still quite a bit of moped traffic — it's a good way to get around if you want to explore the island.
Outside of Mykonos Town the villages and hamlets all have their own character, but generally they're quieter, ranging from 'blissfully peaceful', to 'lively of an evening'.
The whole island is only about 15 x 10km, so there are a lot of places you could walk to if you wanted to. Otherwise you can get around by bus, boat, rental cars or motorbikes, or taxi — though there are a relatively small number of taxis on the island, so be prepared to wait.
Mykonos Town/ Hora/ Chora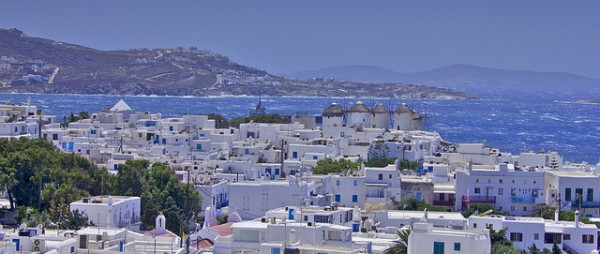 Hjörleifur Sveinbjörnsson from
Also referred to as Hora or Chora, Mykonos Town is where to stay on Mykonos if you're coming for the glamour and the nightlife. This is a glamorous holiday destination, with luxurious boutiques, trendy bars, world-class dining opportunities, and hip clubs. But this layer of glamour sits on top of the historic centre, with its narrow alleyways and pedestrianised streets, lined with wonderful Cycladic architecture, so there's plenty of charm to this town, as well as glitz. Mykonos Town is also where you'll find all the major local museums, including the impressive Archaeological Museum of Mykonos.
The waterfront and port area of Mykonos Town has some of the best traditional tavernas and bars, and Little Venice, with its Venice-in-miniature-architecture, is a hip and historic hub for more traditional shops and tavernas. The pick of these will have not just water views, but views of the famous Kato Mili windmills as well.
Pros and Cons
Pros: lively nightlife, great restaurants and bars, ocean views, boutique shopping, glamorous
Cons: busy, touristy, loud, lively
Ideal For: fashionistas, party-people, beach-lovers, night-owls, couples
Click here to see all our recommendations in Mykonos Town
Megali Ammos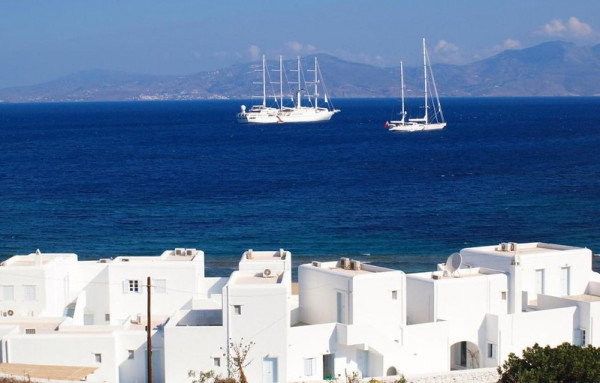 By Flickr user Charly W. Karl
Megali Ammos is only about a kilometre along the coast southwards from Mykonos Town, so it's something of a satellite town, but with much more of a beach resort feel, because this beach runs rings around the small beach beside the Mykonos Town harbour! It's long, with fine, golden sand, and it's lined with some upmarket beach resorts, and a couple of excellent tavernas. This part of the coastline does get breezy, so you won't find the rows of beach umbrellas and sun beds as standard, but you can hire them. There's a rock ridge in the ocean, so it's deceptively shallow in places. Megali Ammos also has its own small centre with little shops, bars and cafes. And you're only a short walk from the windmills of Mykonos Town.
Pros and Cons
Pros: beautiful beach, ocean views, few hotels
Cons: touristy, windy
Ideal For: party-people, beach-lovers, fly-and-floppers
Ornos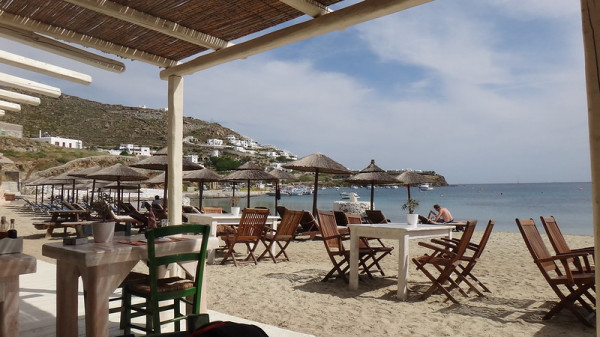 By Flickr user jojo
If you continue along the south coast past Megail Ammos you'll hit the bustling, family friendly beach resort of Ornos. If you dream of sunbeams and umbrellas Ornos is for you, it's a pleasant scoop of golden sand which slopes gently into the sea — which is why it's so popular with families — lined with cheerful beach bars and cafes. The accommodation here is low-rise, with villas, guesthouses and boutique hotels rather than huge resorts, so there's a good smattering of restaurants and tavernas to fuel visitors, and plenty of variety. You can catch a bus to Mykonos Town from here, or walk along the beach northwards for about three kilometres.
Pros and Cons
Pros: beautiful beach, peaceful, ocean views, small hotels, good choice of bars and restaurants
Cons: lots of kids
Ideal For: families, extended families
Paradise and Super Paradise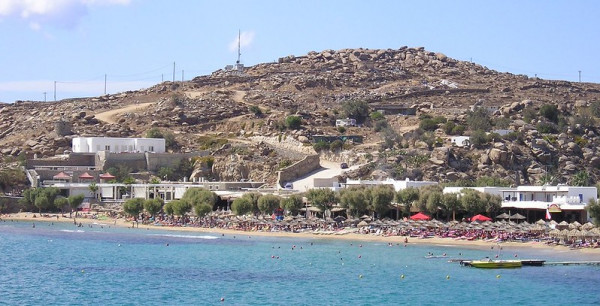 By Flickr user Luca Conti
Paradise, or Kalamopodi, and Super Paradise, or Plintri, are a kilometre apart, on opposite sides of a rocky promontory. Both are known for their beautiful beaches and their beach parties, which start properly from about 4pm every day, when the music really starts to get pumping. The clear waters and golden sands are a great backdrop to the row of beach bars and sun loungers. Paradise has a big dive centre too. There's a bus connecting it to Mykonos Town, but not so Super Paradise, which is better connected to Mykonos Town by boat. Super Paradise has a 'beach fun' vibe during the day with watersports etc., but from about 4pm it's quite clubby, with music from the Coco Club coming from one direction and music from the Super Paradise Beach Bar Club coming from the other.
Pros and Cons
Pros: fun, glitzy, beautiful beach, lively bars, great nightlife
Cons: loud, busy
Ideal For: party-people, night-owls, fun-in-the-sun
Platis Gialos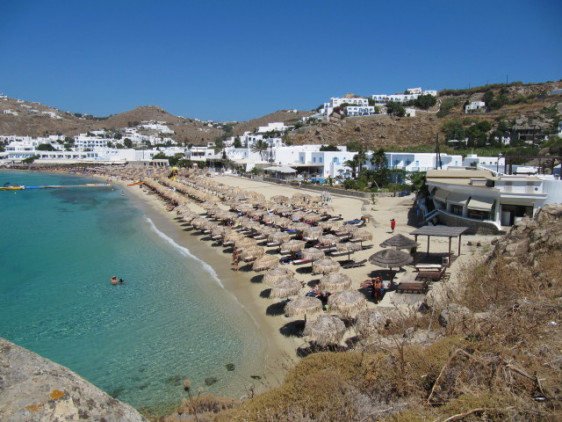 By Flickr user Leonora (Ellie)
Platis Gialos is a busy, family friendly beach resort about six kilometres along the south coast from Mykonos Town. Platis Gialos isn't for one particular group of visitors or another, it's got a great nightlife scene, but it's not busy every night, and there's lots of family friendly restaurants and cafes too, alongside the hip bars and clubs. But the beach is really, really beautiful, with calm waters, pale sand and plenty of space. Platis Gialos also has excellent watersports facilities, with all sorts of boating fun to be had, plus paddleboarding and wakeboarding. You can also rent jet skis, or try waterskiing. There's a regular bus service from Platis Gialos to Mykonos Town, and a bus going in the opposite direction too, towards more of the beautiful beaches along the southern coast of Mykonos.
Pros and Cons
Pros: beautiful beach, calm seas, great watersports facilities, friendly atmosphere
Cons: large resort town
Ideal For: beach breakers, fun-lovers, families with a variety of age groups, watersports enthusiasts
Psarou

By Flickr user jojo
Psarou is another of the most popular beach towns on Mykonos, and it's another beauty, with hotels, apartments and restaurants arranged around a white sandy beach in a sheltered cove. This beach is ideal for families, with a gentle incline into the clear, turquoise waters. Psarou has good watersports facilities too. And because it's relatively small, and especially popular with Greek visitors and locals, it's got more of a relaxed atmosphere than most of the other resorts, and a great feeling of privacy. You can catch the bus between Psarou and Mykonos Town with relative ease.
Pros and Cons
Pros: relaxed, beautiful safe beach, elegant, ocean views, good tavernas and restaurants
Cons: fewer accommodation options
Ideal For: families, peace-seekers, beach breakers, couples, romance
Elia and Agrari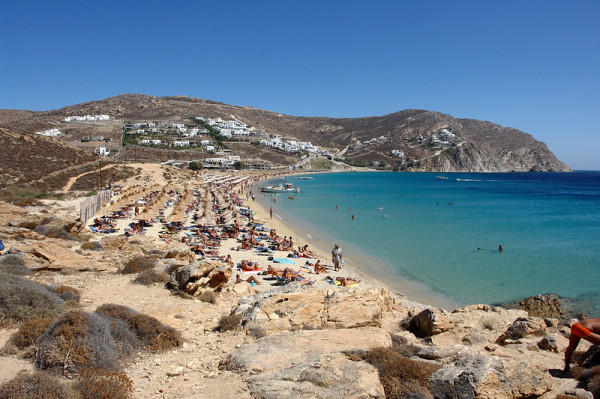 By Flickr user NervousEnergy
Elia Beach is one of the last beaches along the southern coast if you're travelling away from Mykonos Town, but it's still only about eight kilometres away, and easily reached by bus, or by ferry from Platis Gialos. Elia Beach is one of the largest stretches of sandy beach on Mykonos, and feels spacious and well organised, with great watersports facilities, and a neat collection of waterside restaurants and tavernas. There are several huge resorts here and they lay out sun loungers and keep the beach looking pristine. Agrari is a near neighbour, just five minutes around the rocky headland. It's a similar beach resort, calm and organised, just that bit smaller. Neither of these resorts get a lot of additional visitors so they feel quite quiet.
Pros and Cons
Pros: relaxed, beautiful beach, ocean views, watersports facilities
Cons: off centre
Ideal For: families, couples, watersports fans, beach breakers, fly-and-floppers
Agio Ioannis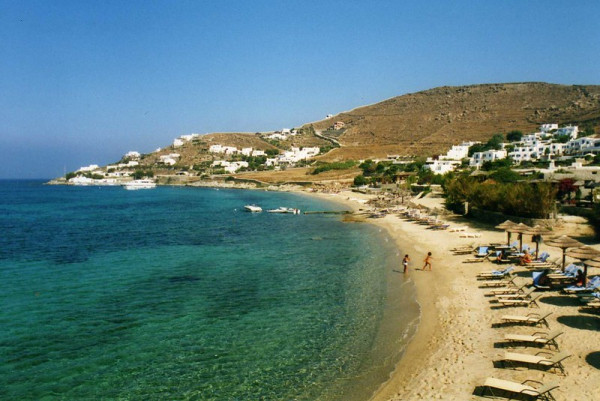 By Flickr user Leonora (Ellie)
Agio Ioannis, or Agios Giannis — both mean St. John — is a little settlement above a slim crescent of golden sand dotted with beach umbrellas. This is one of the best places on Mykonos for watching the sunset, ideally from one of the few seafood restaurants along the edge of the sand, or from the deck of one of the boutique hotels on the hillside just back from the beach. There's a pretty church, just around the headland is a very quiet, and very beautiful cove called Kapari Beach, which locals will probably point out was where they shot part of the film Shirley Valentine. This is also a great spot for snorkelling. It's easy to get to Agio Ioannis from Mykonos Town by bus.
Pros and Cons
Pros: relaxed, peaceful, beautiful beach, beautiful ocean views, great seafood restaurants
Cons: off centre
Ideal For: romantics, couples, island escapers, peace-seekers
Search the best hotels in Mykonos