Where to Stay in the Peak District
Top Tips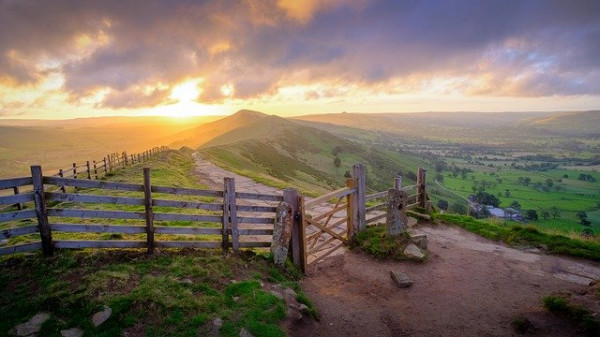 Tim Hill from Pixabay
Our guide to where to stay in the Peak District offers a run down of some of the best, and most popular places to stay in the region, with useful details, and recommendations that we think will help you choose the perfect base for your Peak District adventure.
Guide to the Peak District's Towns and Centres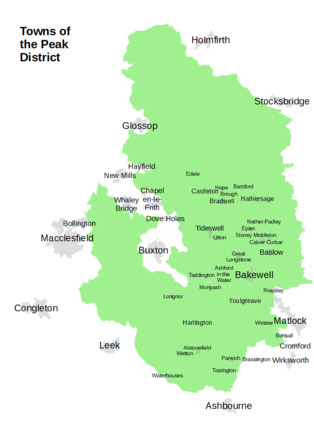 Douglal, CC BY-SA 4.0 via Wiki
One of the first things it's useful to point out about the Peak District is that it doesn't have official boundaries, it's the picturesque, upland region of the East Midlands, in between Manchester, Leeds, Sheffield, Stockport, Huddersfield, Stoke-on-Trent and Derby. Most of the rural parts of the Peak District fall under the umbrella of the Peak District National Park, which does have fixed boundaries. But many of the best known Peak District villages, like Glossop, Buxton and Hayfield, are outside the umbrella.
The second thing it's useful to know about the Peak District is that it's not actually mountainous, it has steep hills, and a couple of summits, but the National Park Authority think the name comes from the name of a tribe who lived here in the 7th century, the Peascsaetna, rather than its peaks!
Another thing it might be useful to understand is that the Peak District is often split into two different regions: the Derbyshire Dales, which are green and rolling, with limestone plateaus and fields, and located around Bakewell, Matlock and Ashbourne; and the High Peak, which is the bit with the real peaks, a wilder, boggier terrain of moorland, with more dramatic topography, located around Castleton and Hathersage. The main reason people come to the Peak District is to enjoy the landscape, usually on foot, on hoofs, or on wheels, so choosing your terrain is just as important as choosing where to stay.
Because it's such a big area there are many ways of getting in and out of the Peak District, but the region's main stations are in Buxton, Matlock, Glossop, Edale and Hathersage. There are plenty of roads running through, as well as footpaths and bridleways, and many popular parts are owned by the National Trust, who also grant good access to their grounds.
Buxton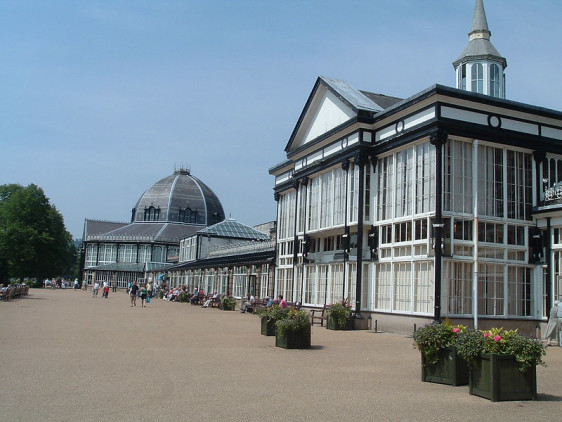 By Flickr user Anne and David
Buxton is often referred to as the capital of the Peak District, and it's certainly elegant enough to be a capital, and conveniently close to the edge of the Peak District National Park. Buxton's heyday was the Georgian era, when it was a popular spa town, but it was still a popular spot for 'taking the waters' in the Regency and Victorian periods, and the town's architecture reflects that. And yes, it is 'that' Buxton, of the spring water fame. There's still a small spout in the town, known as St. Anne's Well, which is in the middle of the Royal Crescent, and feeds into the Pump Room of the Buxton Baths, so you can taste it fresh from the source in either places. Buxton also has an opera house, and a show cave, and on Tuesdays and Saturdays Buxton's market square becomes a lively place as the market comes to town. In summer Buxton plays host to a raft of festivals.
Buxton is probably the best connected town in the High Peak area. Its station is the last stop on the line from Manchester Piccadilly, but it's also linked to Blackpool North and Preston, and there are several bus companies that serve the town.
Pros and Cons
Pros: picturesque, historic, relaxing
Cons: limited parking, limited accommodation choice at the budget end of the scale
Ideal For: spa-enthusiasts, mini-breakers, romantics, walkers, foodies
Discover our recommended hotels in Buxton.
Bakewell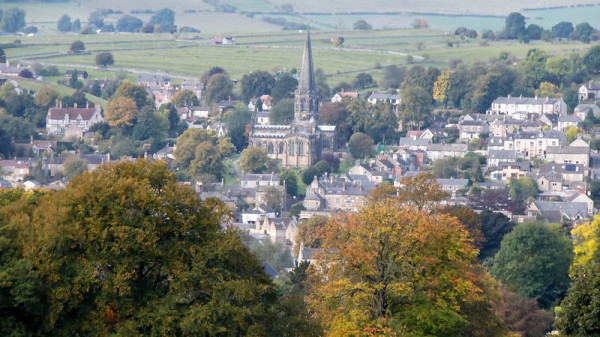 By Flickr user oatsy40
Bakewell is the only town within the Peak District National Park, so it's got a lot going for it as far as location is concerned. To say it's picturesque is an understatement — it's is a superb spot on the River Wye with views of open moors in all directions. This historic market town is probably even better known for its puddings, though, the jammy tart known as the Bakewell Tart or Pudding, and there are plenty of places to succumb to their delights in town. To add to the picturesque setting Bakewell also has a medieval, five-arched stone bridge, a beautiful church, an excellent market, a museum, and a decent high street, complete with a good array of pubs, cafes and restaurants. Bakewell is also one of the closest centres to Chatsworth House and Haddon Hall, two of the Peak District's most famous grand manor houses. Bakewell's public transport links rely on buses, but they are regular. You can walk all over the town, and there are many other pretty, smaller, local towns that you can also stroll to, through spectacular countryside.
Pros and Cons
Pros: picturesque, within the national park, historic market town, local delicacies, good local pubs, cafes, restaurants and tea rooms
Cons: eight miles from a station, busy in the peak season
Ideal For: romantics, history-buffs, mini-breakers, families, walkers, sweet-tooths
Discover our recommended hotels in Bakewell.
Eyam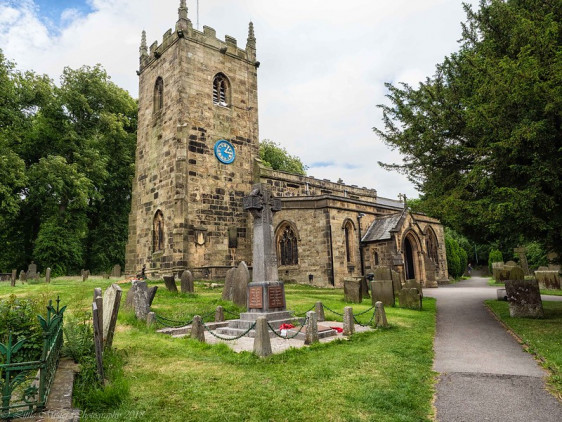 By Flickr user Little Mester
If you want to stay within the boundaries of the Peak District National Park, then Eyam is one of the other options. Quaint, and with a fascinating history, Eyam is a small village in an ideal location for walkers. Its main streets are populated with small shops, tea rooms and pubs; behind them there are rows of lovely old cottages, and behind those are rolling green hills. If you've heard of Eyam it might be because of its stone circles, its Roman lead mine, or because of it's link to plague history (Eyam's tailor was the unlucky recipient of a flea-infested bundle of cotton from London in 1665, and from this plague spread through the small town.But those in the town decided to quarantine themselves, inventing ways to trade with neighbouring villages that would prevent transmission – and it worked)! If that's whetted your appetite the Eyam Museum will be of interest to you. But for many it's impossible to top the scenery.
Pros and Cons
Pros: scenic, historic, charming, close to walking trails, small village, friendly local pubs and tea rooms
Cons: small, limited public transport
Ideal For: walkers, history-buffs, couples, peace-seekers
Discover our recommended hotels in Eyam.
Matlock Bath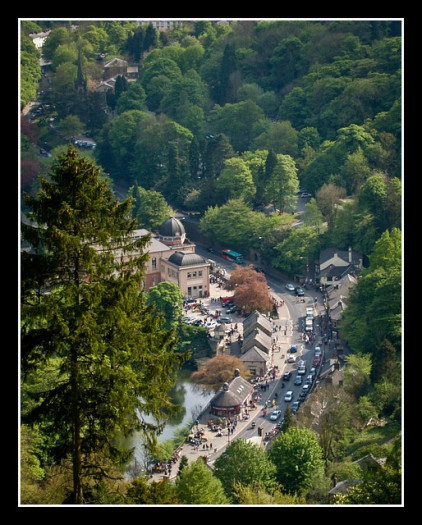 Steve Feeney from Pixabay
Pretty and historic, Matlock Bath was actually one of the UK's first purpose built tourist towns, constructed in the 17th century, on one side of a beautiful gorge on the Derwent River, close to the source of its spa waters. Look across the waters from Matlock Bath's mainly Victorian buildings and on the opposite side it's woods and crags. Matlock Bath is separated from the town of Matlock by High Tor, a limestone crag, and there's a really beautiful pathway between the two. In addition to the grand hotels and spas, several local cave systems have been developed into show caves for visitors using former lead mines as a starting point, and there's a working textile mill and a couple of museums. There's also a collection of charming pubs and cafes, with plenty of opportunity to take afternoon tea with a view. Matlock Bath has a station on the Derwent Valley line, with good services to other local towns and villages and to Derby. It's especially busy on Sundays, when local motorcyclists converge on the town to show off their machines along the promenade.
Pros and Cons
Pros: charming, picturesque, relaxed, walking routes pass though, plenty of local sights
Cons: too charming, popular with tourist coaches
Ideal For: families, walkers, mini-breakers
Discover our recommended hotels in Matlock Bath.
Edale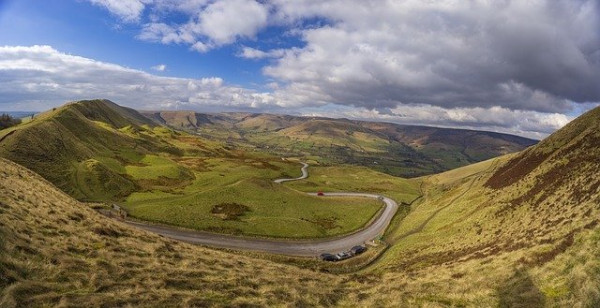 ian kelsall from Pixabay
Edale is best known for being the southern point of the Pennine Way, so it's a bit of a hub for walkers. It's not big, but it does have a couple good pubs, cafes and inns, where tired walkers can revive and get sustenance. One of Edale's most famous, and spectacular sights, is Hollins Cross Pass, a narrow ridge that runs between two dramatic tors. Mam Tor, one of them, is particularly good if you're looking for a walking route right out of town, but there are so many to choose from! Edale is fairly easier to get to, it has a station on the Hope Valley Line, which runs between Manchester Piccadilly and Sheffield. If you're bringing your car it's a good idea to park it at the station car park, the roads going right into town are narrow and winding. If you do park outside you'll pass The Church of the Holy and Undivided Trinity on the way, an impressive Gothic design.
Pros and Cons
Pros: hub for walking, spectacular natural surrounds, incredible views, remote
Cons: remote, limited parking
Ideal For: walkers, explorers
Discover our recommended hotels in Edale.
Glossop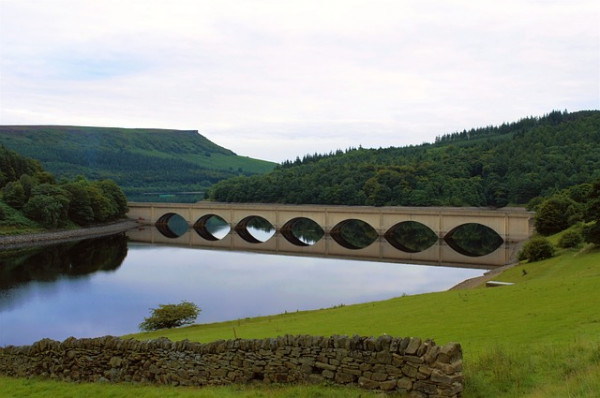 Gaz_D from Pixabay
Glossop is close to two of the Peak District's most famous Pennine passes, the Woodhead and Snake passes, both routes with breath-taking views over the surrounding landscape. Glossop was another of the Peak District's textile towns, and the town's cotton mill is still one of the main landmarks, though today it's been repurposed for retail, which goes for a much of the rest of the town's industrial buildings too. Glossop is known for being a good place to shop, one of the best in the High Peak, with a mix of high street chains and independent boutiques. It is also known for its pubs, but there's a good collection of cafes and restaurants too.
Glossop is on the northern edge of the Peak District, and its transport links are so good that it's become a popular commuter town. There are trains to Manchester every half an hour, seven days a week. It is also served by an extensive bus network covering the local area.
Pros and Cons
Pros: spectacular scenery, great shopping scene, well connected by public transport
Cons: commuter town
Ideal For: walkers, shoppers, couples, mini-breakers
Discover our recommended hotels in Glossop.
Hathersage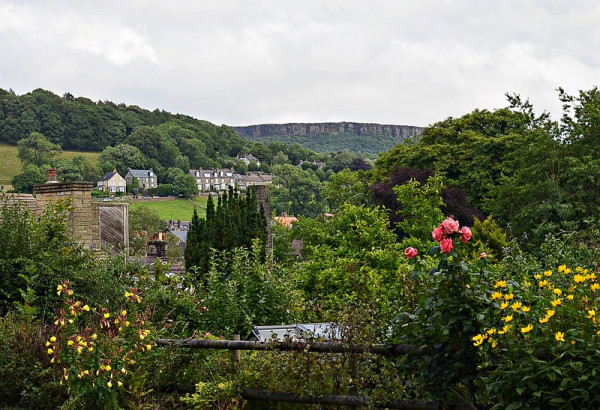 By Flickr user It's No Game
Just south of Sheffield, the area around Hathersage has been a popular one for humans since the Bronze Age, and its mesolithic microliths — like Stonehenge in miniature — are fascinating evidence of the life of these early inhabitants. The most famous is on Bamford Moor. And you can see why people would want to live in this beautiful spot, surrounded by the scenery of the Hope and Derwent valleys. The remains of a Roman settlement are quite nearby, and the remains of a Norman ring castle from the 11th century too. Plus there's been a church here since the reign of Henry I, though the church you'll see today, St. Micheal's church, was built in the 14th and 15th centuries.
As well as appreciating Hathersage's beauty and history, visitors today come to walk and explore, and to swim (there's a heated, open-air swimming pool that's open all year). And Hathersage's North Lees Hall is widely considered to be Jane Eyre's Thornfield Hall, so many people come to see what Jane saw. Hathersage isn't a big town, but it's got a station on the Hope Valley Line and is also linked to Sheffield and Castelton by bus.
Pros and Cons
Pros: historic sights, spectacular scenery, peaceful
Cons: remote, quiet
Ideal For: literature-lovers, history-buffs, walkers, escapers, couples
Discover our recommended hotels in Hathersage.
Castleton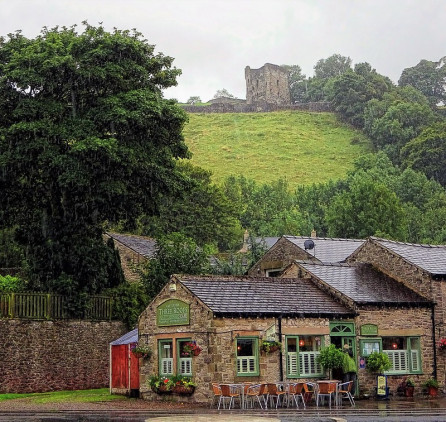 By Flickr user It's No Game
Castleton village is a charming collection of streets lined with stone houses that seem to lean up against each other. It's one of the Peak District's more touristy towns, but probably because Castleton has some great sights and sites, including the ruins of Peveril Castle (which was built by Norman, William Peveril, who was the son of William the Conqueror), and several impressive show caves and caverns. This is also a great spot for hikers and hillwalkers: it's hemmed in by hills on three sides, and Mam Tor and Winnats Pass Gorge are only a short walk/climb away, plus the views over the Hope Velley from the ridges around Castleton are quite beautiful.
Castleton has lots of little shops and boutiques, and numerous traditional pubs and tea rooms too. It doesn't have its own railway station, but it does have a regular bus service to Sheffield. The nearest station is at Hope, which is on the Sheffield to Manchester line.
Pros and Cons
Pros: historic, walking trails, charming, major sights and sites, good tea rooms and pubs
Cons: touristy
Ideal For: walkers, couples, families
Discover our recommended hotels in Castleton.
Ashbourne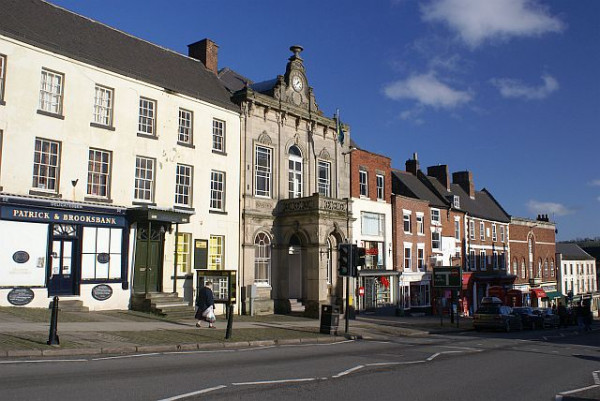 Photo © Nikki Mahadevan (cc-by
Right on the southern edge of the Peak District National Park, Ashbourne is a small village with lots of charm, that does a roaring trade in antiques and bric a brac. Ashbourne's raked stone streets are lined with a collection of atmospheric cottages, plenty of traditional pubs and tea rooms, and cool cafes, boutiques and loads of antique shops too. You certainly don't need a vehicle to get around Ashbourne, and you can start walking on scenic Peak District trails right out of the village. Ashbourne's station was closed in the 1960s, and is now part of a national cycle network, so the only public transport is the regular bus service from Manchester and Derby. Ashbourne was once served by numerous stage coach routes, which have now become main roads, so It's really easy to get to by car.
Pros and Cons
Pros: charming, great antique shopping, walking routes out of the town, just outside the Peak District National Park
Cons: limited public transport connections
Ideal For: antique-shoppers, couples, walkers, escapers
Discover our recommended hotels in Ashbourne.
Search & Book the Best Places to Stay