Where to Stay in Derbyshire
Top Tips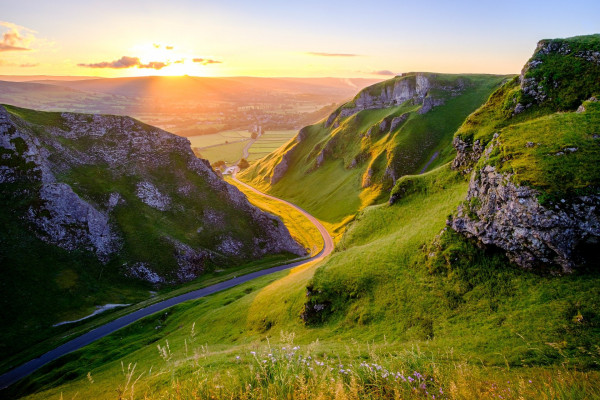 Image by Tim Hill from Pixabay
Our guide to where to stay in Derbyshire aims to help you uncover the best towns or centres in Derbyshire for your ideal visit. Whether you're here to walk the Pennine Way, or the Derwent Valley; or hike, bike, cave or climb in the Peak District; or visit one of the incredible local halls, manors or abbeys; or to just relax in one of Derbyshire's market or spa towns, like Ashbourne or Buxton, we'll help you find the perfect place to stay. Or the perfect combination of towns and centres to stay in.
Where to Stay in Derbyshire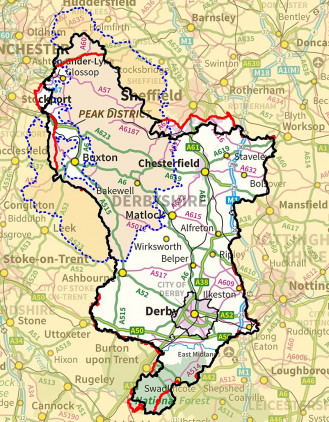 By Contains Ordnance Survey da
Derbyshire is the breathtakingly beautiful bit in between Derby, Sheffield and Manchester. Most of the Peak District is within Derbyshire, with its bare hills, and high, wind-blown moorlands, dramatic tors and magnificent flat peaks. And quite a stretch of the Pennine Way is too, a national walking trail offering spectacular views of both the English highlands and Derbyshire's calmer green of rolling valleys divided by drystone walls, and woodlands, and mysterious henges and barrows. Derbyshire also encompasses the Derwent Valley, and the river Trent, which are known for their peace and natural beauty.
When it comes to Derbyshire's towns and centres, Buxton the Georgian spa town is still a great place to unwind; Bakewell and Ashbourne are historic, and beautiful market towns; the villages of Chesterfield, Castleton, Alstonefield, Tissington and Hartington, are all known for being small and picturesque. Derbyshire is very rich in National Trust properties too, with headliners like Chatsworth House, Hardwick Hall, Calke Abbey and Dovedale.
It's very possible to visit, and explore, Derbyshire purely using public transport, but some places will be inaccessible without a car or bike, and there are some places with an infrequent bus or train service.
Peak District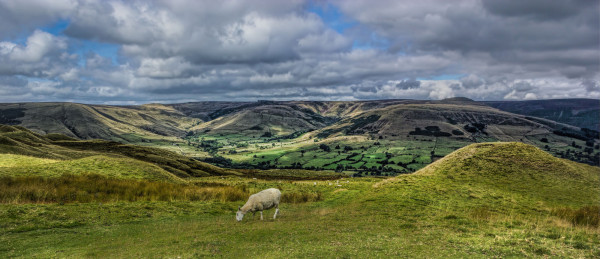 The UK's first official national park, the Peak District is certainly one of England's most spectacular places, with its moors, hills and flat-topped mountains, green, sheep-studded fields bordered with ancient stone walls, and a good scattering of limestone villages. There's 555 square miles of Peak District, which means a lot of walking trails, cycling routes, caves and waterways to explore, but there's only one town within the boundaries of the park and that's Bakewell. But there are villages scattered around: Castleton, known for its caves, Edale, known for being the southern end of the Pennine Way, and a handful of other small centres. The Peak District has a couple of different rail lines running though it, and it's spectacular country to watch pass by a train window. Smaller centres have more intermittent services, and the smallest are served by minibuses. If you're travelling by car be prepared for some congestion on the narrow lanes, and for the potential to have to hunt around for a parking space. But realistically this is the best mode of transport unless you're on two wheels.
Pros and Cons
Pros: spectacular, remote, varied scenery, pretty villages, historic
Cons: remote, very limited facilities and transport links in the smaller centres
Ideal For: walkers, rural-escapers, mini-breakers, families, explorers
Discover our recommended hotels in the Peak District, Derbyshire.
Bakewell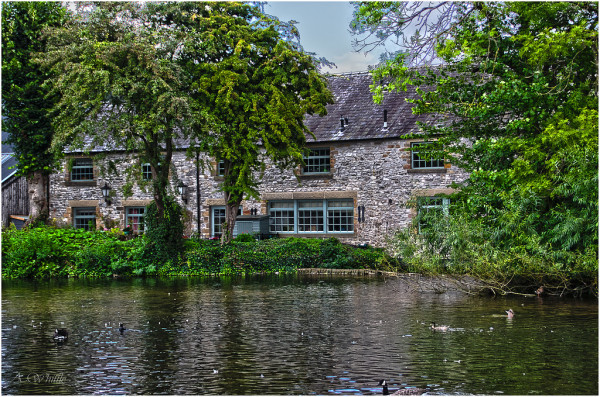 Flick user Andy Whittle
As the only town in the Peak District, Bakewell has all of the above to appeal to visitors, but it's also extremely well known for its jammy tart. It's also the closest centre to Chatsworth House and Haddon Hall. Aside from the attractions and the pudding, Bakewell is beautifully positioned on the River Wye, beside its medieval five-arched stone bridge, it's got an excellent market, and a decent high street, with a collection of pubs, cafes and restaurants. Bakewell's public transport links rely on buses, but they are regular.
Pros and Cons
Pros: picturesque, well located for the Peak District and sightseeing, choice of places to eat and drink
Cons: eight miles from a station
Ideal For: romantics, history-buffs, mini-breakers, families, walkers, sweet-tooths
Discover our recommended hotels in Bakewell, Derbyshire.
Buxton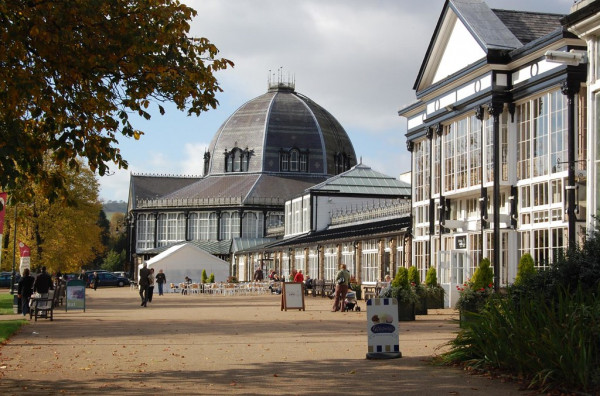 Flickr user Phil Beard
Although not technically within the boundaries, Buxton is often referred to as the 'capital' of the Peak District, and this elegant Georgian spa town is certainly right in the edge of the national park, well and truly close enough for visitors. Buxton's hot springs drew crowds during the Georgian, Regency and Victorian eras, and people still come to 'take the waters', or enjoy a spa retreat: there's a small spout known as St. Anne's Well which feeds into the Pump Room. On Tuesdays and Saturday Buxton's market square becomes a lively place as the market comes to town. It's got its own station too, on the Derwent Valley Line.
Pros and Cons
Pros: picturesque, historic, relaxing
Cons: limited parking, limited choice at the budget end of the scale
Ideal For: spa-enthusiasts, mini-breakers, romantics, walkers, foodies
Discover our recommended hotels in Buxton, Derbyshire.
Matlock Bath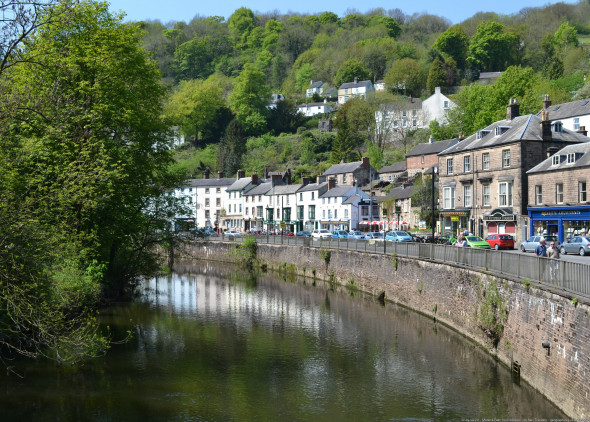 https://www.geograph.org.uk/pr
Pretty and historic, Matlock Bath was actually one of the UK's first purpose built tourist towns, constructed in the 17th century, just outside Matlock, on a beautiful gorge in the Derwent River, close to the source of its spa waters. Several cave systems have been developed for visitors, with former lead mines converted into show caves, and there are a couple of museums and a working textile mill. There's also a collection of charming pubs and cafes, with plenty of opportunity to take afternoon tea with a view. Matlock Bath has a station on the Derwent Valley line, with good services to other local towns and villages and to Derby.
Pros and Cons
Pros: charming, picturesque, relaxed, walking routes pass though, plenty of local sights
Cons: too charming?, popular with tourist coaches
Ideal For: families, walkers, mini-breakers
Discover our recommended hotels in Matlock Bath, Derbyshire.
Derby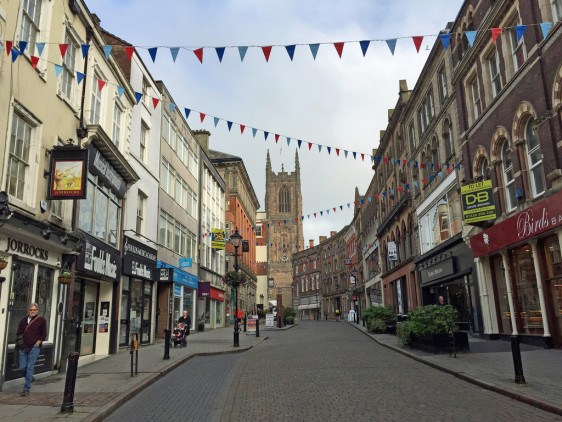 Flickr user diamond geezer
Derby is Derbyshire's main city, positioned on the banks of the River Derwent in about the dead centre of England, about an hour and a half from London on the train. For many visitors Derby is a stepping stone to the Peak District, but it has certainly got plenty to see. This was the birthplace of the Industrial Revolution, a quaint little market town turned vibrant manufacturing centre, which, during the 19th and 20th centuries, turned out everything from bone china to aircraft engines. The most appealing part of town for most visitors is the Cathedral Quarter, which is pretty much the 'old town', where the streets are an interesting blend of architectural styles and home to shops, galleries, old market halls, green spaces and plenty of bars and restaurants. As the largest centre in Derbyshire, Derby has the best facilities when it comes to public transport.
Pros and Cons
Pros: well connected, lots of local sights, historic, bustling, great choice of food and drink
Cons: busy
Ideal For: mini-breakers, travellers relying on public transport
Discover our recommended hotels in Derby, Derbyshire.
Edale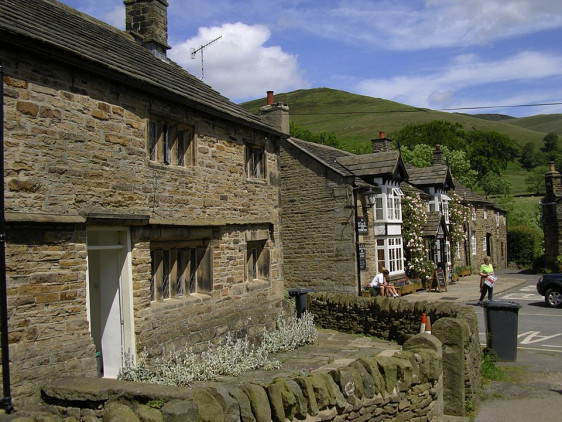 By Warofdreams at the English
Edale is best known as being the southern point of the Pennine Way, so it's a bit of a hub for walkers. It's not big, but it does have a couple good pubs, cafes and inns, where tired walkers can revive and get sustenance. It's well connected to Sheffield and Manchester, as well as to Derby and other more local towns and villages. Edale had a large cotton mill, built in the 18th century, and many of the workers walked daily between Castleton and Edale, over the spectacular, thousand-foot Hollins Cross Pass, a narrow ridge running between two tors. This is definitely worth a look. Edale has a station with a relatively good service, but if you're bringing your car it might be better to park it outside the centre of town at the station car park; the roads are pretty narrow and winding.
Pros and Cons
Pros: Pennine Way on the doorstep, good transport connections
Cons: busy
Ideal For: walkers, country getaway
Discover our recommended hotels in Edale, Derbyshire.
Search the best hotels in Derbyshire